Greenough Street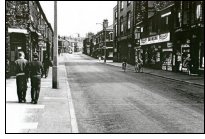 Maidwells was a sewing factory but what did they make? Down by the side of the River Douglas was Water Heyes Electrical. The Quality Hotel now occupies this position across from where the famous old Wigan Rugby Ground was, but now is a Tesco Supermarket.
Comment by: cedrric ollerinshaw (plat bridge, englund) on 27th August 2009
I just came across this wigan world,ANGELA the bout this, grandaughter told me.I was brought up in windmill terrace, I rember most of the things wrote in here, the names norburns, ethil in the corner shop in turner street, toffee shop sedons was it? not sure Halliwells from oxford street and thr fairhurts from across facing, they had a chippy in greenough street didn,t too good mac,s was cross the road best chippy in wigin and I rember the cheeky lads playing jokes an runnin around cant remember many names thomas porter I think was his name, fairhursts lad was a little tinker,a whittaker,denis smith always with his pal one of the highams youngest I think his mother used to sing in the clubs I saw her sing a few times she was good anyway I hope I do this right I try let you read and thank you all for reminding me of the old times, cedric
Comment by: Neil Pennington (Ontario , Canada) on 25th August 2009
Sorry Peter no I have not bumped into Degis, but then Canada is a big country.
Comment by: Carole Smith (St Helens, UK) on 25th August 2009
I used to visit my aunt in Turner St when I was a little girl. I knew two little blond lads Clifford Higham and Alan Addlingtn. They used to come around asking for me. Alan was nice and jolly. The naughty lad from Windsor street was Clifford. He used to tell me he was a member of the Ovaltinis club and was always singing the hit songs. He used to ring my aunts door bell and run away.
Comment by: Peter Dwdall (Bamber Bridge, UK) on 22nd August 2009
Neil, have you bumped into Degsi? He moved to Canada.
Comment by: Neil Pennington (Ontario , Canada.) on 21st August 2009
Hi Cliff glad to hear that your Son has s settled in Australia, seem that there are a lot going there. I left Wigan in 1957 when I joined the Forces did almost six years and came back to Lancashire worked in the Rossendale Area, My Sister had emigrated to Canada in 1952 and my brother emigrated there in 1957 at the time I joined the Forces, My Mum died in 1967 and we left to go to Canada, to join my Brother and Sister. I have been back many times visiting over the years, but do not have the urge to return and live in the UK. Question I want to aske, there was a young lad on Windsor Street, who had an accident one bonfire night in the late 40's he had a load of fireworks in his pocket and a spark set them off and he received injury to his side. do you know of him. Also was Eric in the Boys Brigade, at St Georges I seem to think he was in at the early stage, but I'm not sure. Lennigans also had a Car tire garage at the top of Mount street. All for now.
Comment by: cliff H (wigan, uk) on 20th August 2009
yeah neil. always sad to family pass. Molloy! butcher, I remember the name now you mention it. So tell me Neil, when did you emigrate to Canada and what made you decide to move over there? My son Richard emigrated to Australia with his family 2yrs ago, he loves it, many have tried but soon are back, he wont be. wev,e been over to visit twice, wonderful place and lifestyle, he,s happy, I,m happy for them. nice hearin from you Neil, drop a line now an then, tell us all, let your memories out. take care.
Comment by: Neil Pennington (Ontario , Canada.) on 20th August 2009
Sorry to hear about your brother Cliff, when he was younger he was full of life and I remember door knocking with him. you will miss him. I lost both my brothers, one in 1992 and the other Gordon in 2004, I know I miss them. I don't think you would have known my Dad as he sold the business in 1950 through ill health to Mr Malloy, who owned it till it was pulled down. We moved to Hindley in 1950, but I still continued going to St Georges, and then to All Saints down Frog Lane. We came back to wigan in 1952 and settled in Douglas Street East, no longer there, which was off Warrington Lanes, near Scholes Crossing. I still went to St. Georges and was in the Boys Brigade till 1957.
Comment by: Mag Stevens (Blackrod, UK) on 19th August 2009
Tony. Sorry. Tony Bennet was the only Tony I knew from that neck o the woods. Oli. Nice to meet you luv but I think you and uncle Alf might have had a bevy too many. My friend Rita says that there was a naughty little Clifford lived in Windsor St and his surname was Higham. But I suppose she could be wrong. Bless my soul I think this is posting 900. Lucky for some.
Comment by: cliff H (wigan, uk) on 19th August 2009
Yeah, great stuff Neil. My broth Eric passed 2yrs ago,was sudden he was well, then gone.he was 67yrs old. He is sorley missed.
Comment by: Oliver Hart (New Springs, ok) on 19th August 2009
no no no Mag, his name was not cliff it was Alf, my uncle.
Comment by: tony (wigan, england) on 17th August 2009
Comment by: M. Roberts (Wigan, GB) on 17th August 2009
No it wasnt Mag. I think Clifford Hart was a school teacher at St Georges. He lived opposite St Georges on or near the end of Windsor St. I think the naughty "little tinker" everbody refers to was a lad who lived at the opposite end. His name was Clifford too but I cant remember his last name.
Comment by: mag stevens (blackrod, uk) on 16th August 2009
j. barker. tony (is that tony bennet) the naughty blond little lad from the end of windsor st I think was cliff hart.
Comment by: Neil Pennington (Ontario , Canada.) on 15th August 2009
Yes Cliff, Dad's shop was at the Corner of Vaughan St and Greenhough St. and I do remember your brother Eric, that is what through me as I could not remember Cliff. We all used to play together. Up in the park. on the old tennis courts football in Winter and Cricket in Summer. Where is your Brother Eric now? You probably know Roy Boardman as well his parents owned a corner shop just round from Windsor Street on Vaughan Street. and next door lived David Davies ? I guess you will also remember going to the Ritz Cinema on Saturday Morning for the minors, also if you were lucky, the Cinema in Scholes on Saturday Afternoon. They claim that the Bomb which dropped on the Church at the Top of Greenough street, was caused in the Blackout by some one coming out of the Scholes Cinema, by the side door throwing the light into the allyway and the German Pilot saw the light. Probably wanted to get rid of his bombs on the way home, from Manchester. Will close for now, have many more names some you may know.
Comment by: cliff higham (wigan, uk) on 15th August 2009
Hi Neil, thanks for that. I know some of the names you mentioned in your previous posting. Allen Halliwell, Alan Baldry he lived across the street fom me, he was a good friend of my bother Eric Higham, and George Norburn and others, they were all 5/6 yrs older than me. Was your dads butchers on the corner of Vaughan St? I remember a butchers there. I was born in Windsor st 'an always late for school' St Georges, 'makin clay balls' I vaguely remember. Keep em comin Neil, the memories. thanks.
Comment by: Neil (Ontario , Canada) on 14th August 2009
Hi Cliff I Remember going to St Georges when Mr Gregory was Headmaster, Miss Sanderson one of the teachers, and she used to work in the Bake shop, with her Sister at the top of Greenough Street in Scholes, I remeber Maggie Lewis, wwho had a Buchers Shop in Scholes, first Woman Butcher. Harry Isherwood, Jim the Artist Isherwood's Dad who worked in the shoe shop almost oposite where we lived. Bill Rainer, spelled that one wrong who used to live on Mount Street. Going to watch Wigan Rugby team at Central Park with my Dad still in his aprons from the shop. The wood yard next to St Georges School, were after the war, they were selling old rifle stocks without the metal parts, and Amunition Boxes, that all the lads in the area bought, and they constructed a wood building out of them on the Bome shelter site at the topof Regents street just below the brow to the park, and then it caught fire and they had to turn out the fire brigade to out it out. We dug clay out of the side of the brow and rolled them in to small balls, put them in the oven to bake and then used them with our catapults to hit tin cans. Bill Gabbot who owned the Chemist in Whelley and was Captain of St Georges Boys Brigade, which was later taken over by Cyril Giles, who went to school with my older Brother, wonder if he is still around. All for now.
Comment by: cliff H (wigan, uk) on 13th August 2009
Come on then Neil, get rememberin some of them memories and put em on here and take us back in time to them good old days when there was no Women drivers.
Comment by: Neil Pennington (Ontario, Canda) on 12th August 2009
I was born on Greenough St. Number 11.(1940) myDad had the Butchers Shop at 41 I remember Cliiford Whittaker, went to school at the same time St Georges and here are a few more names for you, but may have spelled them wrong. Allan Baldry, Harry Winstanley, Tommy Birchall, Harry and Fred Cunliffe, Allan Halliwell, David Dunn, Roy Boardman, Geff Lyons?. Harry Grimshaw, George Noburn. Brian Adamson, Billy Rainer? Leslie Wood and his Brothers Joe, Roy and Ernie. Most where members of the Boys Brigade at St. Georges. Left Wigan in 1957. but as the saying goes, you can take the Boy out of Wigan, but you can't take Wigan out of the Boy. I have many memories.
Comment by: J. Barker (Wigan, uk) on 4th August 2009
You're right Tony at least about Upper Morris St. Who is this bad lad then that lived in Windsor St and went to St Georges?
Comment by: tony (wigan, england) on 3rd August 2009
joe hill lived in lower morris st joined the army last known living in bluebell ave beech hill
Comment by: Jean Ince (Wigan, UK) on 2nd August 2009
A few comments below I notice J. Riley mentions a Curly Dowdall. I think his name is Bernard Dowdall and worked for a while for the booky Joe Kennedy. I think his grandma lived in Greenough Street. Dont know if he is still living.
Comment by: Mrs Stevens (Wigan, England) on 31st July 2009
John Carter. I assume your talking about the 50s. didnt know any families in Windsor Street called Hill. There was a little blond lad called Peter Whitaker but he lived farther up the street and was a very well behaved lad as far as I remember. Are sure you have the right street?
Comment by: John Carter (Ashton, GB) on 30th July 2009
I knew a little blond lad who lived on the end of Windsor St who went to St Georges School. He was a holy terror, ringing door bells, hitching rides on the back of rag carts, cheeking old ladies, chucking bangers over back walls etc. think his name was Joe Hill, not sure.
Comment by: cliff higham (wigan, england) on 7th July 2009
Ken, you got 10yrs on me, I,m just a kid,I lived in windsor street,I went St Georges and all family, dad an all. only name I can remember you mention is Harry Winstanly did he live in Turner street? come on Ken tell us more of your memories of around Greenough st, its what iuts all about on here.
Comment by: Ken Lamb (Shevington, Wigan, UK) on 7th July 2009
Hi Cliff George Norburn was a member of the family I mentioned there was Nellie, and Irene etc, I didn`t mention the cloggers at the end ofOxford St or Reg Suttons at the top of Greenough St. I went to St Georges School and some of my friends were Edward Hesketh-Tommy Naylor-Jack Round-Harry Winstanley-John Govan-Kenny West...dont know how far back you go Cliff because I am only 73..
Comment by: cliff higham (wigan, uk) on 6th July 2009
Right on KEN, I remember a lot of them names you mentiond, was there a George Norburn? I think my brother knocked around with him, Eric Higham from Windsor street. memories eh Ken, they cant take them away, all the good times.
Comment by: Ken Lamb (Shevington. Wigan, England) on 6th July 2009
I was from Regent Street off Greenough St in the 1940`s and in the area for a few years and then we emigrated to Whelley when they built the PREFABS ! WoW Some names to memory in the Regent St area were the corner shop Nolans, Evans,Dewhurst,Norburns,My friend at the time was Alan Berry who`s Grandad was Charlie Winnard who had a horse and cart, we used to go round with fruit and veg. In the next streets was Jackie Edwards. Brian halliwell, Frank Halliwell (went to Aus). Can`t forget Lewis`s for ice cream, Sutcliffes for HA HA Trotters,Tripe,Brawn,Elder,..Doctor Hoey,Lenegans,Norburns,Seddons, oh we could go on for ever
Comment by: fond memorys (wigan, england) on 3rd July 2009
was born in orchard st in 1947 and i was pleased to seethis page but there is no memory of little memory of littie jungje 64 steps the leathers fairy glen pit yard the stassee white heads quiz how many houses whis ther in geenough st gardens e
Comment by: Celila Fairhurst (Wigan, lancs) on 30th June 2009
I worked at Madewell's in the 1950's and they made aprons, blouses for M&S skirts and light workwear. I remember befriending a Mrs Berry who was the manager's sister I think, she lived in Winstanley in the 1960's The Managers name was Jack. I wasn't there long and at the time Elvis Presley was just becomming popular.
Comment by: J. Riley (Scarborough, UK) on 28th June 2009
Curly Dowdall & Chris Glass went to St Marys and Nobby was Curlys uncle.
Comment by: syd hitchen (wigan, uk) on 27th June 2009
Is That Jim Seddon?? Youre right Chris Glass went to St Marys ..Not the Grammar School.Happy days in Nobbys Dog And Partridge.Arthur horrocks ,Ken Cowap ,Syd hitchen,Jackie Phillips ,Ernie Lawes (The Lawman) The Admiral..and many many more Curly, wigan, england ...... curly, a blast from the past...i am syd hitchen's son also syd hitchen...... remember nobby clark....just, my dad passed away a good few yrs ago now, good to see his name ont tinternet lol
Comment by: Cliff h (wigan, uk) on 17th June 2009
Comment by: H. Stevens (Chorley, GB) on 14th June 2009
Hey Degs settle an argument. Cliff Higham was lead singer for the Minx before a bust up when he set fire to the drums in Morris Street club and had the dudcots slapped on him by the peelers. Done for D&D. Later he joined Shims. True?
Comment by: cliff (wigan, uk) on 12th May 2009
whey hey!! deggsy good to hear from ya, I lost your changed email addy, how yoy doin? alls ok here, yep ur right The Minks you was good heard you in Room at the top, goodtimes Eh !! so hows things with you and your clan, good I hope, when you comin over to see us and the bulldozed Wigan,let me have ur new email add, good to hear from ya its gone cold in here, I still have the catty and try to get them swallows along the duggie, good to hear from ya, mail me
Comment by: canada degs (wigan on the duggy, gb) on 12th May 2009
knock knock surprise Mr. Tricket am not frozen yet but enjoying life .Hi cliff, Sam and is it formerly walter Whittle? tin pot pop band what a nerve eh Sam. The name was The Minx. We wus great -before our time you know.
Comment by: tom birchall (wigan lancs, england) on 10th April 2009
The name of the cake and pie shop in greenough st. was maxwells
Comment by: R. Blackledge (Wigan, GB) on 29th March 2009
I saw Bloo in Walkden Avenue the other day i.e. Bloo aka Cliff who used to live in Windsor Street near St Georges school. I thought he was brown bread. He didn't look 100% but I'm sure it was him.
Comment by: Albert Bennett (Wigan, UK) on 26th March 2009
Come on all you St Georges people. Brocket on St Georges day.
Comment by: T. Dainty (Wigan, GB) on 6th March 2009
Ginny. That sounds like BU Sandside who is banned from this site.
Comment by: Ginny Mull (Golborne, GB) on 3rd March 2009
I remember a bloke called Unsworth who knocked about Greenough Street and was always boasting.
Comment by: bloo (Hanau, Deutchland) on 24th February 2009
Nah behave T the never had them those days he was a horse and cart man He was proud of his nag and the horse as well, he was a great chap he was well respected in Lancaster Prison.
Comment by: Reg Snape (Wigan, UK) on 23rd February 2009
I had my first 99 from Hilda in Lewis's ice cream bar.
Comment by: T. Dainty (Wigan, GB) on 23rd February 2009
Hi Bloomoon. They've finally deported you then. Beats the asylum. Is that your Grandad who had the GT zimmerframe?
Comment by: bloomoon (Hanau, germany) on 22nd February 2009
my grt grt grandad lived there, I wonder where its gone.
Comment by: Richard Plum (Wigan, GB) on 22nd February 2009
Comment by: cliff (wigan, europe) on 22nd February 2009
anybody remember Greenough street ?
Comment by: T. Dainty (Wigan, GB) on 20th February 2009
Please don't mention Bu Sandside the very name still send shivers up me timbers.
Comment by: Formerly Fat Walter (Windsor St Wigan, UK) on 17th February 2009
C. Tricket I am alive and kicking and I don't mean buckets. Careful, dabling in the past can raise all kinds of nasty spirits e.g. the ghost of Bu Sandside. You have been warned. Don't put us all in danger.
Comment by: C. Tricket (Wigan, GB) on 16th February 2009
Not many of the owd uns writing these days. Owd beggers probably kicked the bucket. Where is Canada Degs aka Derek Marshall formerly of St Georges, Wigan Grammar and some tinpot pop band who's name escapes me. Probably frozen to death in the wastes of Canada. What about resident lovers Cliff Bloo and Kath Bridge. Where are Formerly Fat Walter and friends? If you are out there...knock twice..
Comment by: C. Tricket (Wigan, GB) on 16th February 2009
Too many has been Ozies and never wuz Kiwis. No pride in the club. Only here for the beer. Need a backbone of good local lads and a new coach.
---