Greenough Street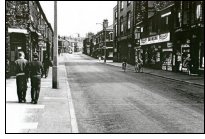 Maidwells was a sewing factory but what did they make? Down by the side of the River Douglas was Water Heyes Electrical. The Quality Hotel now occupies this position across from where the famous old Wigan Rugby Ground was, but now is a Tesco Supermarket.
Comment by: Babs A. (Bedford, UK) on 1st May 2010
Does any one know if Cliffy Higham is still around?
Comment by: sandra johnstone (wigan, england) on 27th March 2010
Hello Betty, thanks for asking but thankfully BU is doing ok. Hes out of hospital now and slowly but surely getting better.
Comment by: Betty Powell (Wigan, UK) on 14th February 2010
Hello Mrs Johnstone. Sorry to hear Brian isnt well. How is he doing now. Hope he's up and about.
Comment by: Yatesy (Wigan, UK) on 3rd February 2010
Yeah I remember Tucker. What you up to these days.
Comment by: Tucker McKnight (wigan, england) on 2nd February 2010
My dad bought my first tranny from Lenningans. It ran on this big block of a battery. I used to take it into Lewises Ice Scream bar and play radio luxemburg. I remember getting Hilda up and bopping to Dont Be Cruel. Fantastic days.
Comment by: Chris Higham (Wigan, GB) on 24th January 2010
Same here Tez. We always whupped St Catherines good at St Georges. Later at the Grammar School we stuffed the same numpties when they went to Whelley School.
Comment by: Tez Jones (Wigan, UK) on 22nd January 2010
I went to St Georges School and do you know we won the Smith Cup more times than any other school. The headmaster, Billy Spencer, kicked soccer into touch during the 50s so none of the kids could play footy for the school after that. Fortunately I managed to play. I used to like playing against St Catherines who we always used to trounce, because I knew a lot of the lads.
Comment by: sandra johnstone (wigan, lancs) on 19th January 2010
As a newcomer to this site, I have been reading over some past comments to bring me up to date and give me an insight into what topics are discussed. I was surprised that people seem to be using this site to be critical of other adults . . . Namely B.U. I know B.U. and his lovely family, and think you might not know that B.U. has been in hospital since March of last year, so when someone posted a message and everyone thought it was him, they were all very mistaken because he was still very poorly in hospital, and actually is still too poorly be commenting on this or any other site. Well, I hope that I will find further messages of more use and am able to chat to people who have something of interest to say, instead of their useless, childish comments. Especially Mr Yates, who still has some kind of interest in continuing with childish talk.
Comment by: Yatesy (Wigan, UK) on 14th January 2010
Remember that geezer wh used to boast that he had a barge of some sort on Lake Windermere. Well a watched a programme Michael Portillo in the Lake District. He was on a smashing looking, well preserved owd boat. The owner was complaining about the tatty vessels cluttering the lake now days. I thought yeah that bragging geezer on Wigan World is probably polluting an otherwise picturesque lake with his owd wreck. Something should be done about it.
Comment by: Beatnik Fly (Aspull, Wigan, UK) on 7th January 2010
Oh oh Mona..tell you Mona what I'm gonna do…build a house next door to you.. Happy New Year Mona ... and everone else. Get with it man!
Comment by: stan arkwright, (wigin, inglund) on 3rd January 2010
appy noo yeer clif an too everibody.
Comment by: cliff higham (Wigan, uk) on 31st December 2009
Comment by: Babs (Wigan, UK) on 23rd December 2009
Happy xmas Cliffy luv. Hope to see you at next St Georges reunion. Much luv XXX.
Comment by: Yatesy (Wigan, GB) on 22nd December 2009
Ah! The sweet fragrance of Mona Spring. Glad to hear from you again Mona. Hope you are well. Wonder how the Beatnik Fly from Aspull and the rest are getting on.
Comment by: Mona (Wigan, GB) on 17th December 2009
Hi Guys. Have a wonderful Xmas and dont break the New Year resolutions.
Comment by: Yatesy (Wigan, UK) on 14th December 2009
Hi Fats. Merry Christmas and to one and all.
Comment by: Fotmery Fat Walter (Wigan (x-Windsor), GB) on 13th December 2009
Here's wishing everyone who contributes to the page a merry Christmas. Tez Dainty, the Dowdalls, Mona, Stan .... everybody, the Highams and Eggsy.. one and all and even Bu Bu Sandside. Peace and good will to all.
Comment by: Eggs (Eureka, US) on 9th December 2009
Right on fats. Filled in for Blue Diamonds a couple of times. Remember them,,there were thousands of em.
Comment by: Formerly Fat Walter ((Ex-Windsor) Wigan, UK) on 8th December 2009
Eggsy - did you ever play at the Paradise Club?
Comment by: Eggs (Eureka, USA) on 1st December 2009
Chris. As you know your cuz Clint Higham was rhythm guitar and vocals, Tommy Rimmer on drums, Jesse James on bass and me on lead and vocals. catcha son.
Comment by: Chris Higham (Wigan, UK) on 1st December 2009
Hi Eggsi, how you doing. Remember seeing you play at the Wellfield and that pub in Norley that Keith Holden ran. Great version of Memphis Tennessee. Remind me of the other lads in the group.
Comment by: Eggs (Eureka, USA) on 30th November 2009
I used to play in a group called the Beech Hillbillies.
Comment by: Eric (Eggs) Marshall (Eureka, Montana, USA) on 29th November 2009
I used to sell the Lancashire Evening Post and Manchester Evening Chronicle in the streets around Greenough Street.
Comment by: Chris Higham (Wigan, UK) on 29th November 2009
Hi Becci, I'm not Cliff Highams brother - honest. In fact I dont know him and he probably doesnt know me. There are loads of Highams in Wigan. Cliffs probably younger than me. I knew Bu Bu though, a little brat. We'd clip his luggs and he run off scrikeing for his mam. You're dead reet though - its time we forgave and forgot. So here's to Mr. B.U. and lets hope he behaves himself in future. Like you say Becci - theres a place for his poems and if thats not good enough Im sure the Council have a place. Seriously though, I can not speak for the other Higham but as far as I am concerned Bu is forgiven.
Comment by: Rebecca Parker-Jones (Alderley Edge, Cheshire, GB) on 28th November 2009
I think that it is awfully sad when grown men participate in this silly baiting. Having had grandparents who lived in the Greenough Street area I have read the comments above extensively. It seems the nub of the issue is that a former resident of Greenough St who wishes to be known as B.U. from Sandside (Cumbria) was chastised by a number of contributors for his bad "poetry" and being mistakenly responsible for posting a filthy limerick. The limerick had actually been posted by a regular contributor, Cliff Higham. Although it is true that B.U. had a tendency to boast on various subjects including owning some sort of canal craft, a subject of derision by his detractors. He also seemed to have an unhealthy obsessive dislike of Grammar School boys. This site is meant for pleasantries so lets all try to make life a better place for each other. I suggest that the brothers Higham cease to abuse B.U. and keep their comments pertinent to the Greenough Street area and keep them pleasant. I suggest that B.U. ceases to boast about what he perceives to be personal achievements and comes to terms with his phobia about Grammar School boys. With regard to – lets call it his "prose" rather than poetry is kept to the page on this site which makes provision for literary "wanna be's". Mr Higham should apologise to B.U. for posting the filthy limerick although I do appreciate that B.U. did nothing to protest his own innocence. It would be a nice conciliatory gesture on the part of Mr Higham. Hope you can all be friends. Rebecca.
Comment by: Chris Higham (Wigan, UK) on 25th November 2009
Are you a brother, brother as in "monk" or another brother of say Bu Bu. Or are you a brother as in "soul brother". Oh brother! So many brothers. Why bother. P.S. message for Bu Bu. Hello sailor. Sale, shocking pink sailor suits in your local Debenhams. Free sailors cap with every suit purchase before December 10th. Hurry. Hurry whilst stocks last.
Comment by: brother (wigan, england) on 25th November 2009
Bu Bu is a better man than either chris or cliff higham (probably related) will ever be. dont bother replying with your childish comments
Comment by: Chris Higham (Wigan, UK) on 17th November 2009
remember dicky plums barbers, hildas ice cream parlour, harry fairhursts cloggers, unsworths grocers and that brat of kid brian who lived there. broughs cleaners, church o christ church, lennigans, stans radio shop. derek halsall, marie higham, laurence nevin, barabara and grham culshaw, loads o tarbucks, brian appleton, margret smith, jennifer gardner, derek holcroft. I could go on and on...
Comment by: annabel (montreal, canada) on 12th November 2009
WAWaw! thats strange, my guess he,s stayin out out your way.
Comment by: B. Tarbuck (Ince, UK) on 11th November 2009
Degs I went to Canada last month but I didnt see you.
Comment by: degs (fernie, canada) on 10th November 2009
Yea thanks Cliff it's good to keep in touch.Hi Liz , yes I remember you very well how are you ?(after 40 years or so)When i talk to Jean I'll mention you .And Hi to you too Norman (45 years or so later) we sure got up to a lot of stuff didn't we it's a wonder we survived.Good to hear from you .Bye for now.
Comment by: cliff higham (wigan, WIGAN) on 8th November 2009
Degs, no probs, I know I just been sendin funnies but I,ll let you know whats goin down, here. regards to your gang. rock on catchya C
Comment by: N. Ashurst (Gateshead, UK) on 6th November 2009
Degs n' Cliff. Remember when we dressed up as Guy Fawks and sat on corner of Turner Street to get a few coppers. Penny for the guy and all that. Dennis Smith used to sit on our heads and we couldnt say owt cos the punters would realise it wasnt a proper guy but me or Cliff or Degs.
Comment by: liz (wigan, uk) on 6th November 2009
Jean was my best friend from the first day at st.George,s then all saints,then after leaving school,we use to go out drinking.I remember you,I once went with Jean baby sitting at your house,that was just past the boars head.And the home brew you once did.I remember your mum and dad,they were very nice people.Not seen Jean for a few years now.
Comment by: degs (fernie, canada) on 6th November 2009
liz, yes that's me, lived right at the bottom of the street .Good days great memories .Liz let me know who you are.Hi Cliff keep the e-mails coming.
Comment by: cliff higham (wigan, uk) on 5th November 2009
Where have all the guys gone? Penny for the guy an things.
Comment by: Chris Higham (Wigan, UK) on 5th November 2009
Look out for his poetry - tin helmet time - Bu Bu Sandside is back!!
Comment by: liz (wigan, uk.) on 3rd November 2009
Degs do you have a sister called Jean and did you live in burlington st.
Comment by: degs (fernie, B.C.) on 3rd November 2009
sam Mellings bike shop ogling at the claud butler bikes with Campagnolo gears but could never afford one.Lets meet half way Saskatchewan maybe.
Comment by: Fred Higham (Wigan, GB) on 1st November 2009
Pull yourself together Bu Bu Sandside. Stop being so mard. If you want to write rubbish you call poetry ,, then write it. If the readers have to suffer they will have to fend for themselves. Are you a man or a mouse?
Comment by: Chris Higham (Wigan, Engkand) on 27th October 2009
was Joan, Charlie Fairhurst's daughter?
Comment by: sandra coxhead nee fields (preston , england) on 26th October 2009
iwas born and bred in scholes neville st off scholefied lane lived in brook house st went to st catherines whelley school remember dr garry drjohnson in greeenough st my aunty joan fairhurst worked at the wallpapershop in greenough st opposite maidwells
Comment by: sandra coxhead nee fields (preston lancs, england) on 25th October 2009
i worked at maidwells they made overalls blouses for marks and spencers in the 1980s
Comment by: Billy Boothroyd (Bickershaw, UK) on 23rd October 2009
Strange thing this diatribe by A.N. Other. Starts in the 3rd person and finishes in the first. Whatever the MA is in it certainly isn't English Language. Probably an MA in scrounging from the Platt Bridge Institute of Stumblebums.
Comment by: Anne Other-Nother (Windermere, GB) on 22nd October 2009
I gather your a happy bunny then BU.
Comment by: john (wigan, uk) on 20th October 2009
The new picture of Greenough Street, claiming to be taken in 1972 is worth a look. Half a picture.......
Comment by: A.N.Other (lancs, uk) on 9th October 2009
I address this to the vile pack of wolves (you know who you are), who saw fit to persecute B.U. from Sandside - and for what i ask ?! A few patriotic poems !! I ask each and every one of you, what actual harm did any of those poems do?? BU was born in Wigan and worked all his life in his home town, and from sheer hard work, after 62 years of living in Wigan, was fortunate enough to retire to the beautiful Lake District. Does that make him any less loyal to his home town? Of course not!! Yet, a set of people continued to hurl abusive remarks to this individual, just because he had pride in his retirement to the Lake District. I have to offer thanks to the gentleman who kindly corrected Mona (completely and utterly aptly named) when she wrongly criticised BU for a phrase that wasn't even maded by him. Mona you may have apologised - but too little, too late I feel!!! I ask you Mona, why you saw it necessary to state on several occasions, that you was a teacher - why? Does this make you a better citizen? Your teaching requirements and ability wouldn't come anywhere close to the teachers we have today and their academic ability. Did you think that by being a teacher stood you on a pedestal setting you apart from BU because he had proudly stated that he didn't attend grammar school? Oh how naive you are Mona !!! I am proud to say that I have a masters degree, but i am more proud to say that i am able to recognise true value of people regardless of academic ability and qualifications. I shall close my comments now and i ask each and everyone of you are you able to sleep at night with a clear conscience? I can stand tall and answer that question with an unreserved YES !!!!! I wake up every morning and i am grateful for everything myself and my family have - a wealth not of material goods but a wealth of the more important aspects of life - good health and happiness. Every day my number 1 aim is to help somebody and make people around me smile. I suggest that the pack of wolves take a leaf out of my book and try to be nice to others for once, and value what you all have and most importantly use this site to show consideration to the people that take time to type their inoffensive words - whatever they may be I feel nothing other that utter disgust for each and every one of you . . . .
Comment by: Maurice Piper (lille, France) on 22nd September 2009
hello everyone, I enjoy reading the memories of this street, my wifes granmama was born in this street in 1948 she often tells me stories of the times she had in her younger days and of many of her friends she had, I have seen some names on here she has mentioned, I read them to her and she smiles much. I was born in France but I have had work over in UK for many years, I will ask her more about her friends she remembers later.
Comment by: Vera P. (Luton, GB) on 18th September 2009
Yes Margaret. Cliff was always a a good looking charming lad with a mischevious sense of humour. I remember him on the Bowling Green opposite St Georges. Always singing the latest pop songs.
Comment by: Margaret Culshaw (Chorley, UK) on 17th September 2009
Cedric. Dont recall you. Give us a clue. What no. Windmill Terrace. I came from there. Do you recall Tommy Norburn. You're right that Fairhurst lad was a right tinker. I think some you mention have gone but the youngest Higham lad, Cliff, is still around. Saw him in the Brocket Arms the other week. Hasn't changed you would easy recognise him. Still looks young and sprightly. Always was a good looking lad but a bit cheeky. Any more memories?
---