Greenough Street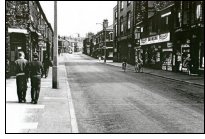 Maidwells was a sewing factory but what did they make? Down by the side of the River Douglas was Water Heyes Electrical. The Quality Hotel now occupies this position across from where the famous old Wigan Rugby Ground was, but now is a Tesco Supermarket.
Comment by: sleuths (r) Us (wigan, England, UK) pre 2009.
Just sidetracking the memories for a mo some of the recent postings have been hazzarding a guess as to the identity of Bloomoon. Our Company, newly located in your wonderful town, will, free of charge,endeavour to find his real identity. Obviously, reading through the postings we have ample enough evidence to start up on. If we don,t come up with a positive result within 7 days, we will donate our regular fee to a local charity. please watch this space and all will out, if deceased, it will be by kind permission of his family. With thanks C H Moon..MD
Comment by: C. Glass (Wigan, England) pre 2009.
I went to St Marys school with many of the people mentioned above. My fondest memory is working on my mates dads hot dog stand in the late fifties on match days. We were playing Owdham. In fact it was cowder than summers afternoon in Owdham. I have never seen folks uglier and hungrier than Owdhamers. They were finishing their hot dogs and getting seconds before their mates had ordered for the first time. Young Bernard was stood on the bridge collecting for the poor kids of St Marys. Poor kid was starving. We took the last two hot dogs over for him. He gulped them like he'd hadn't eaten for a week.
Comment by: Joan Snape (Wigan, England) pre 2009.
I have had a wonderful time reading all these memories and all the wonderful people many of whom I remember. The trouble is you have used up all my memories. Didn't there used to be a fruit shop on the corner of the street opposite Oxford St. We used to buy cherries and peashells in Summer. Then there were the nights in November when you got a golden glow from the shops. There were always people around. I remember the kids who dressed up as a Guy Fawks to scrounge a couple of pence, sat on the damp ground at the corner of Turner St. I think I also know the ID of Bluemoon. I little blond lad who lived near St George's school - probably in the fifties. Must be Donald Ross. Where are you now Donald?
Comment by: bloomoon (wigan, Blighty) pre 2009.
Sorry Alan, you got me wrong again,the Whittaker boys were Walter and Peter,they lived in Windsor st,I lived lower down on the same side the house before No3 Got me now?????.............. you and I were good PALS. Go on have another guess Alan!!
Comment by: T. Porter (Bolton, UK) pre 2009.
Yeah - I recall Cliff Higham and the old ladies who shook their fist at him shouting "you rinc tailed monkey". When the neighbours were not chasing him, he was chasing the girls down Turner St backs. I also recall Denis the menace. Greenough St. had more characters than a Shakespeare play. Its all gone now - shame.
Comment by: A. Adlington (Wigan, England) pre 2009.
With respect to Janet Greens memory I am not Bluemoon although I lived just off Greenough St. Bluemoon says he was a little blond lad from Windsor St which would make him the younger of the Whitaker brothers, I can't recall his name but he went to St Georges School. In respect of Jim Fairhurst's memory, there was a Church of Christ at the top of Greenough St that was bombed during the war. I remember the fire in the Woodyard that led from Windsor St to Great Acre. It was sometime during the mid to late fifties.
Comment by: bloomoon (wigan, uk) pre 2009.
re-earlier posting Rugby match days, always on a saturday, I remember, waiting for cars to park up in river St,"Can I mind yer car mister" some said yey ok,others took no notice. Game started 3'oclock, minding stopped, I,off playing somewhere, 4'oclock, back (minding) I never forget, the biggest tip I ever had was 2/6d which to a 9yr old, a fortune,put it this way, my weeks spending money at the time was 6d. I remember the time this great big posh car parked up, "Can I mind your car mister" "No need son" he said " Look on the back seat,my Doberman,s the minder" " Mmm" I thought, " Yeh, BUT CAN IT PUT OUT FIRES" just jesting. There was no real need for minding cars in those days, they rarely got pinched, not many people could drive.
Comment by: Cliff H (wigan, uk) pre 2009.
I think I remember A Tom Porter,you must be the same one, you must remember Dennis Smith and his brother Kevin from turner st, Joe Fitzimmons from oxford st and you,ve mentioned others I remember. I lived in Windsor St, you must remember me the good looking lad you couldn,t catch, nippy and fast, I was him with the blonde mop. you bring back memories, thanks Tom.
Comment by: michelle (wigan, england) pre 2009.
I've really enjoyed reading all the postings it brings back alot of happy memories of the times my late nana used to tell me about her childhood she was born and brought up in hardybutts her name was ellen(nelly)McEvoy
Comment by: Tom Porter (Bolton, England) pre 2009.
A few more names for you, Cedric Tarbuck, Wynnes, Culshaws, Halsalls.
Comment by: Anne Slevin (Clapham) (Newburgh, Wigan) pre 2009.
Can I throw in some names and hopefully get some replies? Regent St/Oxford St Carol Collins, Jackie Edwards, Barbara Smalley, David Jacobs, Sandra Atherton, Porters next door and Rosaleen who lived with her grandparents next door to the corner shop in Regent St. Rosaleen was always kind to me and took me to the Ritz minors where her grandfather was a "commissionaire"
Comment by: Jim Fairhurst (Fleetwood, England) pre 2009.
I lived in River St until I was five or so. I remember Sam Mellings bike shop, and Lewis' milk bar. I vaguely remember Isherwood's pictures in the window of a shop close to the top of Greenough St. There was some sort of a religious shop nearby, and my grandad told me that a bomb had fallen there in the second world war. There were two chippies more or less opposite each other in Greenough St, one was Michinsons, I don't know what the other one was called, but they were both first class. Does anyone recall the fire in Gallaghers woodyard? If you're less than fifty two years old, don't even try. I don't know the exact year, but it was sometime between 1951 and 1956. It was spectacular though, I remember that. On match days we would 'mind cars' for their owners. There weren't too many cars then, but River St was right by Central park, so it used to fill up nicely. We didn't collect much money, times being what they were, just enough to get into th'hen pen, a pie, and a cup of tea, while we watched Billy flying down't wing. Minding cars was a really easy job then..
Comment by: blue moon (wigan, uk) pre 2009.
I remmber a David Pyke who frequented Greenough St and Lewis,s cafe, I seem to remember he had a fixed wheel bike, if you had the toe straps on and had to stop sudden,oops! can,t get your feet out,down you went sideways, no elbow pads or helmets,crunch !!..........beltin days. Clif Higham doesn,t work in the Bellingham Pub,its his watering hole. Blue
Comment by: Blue Moon (wigan, uk) pre 2009.
No! Janet,you got the wrong one. If your the Janet Green I think you are, and there is only one Janet Green.The one your thinkin of was a young cheeky faced blonde boy from Windsor St,elvis mad,liked to bop,you gave him a woodbine or two in the back of Lewis,s cafe. I know your Bert, ask Kev. Great site is this,you never know who your goin to bump into next.It,s a pity E-Mail addresses can,t be exchanged. Old friends can,t be re-united. "Greenough St-United" let,s get more memories, don,t be shy, lets have em ! Blue.
Comment by: Janet Greeen (Maiden) (Wigan, England) pre 2009.
Deary me! All those years ago, it brings a tear to my eye. I grew up in Greenough Street and often visited Lewis's and the other cafe mentioned by "Blue Moon". In fact, I'm sure I know Blue Moon. There was a cheeky little lad that hung around the Greenough Street cafes and was a great Elvis impersonator, with a wicked and similar, off beat sense of humour as Blue Moon. We had lots of fun together. Are you Alan Adlington - Blue Moon?
Comment by: Blue Moon (Wigan, uk) pre 2009.
Greenough st,my second home,the previous comments brought back memories ,thanks for them. One of my favourite memories is of the Whit Walks. People would put their chairs out along the street early morning as (reserving their seats) I did it for my Granma, all the way up Greenough st chairs benches anything were lined up before 9 O,clock. Could you imagine that now?????? No!....by 10,o,clock they,de be on the back of a Wagon and sold by 12. Lewis,s cafe, yeh, Hilda and Phylis, I eat icecream now and again, but,I,m not just saying this for nostalgia stuff, it is the best I have had the pleasure of, really is ! I also rember the lad collecting for St Mary,s, he was a friend of my brother,he did well for himself I,m told He now trains Racehorses around the Newbury area. There used be a cafe a couple of doors away from Sam Mellings bike shop, anyone rememer the name? they had a small Jukebox on the wall, I used to play Elvis,s "Mystery Train " again,again and again, 1957ish....me,,only 12yrs old He,s still the King and still with us, he was spotted wednesday last week retrieving and stacking trollies on Tesco Car Park. I gave him a hand, poor sod,wet through,hair in a mess, we mumbled and hummed Jailhouse Rock as we pushed em up to the Cop end, lovely bloke,one of us, no pretence. Greenough St will never be the same,but they call it progress. OK...BY ME............but sad it aint the same. Blue.
Comment by: Gwen Charnock (nee Thomas) (Worthington, Wigan, Lancs) pre 2009.
I have really enjoyed reading through all the previous memoires and I notice my sister Adele has had a little input too. I am eleven years older than her so my memory goes back further. We lived in Orchard House just off Greenough St. Mr Prescott's shop was a daily visit for us too. His patience must have worn thin with some of us youngsters as we took 'for ever' choosing items from his halfpenny box. There can't have been muck profit in it so he would choose them for you when he had had enough. I nearly fell into his freezer once at the back of his shop trying to reach for a Jublee (one of those triangular like solid ice pops). Mr Prescott once won a car in a competition but the poor chap didn't really live so long into retirement to enjoy the fruits of his labour. As mentioned, if you owed him a half penny, he would remind you as soon as he saw you again - that's business! I remember Maidwells sewing factory as it was part of the scenery out of our maisonette window. We were opposite Orchard St. Garage. The Mum of my friend Jackie Richardson worked there and I often called into the factory on pay day with Jackie so that she could get money for shopping. Betty, her Mum was a little lady and put a lot of hours in at that factory as I recall. The chippy adjacent to Maidwells was handy as was the clothes shop where we bought clothes on 'tick'. It was practically opposite those horrible urinals by the river Douglas which was not a place to 'hang around' for long. I was never out of the telephone box by there, phoning my future husband to be at the age of sixteen. There was a printers called Tickles or something like that just on the corner. When it shut down all the children got in and collected up all the paper they had left. I had drawing paper to last the next decade! Mum would collect all of our old wool clothing and we would go to the office at Calderbanks scrap metal merchants to get it weighed and it would make a few 'bob' to help the house keeping. I was mesmerized by the large magnetic 'monster' that swung in the air there, picking up large chunks of metal. Piles of the stuff could be seen stacked up as you walked down the Douglas river. Hilda Lewis and the icecream shop were great. I remember a cornet jumping in price from twopence old money to new pence and doubling in cost in a week when decimal currency came in. Hilda always made a fuss of me and I liked her. The lady in the chippy just a few shops away would always give me extra free chips and when I asked for pea wet, she would pile on the peas too. She always called me Wendy instead of Gwen, but I didn't mind. I loved to press on that blue circle in the centre of Leneghan electic shop window. It lit things up inside the shop on dark evenings which in those days was high technology. Dr.Frederick Johnson was the man who helped deliver me at Christopher Home, Wigan Lane, so I was thankful to him. Dr. Garry, who we only saw as a last resort, was usually situated in the 'cubby hole' which was in the corner of the back room where people waited. It was like a pantry and I remember screaming the place down when he tried to straighten my stiff neck on one occasion and mis-diagnosed my measles on another, although there were obvious clues as to what I had! He was not my favourite person. I remember waiting in the doctors on the closed off staircase as a child or on one of those seats attached to the back door. There were two and you had to jump off periodically to let folk out to the toilet in the back yard. I have hundreds of memories about living around there. The land is mostly road and cars now and very noisy. It is changed out of recognition. I have moved on and out of the area to a quiet part of Wigan now. I would like to be transported back in time to see how it all was again, but we were poorer then and nostalgia puts a rosy glow on things. It was great to read all your notes and I feel like it all happened just yesterday and not over twenty five years ago! I look forward to reading more on your excellent site.
Comment by: Peter Fairhurst (Bexhill on Sea. East Sussex, England) pre 2009.
Not really a memory, but! My grandmother, Elizabeth Fairhurst, died in 1933, several years before I was born. We have found out a lot about the Fairhurst family and have grandmother's will; when she died she owned property in Wigan, including Nos.15 - 25 Greenough Street. The value of these 6 houses and 1 in Mount Street was given as £2,370.00 - how times have changed.
Comment by: Monica Stone (Wigan, UK) pre 2009.
I remember the haunted bridge over the Douglas. I played there as a girl. I wrote a school essay about the ghost seen on the bridge. Someone from the Wigan Observer or Evening Post should look up the story.
Comment by: Barbara Brookfield (Wigan, England) pre 2009.
During the 60s I used to walk from Greenough Street along the river bank to the bridge at the bottom of Geat Acre, often when it was dark. It was reported in the local newspaper that a ghost had been seen on the bridge. It was quite a time before I ventured over that bridge again in the dark. Does anyone know anything else about this story?
Comment by: cliff higham (wigan, uk) pre 2009.
I recall, a kids playing about in Calderbanks yard, chucking old used Artillery shells over the wall into the Duggy,daft things you did as kids. Some years ago I remember the bomb squad investigating a shell spotted in the river, just before the main bridge,all the usual precautions were made, policemen, keeping the rubber neckers at a distance, me being one. I told one bobby if they looked back beyond the the footbridge they would find another 30.
Comment by: Bill Ashurst (Wigan, England) pre 2009.
I went to St Mary's school in the fifties. I used to go to Calderbanks scrap yard on match days. My dad knew one of the lorry drivers. We watched the match for free from a loft. You could see all apart from the bottom corner. I remember watching Oldham beat Wigan for the 14th time on a trot. I played several times at central park for the town team. I remember curly dowdall collecting for the poor kids of St Marys. I was his minder making sure nobody mugged him.
Comment by: cliff higham (wigan, uk) pre 2009.
Norm Melling, could it be same biker went to The grammar school, late fifties?? more great memories. He used to give me pillion rides round the town at lunch breaks from school, another great charachter I still bop, norm !
Comment by: Norman Melling (wigan, england) pre 2009.
I feel a bit left out about Lewis cafe. I used to go in after picking up my girl friend who lived in Howard St Scholes, now demolished. I had a new motorbyke and used to show off at the cafe. We used to have an icecream before going on to St Johns club and later Lills cafe at Standish. I remember Cliff Higham who was always trying to get the serving ladies up to bop. There were two chipies opposite each other and a toffee shop lower down than Lewis cafe called Riders.
Comment by: Dennis Ratcliffe (Sydney, Australia) pre 2009.
Lots of memories as a child going down Greeenough St to Central Park to watch "King Billy " . Also one of your posters Kate Conroy was a friend as was Anne Dowling ,spent many a time on the common with them. If possible would like to hear from Kate . I have been in the land down under for over 30 years , back to Wigan now and again. Planning to come over next year and would like to look up some old friends from the best time in my life ,a carefree teenager in Wigan in the early sixties .
Comment by: Jon Wood (Leigh, england) pre 2009.
My grandma lived in mount st. A quaint little street that ran down the back of greenough st. Mount street ran from the top of greenough st where there was a junk shop run by a rag and bone man called Kelly. I used to call at Lewis's for an ice cream when I went to my grandmas. I remember cliff higham who went in Lewis's. his name is cliff not chris as stated above. he used to bring prato peelings to my grandma and she would give him a handful of dolly mixtures. my grandad had a pig pen over platt lane fields. they boiled up the peelings to feed the pigs. these days they fry em up and serve em to you in restraunts as potatoe skins and charge you an arm and a leg. sally salt was a little old lady who sold salt from a hand cart, she used to push it up greenough st. does anyone remember what hapened to sally salt?
Comment by: Christine Reddington (Standish, Wigan) pre 2009.
regarding Cathleen the Scottish receptionist at Dr Johnsons. She is still alive & lives near me. She was widowed & then married Ralf Johnson the Auctioneer & ran the Grand Hotel in Wigan before retiring.
Comment by: D. Pyke (Wigan, England) pre 2009.
I remember Lewis's cafe and the rock and roll juke box. Kids talked about hairstyles, who had the best bunch of grapes, DA and sidelocks. We talked about clothes, drains (trousers), boats (crepe soled suede shoes); flouescent coloured socks etc. I know most of the people mentioned by Cheta Brown are still around Wigan. Tommy Deane drives a bread van, Nigel Flemming works at the infirmary and Ernie Dowdall works for the council. Someone told me that Chris Higham works at the Bellingham Hotel but I'm not sure.
Comment by: Cheta Brown (wigan, United Kingdom) pre 2009.
Dicky Plumb's barbers shop was mentioned above. This was Dicky Mears. He came from the Scholes area where many of his relatives still live. Rushton's I think were related to the late Willie Rushton, humourist and TV pundit. The lad collecting for St. Mary's may be Ernie Dowdall, they called him Curly and he went to St Mary's school. I beleive he lived in Goose Green, a little street of a few houses just off the main road. The name of the street escapes me.
Comment by: Cheta Brown (wigan, United Kingdom) pre 2009.
I was at the grammar School late fifties early sixties. we used to go from school to Lewis's Cafe to hear rock'n roll on the juke box. They always had Elvis, Eddie Cochran and Gene Vincent. Great stuff. My best pals were Elmer Hardman, Bill Tash, Jazz Holding and Mogsi Morris. Some other names are a bit vague Nigel 'Flek' Flemming, Tommy Deane, Chris Higham, Tips, Bamba, Ronnie Ridout and Ernie Dowdall. Are these cats still around?
Comment by: Anne Slevin (Clapham) (Newburgh, Wigan) pre 2009.
I was born 1947 in Orchard St and later moved to our own house in Regent St. I remember Mr Percy Prescott and his daughter Jeanette as I went riding with her at Stringmans in Golborne. I remember Joe Jones' toffee shop, Rimmers for Vimto lollies, Lewises where you were served icecream from the window or went in for a hot Horlicks,Bovril or Vimto. Every Easter we had new best clothes and a new hat for church from Ms Smiths in Greenough St!
Comment by: Jaybell Pentops (Wigan, UK) pre 2009.
The cloggers shop, I think was at the end of Oxford St. It was owned by Harry Fairhurst. He had the limp all his life but as a child could walk, on his hands, from his birth place in Seed Street to his school, St. George's. They don't make em that tough now.
Comment by: Jaybell Pentops (Wigan, UK) pre 2009.
I remember the late 50s in Greenhough Street. Each year at bonfire time a boy named Cliff Higham would dress as Guy Fawks, sit at the end of Turner Street, and pretend to be a dummy, with a sign around his neck "Penny for the Guy". I always wondered how he kept still for so long. A young lad named Bernard, I think they called him "Curly" used to stand by the bridge in Greenough Street collecting for the "poor kids of St Mary's". Does anyone remember these people and where they are now.
Comment by: Enid Lancaster (Sutton Coldfield, West Midlands, England) pre 2009.
I worked in the offices of Maidwell Manufacturing from 1961 until about 1966. There I did the wages and all admin associated with the running of the factory. I made clock cards out for the girls, if they were six minutes late after the hour, quarter past, half past and quarter two,I had to quarter them.I was not very popular, they hated me for doing it. Sorry girls not my fault, blame the bosses. I still have fond memories of the place. Jack Claxton was the manager, Bill was the supervisor in the cutting room, Terry the mechanic who looked after the machines for the girls. Molly was the forelady in the workroom, over all the machinists, passers, buttonholers, and the packing room. Sometimes new girls got their finger caught under the needle. Remember these were industrial machines and very fast. Mollys joke was, "That now they could call themselves a sewer". Not appreciated I don't think when they were feeling a little sick and dizzy. I am still in touch with Mary Taylor, who still lives in Wigan, we telephone each other from time to time. When I worked there the factory was owned by Henry Bannerman, and their head office was in Manchester somewhere. We made nylon overalls in several colours, and I well remember when the shift dress came out, we made quite a few of them, and I bought one and wore it to be in fashion. Some girls worked on their own making a garment from start to finish. Others worked on the belt, each doing a piece of the finished article. Music was played all day from the radio, for me a distraction at times, when I was trying to add up the wages books, plus the tax and National Insurance Stamps. These stamps I had to get out of Petty Cash, and I would go to the Post Office further up Greenough Street, put them in the books, and date stamp them. This practice is not done anymore of course. I also remember the Rugby Club being accross the way, and one night on my way home to catch the train, I saw Eddie Waring being interviewed on the brige over the river for TV. Not a pretty sight with his make up on, and he never liked Wigan did he? Well those are a few of my memories of Maidwell and Greenough Street, and I still call Wigan home, so it is lovely to go on this Web site and see how places are still there or no longer there as the case may be. But that is supposed to be progress is it not?
Comment by: G.D.Daniels (Wigan, UK) pre 2009.
Top of Greenough Street was DH.N Tyldesley plumbing and heating
Comment by: John G (Bury, Lancs) pre 2009.
Isherwood's shoe shop at the top of Greennough Street was run by the parents of Jim (Lawrence) and Gordon Isherwood. When the evenings were becoming dark around November, it was lit by filament bulbs rather than fluorescent lights. I still remember the yellowish glow that they used to give out and still associate that scene with the shortening of days as winter approaches. Pity Jim didn't paint it. Leneghan's electrical shop on the other side of the road was always a source of fascination. I remember buying a crsytal and cats's whisker from there and putting together a crystal set that actually worked, although it did require a rather large aerial. My parents would often stop at Lewis's cafe to buy me an ice-cream when I was a kid. This was usually in the evening on return from trips to Southport. The place had a milky smell about it and I preferred to remain outside for that reason. The bike shop at the bottom was Sam Mellings wasn't it? It was filled with aluminium handlebars, aluminium brakes, aluminium wheels - in fact the whole point of bike ownership at that time seemed to be to aim at it weighing almost nothing at all. Calderbanks scrap yard is a bit of a puzzle. It was set back off Greenough Street and seemed to occupy a much larger area of land than would have been possible looking at the site now. But that was the salient impression when I was last in Greenough Street - it looked smaller and less seemed to be going on.
Comment by: Denise Sharpe (Wigan, UK) pre 2009.
My Grandmother used to live at 9E Greenough Street. I loved going to visit and playing with the accordian in the cellar but I must admit going to the outside toilet down the 'corridor' wasn't one of my happier memories. (I was only a youngster then!)Why did they have to pull the houses down? Rehoused in Boyswell House - well, I bet that was just great (not). Being older now and appreciating houses for what they are, it must have been heartbreaking for the occupants of Greenough St - give me a mid terraced with a cellar over a one bedroomed flat anyday
Comment by: Joe Fairhurst (Melbourne, Australia) pre 2009.
Down the bottom of Greenough Street, opposite the path to the bridge across the Duggy and on to Central Park, there stood a bicycle shop that became vital in my young teen days living in Weston St. I called there every Saturday morning during the season to collect records (78s) which I borrowed to play before the match, during half-time and after the match at Central Park. Nat King Cole, Frankie Laine, Johnny Ray ... but the only music the fans really warmed to was the Entry of the Gladiators theme. Such is life.
Comment by: Veronica (Westhoughton, England) pre 2009.
I had completely forgotten about Mrs Johnson -she was very classical looking with a pale complexion and fair hair. I also remember the receptionist called Cathleen I think. She had the most beautiful blue eyes and dark hair. If I remember she was Scottish. The thing that fascinated me was her dress and the shoes she wore -always very high heels. I thought she looked like a film star!!
Comment by: Bill Winrow (westhoughton, lancs) pre 2009.
i also remember Dr Johnsons his wife was a doctor in the same practice.we lived in new springs he was our local doctor it was always packed queuing outside somtimes. a bit further down on the right hand side was mellings cycle shop.it was run by mrs melling she was a very nice lady always had time for you .saying we were kids she treated us like adults, i can see here now behind the counter, may i say this web page is the best on the internet keep it up thank you
Comment by: cliff higham (coccium, england) pre 2009.
I was born just off Greenough St,as a kid I remember my mother taking me to Isherwoods for my shoes and the MAN himself serving us,he seemed an old man to me then,30yrs on,he,s living up the road from me,we used to stop and chat as we passed each other on the lane, NO! he didn,t remember me but I did, him.Somebody mentioned Lenhegans,that rung a bell,we as kids used to buy the square elastic for our catapults.On the opp side lower down was a tiny paper shop,I was a delivery boy there for a while,can,t say who the owner was,I never saw him,I think he smoked his Woobines two at a time,a maze of smoke used to greet me as I walked through the door,I don,t think he ever saw me,just a young kid walking in and picking up the paper bag and going out. Lower down on the opp side I remember a cloggers shop,the man had a bad limp or such, on the corner of Vaughan St,Lawtons Butchers then my (local)as a 13yr old, Hilda Lewis,s cafe,best icecream Iv,e had the pleasure of,Mortons Grocery store,a sweet shop,a chippy and Rushtons Grocery Store corner of Turner St where I used to go for my mother groceries,on tick,pay on Fridays. Across the road,I remember,Flories flower shop,McLeods butchers,Macs chippy,a Barbers,he had a limp, we called him Dicky Plumb,anybody remember the other shops? Dickinsons paper shop,I delivered papers for them later on,better wages,bought my first bike from Sam Mellings bike shop across the road,paid for by myself weekly from my wages. Incidently in Greeough St,lived, in 1881, at no,83 my GtGt grandad,85,my Gt grandad and my grandad and at 87,Grt grandads brother who had a Painting,Plumbing and Plastering Business.I could go on,all we have are memories and most of good ones we never forget.
Comment by: John Shuttleworth (Winstanley, Wigan) pre 2009.
Was it Greenough St just by the rugby ground where the gents toilets used to be. Remember?The cast iron surround painted bottle green? In the days when we used to get hot summers and sanitation was not high priority the smell was quite........you name it!!
Comment by: pat dobson nee walker (wigan, england) pre 2009.
i lived back to back with greenough st swan terrace from 1947-1960s when they pulled our houses down they ripped the heart out of the place you could buy anything in scholes area from pins to pianos have great memories of lewis;s and stans toy shop etc.
Comment by: jacqueline perrins (Barnoldswick, England) pre 2009.
In the 1960s the doctors in Greenough Street was Dr Johnson and Dr Gray. I remember the chemist on the corner at the top of scholes and geenough street, and my dad deliverd newspapers to Prescotts newsagents.
Comment by: veronica (westhoughton, England) pre 2009.
I always went down Greenhough St when going 'up town'. I remember Isherwood's shoe shop with the oil paintings in the window. I'm afraid I did not appreciate his paintings especially the one of his mother in a shawl. The shoes in the window looked as if they had seen better days as well. I also remember across the road Dr Johnson's surgery. (If you were on the top of a double decker bus you could see inside !) Leneghans Electricals was also across the road..I remember the lady with very dark hair and horn-rimmed glasses who always seemed to whistle beneath her breath. She always knew everything about wiring and plugs and such. I also remember going in the shop with my mam to take a battery from our "wireless" ..God knows what it needed doing! Further down the street was a shop I liked to go in ..this was Stan's Toyshop. I would buy paper dolls to cut out and dress. you could buy allsorts of stuff for sixpence. I even bought a pair of steel roller skates for 3s/6pence!. later on in the sixties we would hang out on the corner near Lewis's cafe. Greenough St was also the gateway to the River Douglas ..walking along the river on a Sunny Sunday afternoon dressed up to the nines in summery dress and white shoes! Might even walk all the way to Haigh Hall and catch the tractor coming back! Scholes and Greenhough St were very interesting areas in which to live in those days - a real bustling community which has gone forever I am sad to say.
Comment by: MARGARET FINCH (Baughton, Worcestershire) pre 2009.
DOES ANY ONE REMEMBER THE OLD RAILWAY CARRIAGE AT THE TOP OF PARBOLD HILL. YOU HAD TO GO TO THE HOUSE WHICH IS NOW A RESTAURANT AND ORDER YOUR DRINK==DANDYLION AND BURDOCK OR LEMONADE YOU HAD TWO CHOICES AND THEN YOU COULD GO AND SIT IN THE OLD RAILWAY CARRIAGE HAPPY DAYS OF INNOCENCE I REMEMBER CALLING IN THERE WHEN WE CAME BACK ON CYCLES FROM A DAY OUT IN SOUTHPORT AND THE LONG DRAG UP PARBOLD HILL YOU NEEDED A DRINK I SUPPOSE THIS MEMORY MAKES ME QUIET OLD
Comment by: Anne Slevin (Clapham) (Newburgh, Wigan) pre 2009.
I remember Ann Dowling and Betty and Cliff Seddon - they were friends of my parents. I also remember Prescotts grocers which was Whettons prior to that. I always remember the Whettons beautiful car. Does anyone remember Florries corner shop?
Comment by: Christine Davies (Wigan, England) pre 2009.
My mum worked at Maidwells for some time during the 1970s and they used to make all kinds of clothing, particularly school uniform shirts and that kind of thing. I think it changed its name to Banner Textiles but I could be wrong about that
Comment by: kate conroy (madrid, spain) pre 2009.
in the late 1950s, my friend Ann Dowling lived in the newsagents in Greenough St. just where the River Douglas green bridge was. The shop was run by her mum Betty and her grandmother who I think was Alice. A couple of houses further up was a hairdressers owned by a Mrs. Seddon who had a son Jim and a daughter Ann. There was a cafe just after Turner St. where you could by Vimto lollies for a penny. Was it Lewis's?
Comment by: Molly Barfleet (Leyton Buzzard, UK) pre 2009.
Wasn't there a bakers/confectioners shop somewhere along Greenough Street. I remember my Mum sending me to get cake when my Uncle came home from the War. She'd saved up her rations - it was such a treat. Was it Banners or something like that?
---