Some shops that no longer exist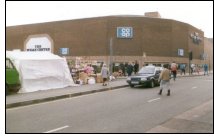 In Wallgate there was Ashtons (Tobacconists), James Star's (Bookshop) they also had a printers in Dorning Street. In Market Place, Maypole (Grocers), Meadow Dairy (Grocers). In Market Street, The Golden lion (Pub) does anybody remember the golden lion on the wall?, Lowes (Department Store), UCP (Restraunt and Tripe shop a Lancashire delicacy of yesteryear). Conroys also had some wholesale storage opposite the old market, then there was the two rows of wooden stalls by the side of the Market this is where you would buy your fresh fruit. In Standishgate there was the Rendesvous (Cafe), Woolworths also had a store, Woodhouses (Furniture shop), Mark Williams (Butchers) R O Laces (Cake Shop), and there was the Dog and Partridge pub at the corner of Church Street. In Mesnes Street there was the Scotch Bakery and Cafe, and in Station Road Pools had a Department Store.
Comment by: Olive Fallows (liverpool, uk) pre 2009.
does anyone remember j.h. hurst wholesale and retail grocers 58 wallgate. i left school in 1962 and worked in the shop for 3 years. i hated it. long hours and freezing cold in the winter. next door to hursts was cholertons photographers. opposite was a little work shop that made lovely saddles.
Comment by: Christine Reddington (Standish, England) pre 2009.
I remember Atkinsons the grocers in Mesnes Street selling bacon and smelling of newly ground coffee. They moved their shop to Mesnes Road opposite the Brockett. Arthur Atkinson died recently. Baileys bakers also in Mesnes street selling lovely butter pies. Mr Bailey had a race horse his daughter has Galloways shops. Opposite to Atkinsons was a Highams florist. Roy Turner sold prams and toys in Mesnes street and behind there was a Smithy.
Comment by: Brian Cooke (Wigan, UK) pre 2009.
From what I can remember Ashtons tobacconists has only recently stopped being a tobacconists or am I mixing reallity with old photos ? Another shop that used to amaze me when I was a kid was the old Dixons that shared an entrance into its lower sales floor with Lowes (Dixons now being the Lunn Poly). Also does anyone remember the small shop (think it was down the bottom of King Street probably where the new through road is) that had a carousel in the window. and finally the old childrens library on the road that runs from the swimming baths up to the bottom of Station road. Kiddiland, The Penny Farthing Cafe, the electronic map in the old bus station, Baldwin Timberlakes, also does any one remember the small model railway shop in the row of houses across from Pemberton Station when it still had its footbridge.
Comment by: dorothy unsworth nee finch (calista, western australia) pre 2009.
it was the dog ith thatch at top of church st i lived in church st opposite the drill hall i remember the prisoners of war being brought there a culshaw did you live in turner st
Comment by: Eileen Edgar (Chorley, UK) pre 2009.
Jacksons tailors at the corner of Market Street opposite Lowes. There is still a Lowes sign behind Barclays bank. I remember Frank Tickles well, also Anne Conroy and if Pat Van Vliet is nee Pat Johnson, I remember you.
Comment by: david brogan (worthing, UK) pre 2009.
Opposite Pools pie shop in Wallgate was Addisons off licence. Above this in the early 60s Jack and Grace Hurst started their taxi business - much to the dismay of Middleton and Wood. One of the best pubs I remember was the Dog i Thatch in Standishgate,Eric and Beth were the landlord and landlady. It was demolished in (I think) the early 70s.
Comment by: Vivien Schrager-Powell (Loudwater, Rickmansworth, UK) pre 2009.
I remember a fishmonger called Mr Woodend. That lovely clean sawdust covering the floor - you could nudge it into thick drifts with the insteap of your Start-rites while mum discussed the price of....well, fish actually! The produce was laid out in the window with ice to keep it cool. He was such a nice man, gave me a mint humbug once. Retired to the coast....but all this was back in the early 60's. And Shannons.....sold dried stuff, lentels, beans, dog biscuits. The staff were forever heaving open the huge wooden cellar door and dissapearing down to fetch whatever it was you wanted. The air was always dusty and they wore brown housecoat-type overalls. Mrs Smith along Wigan Lane. A small grocery store selling everything. I remember noticing some young hitchhikers on the other side of the road and her commenting that "Young people of today have no sence of values..." And that was in the early 60's. The lovely Clarkes. Brother and sister who ownded a greengrocers on Wigan Lane, next door to the old Wigan Girls High School which became Woodfield Juniors. Their shop was in their back yard. Miss Clarke was very fond of animals and collected for the RSPCA. Mr Clarke drove a dilapodated green van with the day's deliveries spilling out...... Last time I went past it was a nail salon.
Comment by: Steve McEvoy (Wigan, UK) pre 2009.
The shop that housed Ashton's tobacconists is still there in Wallgate, opposite The Raven, in fact , it's still a newsagents. I remember as a kid, watching the flashing sign over the door come on in stages, thought that was really high-tech!!
Comment by: Pat van Vliet (Zutphen, Netherlands) pre 2009.
I remember Tickles in the Wiend. My best friend in those days, Anne Conroy, and I used to buy moulds, placques and moulding powder there for our hobby. It was a fascinating shop, as I remember.
Comment by: E. M. Finch (Baughton, Worcestershire) pre 2009.
In Standishgate there was also Pendlebury's in the Christmas Holidays from school I and Margaret Prendergast was allowed by Sister Edith, Headmistress of the Convent to work there. We were on 10/6 a week plus one penny in the pound commission and closed at 6pm I was put in the china dept . The next year we both went to Boots Chemist in the Handbag dept upstairs . in Standishgate . Happy days
Comment by: Howard Phillips (Los Angeles, USA) pre 2009.
Lived in Platt Bridge 1949-1955. Remember Tripe and Onions at the UCP..still was there in a visit in 1972. Remember the Rendevous..first time I tasted turkey..loved there salad sandwiches. Does anyone remember the old picture houses..the Rex, the Pavilion and the Court.
Comment by: Julie Phillips nee Cullen (Two Rocks, Perth Western Australia) pre 2009.
Blutos night club - which was next door to Lowes Dept Store and above the tripe shop. I used to work there as barmaid I also worked on the door taking the money and coats. I used to go to Mesnes High School and am looking to know if anyone can remember me. I remember buying a pound of broken biscuits for 6d from Woolworths, anyone else remember this treat. Also buying the best pies in the world at Pooles Pie Shop. I married a soldier named Eddie who was in the Falklands in 1982 and we had our reception in Wrightington Country Club, my father wrote a piece that made its way into The Wigan Observer. Living in Oz and seeing this page brings back many memories and many tears.
Comment by: E. M. Finch (Baughton, Worcestershire) pre 2009.
Does anyone remember my Uncles shop up the Wiend, he used to sell skins and clog soles and irons for the clogs. Frank Tickle his son came back from the war and started selling Fents, and materials to make your own jewellry, and wicker for basket weaving and all materials for handycrafts - in later years he moved to Mesnes St. Frank is now 92yrs young but still going strong.
Comment by: A Culshaw (Wigan, UK) pre 2009.
The Golden Lion was in Wallgate, below the Raven, not Market Place. Just below that was Wildings Stationers, on the corner of Bretherton Row. A pub not mentioned was "The Cross Keys" next door to the red tile building which was Martins Bank. The Cross Keys is now "The Moon under Water".
Comment by: Jean Leyland (Wigan, England) pre 2009.
James Starrs printers in Dorning Street, my mother worked there for many years as a printer and bookbinder, I also remember rendevou cafe and most other places you have mentioned, I met Julie Andrews father Ted Andrews at Wigan Hippodrome, we used to go to the repatry theatre at the Hippodrome every week.
---