Some shops that no longer exist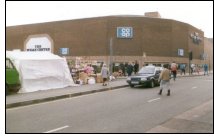 In Wallgate there was Ashtons (Tobacconists), James Star's (Bookshop) they also had a printers in Dorning Street. In Market Place, Maypole (Grocers), Meadow Dairy (Grocers). In Market Street, The Golden lion (Pub) does anybody remember the golden lion on the wall?, Lowes (Department Store), UCP (Restraunt and Tripe shop a Lancashire delicacy of yesteryear). Conroys also had some wholesale storage opposite the old market, then there was the two rows of wooden stalls by the side of the Market this is where you would buy your fresh fruit. In Standishgate there was the Rendesvous (Cafe), Woolworths also had a store, Woodhouses (Furniture shop), Mark Williams (Butchers) R O Laces (Cake Shop), and there was the Dog and Partridge pub at the corner of Church Street. In Mesnes Street there was the Scotch Bakery and Cafe, and in Station Road Pools had a Department Store.
Comment by: liz (bolton, England) on 7th June 2009
Tickles the weind - when the weind was re vamped Mr Tickle went to work in Times Craft in mesnes street. He looked so out of place and unhappy, it was always a joy to go in his shop - whatever you wanted he would eventually find it for you. Wigan has sadly lost all of it's individuality now as with most towns. It is and always will be dear to my heart
Comment by: Gill (Wigan, UK) on 31st March 2009
I had to say that I ceratinly remember Walleys pet shop and the amazing animals in there. What memories have come back to me. I have lived away for an age and rarely go into the town centre. I grew up in Ashton and went to the grammar school. Does anyone remeber the old gentleman who poured icing onto ice buns at the traffic lights top of Gerard st and bottom of Liverpool rd ? So fantastic we had to hide on the way home !My grandfather built Wigan cattle market , now knocked down but was a thriving centre. He had an office ,John Trickett and sons in Kng st. next to a confectioners called the black boy where my dad bought my mum pontefract cakes every Friday. Opposite was a gents outfitters called Roger Roden. My greatest mouth watering memory is Mcandlishes pasties, I was actually allowed to eat in the street as long as it was hidden behind the bag. Every morning my Grandfather, Uncle Oswald and my Dad would stroll up to the Mallorca Hotel for morning coffee, what a treat it was to go with my Dad !
Comment by: Pat van Vliet (nee Johnson) (Amsterdam, Netherlands) on 12th March 2009
Response to Jennifer Grundy re Casino: I also frequented the Emp and later the Casino, remember the groups who played there. Ray Simms ......... I remember having a date with him once, I was about 16 at the time; I seem to recall a few girls had a crush on him. Great times!
Comment by: Pat van Vliet (nee Johnson) (Amsterdam, Netherlands) on 12th March 2009
Hi Kitty and Marian, nice to see a mention of Taylors Bridge Baron & Sykes, brings back memories of when I worked there for a couple of years. Started in 1962 as office-junior then worked as Hubert Taylor's secretary. Mary Mills was Gerard McHugh's secretary at the time and Irene Baron was secretary to Cyril Sykes. I was working there when Beatrice's dad died. The last time I saw her must've been early 70's when we still lived in Wigan. We used to frequent McCandlish's, cheese & tomato cobs were my favourite. Occasionally we would treat ourselves to a lunch in the UPC.
Comment by: Brian Holden (Finike, Turkey) on 12th March 2009
I also remember the Brigadiers a good punk rock band. They looked a bit funny but I think that the drummer was the brains behind them. There was a punk jazz band that sometimes played at the john bull with a spaced out bass player and a woman on percussion, they had a brilliant young drummer that kept it all together, I think that they were called inside out or something
Comment by: jim kershaw (palm coast, america) on 13th January 2009
Punk was very popular in Wigan in the late seventies but does anyone remember wigans The Friggin Brigadiers,they would leave any visiting punk group for dead,they had a totally origional set including a song called White Man in Wigan Casino.
Comment by: Susan Rynn (Wigan, England) on 13th January 2009
I worked in Times Craft. when it changed names to Conrad office and Art.... Joan retired whilst I was there. Frank Tickle moved from the Weind to a corner of this shop ...He was a lovely man and his wife Agnes...lived in Hornby Street.. He had a fantastic assortment of buttons... I loved looking thru all the different varieties....
Comment by: C. Higham (Wigan, UK) on 1st January 2009
Comment by: Carol Littler (Wigan, England) on 16th December 2008
I had a Saturday job in Times Craft Centre around 1985 when I was a teenager at Wigan College. I really loved that shop and the people who worked there (Barbara, Alan, Ann, Joan, Cath and Peter) - we used to have a good laugh. I really miss that shop although I spent my wages there every week because they always had interesting things to buy.
Comment by: celia fairhurst (wigan, lancashire) on 10th December 2008
I remember when I worked at Coop & Co in Dorning Street, and we used to go to the UCP for our dinner. 3d plate of chips, with gravy becasue it was free, and a free glass of water. It all eeked out my spending money in those days. We sat on a bar stool at the counter and I can still recall how good those chips tasted.
Comment by: andrea (wigan, england) on 15th October 2008
i remember julie cullen did u go to tommy moore?
Comment by: Susan Rynn (wigan, uk) on 10th October 2008
Anyone remember the lovely petite silver haired (often with a lilac rinse )lady ( Bessie Mitchinson)on the reception desk at Lowes hair Salon upstairs??..Nora Webster was manageress I think...? That silver/lilac rinsed lady was my Nan!
Comment by: Lorna Bennett (Burnham, Bucks, UK) on 10th October 2008
I also went to the dancing school from 1945 to 1953. It was run by Tom and Hilda Moss and thei mother who we called Madame Moss. There was tap and ballet on Saurday mornings with Miss Moss and ballroom dancing in the afternoon with Hilda and Tom. They then ran a dance in the evening.During the war our rations were bought at the Meadow Dairy. I used to live in Bridgeman Terrace opposite the road leading to Rylands Mill. I was Lorna Gimson then.
Comment by: jeanette (skelmersdale, england) on 26th September 2008
Evelyn, Wigan, England' i dont know if my sister wendy answered you. yes our mum was margaret brown(nee wood) sammy/simpson/laddie woods was our uncle sadly he died in a car crash while on holiday in scotland two weeks ago.auntie bea died last wednesday,their funeral was this morning.
Comment by: Janet Garland (nee Ramsdale) (Todmorden, UK) on 5th September 2008
I remember Oliver Somers sports shop, an Allandin's cave. I remember John Somers who was my age and was friendly with the group I hung around with. He kindly lent us his tent for a holiday and say we were the best equipped on that Windermere camp site was an understatement.
Comment by: cliff (bloo) (wigan, England, Gt Britain, United Kingdom) on 10th August 2008
doin well in her this is the 200th posting I win a bottle of whiskey. I started a whikey diet last week I lost 3 days already
Comment by: c.cunningham (Wigan., gr.manchester) on 9th July 2008
Hi Marian, my email is c.cunningham06@tiscali.co.uk if you would like a natter.
Comment by: Marion M (Shefield, England) on 8th July 2008
Hi Kitty how time flies I suppose it must be 50 years since the Taylor's Bridge Days and having sandwiches from McAndlishes. I've been living in Sheffield for 45 years. Glad to hear you still keep in touch with Beatrice. I remember when her dad mended our clocks & watches.
Comment by: cliff (bloo) higham (wigan, England, Gt Britain, United Kingdom) on 6th July 2008
Hey Y,ALL bless my soul its first Time I visited this site, I,ve been abused an used someone usin my name and me buyin clogs too big for me oh ok, that was true. very interestin reading, bit to late to comment on some stuff already said but still I,ll visit, great stuff keep it commin
Comment by: Kitty Cunningham nee Connaughton (Wigan., england) on 5th July 2008
Yes Marion it is I who worked at Tayors Bridge.Thats some time ago now. Were you still there when I left? I still exchange Christmas cards with Beatrice.
Comment by: Marion M (Yorkshire, England) on 27th June 2008
Kitty Cunningham who used to work at Taylors Bridge Baron & Sykes (nee Kitty Connaughton) I remember working with you I worked for Alice Gwilliam when you worked for Gerard McHugh (must be you)
Comment by: rob n sy (wigan, england) on 26th June 2008
we remember johny come tomorrow as jack come tomorrow wouldn't be able to do that these days ........... PITY
Comment by: Kathy McKie(nee Cook) (Newark, Notts, UK) on 18th June 2008
Growing up in Wigan in the 50s my Grandma used to take me to Poole's for a pie for my dinner - always the one in Standishgate. Next door, up some stairs was a dentist where I spent many a wretched hour having my buck teeth straightened (thank goodness!)
Comment by: sharon, (ashton-in-makerfield, uk) pre 2009.
Yes i remember gorners cafe in wigan, and lowes cafe. You dont get cafes like them anymore, they where really good.
Comment by: Maz M (Sheffield, England) pre 2009.
Does anyone remember Gorners Csfe in the Little Arcade. Used to go on a Saturday for lunch after going to Kitty Lee's dancing class when we were rehearsing for a panto held at Thickness Hall in Frog Lane.
Comment by: Sharon crank (nee: cottom) (Ashton, UK) pre 2009.
I remember Albert Hurst on downall green road, He was lovely. I spent most of my childhood in your dads shop, chatting to him and buying 10p toffee mix. Your mum was lily. he had his till on the left when you walked in and the fridge where he kept the butter and ham was in front of you when you went in. I have very fond memories of your mum and dad. My nan owned a chippy in bryn called Cottoms Fish and Chips on wigan road, your dad knew my family well. Does anyone remember cottoms chippy on wigan road in bryn. It was on the opposite side to the coop further down from the pub.
Comment by: dee (chorley, uk) pre 2009.
LETS NOT FORGET ABOUT THE UNDER GROUND TOILETS AT TOPO WIGIN,THEY WERE SPOTLESS.
Comment by: Andy Coward (Mui Wo, Hong Kong) pre 2009.
Just came to this site and was shocked to see people talking about Trucks and record exchange, and even more my old band 'The system'
Comment by: J C (Llandudno, North Wales) pre 2009.
No, you have the wront Tom Whalley. This Tom ran a Temperance Bar on Ince Bar and then opened a riding school and kennels in Gathurst when the pet shop closed.
Comment by: Clifton Higham (UK, Wigan) pre 2009.
Do you mean Tommy Walley from out of Platt Lane who went to St Pats?
Comment by: J.C. (Llandudno, North Wales) pre 2009.
Who else remembers Tom Whalley's pet shop at the top end of Millgate? Tom kept a Puma in a cage in the shop and regularly exercised it on a lead around Wigan! No `risk assessments' in those days! Who else saw this - I can't be the only one.
Comment by: denise johnson re gaskell (wigan , england ) pre 2009.
hi denise here got your message my e.mail is brianjohnson58@hotmail.comdont know if sandra has a e mail address
Comment by: Helen West (Sheringham, UK) pre 2009.
I remember the Scotch Bakery, was it not called Baileys ? It was opposite the back Congregational church on the corner of a wide cobbled alley. We had meat & potato pies from there, not much meat, lots of potato but thats how I liked them, was a budding Vege even back then. When I used to get off the Ribble bus from Ormskirk, where I went to school, I would go into Baileys for a Parkin, great round, soft, chewy, gingerbread biscuit & eat it as I walked through the alley to Dicconson St, where I was living with my Auntie Greta Bryson & family. There was a shoe shop in Mesnes St where you stood on a unit that x-rayed your feet, my mother always bought ' sensible' shoes for me there ! I also remember the little arcade, I got red tap dancing shoes from a shop there, maybe Bon Marche, they tied up with red ribbon. I went tap dancing upstairs in a building opposite the original bus station, don't remember what the school was called, anyone know ? I can still sing ' Roll a Silver Dollar down upon the Ground' all the way through, can't tap dance nearly half as well now ! My Grandpa used to take me to the Makinson Arcade to the Tea & Coffee Importers, I would sit on a chair while he made his purchases, look at all the pottery jars with chinese designs on...all tea or coffee was weighed into thick blue bags & the aroma was wonderful. I love reading about all these places & people in bygone days of Wigan. This website is not just pure nostalgia it will be a history lesson for future generations.
Comment by: Marion M (Sheffield Yorks, UK) pre 2009.
Does anyone remember the Court Hall where we danced on Saturday's. You had to have a ticket to get in and if you were late you told the man on the door you were a Nurse at the Infirmary. And the Rainbow Jazz Club held on Monday nights also at the Court Hall downstairs. Lewis's Cafe on Standishgate was also a favourite haunt particularly on Sunday nights! Happy Days.
Comment by: bert (wigan, lancashire) pre 2009.
does anyone have any pics or memories of. the beehive pond in new springs?i was gutted when they filled it in. for whatever reasons.anythin will do. you can email me @ beepe07@yahoo.co.uk
Comment by: B.Mack (Wigan, UK) pre 2009.
Reply: molly, queensland, australia sissy ryan was my mums auntie did u no the family. sissy's real name is Hanorah. and my mums name was Norah Ryan named after her.
Comment by: JEFF HALLSWORTH (toronto, canada) pre 2009.
hello Denise,I haven't checked this site in a while.What is your e-mail adress or Sandras .Christine would love to be able to contact her.We have been in Canada since 1981.Is Sandra with her family.Next time you talk to her would you tell her.
Comment by: Graham Parkinson (Wellington, UK) pre 2009.
Just spent some time going hrough all these postings! I'd forgotten a lot of the places so thanks to all who have revived the memories. Does anyone remember Cunliffes' shop in Millgate? It was my grandmother's shop and it was pulled down when they built the Civic Centre. Try as I can I can't find any photographic record of the shop. Can anyone help?
Comment by: denise johnson re gaskell (wigan, england) pre 2009.
yes i remember you jeffery those were good times at newway caff my sister sandra is now in the canary isles she been there for 10 years now please get in touch if you want a chat bye for now denise
Comment by: Julie Stretch (Utrecht, The Netherlands) pre 2009.
How nice to read all these stories! I remember my mum treating me and my sister Audrey for a posh haircut at Andre Bernards and dancing to Roxy Music, from Mick the DJ, with my mate Kay Melling at Leo's. Where are you Kay?? What happened to my class mates at Mesnes High School (76-79 class 2/3)? The pasties with onions in Wigan are the best on earth! Julie Stretch, Utrecht, NL
Comment by: Barbara (Gloucester, England) pre 2009.
Does anyone remember Bannister's cake shop in Greenough Street (corner of Mount Street), this belonged to my Grandfather who during the war used to deliver bread all around Wigan on a three-wheeled bike. He gave up the shop in the early 50's and it became Taylor's pet shop. Grandfather then went to live in New Zealand with his daughter. Incidentally the famous Pendlebury's fire was on a Saturday night in August 1953 - we were having a Bon Voyage party for my Aunt, who was returning to New Zealand the following week!! I remember being taken to see the smouldering embers after Sunday School at Standishgate Methodist Church, which was on the corner of Dicconson Street.
Comment by: Ernest Pyke (Shevington, England) pre 2009.
The Billiards & Snooker Hall was underneath the County Cinema & you went down steps at a side door. The top table was very near a wall & there was a very short cue to use if you were near this wall.
Comment by: degs (fernie, canada) pre 2009.
One for the lads, remember going down the ball hall (snooker place ) behind the county pictures. Watching the gud uns playing billiards and getting a set of snooker balls from Little Harry.
Comment by: janet (Tallahssee Florida, USA) pre 2009.
John Gorner, St Helens, did you go to Ashton Grammar school and was friends with Billy Tattum, Les Chamberlane, Peter Kenyon? If so I remember you, we were in the same class at least one year.
Comment by: judith (wigan, england) pre 2009.
I remember blutos and my friend julie cullen I told my mum and dad I had been to blutos when actually I had been to the beir keller and thats where I met my ex husband I also remember the ucp and the heavy silver dishes and the trifle memories
Comment by: Ernest Pyke (Shevington, England) pre 2009.
I still use, every day, a glass drinking mug from Oobidoo in Wallgate. An uncle of mine, was Manager at the `Meadow Dairy` at 3, Moot Hall, which was right opp.the bobby on point duty at top of Library St. In 1936, in very thick fog, I followed the tram lines to my home in Stratford St., Springfield from the Blue Coat School in Hallgate. The last tram to run in Wigan was on Sat.night 4th April 1931. Does anyone know what happened to the tram lines? Are they still in situ., or were they removed?
Comment by: Dennis Dickinson (Palmerston North, New Zealand) pre 2009.
WOW !! What memories :) Does anybody remember DAWBERS ? They sold second-hand furniture & pianos ? The shop was located just before the overhead bridge that carried the railway into Wigan North-Western railway station.
Comment by: Fred Bamber (Durham, Durham) pre 2009.
Hi Geoff Brown just read your note. Hope you are well.
Comment by: Debbie Rodden (Wigan, england) pre 2009.
Does anyone remember the second hand shop on Darlington Street, opposite where the court is today. I think it was called Kays.
Comment by: debbie rodden (wigan, england) pre 2009.
Teh department store on Station road was called Oxleys. I used to go there with my mother as a child. I remember they used to have a great big wooden rocking horse that I would sit on while my mum paid her bill, they would let you buy things and pay weekly for them.
---