Some shops that no longer exist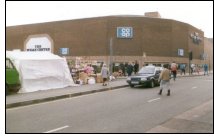 In Wallgate there was Ashtons (Tobacconists), James Star's (Bookshop) they also had a printers in Dorning Street. In Market Place, Maypole (Grocers), Meadow Dairy (Grocers). In Market Street, The Golden lion (Pub) does anybody remember the golden lion on the wall?, Lowes (Department Store), UCP (Restraunt and Tripe shop a Lancashire delicacy of yesteryear). Conroys also had some wholesale storage opposite the old market, then there was the two rows of wooden stalls by the side of the Market this is where you would buy your fresh fruit. In Standishgate there was the Rendesvous (Cafe), Woolworths also had a store, Woodhouses (Furniture shop), Mark Williams (Butchers) R O Laces (Cake Shop), and there was the Dog and Partridge pub at the corner of Church Street. In Mesnes Street there was the Scotch Bakery and Cafe, and in Station Road Pools had a Department Store.
Comment by: champion beer shifter (wigan, england) on 11th January 2013
i remember Denise from neway ,rum un .
Comment by: joseph tighe (leigh, englandkrx) on 8th December 2012
does anybody remember tom lowerys clog shop in cambridge street,close to hardybuts.his wifes nickname was poly do owt she was very dexterous
Comment by: joseph tighe (wigan, england) on 8th December 2012
speakmans confectioners in scholes at the corner of union street,made the best meyt and prater pies were in the world.his nickname was pie joes,he should have been given a medal for them.never tasted nowt like them since im slaverin
Comment by: Melvyn Hughes (St. Helens, United Kingdom) on 2nd December 2012
I worked at George Makinsons on Miry Lane from 78 to 79. I was only 16/17 and pretty much lazy :-D Does anyone else remember who worked there? I can remember Colin Martlew, Peter Jones, Benny Haddock, Alan Boland, Peter Higson. Any of you out there? Also, someone mentioned The BAked Potato at the old bus station. My sister Pam worked there and as a 'clippy' on Ribble buses! Chamberlains music shop - bought my first guitar there! Happy memories!
Comment by: stephen frederick lyon (wigan, lancashire) on 29th July 2012
IT WAS THE BEST BAKERY IN WIGAN AND SURROUNDING AREA`S
Comment by: Bill (Birkenhead, England) on 23rd April 2012
Does anybody remember WH Blunt, the newsagents on Mortimer Street I think it was? Old Mr Blunt was a proper character and I remember as a child getting told off from him many a time for lingering over the top shelf books. Happy days!
Comment by: Richard Mather (formally Aspull), (Pattaya, Thailand) on 7th March 2012
BOLTON'S CHEMIST [late 50's] - near the bottom of Scholes, (left hand side going into of Wigan). When it was a boiling hot summer's day [hot enough to make 'tar-babies' out of the melted tar from the main road] you could buy a big mug of cold HOME MADE Ginger Beer for tuppence [2d.] The Ginger Beer was kept in a heavy old fashioned brown & cream stone jug that had a handle and a big cork stopper. The taste was something else. Better than anything that you could ever buy from the shops and many's the time that back to Aspull bus fares would be spent in Bolton's - followed by a long walk home - but it was worth it! I can taste it now and feel the strength of it at the back of my throat. Very clever Chemist was Mr. Bolton.
Comment by: Patricia Ashurst (Wigan, England) on 4th March 2012
It was in the UCP cafe (Voses)where Agnes Winstanley worked in the kitchen ( 1960's I think)and produced some of the most iconic Wigan fare to be had. Apparently, customers would ask if Agnes was on "the range" because her chips were the best for miles around. Agnes has recently passed away at the age of 94.
Comment by: william craddock (Haydock, England) on 2nd March 2012
I remember going to Roy Hurst for records and downstairs at Rumbelows for records. also record fairs at the wigan casino, I used to do glass collectingat Wigan Pier Disco 1980-1982 £25 pw at the Bees Knees 1977-1980 £7.50 pw when John & Julie Harper ran it, They moved to a pub in Hindley called the Wiganer, sadly John passed away. We used to go to Bluto's and then on to pemps. Fantastic memories. my bigest regret not going to the casino because I was always working.
Comment by: dave orrell (billinge, england) on 1st February 2012
In Mesnes st,behind roy turners pram shop,which was across the alley from baileys scotch bakery(smiths bookshop there was a blacksmith who used to shoe horses.he was still there int the fifties.
Comment by: karen ellis (blackpool, uk) on 30th January 2012
does eny one remember henry and allice ashurst thay had a shop down catherine street thay had a daughter named vivien she was my mum would love to hear from eny one ho rememberd her
Comment by: Bill Parkinson (Milton Keynes, UK) on 19th January 2012
In reply to Sean re. the Beer Keller, if we're talking about the same person Wally was actually a guy I went to Wigan Grammar with and later worked with at BT (Post Office Telecomms as it was called at the time). His name was Steve Walters and, yes, he was a great drinker. He held some kind of town record for drinking a pint standing on his head. I'd love to catch up with him again, assuming that the drink hasn't put and end to him in the meanwhile.
Comment by: Julie Evans (Crabtree) (Dwygyfylchi, North Wales) on 5th January 2012
Does anybody remember Crabtree's Grocers shop in Darlington Street, Wigan. I was born in a bedroom above the shop in 1959, on a Wednesday afternoon when it was half day closing!
Comment by: brian (hindley, lancs) on 30th October 2011
what happened to lennons supermarket bottom of king st,now a £5 per day car park.
Comment by: Gillian Morrison (Wigan, England) on 15th October 2011
I remember most of the above and would like to add my own memory of Lacey's cake shop on Standishgate. My first job when I left school in 1974 was at Laceys and my boss was Mrs Henshaw. My first wage paid for two dresses from C&A and a single from Hursts in the market (When will I see you again by The Three Degrees) On Saturday I loved to go to the outside market where you could buy 4 singles for a £1.00, they were all ex juke box and had no middles. Oh happy happy days.
Comment by: Richard Mather (formally Aspull) (Pattaya, Thailand) on 9th September 2011
"Kay's (Army) Surplus Stores! What a fantastic shop it was. I remember buying a bandsman's suit and a sou'wester. My brother bought a gas mask and a bee keeper's hood" Posted earlier by: Philip Hodkinson, Nelson 20th Aug 2010) Hi Philip ... you couldn't make it up. Yes, I do remember this shop in (Darlington Street) - a veritable cornucopia of goods that were stacked from floor to ceiling (and with more 'out in the back' I'll wager) and the window was jam packed with all manner of second hand goods, too! "My brother bought a gas mask and a bee keeper's hood" MAGIC!!! THIS MADE ME CHUCKLE. Hours of fun for you both I'll bet ... and (no doubt) ALL for the princely sum of (erm?) 1/10d. Nothing like it today - thanks for sharing, Philip.
Comment by: John (York, England) on 24th August 2011
Having studied for my Mining HND at Wigan Tech the highlight of the week was a visit to Walls publishers to purchase a copy of the booklet "Science and Art of Mining", not only for the content but as importantly you could often get the homework answers as most of the contributors were lectures at the Tech. Does anyone know if these treasured booklets are still available?
Comment by: maureen markland (chorley lancs, england) on 2nd August 2011
YES I REMEMBER ANDRE BERNARDS WE USED TO GET FREE HAIRCUTS FOR THE APPRENTICES TO PRACTICE ON, I WORKED AT THE TELEPHONE EXCHANGE DORNING ST.AND I REMEMBER UCP CAFE THEIR WERE DELISH,SOMETIMES HAD MY DINNER IN THERE AS IT WAS CLOSE TO THE EXCHANGE,I ALSO REMEMBER JOAN BARRIES MY MUM BOUGHT MY BROTHER BARRY'S FIANCE A WEDDING DRESS FROM THERE AND SENT IT TO GERMANY AS HE WAS STATIONED THERE, HE WAS A SOLDIER IN THE ROYAL HORSE ARTILLARY. WIGAN WAS AND STILL IS A GREAT TOWN.READING ABOUT SOME OF THE PLACES, SHOPS AND MEMORIES REALLY TAKES ME BACK IN TIME.I VISIT OFTEN AS I HAVE FRIENDS AND RELATIVES THAT STILL LIVE IN AND AROUND WIGAN
Comment by: julie ready (wigan, lancs) on 29th June 2011
Does anyone remember Olivers pie shop in newtown. We would take our own jug for the gravy, then we would have to wait on the bench for the pies to come out of the oven, always red hot and delicious and worth the long wait .
Comment by: celia fairhurst (skelmersdale, lancashire) on 15th May 2011
Does anyone remember Grafton House, a fashion shop at the bottom of Makinsons arcade? I frequented this shop in the 50's and used to buy beautiful 'duster coats' in fabulous colours and then go into the Market hall and brows the material stall Harts where I would co=ordinate the material with the coat and buy three yards for about 2shillings and eleven pence which I would then take home and make up a beautiful dress to go out in the same night. Those were the days. We went to the Emp and Palis and Gees in Dorning street. Woolworths in Standishgate was a treasure trove of cheap jewelery and often I would ring the changes by getting one of my duster coats dyed at the dry cleaners in Market Street, can#t remember if it was Johnsons but it was near the Kendal rainwear shop and I did on several occasions go out in these dyed garments and get rained on, result all clothing was ruined, they were not fast dyed at that time.
Comment by: June Wainwright (Skelmersdale, Lancashire) on 11th May 2011
When I worked at Joan Barries in the sixties Carole, Anne, Joyce and Winnie worked there too. Are any of you out there?
Comment by: david H (upholland, england) on 22nd April 2011
does anyone rememner a shop in, or around Harrogate St owned by a Miss Lamb. It used to be an agent for the Grove Laundry where i worked. It was like going back in time in , the 1960s when i delivered there, old metal signs advertising various products and gas mantles were still in use. It fascinated me
Comment by: june wainwright nee smith (skelmersdale, england) on 4th April 2011
I was a window dresser at Joan Barries in the sixties.We once saw the Everly Brothers walking up Wallgate.McCandlishes used to sell jelly creams.Does anyone remember them,they were delicious! When I was a child my Gran used to take me to Gorners? in the arcade. Fab steak puddings,I remember the smell to this day!
Comment by: Edna Booth (Warrington, UK) on 27th March 2011
Don't ask how old I am!!!! But I remember all of these shops - and more! Outside Lowe's Department Store was the place you stood to meet the fellow you had picked up at the Empress on the previous Monday night. (Having met the lad you went to the Ritz, the Court Cinema, or even the Pavilion, which had a bad name! - or even the Hippodrome Theatre.) Poole's Dept Store (later posh-Pendlebury's until taken over by one of the London Dept Chains) was the place we were sent to buy our Hindley Grammar uniforms - too expensive for us, so my mother had a good look at them, then made them herself, or purchased identical cheaper elsewhere! If you went into the Meadow or Maypole Groceries for half a pound of butter the assistant would cut a piece off the huge block, weigh it and wrap it in white paper! I remember Lace's cakeshop, but wasn't there a Lace's ironmongers? Somewhere near the bottom of what was then the Grand Arcade? The Rendezvous Cafe (locally pronounced "Rendervoos". When I did a short spell as a nursing student at the Royal Albert Edward Infirmary we used to go there in the evenings, buy one coffee, and sit at a window table watching the world go by! That was when we hadn't enough money to get into the Emp! It was above a very posh ladies. dress shop, Joan Barry's - if you had a frock from there you had made it! Not shops, but local dancing! I had many very happy hours in the mid/late 50s at the dance school run by Tommy and Hilda Moss! And many years later I actually had the experience of nursing Tommy when he was dieing in Billinge Hospital. It was sad, but I felt privileged to be able to care for him! Which puts me in mind of another Wigan-character....Billy Davies, who was a doorman at the Ritz Cinema in the early 50s. Used to stand outside, uniformed. calling "Seats in the one-and nines" (one old-shilling and nine pence) in a "camp" voice. Anyone remember him? He was a good man, and very kind and helpful to people who had troubles. Puts me in mind because I also had the experience of nursing him in his final extremety! I never go to Wigan now if I can possibly avoid it. It has gone totally down the nick - how very sad!
Comment by: Chris (Wigan, England) on 6th March 2011
Friday Night, 1971, a £1 note in your pocket. Bus into town, prop the bar up in every town cente pub, 6 pints of best bitter and bag of chips on the way home. Heaven!
Comment by: Kath (Wigan, Lancs) on 27th February 2011
Grafton House, ladies dress shop at end of Makinson Arcade facing old Market Hall.
Comment by: Stuart (Wigan, Lancs) on 14th January 2011
Denise Dickinson in New Zeland. Do you know anything more about the dawbers and their shop? Am trying to research this line and keep being told of this shop, but no one knows anything!
Comment by: Pat Worthington (wigan , lanc's) on 6th January 2011
I remember the golden lion on the wall very well. When I was a small child, my Grandad used to take me past it regularly. He always had me put my hand in it's mouth to see if it had grown any teeth . Happy days.
Comment by: eddie (wigan, uk) on 2nd January 2011
does anyone remember berry"s butchers in the market hall i worked there 1969-72 used to buy records from hursts in market happy days
Comment by: jenny y (port sunlight, wirral) on 29th December 2010
I remember toy an hobby in wigan :-)
Comment by: Jimmy (wigan, lancashire) on 23rd November 2010
The bakery at the top of Bradshaw St/the Gossips was Gaskells.
Comment by: sheila lucas (Port Sunlight, UK) on 31st October 2010
Does anyone remember the name of the bakery that used to be in the gossips,(top of Bradshaw Street) opposite Lamberhead Green Primary school.
Comment by: Norman Cullen (Wigan, Lanc's) on 14th October 2010
Just a few of the places I remember in Wigan. Countdown (Bought my first Ben Sherman there) Chelsea Girl ( future wife was never out of it)Oxleys, Park & Market Pubs, Hal's Kitchen (Over M&S)Whelans store, The Baked Potato on the old bus Station, Rumbelows (You could listen to all the latest records before you bought any)Beachcomber (Under Casino)Roy's Records in the Market Hall, Penningtons Furniture shop (Bought first table & chairs on credit)Chamberlain's Music Shop.Grapes Pub, Commercial Yard, Gorners Cafe in the little Arcade, Fair & Pot Stalls on the Market Square
Comment by: steve coleman (metung, australia) on 7th October 2010
I remember the Las Vegas club we all used to the grand and then on to the las vegas' there used to be a place over the top of british home stores entry was next to the arcade i think? a steak house used to go there for Tbone steak I used to be in the navy at the time at faslane near glasgow and I couldnt wait to get back home for a good time TALKING about chippy's i was born and bred in a chippy ion pemberton they used to call it maudes after my aunty maud who served in there the chippy was my grandmothers on the corner opposite pemberton caravans
Comment by: Carol Naylor (Melbourne, Australia) on 20th September 2010
I remember Woolworths ,we used to go in there and get a bag of broken biscuits,after we had been at the baths,we would spend our bus fair and walk home,but those biscuits were so good
Comment by: Philip Hodkinson (Nelson, England) on 20th August 2010
Kays Surplus Stores ! What a fantastic shop it was. I remember buying a bandsman's suit and a souwester. My brother bought a gas mask and a bee keeper's hood. I took a photograph of Kays in the late 1970s which I'm sure I've got somewhere.
Comment by: kitti (wigan, Lancashire) on 10th August 2010
where all the laundrettes gone ?
Comment by: linma (preston, england) on 5th August 2010
Mark Williams butchers on Standishgate. Me and my dad used to love the cooked pigs feet and tails in jelly. Luverly.
Comment by: linma (preston, england) on 4th August 2010
Can any of you ladies remember the name of the ladies dress shop on the right hand side at the bottom of Makinson Arcade facing the market hall.
Comment by: wendy (wigan , lancashire) on 7th July 2010
Does anyone remember when the Oxfam shop 80 market st was Taylors outfitters love to hear some memories. wendy
Comment by: brenda m (Vancouver, Canada) on 9th June 2010
I remember working for a solicitors office at Bank Chambers, Wallgate, just above the post office. We had to walk down a ginnel at the side of the post office to the front door, then up umpteen flights of stairs to the offices. I remember during power outages in, I think, 1972, the girls were allowed to wear pants to work because it was freezing, but at soon as the power was back on we had to go back to skirts. I remember the office junior being sent home to change because she came to work in hotpants! Then I moved to a different solicitors in King Street (Arthur Smith & Broadie-Griffith) and the power being out. We had to type with candles on our typewriters so we could see to read.
Comment by: dorothy (Wigan- Western Australia-Wigan, England) on 17th May 2010
Fred, I too worked at Nimans. I was there straight from school. Only did a year there as the junior, until another junior came,who'd mother used to work there. I was sent in the cellar cleaning the epns cutlery before it was displayed all shiny & new. It was a never ending cleaning job, whole cutlary boxes with drawers. Then I was given teapot sets & trays. I loved being able to watch how the windows where displayed. One was rings and jewellery. One was bags etc. One would be china & silver. But had a run in with the Wife Mrs Cowan large lady with a small husband. I remeber runnin up the backs to the other shop in all kinds of weather, to bang on the back gate to be let into rear of the other shop. When a lady wanted a precise coloured handbag, or a matching coloured necklace. I had to run & hurry & not keep the customer waiting. Loved the new items being delivered, and watched how they re-hung a pearl necklace. Using corrugated card to line the broken necklace, so that it could be re-knotted. But I finished after having words with Mrs Cowan for me being picked on. Over the new junior. Happy Times. My Mum made me apolgise and return to the shop. Mrs Cowan was really nice about it saying I was a little feisty. But I gave a weeks notice anyway. Then went into the mills.
Comment by: alan lad (wigan, england) on 19th December 2009
was it toy and hobby near maximes
Comment by: Larraine Ince (Wigan, Lancashire) on 9th December 2009
I remember Joan Barrie clothes shop in Wallgate, Van Allen in Standishgate and Polly of Piccadilly. Also Roy Hurst Records in the Market Hall. Does anyone remember a toy shop near Maximes in the 80's?
Comment by: Brian J Green (orrell, uk) on 27th November 2009
Re. sloopys Alf Higham.As there is no date to your reply to Adelle you said you were still in contact with Barbara.i must inform you that Barbara passed away earlier this year.
Comment by: Esther jackson (Wigan, Lancs) on 19th November 2009
Remember Miss Winkelmanns boutique in the 60s, also in the eary 60s we used to do some food shopping in a shed type building somewhere off Wallgate. It was a supermarket basically but the building had no windows. I remember sugar was always cheap but only one bag per customer - my mum used to make me and my sister get a trolley as well so that we could get extra sugar! I can't remember the name - can anyone else? Possibly around where Office World is now.
Comment by: Andy Measey (Halifax, England) on 10th September 2009
Bluto's pub and night club, ace place, the music played in the basement was beltin.
Comment by: Frances (Heide, Germany) on 8th July 2009
My God I can remember them all. While at school I had a Saturday job at the UCP used to eat myself sick on the boiled ham! Mum bought me my school uniform at Lowes right down to the brown knickers and daft hat. I am sure that wouldn't know Wigan town centre anymore but did work there for years. I have "fond" memories of a very run down haberdashery shop opposite the Market Hall, you could not ask for the wrong thing, it came complete with the cockroaches that jumped out of the drawers when opened!! Also wasn't there a weighing machine that you sit on in the Old Arcade?
Comment by: Jimmy (wigan, England) on 8th July 2009
Viv, I remember the restaurant in Station Rd, it was next to the hairdressers. I think it was called the Olive Grove.
Comment by: viv (Wigan, England) on 15th June 2009
Can anyone remember a place on the same side as the casino but a few doors away towards the cinema? It was a restaurant and I remember going there in the early 70's for my first ever Christmas dinner out. We had prawn cocktail, never tasted anything like it in my life before. My mum had melon with a cherry on it! Also at the top of Makinsons arcade, where there is a sports shop now, there used to be a ladies boutique you went downstairs I usually remember what it was called but its gone. John English hairdressers, i used to go as a model when i was at tech for a cheap hair do, it was above Dolcis shoe shop when it was a huge shoe shop.
---