The Old Arcade, Wigan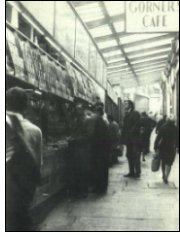 Again demolished for the Shopping Centre. This was home to shops like Sherringtons who sold pots and pans, washing tubs, scrubbing boards, posses etc. Smiths newsagents where a well known (to Wiganers) Frank Ryding worked and now runs his own stall in the New Market Hall. Who was the man who had the weighing machine? What was his name?. Gorner's Cafe, the aroma of hot food made you feel hungry. And of course The Legs of Man (must have been the longest pub in the country) as it went from the top to the bottom of the arcade, what about the reputed ghost, who was he? Does anybody know?
Comment by: Gordon (Austin. Texas, USA) pre 2009.
I often walked through the little arcade as a kid, after dropping off the bus from Robin on the way to the market. Also, I attended Thomas Linacre opposite the old Grammar School in the late 50's, so we'd walk through on our rare trips to buy some hot cashew nuts from Woolies.
Comment by: C. Trickett (Wigan, England) pre 2009.
The gentleman referred to by David Sumner is Billy Lyons who kids nick named Clapper.
Comment by: David Sumner (Chorley, England) pre 2009.
I remember I chap who used to hang about at the bottom of the arcade in the 60s. He was a real character and had a strange habit of clapping his hands. The kids used to copy him and he would get very annoyed and give them a clip on the ear - if he could catch them. It was like watching Benny Hill - a stream of kids would be running up and down the arcade with this chap chasing them. I think he must have worked on a fruit stall as I often saw him carrying orange boxes on his shoulder. Does anyone remember his name?
Comment by: Gill Prescott (Criccieth, Gwynedd) pre 2009.
I only very vaguely remember the old arcade but I have a story that will probably make you laugh. I lived in Orrell until I was 6. I remember going shopping with my mother to a dark busy place. Being little, I mis-heard what it was called, and thought it was known as "the old dark cave". That was when I was 6. In 1993, my Grandfather was very ill and in hospital. When I went to visit him, I noticed some old photographs on the wall and said to Mum "oh look, theres the old dark cave". She laughed and said "you daft bugger". I didnt understand. I looked blank. She gave me a strange look and said "Ye olde arcade", love, not the old dark cave" My dream was shattered. I couldnt believe that at the age of 33, I STILL thought its true name was the old dark cave!
Comment by: Tony Tarbuck (Wigan, England) pre 2009.
Does anyone remember the old shoe-shine stand in the arcade, i was only a tot at the time!
Comment by: Dave Marsh (St.Clement, Jersey C.I.) pre 2009.
I have been trying to trace the location of New Square as my Grandparents who married in 1898 lived at 11a New Square mentioned by J.Kenyon of Wigan.
Comment by: JENNIFER BOLTON (Wigan Laner, england) pre 2009.
Every Saturday me and mum went into Mark Williams buchers at the bottom of the arcade. Never forget the sawdust on the floor and the distinct smell of what I can only describe as hamster?
Comment by: Brian Kenyon (Wigan, england) pre 2009.
i remember sittin there wid a nice drink in my hand and a girl comein over and talkin to me and now that girl is my wife we have 3 children a boy and two girls. i am sad to see it go but there is no stopin the future of the new shopping centre.but my memoris will last for ever of that place and was sad to see it go. best night ever when the beatles played i was off my head that night when some one slipped me a bag of crak oooo good times
Comment by: Derek Smith (wigan, Thailand (formaly Wigan)) pre 2009.
I always remember crossing over the road from Woolworths and going down the old arcade It was a great place
Comment by: Barbara Hart (Wigan, England) pre 2009.
I remember buying stockings and then tights from Margaret Razak's Stocking Stall in the old arcade.Those were the days! Happy memories.
Comment by: Clifford Higham (Wigan, UK) pre 2009.
Does anyone remember the dodgy dealers that were at the bottom end just outside the arcade. When I was at school there was a bloke called Gypsy Don Petralango Boswell who sold Hedgehog Ointment. Green stuff in a small round paper box.It was supposed to cure everything. Another was an Arthur Daley type. A cokney who wore two large neck ties, a trilby and a big overcoat. He sold "far'n" pens and biro sets. Yet another demonstrated omlette makers. Local down and outs would fight the school kids for sample omlettes. Nowt like that today.
Comment by: Pat (Wigan, UK) pre 2009.
I have fond memorys of the 'Little Arcade'as we called it. I bought my first pair of stockings in the early 60s,(followed by the new fashion rage - tights- a couple of years later!) from the hosiery stall just opposite Gorner's Cafe. I spent many a Saturday as a teenager browsing there for jewellery and make-up! A pity the old shops had to go in the name of progress! The new ones have no soul!
Comment by: veronica (manchester, england) pre 2009.
i remember buying my first lipstick from the chemist on the front,there was a photograpgic shop there to always had old black + white pictures in the window,i also remember Lowes at the top always reminded me of Grace brothers in are you being served.
Comment by: Bill Culshaw (Abram Nr Wigan, England) pre 2009.
I always got my footy programs from Smiths as a lad.I had a go on that weighing machine as well, never old enough to go in the Legs of MAN had to make do with the penny cake shops.anybody remember penny cake shop.
Comment by: Jaybell Pentops (Wigan, UK) pre 2009.
The ghost of the arcade was reputedly Big Norm Melling, from Pemberton, who fought with Bill D'Arcy over a mutual sweetheart. Norm died of his injuries and his wraith reputedly stalked the arade in search of revenge on Bill D'Arcy and reunification with his loved one. Does any one remember her name?
Comment by: Jaybell Pentops (Wigan, UK) pre 2009.
I remember going through the "little arcade", there was a big one you see, with school mates. One precocious talent namely Ian Wick used to sit on the Weigh Man's chair and cry "Try your weight now friends". The Weigh man was usually eating his potatoe pie in the nearby cafe. Ian was such an amusing boy. We also used to visit Harry's cafe in Millgate. Harry also served potatoe pie - without meat!
Comment by: Stella Rendowski (wigan, england) pre 2009.
i worked at Mark williams butcher in the Makinson,arcade it was hard work and very cold. i miss Wigan it has a lot of happy good people live there. I lived in Douglas Rd near what was the rugby ground.good times. stella from AZ
Comment by: c fowler (wigan, uk) pre 2009.
Every Saturday morning my Dad got weighed on the 'jockey scales' in the little arcade, he was on the Wigan Water Polo team and maintaining a certain weight was paramount. I also remember the dolls hospital at the top of the arcade.
Comment by: julie (wigan, england) pre 2009.
I remember going to gorners cafe every saturday after my mother and granmother had done their shopping. I also remember the hole in the floor where you could see into the rooms below which fasinated me as a child
Comment by: J. Kenyon (Wigan, England) pre 2009.
My mother was born in Harvey's Court, Wigan in 1913, and used to tell me that it was quite a long way behind the old store of C and A's, Standishgate. Is there anyone out there who may remember it? Does New Square, Standishgate, hold any memories to anyone, tripe shop on the corner and bakery shop next door? Love to hear from someone who knows of these places....
Comment by: I. Birch (Wigan, England) pre 2009.
I had a Saturday job at Gorners Cafe. As I was last in I had to scrub the pans in a room at the back,chip the chips in the cellar and carry them up the stairs.I've never worked so hard in my life and my wages for a ten hour day were £1.00.
Comment by: Yvonne Brown (Wigan, England) pre 2009.
I bought the decoration for the top of my wedding cake from the shop with the glass cases in the arcade. 1966.
Comment by: Keith (Gainesville, Georgia, USA) pre 2009.
I've not thought about the fireworks in the glass case for years. Had forgotten about it to tell you the truth. I remember after buying the fireworks I would always keep them in a shoe box a the bottom of the stairs until bonfire night. (They don't make boxes like that anymore!!).
Comment by: Cloie Brevik (Salina, Kansas) pre 2009.
I printed this off for my mother who is from the Bryn area (1925-1954). Anyway she read about the Gorner's Cafe and told me quite a story about the two Gorner brothers who lived as boarders in her parents home during the later part of their lives. When I saw the note from Andy in Minneapolis, who is related to the Gorner family, I thought maybe he would be interested in my Mom's story about these men. So, if Andy checks this, please email me at cloie@carrollsweb.com. Cloie Brevik, Salina, KS USA
Comment by: Betty Hampson (Billinge, England) pre 2009.
There used to be a glass topped case opposite Smiths Bookstall and it used to be full of fireworks leading up to Nov.5th. Christmas it was full of decorations and presents and at other times had cake decorations for weddings, Christenings etc. It used to fascinate me - anyone else remember it?
Comment by: Ken (Wigan, England) pre 2009.
Sherringtons also had shops in Whelley, Scholefield Lane & Mesnes Rd. which was the last to close after being run by a grandson of the original Mr Sherrington.
Comment by: Christine Reddington (Standish, England) pre 2009.
Barbara Calderbank who owns Pemps used to have a card shop in the top end of the Old Arcade.
Comment by: art culshaw (wigan, UK) pre 2009.
Bob Rudds 'Weighing machine' was in fact an old jockey scale. I think it was the only place on town that you sat down to be weighed. An old 'joke conviction' was : Sentenced to three months in 'Gorners' with a muzzle on. The smell of steak & kidney pud would drive you mad!!!
Comment by: John Farrell (Blackpool, UK) pre 2009.
Syd Smith introduced me to real reading - he knew I was a student in the sixties and encouraged me to get The Times which was on a special offer. Just wondered whether this Gorner family was connected with the Harry? Gorner of garage fame in Ashton?
Comment by: Stephen Gittoes (Leigh, UK) pre 2009.
Roy Hurst record shop some of my vynyl albums have his stamp just inside the cover.
Comment by: Andy (Minneapolis, USA) pre 2009.
Gorner's cafe was owned by relatives of my grandfather, Stanley Gorner. Smiths in Wigan has pictures of the weighing machine in front of Gorner's cafe.
Comment by: Alan Hilton (Prestatyn, N. Wales) pre 2009.
I remember going thro the old arcade with my mum, past gorners cafe, the weighing chair, out at the bottom entrance then going to watch the boxing at the fair, 1 boxer challenging anyone out of the public for £2. hard as nails they were especialy after a pint.
Comment by: Bernard Dowdall (Wigan, England) pre 2009.
The man with the weighing machine was Bob Rudd (could be Wrudd). I once went racing with him when I worked for Joe Kennedy, Wigans finest bookie whose office was in the Wiend. Bob used to shout "Try your weight now friends"..A smashing man as was Syd Smith the newsagent.
Comment by: Rose Khan (Clinton, Iowa (formerly Upholland)) pre 2009.
I remember well the man with the weighing machine, I couldnt tell you his name tho?. I used to love the old arcades, they were magical places to me when I was a child, used to love going thru them in the evenings after seeing a film at the Court Cinema then going thru to get to the Ribble Bus Station to catch the bus back to Upholland. Never did get to have a go on that weighing machine,perhaps I was too shy back then.
---