I remember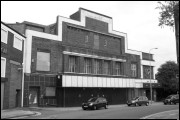 I remember...
Saturday morning pictures
Comment by: Delia Beck (Kingston, England) on 25th March 2016
Anyone know the name of the film episode that was like Indiana Jones of later years. I mean the original jungle lost arc type movie of 1949- 1950s.
Comment by: Ken Roocroft jnr (Ajax, Ontario, Canada) on 28th January 2016
I remember going to the ABC they used to have lip syncing to songs where you were allowed onto the stage and sing to your favorite song.
Comment by: irene roberts (wigan, england) on 27th August 2015
We like to laugh and have a sing-song, Such a happy crowd are we. We're all pals together At the Minors ABC!
Comment by: Dave Stephens (Wigan, UK) on 10th August 2015
Can still remember the beginning of the ABC Minors song. We're the boys and girls well known as the Minors of the ABC. And every Saturday we line up to see the films we like and about aloud with glee. Are there more saddos out there who can complete the lines??
Comment by: Chrissie eccleston (Bury , England ) on 24th March 2015
Hi , does anyone remember the shop going up after the queens cinema on pemberton . My grandparents owned it , but never knew what they sold . Any help please like a lot of others I spent many a happy sat afternoon at the queens . the highlight of the week .
Comment by: Allan Wilkinson (Wigan, England) on 21st March 2015
Hello again Linda, small world, i saw on the "first job" page you were at John England's in 66, me too, blimey, top floor on section 3 as checking clerk, i remember the names you mentioned and you could hear cox's stomping footsteps everywhere, I was first put with a lady called Ursula Law to start with and Broadhurst was section leader,our filing girls we're a great bunch about my age, i left to go plumbing after a few months,blimey again Linda, lol....
Comment by: Linda Housley Nee Higham (metung , australia) on 19th March 2015
Hi Allan Thanks for getting back to me the Moseley are friends but if you are in Metung With the zimmer frames gang an Ice cream would be nice Take care Linda
Comment by: Allan Wilkinson (Wigan, England) on 3rd March 2015
Hi Linda, in answer to your question if related to family named Moseley, probably not I'm afraid, you didn't give any clues from where so my brief history is... Always been a Wigan lad, early years to teens lived in Prescott st, bluecoat schools before going to "Stalag "all saints sec, modern., don't recall any Moseley. Aunt uncles went to Australia on the scheme in the 60s but called winstanley... But,who knows , maybe one day someone will do a matinée for " Baldies and Bluerinsers " and we all turn up in metung, stirring our little ice cream tubs and lobbing it everywhere whilst watching flash gordon in the attack of the zimmer gang... Wish you well in your quest to find the Moseley family Linda, love to Australia...
Comment by: linda Housley Nee Higham (Metung , Australia) on 6th January 2015
Hi Alan are you the alan Wilkinson that is related to Alan Moseley
Comment by: maria cooper (wigan, Britain) on 27th August 2014
I remember going to the Ritz ABC minors every Saturday morning there would be a gang of us from the local streets. The highlight for me was eating a Fab lolly during the interlude and having a sing song one song I remember was Yellow submarine. My brother (Brian) always looking for a scam to save money used to open the fire doors near the toilets and let his friends in for free. Happy days .
Comment by: Terry Carroll (Harold Wood , England) on 21st July 2014
Hi, afraid I'm not from Wigan. I went to Saturday Morning Pictures at the Ritz, Turnpike Lane, North London in the mid to late 50's. Does anyone remember a crime fighting serial with guys wearing some form of tunic. The name Blackhawks" springs to mind but I can't find any trace of it.
Comment by: allan wilkinson (Wigan, United Kingdom) on 6th February 2014
Hey, didn't anyone go to the "Princes Cinema"? a tanner to get in and watch good old flash gordon and ming, cartoons and a cowie like hop along cassidy,the good guys wore the white cowboy hats and the baddies the black,then pretending who was who afterwards as you ran home slapping your backside (sorry, horse)avoiding any possible ambush on the way. A few years later i was told to take my little sister but did not know the matinee was no more, so we watched genhis khan and my sister was chopping heads off on the way home.....how things changed..
Comment by: Tom Bridge (Wigan, UK) on 19th October 2012
I remember Peter Johnson! Worked with him at ABC Wigan. If you see this please get in touch.
Comment by: Ian McLauchlin (Exmouth, UK) on 16th September 2012
We went to a small (independent?) in Burnley - the Tivoli I think on Colne Rd. There was a song that started with "We come along, on a Saturday morning, greeting everybody with a smile etc". Yes the Manager spoke in front of the curtains, and the films were all B&W - Flash Gordon, Bud Abbott and Lew Costello (the Invisible Man), a lot of American films, some in the 'bush' with mountains and passes (where everybody was 'headed-off'). In these there were goodies and baddies of course and a lot of American 'shooting brakes' - unusually big cars with the softest suspension I've ever seen, a lot of characters wore pith helmets for some reason, and the girl(s) wore riding breeches. Odd now you think about it. But the universal thing was that these were episodes in a series. There was always a cliff hanger at the end of each episode - something dreadful that the goody couldn't possibly escape from, like being just about squashed under a descending door. The next episode started with the door much higher and the goody easily escaped! How they got away with this misrepresentation I don't know. Oh and Flash Gordon had Emperor Ming and, of course, a beautiful lady who was constantly saved . . . . . They don't make them like that anymore. Well I suppose the nearest is Indiana Jones.
Comment by: Doug Winstanley (Clayton-le Woods, nr Chorley, Lancashire) on 30th August 2012
I remember going to the Ritz ABC minors on Saturday mornings during the mid 1950's. Watching Buster Crabb as Flash Gordon. NASA should have taken a tip from him; he was powering rockets with a sparkler stuck up the back end even in those days. I think I was in black and white as well. I read Les Morris's memory. Didn't the Carlton near the half way house become the Sportsman's club. Oh and I think Trigger was Roy Rogers horse. Now, I wonder what I've done with my ABC minors badge, you know what it's like when you get to 65, you can't find anything.
Comment by: Jeff Unsworth (Hindley Green, England) on 24th August 2012
I remember the Doric Cinema AKA "The Bug"in Higher Ince. 1st house and 2nd house every evening and a Saturday mattinee. The films changed 3 times a week. 6 in all. B film and A film as well as the following up, as they were known. The following ups ( Dick Tracy, Flash Gordon, Hopalong Cassidy, other cowboys like, Tex Ritter, Johnny MacBrown, Roy Rogers. I remember everyone stamping their feet when the projector broke down. I also remember the Minors Hall on the corner of Lily Lane Platt Bridge. The last time I was taken there was in 1950.
Comment by: kirk lanyon (St Peter Port, Guernsey) on 12th May 2012
I can remember the Childrens Film Foundation films being shown every saturday morning at the Odeon in Guernsey. They all started with Pigeons flying off atTrafalger Square. fantastic story lines with good old fashoned family values.It would be fantastic idea if they were to be dusted down, cleaned up, digitally released and shown to another generation of children.
Comment by: Mike Hesketh (Cheltenham, England) on 3rd May 2012
Just reading those memories mentioned here .. my family ran the 'bug' in Ince, the Rex & the Palace in Hindley & another in Westhoughton. My dad may have been the 'Big Jack' mentioned by someone. I was also one of the ABC Minors during the 60s ... by then all the other above cinemas had closed after the death of my Grandfather.
Comment by: Neil Rigby (Wigan, Lancs.) on 5th February 2012
I remember going to the Queens Cinema, Pemberton, Wigan on Saturday mornings, about 1955 onwards, aged 7 onwards. When I was very young I went with my brother or a friend, never accompanied by my parents, did not need to be, it was very safe. The cost was 5d. The cinema was quite large and only the front part was used. There was an aisle down the centre of the cinema, with boys on the left and girls and very young children (e.g 6 years old) on the right. The boys could get quite animated, boisterous and loud! The program was usually in three parts 1) Cartoon/Shorts like The Three Stoogies/Nature film. 2) Main program - adventure/cowboys/pirates etc. 3) To finish - a serial in about 10 parts (to get you back next week) e.g Superman/Flash Gordon. Because the Queens was large and had a stage, there were, from time-to-time, on stage exhibitions such as yo-yo trick demonstrations; which of course, stimulated a temporary "craze" for the pastime.
Comment by: lindamary (wigan, england) on 18th January 2012
Remember going ABC Minors with my friend Julie Corner. I was about 5 years old then. It was exciting. Glad to see the old lyrics again to the Minors song. Very Happy Times.
Comment by: peter johnson (chorley , lancashire) on 22nd July 2011
i was a projectionist at the abc tripple cinemas which re opened in 1977 we had philips fp20s projectors and non rewind system it was one of the best cinemas i worked at
Comment by: susan (wigan, lancs) on 9th July 2011
i remember grandma saving her milk bottles for me so i had money to go sat show at queens pictures, and uncle billy wud give me sixpence to help with cost what a lovely time
Comment by: gary MASSEY (carlisle, england) on 28th March 2011
I remember getting badges with each of the letters to spell out ABC Minors. If you got them all you could get in for free. We used to always say it was our birthday to get in free too! Every saturday was the same off to the pictures then to my nan's. That would be about the mid seventies. Very happy days. All the kids would sing to you on stage when it was your birthday too!
Comment by: Liz Lloyd (St Neots, Cambridgeshire, U. K.) on 5th March 2011
I remember going to the ABC Miners, late 1960's early 70's, my brothers and me use to go on the Bickershaw 13 bus, that went round Ince. When we got off the bus we'd go straight into Woolies for a few sweets! If it was your Birthday that week you use to go up on the stage and they use to give you a free ticket for the followiing week, and every year they had an Easter Bonnet Competition when we'd all get up on the stage wearing out Bonnet's that we had made, great fun!
Comment by: maureen (newtown wigan, england) on 8th January 2011
we always went to the regal,on satadays,watched old mother riley,flash gorden,and on the way back we usad to go in the jungle to play,wherei cut myleg ,mam went mad at me.
Comment by: an owd kiew yed (westhoughton, england) on 15th December 2010
i remember going to the pictures every saturday afternoon on market street westhoughton it was 7p at the front ahd 1 shilling from the middle to the back every week the format was the same it would start with comedy film e.g.laurel and hardy,abbot and costelow charlie chaplin etc.etc.then you would get a follow up of flash gordon this would be followed by pathe news then there would be an interval you could buy ice creams from the lady with the tray.it would then finnish with a cowboy film hoppalong cassidy or tom mix etc.does any one remember miss ashton the manageress who walked round with her torch wo betide anyone who was caught talking when it ended we used to run home pretending i was a cowboy
Comment by: Dave (Hanworth , UK) on 18th November 2010
The Rex cinema in Hanworth Middx ah yes Captain Marvel the Three Stooges. My son is called Tom Tyler but he cant fly. I'm talking 1952 here. sorry I'm not Wigan , but in the words of the minors song "we're all friends together"
Comment by: L.M.Carter nee Ashton (Dumfries and Galloway, Scotland) on 25th September 2010
I remember going to a pantomine at the theatre that turned into Lennon's Supermarket..was that the first one in Wigan? Seeing Jailhouse Rock at the Princess, the Beatles at the Ritz,Chris Farlow at the Art College, just loving being in the wonderful casino, eating fantastic chips and gravy with the crispy bits and salty/vinegar at the bottom of the bags from a chippie in Millgate and the UCP mmm. Working as a saturday girl on the Broken Biscuits stall was wonderful....especially breaktimes when we would watch from the roof of Woolies all manner of inappropriate behaviour on the buses parked opposite. Can you imagine selling a half pound of broken biscuits now!
Comment by: linda Housley Nee Higham (metung, australia) on 12th September 2010
Hi Dave I went to the same concert also saw the beatles and a lot more lost my voice with screaming dont know why we did that couldt hear the music ha ha
Comment by: dave gee (wigan, england) on 25th July 2010
i had some great times as a kid going to the queens pictures at pem on a saturday afternoons the tanner rush. also going to southport with lomber green club and when we used to go past ormskirk market we got our peashooters out and fired making em all run
Comment by: linda pendlebury (Much Hoole, England) on 8th July 2010
Going to see the Beatles at the Ritz. I worked in Crawford Street and one lunchtime we were walking up Hallgate when a group of young men came out of one of the pubs, one was dressed in black with a rabbits foot on his belt. That night we were going to see PJ Proby but the manager came on stage to see he had been cancelled (he kept splitting his trousers) but they had got a replacement. On the stage walked the man in black we had seen at lunchtime and that was the start of the career of Tom Jones.
Comment by: Dave Cockrell (Wigan, UK) on 12th May 2010
I remember the Pavillion at the bottom of Library Street, my Great Aunt, Ellen Dawber worked there. There's a great picture of it in the Albums section of the Wigan World Website. My Dad always used to tell stories about the "Monkey Rack" which was the balcony which ran round virtually three sides of the cinema at first floor. When they had no cash,he and his mates would all club together, pay for one of them to go in, then burst open the Emergency Exit doors, which opened out onto College Avenue at the back. The Gang would then dive in and scatter across the seats on the "Monkey Rack". It must have been great fun to them, but not to the Audience on a cold winters night, not to mention the Manager and his team of usherettes trying to find the culprits in the dark by torchtight
Comment by: Christine Ackland (nee Hunter) (Southampton Hampshire, UK) on 11th May 2010
I remember going to the Ritz but my happy memories were not of what films were showing but the ladies toilets. Each one was a different colour and i would take ages deciding which one to go in, if i chose the pink one i had to use the pink wash basin, there was no way i could go in a pink loo and use a green sink. I've now got a life though.
Comment by: paul sullivan (wigan, england) on 27th March 2010
I used to live on chaple lane, just near the RAF club and Jack Waton's cycles, I went to St Joseph's school. We used to buy custards from Linney's Bakery, just by the canal. Happy days. Me and my brother used to walk up to the monors every Saturday morning (pinch as much as we could from Woolies) and then go to the Princess in the afternoon.
Comment by: Jean Glover (nee Ashcroft) (Orrell, Wigan, England) on 23rd February 2010
I remember when the Majestic, Orrell opened Mr. Vickers was the manageer. We kids called it the tuppenny rush, Thats what it cost 2d. on Saturday afternoons. What a noise there was when when the projector broke down. I used to cover my ears up. Jim Wayne was the person who worked the projector.
Comment by: Tom Bridge (Wigan, UK) on 10th February 2010
I worked at the ABC from the early 70's until it's closure. I remember the Minors very well and indeed still have a photograph that appeared in the local paper. I am pictured showing a 'select' band of children around the projection room. They were happy days for me.
Comment by: Alf Simm (Ashton-in makerfield, Wigan) on 16th December 2009
Frank, I have just read your memories of the palace in bryn street, Ishould do, because we lived next door to one another, the price to get in then was 2p 3p and 4p, for 4p you were in the balcony seats. I was only allowed to go to the Palace after I had queued at the tripe stall for half a pound of tripe and dripping, you could only get dripping[ which mother used for cooking and baking in the 1940s] if you bought half a pound of tripe. Very happy days!!!
Comment by: C.N.HANNAH (Guildford, England) on 4th November 2009
Derek FULLER was a legend.I lived next door to him and his family in North Liverpool. Loved playing tricks on everyone. He once got stuck on a neighbours roof whilst trying to repair some tiles - fire brigade called. Always remember his Triumph Car with the painted white wheels. Visited the Cinema with his son Mark many times - remember the target practice in Derek's office.
Comment by: Mark Fuller (Wigan, England) on 29th September 2009
I remember the ABC in Wigan in the mid to late 60s, Butterkist Popcorn and Kiaora juice. I once rode a bike through the aisles when the cinema was shut. The manager, Derek Fuller, would stand on stage, in a black dinner suit with his black hair Brylcreamed back, winding the Minors up into a frenzy with "We are the boys and girls well known as the minors of the ABC. Mad as a box of frogs...still is................he's my dad
Comment by: Lennie Ashton (Ashford, UK) on 4th May 2009
Hi Linda (Australia)..I too remember The Regal (Ince) me and my under age friends would wait outside for an older person to take us in when the film was rated an "A" and of course Sat. morning shouting our heads off at all the shorts Hoppalong Cassidy Flash gordon etc etc. yes and the sweet shop my fave was american hard gums.How the years roll by but not the memories...Lennie.
Comment by: Roy of Romford (Romford, UK) on 8th March 2009
Does anyone else remember a game called 'Pass the Battery' we used to have two teams on stage and the game consisted of literally passing a battery to the end of the row and the last person used to run to the front - the person left holding the battery won - or was this just something we did at Romford - this was in the 50's - we were easily amused then.
Comment by: brian kellie (blackrod bolton, uk) on 4th March 2009
i remmember the REGALin lower ince in the 50s there use to be about 20 teenagers would go 3 times a week on monday wednesday and friday nights as they use to change on these nights and after we would go round thecorner to the chippy to get 6pennys worth of chips it was in the10 pennys seats that i meet my wife on to into the best seats we had to pay 1/6 to get the back row the good old days
Comment by: Alastair Holland (Chesham Bucks, UK) on 1st March 2009
I grew up in Upholland in the 50's and I remember both the Lyric in Upholland and The Majestic in Orrell. After the Lyric closed as a cinema it became Upholland Parish Hall and we used to go there from school for Christmas parties.The building is still there but it is only used as a warehouse now.Upholland Parish Players also used it for some years for amateur dramatic productions. The majestic in Orrell was run by Mr Harold Tommey and his wife who were friends with my parents.I went once on my birthday and as a special treat I was allowed to watch the film from the projection box eating chips!
Comment by: Carol (wigan, england) on 8th January 2009
John, I remember the working mens club outings but I never went although most of my friends did... I was always very envious...
Comment by: John Jarvis (Pemberton, UK) on 8th December 2008
Carol: Yes I remember the Bakery and the name Alan Bamford. The Matador was about 1964-65; so I was about ten.Do you remember the Workingmen's Club outing? And did you go? All the buses in White Street waiting to take us to Southport in August...Happy days....
Comment by: Les Morris (BObcaygeon Ont , Canada) on 6th December 2008
I remember the Pavillion (on the site of the Wigan Baths Anyone out there remember the Carlton near the half way house on Ormskirk rd? What was the name of Hopalong Cassidiy's horse and who among us hasn't played the part of this actor or his horse as we came so excitedly out of the theatre and made our way home? Funny that, only last night i asked my buddies that question as we played pool in the legion, quite a site as they all started galloping around the pool table with the reigns in their hands ha ha, ( all of them over 60)
Comment by: Carol (wgan, england) on 2nd December 2008
Thanks for the correction John,you are qite right it was Bamfords. Do you remember Alan Bamford, or the bakery next door to the skating rink? Don't remember The Matador though, perhaps too young, ha........
Comment by: Mary Henderson (Wigan, England) on 4th November 2008
Just noticed that someone mentioned "Uncle Derek" - Manager of the ABC in Wigan. You might like to know that Derek Fuller is still a great character - he's in his 70's and a lay reader at St Michael's Church in Swinley. He is fighting illness but still full of fun!
Comment by: John Jarvis (Pemberton, UK) on 22nd October 2008
Thanks Carol. I've noticed you've put quite a few memories of Pem in the sixties; glad there are folk out there who do remember the old days. I'm being slightly pedantic now , but I think you mean Bamfords skating rink...which became The Matador; do you remember that? I was too young to go there, but my older sister Ingrid was a regular. Keep on adding your memories...
Comment by: carol (wigan, england) on 12th October 2008
I remember the "tanner rush"at the Queens.One week at the pictures, the next week at Banfords roller-skating rink....
---