I remember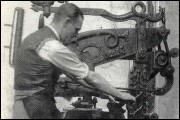 I remember...
my first job
Comment by: john allan barton (wigan, United Kingdom) on 18th November 2017
billy baggley was my uncle he worked at thompsons about 46 years. it was a mad house i left school in 1977 it was on a friday and i started thompsons the following monnday.i did two weeks there and ran like a bat out of hell all the way home.billy died at 140 darlington street east wigan wn1 3bh he had several strokes and he was age 67 years old
Comment by: Jean Marsden (Blackpool, United Kingdom) on 5th June 2016
My first job was at John England Mail Order as a filing clerk. My boss was Ray Hitchins and I worked with a girl called Sandra. We used to have a laugh but it was hard being on your feet all day and my first day was a shock!
Comment by: Margaret farrimond (Blackley, Uk) on 10th January 2016
Yes Mr Moss. when I was there was the director and his daughter Jennifer who was on coronation St came in the yard several time in her red sports car.
Comment by: Christine Ackland (Southampton, Hampshire) on 28th December 2015
Sorry Margaret but I'd left by then and only really knew the girls in the trouser room, Was Mr Moss still the boss then?
Comment by: Margaret Judson. Nee Farrimond (Blackly Manchester, Gb) on 3rd December 2015
Hi Christine. I worked at Brown & Haigs from 1964-67 starting in the pressing room on ladies wear, I remember a girl called Jean she had very short blond hair and. Was slightly disabled hut I can't remember her last name,she was bit of a joker. I also re beer a Brian who worked the press he had not long lost his wife , do or anyone ember those times.
Comment by: E Bradburn (Hindley, Lancs) on 4th October 2015
Anybody out there have any photos of bradshaws sewing factory Hindley christmas parties
Comment by: Dave Stephens (Wigan, UK) on 10th August 2015
August 1968 at 07:15 I caught the works bus outside the old Central Station to start work for Walmsleys at their Bolton Apprentice Training School. After an inauspicious period at WGS I was happy to put school days behind me and start work. How shocked was I to be told that on Thursday we had to sign on at Wigan Tech. as day release was compulsory for apprentices. That's school I thought shock horror. Great times at Walmsleys however. See picture in Work section of album
Comment by: Jeff Unsworth (Wigan, United Kingdom) on 6th August 2015
I left Rose Bridge the last week in June of 1961 and started as an apprentice Toolsetter at John Bullough Nut and Bolt works the following Monday. It stank of soluble oil and so did I when I was going home. No body would sit near me on the bus. My 1st wage was £2.7s 6d. I tipped my wage up at the end of the week and got 2 shillings back as pocket money.
Comment by: Jill Lancaster Was-fishwick (wigan, england) on 19th June 2015
i left school on friday and started work at fine fare hindley on the sat, (where bonkers is now) coz mi mam had got me the job i had no say in it, coz that was the way it was them days, when i had been there a few week i broke my foot and was in plaster but mi mam took me on the bus and said to the manageress she can still work on the till she don,t need to be off work, happy days xx
Comment by: Janet Duffy nee sudworth (Ashton in makerfield wigan, England) on 14th June 2015
I remember leaving school on Friday and starting my first job at Marcliffe Mantles (sewing) on Monday in poolstock
Comment by: DAVE BERRY (wigan, england) on 2nd October 2014
I REMEMER LEAVING SCHOOL ON FRIDAY AND STARTING WORK AT KINGS BUTCHERS ON MARKET STREET ON MONDAY
Comment by: John west (Barrow in Furness, Uk) on 21st January 2014
In '69 I was 21, and called the world my own. When Neil Armstrong took one small step for mankind, I was driving my leyland Comet down the M6 to Riding & Anderton's Seven Stars Saw Mills, with 10 tons of timber, to be turned into pit props. The 'slinger' was a swarthy lad, very well built. If you arrived at lunch time he would ask 'art thou going for chips and fish for thy dinner?' If you arrived late, you'd be frantically looking to see if the crane jib was still in the air - once it was lowered, they wouldn't unload you! The boss's son said that they never put new oil in their truck engines when they were serviced, just changed the filters. When I said that that was unusual, he replied 'this truck's done 100,000 miles - proof of pudding's in th' eating.' Very pretty girl worked in the weigh bridge. I fancied her and bought her a pink shirt from newly opened Asda next door, after she'd admired mine. Blushed red, much sniggering from offices. I never did work up the courage to ask her out. Happy days
Comment by: Roz (Mechanicsville Md, USA) on 19th January 2014
My first job was at John England's as a file clerk in 1967. Does anyone remember Eileen, who took over from Irene Wyatt as Mr Cox's junior. If so would love to reconnect with her. I also remember Mary Lewis, Terry, Doreen and Cicely. At the time we all complained about the job, but in hindsight we all had a good laugh. Carefree youth.
Comment by: carol (wigan, eng) on 7th January 2014
I remember Mrs Allayne! Terry Davis, Gordon Valentine!
Comment by: Chrissie Eccleston (Bury, England) on 17th August 2013
I started work at coop and company Dorning st training has a machinist We would practice sewing on trace paper , and timing how selves threading the machines . does anyone remember mrs Allayne . What a corker she was ..
Comment by: Mary Harper (Ambleside, United Kingdom) on 19th June 2013
My first proper job was junior receptionist at Triangle Valve, I had to answer the internal phone and say "Reception" - about 500 times. Going home on the bus that day I handed the conductor my money and said "Reception".
Comment by: Frederick Sentance (Chorley, UK) on 24th January 2013
I was15 in 1951.My first job was office boy in the Wigan Transport offices in the Market Place.We re-set the ticket machines.Could'nt wait for morning break,coffee brewed using makinsons ground coffee with a De-beukler wafer biscuit.Happy memories.
Comment by: David Bolton (Wigan, Lancashire) on 19th November 2012
Tony Horrocks...I remember Arthur Horrocks he looked, at first sight a very stern man, but when you got to know him he was a very nice person. I also remember a Mr Evans, can't remember his first name but he was second in charge
Comment by: Christine Ackland (Southampton, Hampshire) on 18th November 2012
Hi Sue I've just remembered the Dorothy I worked with was a Dorothy Duerden...think that's the right spelling anyway, so not your Mum sorry. Other names that spring to mind are Jean Harvey, Joan Wilkinson, Pat Jolly. I have to say we had so much fun in those days although we didn't realise it at the time, then as now...work was work. I'm sure someone will recognise your Mum so keep watching this site.
Comment by: sue f (Wigan, England) on 10th November 2012
Hi Christine, My dad was George Gregory. I was born in 1954 and not sure when my mum began working at Brown & Haigs and I can't remember when she left. I do recall the forenames of three of her mates, Agnes (I think her married name was Halliwell), Sheila and Edna but nothing more. Hope this helps
Comment by: thomas anglesea (wigan, england) on 6th November 2012
this is for Brian Penlebury.brian if you go photos of wigan.than click onto albuns,than works.you will see a thread Thomas Taylors Brothers Carpets,you will some of the old guys plus youself.hope you enjoy..
Comment by: Christine Ackland (nee Hunter) (Southampton UK, Hampshire) on 5th November 2012
Sue Just remembered the Dorothy I knew married a chap named Brian...was your Dad a Brian?
Comment by: Christine Ackland (nee Hunter) (Southampton , UK) on 2nd November 2012
Hi Sue I was at Brown and Haigs between 1960 and 1964...I do remember a Dorothy a very pretty girl with lovey long hair...the only other thing I remember about her was that she was getting married and bought a house in Tunstall Lane(I think) Pemberton,but can't remember her surname...Did your mum work in the trouser room and what was your dad's name?.(might help jog the memory)
Comment by: sue f (Wigan, England) on 1st November 2012
Hi Christine, I noticed your first job was at Brown & Haighs. You didn't say when you worked there but did you happen to work there when Dorothy Gregory (formerly Lloyd) was there. She was my mum
Comment by: sheila worsley nee matthews (wigan, england) on 2nd July 2012
my first job was at john englands mail order from 1964 to 1978 i worked for the legal dept and my first boss was mr rosenfield as i remember he was a miserable thing who had his favourites would be lovely to hear from old work friends again
Comment by: Sue Cookson (Pwllheli, United Kingdom) on 15th June 2012
My very first job was as a trainee Beautician in Norman and Philips hairdressing salon in Lowes in Market Street. I didn't stay long as they wanted me to train as a trainee hairdresser which I didn't want to do so I then got a job at Louis Fishers in Dicconson Terrace, it was a tailors and dressmakers and I was the receptionist. It was run by Rita Fisher and her daughter Susan Fisher.
Comment by: linda massa (preston, england) on 27th May 2012
My first job as a typist at Platt's Printers in Dorning Street, wage £3 3s 0d.
Comment by: graff (wigan, england) on 20th May 2012
started work in 1960 at northern counties wigan lane.worked 42 hour week for the life changing sum of£2 2s 2d great days.
Comment by: kenny (WIGAN, United Kingdom) on 4th May 2012
david bolton......Smiths tours.....my auntie worked there for yonks,I think everybody knew "Trixie"
Comment by: kenny (WIGAN, United Kingdom) on 4th May 2012
My 1st job was an apprentice welder at John England's on Hemfield Road ince, Our "pay week" started on thursday,so my first wage was only 3 days,£3.18s.6d And for a full week was the princely total of £5.2s.4d......wow
Comment by: kenny (WIGAN, United Kingdom) on 4th May 2012
For ste fairhurst......i've norr urd owt,why,as thy,wots it aw abeyt
Comment by: karen (southport, england) on 11th November 2011
I worked at hindley's factory for a spell, om park road, sewing school uniforms, and the boss was called Hindley too
Comment by: christine singleton. ne walker (wigan, england) on 5th October 2011
hi i worked in woolworth working on the bread stall on a saturday the other times i worked in their bakery in hindley about 1964
Comment by: Colin Howarth, (Detling, England) on 14th September 2011
Is this the same Brenda Fairhurst that lived in Durham st Whelley, as I lived with my aunty May 2/3 doors down
Comment by: joan austen ne barlow (cambridge, england) on 28th August 2011
hi glenys i am joan barlow who worked with you at the slipper works a lot of water gone under the bridge since then maried devorsed and maried again i had one son ian he is 44 now and i live in cambridge i often think about those days we had some fun do u remember going to the empress ballroom with me i could go on and on how did we lose touch
Comment by: joe tighe (leigh, EnglandI) on 5th August 2011
My first job was at Maypole colliery in 1956.when i went for my medical,we had to go in two at a time.this other chap was first, he was told to wee in the bottle.The doctor checked his sample and asked if he had passed water that morning.his reply was yes i came dowm by the canal.was helpless
Comment by: pat ashurst (wigan, england) on 26th July 2011
Hello, I worked on fashion floor with Jean Tunstall Miss Hibbert and Miss Annabelle was the fashion buyer. I then worked in the office upstairs.
Comment by: Bill Smith (Wigan, England) on 6th June 2011
A bit more about Thompson's: The funniest even was when some gypsies broke in and stole a box of margarine, they were camped next to the warehouse. We all ran to the top of the tower to watch and started laughing and cheering as the cellar employee Jack stormed the gypsy camp with two police officers. One man was arrested. Gypsies once again tried to steal diesel out of the on-site storage tank and I remember Barry Walsh (warehouse manager)running like the clappers through the warehouse to try and catch them. They escaped.
Comment by: Bill Smith (Wigan, England) on 6th June 2011
Hello John Finch. You mention Thompson's. I worked first as a picker and then checker/supervisor at Thompson's Provison Merchants for a staggering nine years from about 1977. I should have got out earlier but never managed it. Billy Bagguley suffered a stroke and is probably no longer with us. We all froze nearly to death in winter in that warehouse. Insects bit us in summer in the tower, near the third floor. The roof leaked during heavy rain and one young chap received a nasty electric shock while operating the lift and had to be taken to hospital. One employee once threw bleach into another lad's eye and was sacked for that. We had one lad who couldn't read or write so was sacked after two days. Milly worked in the cigarette and sweet dept and unfortunately I once had a dreadful row with her and all the place stood still to listen (I won by the way). There was one extremely unpleasant individual who was always challenging the lads to fight till he was sacked. There was another chap who caused nothing but trouble and he once got beaten up at work. Ted Henry had his foot run over by the forklift truck and was never the same again. One lad punched a box of Heinz beans and broke his hand. One lad drew a knife when told he was going to be put into the 'Black hole' for fun (it was in the cellar, windowless and no electric light). For school leavers starting work here there was always the threat of being put inside 'Dracula's coffin' near the third floor, it was a long wooden box containing rotating knives!. The wages were awful. However the Thompsons themselves were decent chaps at that time and I got on well with them. Amazingly, we did manage to have fun now and then. I could write a book about that place.
Comment by: tony berry (wigan, england) on 20th May 2011
my first job was apprentice turner at naylors engineering in the wiend had some fun there with my mate john hogan and andrew i hope yer doin ok john andrew then moved onto brow and haighes met some good mates there eric green dennis summers good luck all.
Comment by: raymond walls (wigan, uk) on 2nd May 2011
the name of an old friend ,i spotted on wigan world,it was brian pendelury ,he almost lost his arm at taylors.i whent to austrailia inabout 1972 .never sean him sinse it would be nice to say hello
Comment by: Edna Booth (Warrington, UK) on 31st March 2011
My first job,(1951) age just 16 years, was at Central Wagon Works, Ince - beside the level crossing south of Ince Bar. Hadn't been sure whether to go back to school in sixth form - so I took the long summer holiday to make up my mind to look for a job! By that time all the good jobs had gone, so I took what was offered! Wage:- thirty bob a week! And that was two-and-six over the odds because I had a pan-full of good O-Levels! To start with they asked me if I could type. I could not! So they sat me in front of a typewriter with a stack of envelopes and an address list. Struggled for a bit trying to insert anvelope into carriage, then asked for help. Once that was sorted I taught myself to type! The main part of my job, apart from carrying loads of parcels to the Post Office, was sorting work-sheets into the appropriate "wagon-jobs" - for pricing and invoicing. At this stage I remember Albert Draper (?odd-job lad). Doreen Butler (post). and my boss, Mr Widdowson. Wallace Arnold (general office) - and the two young men who initiated the young newcomers by catching them unawares, bumping them round the general office, and putting them through the window onto the railway line. Those were Jack Ellison and Jack Wood. Jack Wood had played Rugby for Leigh before breaking his leg! Very funny this...but did not work with me. I picked up an iron typists' chair and swung it - and they retired and left me alone thereafter. I must have been sorting the worksheets right because I was soon promoted to the Pricing Department - my boss then was a Mr Booth, and I worked with Jean Hinnegan and Amy Winstanley. From the works I remember a few young lads, but only one name remains....Donald Lowe. Used to be on the same bus home from work, but Doreen had an eye for him! I still have fond memories of the time I worked there - about a year before I learned a bit of shorthand and left to promote a secretarial career! Must have been good memories or I would not have remembered all these names. And I've just remembered another woman - not her name - but in later years she had a newspaper shop at the top of Market Street in Hindley. Wonder if any of these people are still around!
Comment by: annemarie (wigan, lancashire) on 24th February 2011
I remember Mr Rosenfield I worked at John Englands as office junior and then worked up to section head do you remeber the label bank and Miss or Mrs Lamb who worked ther she was very efficient
Comment by: Shevy (Wigan, England) on 17th January 2011
I said i remember WV Jackson and pushing handcarts up Scholes the worst part was coming down again with no brakes
Comment by: Shevy (Wigan, England) on 10th January 2011
I worked for WV Jackson in 1953 i remember the handcarts pushing them up Scholes Shevy
Comment by: norma (wigan, england) on 12th September 2010
my first job was at tupperware i started in 1971 and left in 1977 to havve my first child.my name was jones nee thomas.
Comment by: yvonne cooper nee kearsley (wigan, lancs) on 21st August 2010
my first job after school was at peter blonds sewing factory loved it ;;;;
Comment by: Bill Smith (Wigan, England) on 30th July 2010
I left Wigan Grammar School in 1968 aged 16 and started as an apprentice engineer at English Tools Ltd in Darlington Street Wigan. First wage was about £6.00. O how I hated it, but struggled on till I was 21, when I left engineering for good.
Comment by: Tommy Walsh (Atherton, England) on 19th July 2010
I left school on fri. started at golborne colliery on mon.was asked by the training officer if I Had been to school I said I finished on fri.with that he said follow me,took me to the stores, got me a helmet then on to the lamp shop for a cap lamp.we then went to the pit head into the cage and down we went to the the under manager,s office,who asked what training I had done,none I replied, I only finished school on fri.The training officer said I thought you meant training school then whipped me up the pit sharpish. I finished the rest of the shift in the prop yard with the other trainees,needless to say they were pretty envious.
Comment by: Brenda M (Vancouver, Canada) on 3rd June 2010
I was a Saturday girl at Woolworths in Hindley in 1971 while I was going to college. I was paid one pound and three old pence for the day. I used to walk home after work to save the busfare. My first full time job was in a solicitors office in Wigan, Ackerley Heaton & Pigot, for 8 pounds a week. The boss used to pound up the stairs two at a time, and we'd all put our heads down and type like crazy until he'd gone downstairs again. They were a lovely group of girls to work with.
---