Timeline, A.D. 77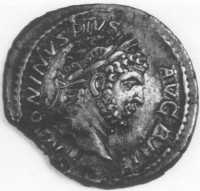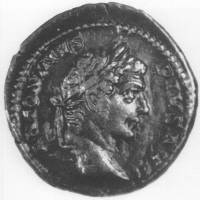 Two from a hoard of coins discovered near the Boar's Head Inn in 1926.
The Romans built a fort on the site of Wigan and called it Coccium. The settlement is mentioned in the Antonine Itinerary of the 2nd century as being 17 miles from Manchester.
Although Roman Wigan is buried deep beneath the town, numerous finds have been found that suggest Coccium was larger, and more important to the Romans than previously thought. Finds include:
In 1822, Roman Cremation Urns were uncovered during the construction of the gas-works, suggesting the existence of a Roman Cemetery.
During the rebuilding of the Parish Church in 1846 a Roman alter was found beneath the High Altar and was built into the tower.
Coins include a hoard of 137 silver ones found near the Boar's Head Inn in 1926, a hoard of over 200 found in Standish in 1690 and various bronze coins found in the Market Place in 1837. A rare gold coin of the emperor Vitellus was found in the Mesnes in 1850.
Three Roman roads have been traced in the early 19th century by amateur historian Revd E. Sibson of Ashton.
In 1982, excavations in the Wiend discovered remains of Roman buildings dating from the late 1st century A.D. They were large wooden structures, but of a flimsy warehouse type.
Why did the Romans choose Wigan as a settlement? It is believed they chose the site because it was on a hilltop, making it easier to defend. The River Douglas also ran to two sides of the hill which would have been much steeper than it is today. It was also a point midway between the crossings of the Mersey at Wilderspool and the Ribble at Walton-le-Dale.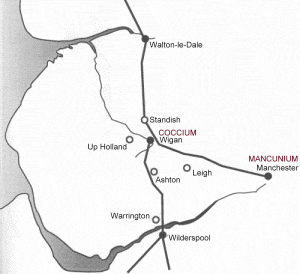 Some of the Roman Roads linking major Roman settlements.