Old News, 1962

Richard Unsworth, aged 14, of 5 Riverside Avenue, Whelley, had his right hand amputated in an operation at Wigan Infirmary on Wednesday. Richard's hand was badly mutilated last Friday night in an accident involving a home-made firework and he lost a finger and a thumb.
The condition of the boy's hand deteriorated this week and an Infirmary spokesman said yesterday: "An operation was performed on Wednesday and it was found necessary to amputate the right hand."
Richard, who is described by his mother as "gunpowder mad", was experimenting with a mixture of weed killer and sugar packed into a metal tube. When he struck the metal tube with a hammer it exploded.
The explosion brought people in and around Riverside Avenue rushing to their doors. An ambulance was called and the boy was taken to Wigan Infirmary.
Richard displayed great fortitude when seen by a Wigan Observer reporter in the casualty department at the hospital. From a stretcher, he said: "Please tell other boys not to bother with gunpowder. It's not worth it."
He will be able to continue his studies at Wigan Grammar School as, fortunately, he writes with his left hand.
Police confiscated two other home-made fireworks of the type involved in the accident.
Richard's mother, Mrs. Ellen Unsworth said: "Richard is gunpowder mad and he's always experimenting. He asked me for some of the weed killer earlier in the week but I would not give it to him as I knew he wanted to make gunpowder. But he got hold of some without my knowledge. I'm not saying this because my son has been hurt but I don't think young boys should be able to but stuff like this unless they sign for it and say why they want it. I hope my son's mishap will be a lesson to other boys."
The boy's condition is "satisfactory".

Wigan Corporation are showing a commendable awareness in tackling the slum clearance programme which was first approved by the Ministry in September, 1955. The programme was designed to cover 2,104 sub-standard houses and such has been Wigan's progress that the borough now compares favourably with other Lancashire towns.
The speed of the slum clearance programme is dictated largely by the speed at which new houses and flats can be erected to rehouse displaced families. An official count taken in June last showed that the Corporation had dealt with and rehoused the occupiers of 1,265 houses and in addition there are another 450 properties where the occupiers are simply awaiting alternative accommodation.
Recently the Corporation applied to the Ministry for approval to a slum clearance order covering houses in Canal Street and Holt Street which are off Woodhouse Lane. This is the first time that such a procedure has been adopted by the Wigan Corporation. In the past the practice has been to rely on individual orders. There is little doubt that the application in respect of Canal Street and Holt Street areas will receive official sanction. The families who will be removed under this slum clearance order will be rehoused in 119 dwellings which are to be built at Dumbarton Green. These displaced families will in effect just walk across the road to their new homes. Preparation work has already been started on the new dwellings at Dumbarton Green and the first properties will be available for letting by July next year. Seventy dwellings will have been completed and ready for occupation at Dumbarton Green by the end of 1963.
Commenting on the slum clearance programme this week a municipal spokesman said that the Corporation were well in advance of schedule. In the last twelve months 850 sub-standard houses have been dealt with. In anticipation of the completion of the programme a list of 475 houses has been submitted for a supplementary slum clearance programme, but with the number of improvement and standard grants which are at present being given at the request of the Government, this programme is a little fluid at the moment. "It could be that by time we get round to them these houses will have been brought up to standard and rendered fit for human habitation," the spokesman said. The municipal desire is that property owners will take advantage of the facilities available and will improve their property so that it won't drop to the point where it is unsatisfactory.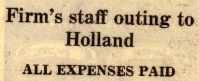 A party of fifteen from the firm of John Peak and Co. Ltd., fertiliser manufacturers, of Newtown, Wigan, enjoyed a novel and interesting staff outing last weekend. Led by Mr. J. H. H. Peak, a director of the firm, they went to Holland returning to Wigan on Tuesday.
The party left on Saturday and sailed from Hull to Rotterdam. Later they visited Delft, The Hague and Amsterdam, famous for its night clubs.
The firm normally organise an annual staff outing but this is the first time it has taken the form of a Continental outing. The firm paid expenses.

"We had no coal and my little girl, who was ill, was celebrating her birthday. We buried a child last Easter; she died after being severely burned. Since then, my wife would not buy coal."
These remarks were addressed to Wigan Borough Magistrates, on Monday, by Daniel Morris (45), unemployed, 10 Cherry Grove, Beech Hill, who, along with his 14-year-old son, was summoned for stealing 46 lbs. of coal and 8 wooden blocks, the property of the British Transport Commission.
Detective Constable Norman Perkins told the Court that he saw Morris and his son walking up the railway embankment near Elms Bridge on 26th August holding shopping bags. The father's bag contained coal, and the son's eight blocks used on chairs to secure the rails. Near the bridge was a perambulator containing coal.
The father said that he had got the coal and his son carried the blocks. "I do not think I was stealing. I picked the coal and blocks from the track: I did not climb any wagons or do any damage," added the father.
Supt. A. E. Davies said the defendant, Daniel Morris, had seven children, whose ages ranged from 17 years to 14 months. He was a window cleaner, but had to give up work owing to ill health. The total income of the family was £17 15s. 3d. per week.
The son was remanded on bail to the Juvenile Court, and the father was fined £2, plus £2 costs.

"I only took the money because I was off work and we had no money in the house to buy food" was the explanation given to Wigan County Magistrates, on Friday, by Brian Latham (20) unemployed labourer of 399 Warrington Road, Abram, who admitted stealing from a radio receiver £1 12s. 0d. between 17th and 28th August, the monies of the Bell Radio, Platt Bridge.
Inspector G. T. D. Rayner said that the lock on the receiver had been forced and the money was missing. When interviewed at his home by Pol. Cons. Hoyle, deft. said "Yes, I did it. I have been off work sick for a fortnight and was short of money."
Deft. told the Bench that he had not worked since June. He had offered the money to Mr. Robert Bell, the proprietor, but he would not take it. He was also taking away the TV set.
Deft. was fined £2 and was ordered to make restitution of £1 12s. 0d. to Mr. Bell.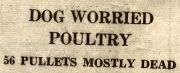 At Wigan County Magistrates' Court on Friday, Herbert Stanley Webster (56) of Inglenook, Hall Lane, Wrightington, pleaded guilty by letter to being the owner of a dog which had worried poultry, belonging to Harry Pendlebury at Shapps Farm, Robin Lane, Wrightington.
Pol. Cons. Ashworth said he received a complaint from Mr. Pendlebury on 26th August concerning his poultry. Witness went to the farm and in a field there saw 56 pullets, most of them being dead. Later, he saw Webster at his home; he had previously visited the farm and knew what had happened.
In his letter to the Court, Webster stated that he had compensated Mr. Pendlebury for his loss and that the dog had since been destroyed. As owner of the dog he pleaded guilty to the offence.
The Chairman (Mr. Dan Bennett) remarked that it was a proper case to bring before the court and that Webster who had compensated Mr. Pendlebury, would be given an absolute discharge on payment of costs.

Miners at the Albert Colliery, Hindley Green, are to try out a newly designed self-rescue apparatus to protect men working underground against carbon monoxide gas - or blackdamp as it is known to miners. The Albert Colliery has been chosen by a joint committee of the Coal Board and the National Union of Mineworkers. The pit employs 435 men underground who will be trained in the use of the new apparatus. Then when training and other arrangements are completed, the men will be issued with self-rescue masks to take down the pit each day. The trials will continue for at least twelve months.
The mask and container weigh 2lbs. and the container clips on to a miner's belt. When carbon monoxide gas occurs underground the miner breaks the seal on the container, takes out the mask, fixes the clamp on his nose and puts on the mouthpiece. He breathes through the mouth and the filter on the mask prevents the poisonous gas from doing him any harm. A miner so equipped is safe for about half an hour - enough time to get away from the danger area.
The trials at Albert Colliery are to find out how the masks stand up to daily wear and tear. They will be examined periodically by scientists to see if they are still airtight and watertight. The ultimate aim will be to issue every miner with a self-rescue apparatus and to make the mask just as familiar a piece of equipment as the miner's hard hat, cap lamp and battery.