Old News, 1957

A National Serviceman who came home on leave, then sent a sick note to the army authorities, was visited at home by a doctor, who said he was fit. He ordered him to rejoin his regiment the same day - but he did not.
At Wigan today, the Serviceman, Thomas Fishwick (19), of Warrington-road, Lower Ince, who admitted being absent without leave from his unit at Owestry, was ordered to be remanded in custody to await a military escort. He was also fined £2 for stealing coal.
Chief Supt. W. H. Harrison said a railway employee and a special constable saw Fishwick stealing coal from a wagon in the sidings. Fishwick ran away when the man approached him, but was later seen by police at his home and admitted the offence.
Fishwick's commanding officer told the court Fishwick had been absent without leave on one occasion before.

Lancashire County Police experts explained their new speedster-catching radar device when the first victims on the Wigan area appeared at Wigan today.
Eleven drivers were fined a total of £22 for speeding after it had been stated that they were detected by the machine used by police in the Wigan area.
Mr. H. D. Mace, prosecuting, said that the system used was for a patrol car to be concealed some way from the road, with a radar machine in the car boot. It recorded the speeds of passing vehicles on a meter and if the vehicles exceeded the speed limit information was sent to a patrol car further down the road and the offending vehicle was stopped.
Only one of the defendants denied the offence. He was John Hardman, of Kings Abbott, Penwortham, who was stopped in Wigan-road, Standish, after he had passed PCs Edgar Farnell and Percy Grierson in the radar car. He was stated to have been travelling towards Wigan at 40 m.p.h.
Mr. F. C. Roscoe for the Automobile Association said that Hardman was following a heavy lorry about 10 yards behind. He said that machine could not accurately detect the speed of Hardman's car while it was following so close to the lorry.
PC Farnell said that he had been trained in the use of the machine. When Hardman's car passed there was no lorry in the beam of the radar, and the needle on the meter showed that Hardman's vehicle was travelling at 40 m.p.h.
County Police radio expert Inspector Keith Eve said that outside influences could affect the apparatus, but when vehicles passed, that interference would stop. He denied that ordinary fluorescent street lamps had any effect on the machine.
After a 10 minute adjournment, the bench fined Hardman £2. "We realise the seriousness of this issue," said the chairman, Miss E. Hazelhurst, "but we find the prosecution case proved."
Other defendants were fined £2 for the offence. They were: Woolf Collins, of Stone Grove Park, Edgeware, Middlesex; Davis Eaves, of Coniston-road, Blackpool; Morris Sumner, of Oak Tree-avenue, Ingol, Preston; John Stone, of North Albert-street, Fleetwood; Norman Lithgow, of Victoria-street, Wallgate, Wigan; William Clarke, of Hart-street, Hart Common, Westhoughton; William Yarwood, of Cowglen Military Hospital, Glasgow; Harold Raynor, of St. Chadis-road, Blackpool; Norman Gleave, of Church-lane, Lowton, and Jack Rutter, of The Green, Eccleston, near Chorley.

Wigan reaction today to the story that a storm is brewing up in RL circles because they have spent a big sum on new players while still owing a substantial amount to the Rugby League is that it is "sour grapes from Yorkshire."
It is pointed out that if Wigan enterprise in getting new players is stifled because of this loan, they might not get the same gate receipts which are helping them to pay it.
"In fact, we are paying it back at the rate of £2,000 per year, with interest," said a Wigan official, "even though the league only wanted us to pay it back at £1,000 per year. We also give them half of our ten per cent from any representative games staged at Central Park to help repay the loan quicker. We are fulfilling our bargain to the letter."
Wigan also point out that they put three times as much in the Rugby League "pool" - which is divided among all clubs - as they draw out of it. Since the war it is reckoned that Wigan have put between £17,000 and £15,000 in the RL Pool and drawn out only £7,000 to £5,000.
"It's just simple business ethics," say Wigan. "Although we were given a loan it surely does not mean we should not be allowed to make any other investments to improve our position. It happens with all business firms and we are fulfilling our requirements."
In the past year the lifting of the entertainment tax and the legalising of football lotteries has improved Wigan's position considerably since they asked for a loan. £5,000 of the Sullivan transfer money is coming from the football lottery - money paid in by Wigan's supporters to help improve their team.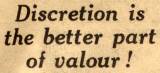 "He was picking on this chap - so I dotted him one," explained Thomas Lynch (26), of Victoria-street, Higher Ince, to the magistrates at Wigan today when he pleaded guilty to being drunk and disorderly.
PC Middleton said he received a 999 call and went to a public house in Manchester-road, Higher Ince, where there had been a fight between Lynch and another man.
Lynch was drunk and using bad language, and when he refused to go home he was arrested.
Lynch, who was fined £2, told the magistrates that there were a group of them in the hotel, and one member "kept picking on another."
"I couldn't let him keep on, could I?" he asked.
"You have to, in this world, if you want to keep out of trouble yourself," the Clerk, Mr. N. Tuite, told him.

Although only 40 years old, former colliery ripper Edward Hare was in receipt of a 100 per cent disability pension for pneumoconiosis, a Wigan inquest heard today.
Hare, of 22 Roach-green, Whelley, died from silicosis, said consultant pathologist Dr. J. Schrager. The dead man had worked in coal mines for 25 years.
"I haven't received the report of the Pneumoconiosis Medical Panel, but Dr. Schrager's evidence leaves no doubt in my mind that this is one more of a series of terrible cases", said the coroner, Mr. J. Hopwood Sayer.
"I am fully persuaded that the cause of death in this case was an industrial disease," he added.
Mr. J. Hammond, who appeared on behalf of the NUM and the dead man's relatives, commented: "It strikes me as a very young age to get the disease as emphatically as this."
"It was usually men in their 50s and 60s who had it. This man must have had it before he was 40," said Mr. Hammond.

The back-room boys of Wigan Trustee Savings Bank have launched their own "Sputniks."
The result - not messages from outer space but a cut in the waiting time for the bank's thousands of customers.
Each counter cashier has been given a "satellite" - a trained clerk who will speed the return of bank books after the original entries.
"We think it will cut the waiting time by at least a third," an official said today. Hitherto, after the cashier has entered up a book it has had to go to the rear of the bank for further checking.
And the customer has had to wait at the back of the bank for the book to return before he gets his money.
With the new system it is hoped that eventually the customer won't have to wait at all.
The new counter system coincides with extensive structural alterations at the bank, which did £20,000,000 worth of business last year, has 48,000 accounts and £8,000,000 in funds.
The old counter has been ripped up and a new one installed to run parallel with King Street.
The wooden enclosures on top have been copied from a photograph of an American bank that a member of staff saw in a magazine.
The rearranging of the counter will give bank users an extra 140 square feet of space.
"Since 1949 individual transactions handled by the bank have risen from 170,000 a year to 336,000 a year," a member of the staff said today.
"We have 1,100 transactions every working day - a figure which is equalled by very few banks in the country - and we need the extra space."
New, comfortable seats are to be placed at the back of the bank for pensioners.
The bank porter has given up his flat above the bank - and the five senior officials will move into new offices to be built there.

Aspull people may be incited to trespass on the grounds of a new school being built there if the Ministry insists on including a well-used public footpath within the school boundary, Aspull councillors said last night.
The school is being built near Ratcliffe and Stanley Roads. The public footpath runs right along the edge of the proposed school grounds.
The Ministry intend to take in the footpath. But councillors protested about this and decided to ask the county council to end the school grounds short of the footpath.
Councillor T. Green said that the boundary of the school should end on the northern side of the footpath.
"This is a foopath of long standing," he said.
Councillor J. Higham said the county council ought to agree to satisfy the aggrieved persons. "If this footpath is closed it might have a tendency to incite people to trespass on the school grounds."
The chairman, Councillor J. Moore, said that an old railway line running parallel to the footpath would still be available.

Constable W. Turner told magistrates at Newton-le-Willows Juvenile Court that for three days they searched for two Golborne brothers missing from home.
But when they were eventually traced the boys told him that during the three days they had been home, the mother had not detained them.
They appeared before the court as being beyond the control of their parents. They were also charged with forging a family allowance form and wrongfully obtaining 15s.
Chief Inspector R. Proctor said that it was after the forgery had been discovered that the boys, aged 14 and 10 disappeared. When they were found, they admitted sleeping in a barn at Lowton.
It was stated that the mother had treatment at a mental hospital for a nervous ailment. The father told the court it was impossible for him to exercise proper control over the boys, because he was a shift worker.
They were placed in the care of Lancashire County Council.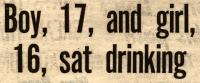 They were two young people at a dance in Ince Public Hall. It was nearly 11 p.m. - when the bar was due to close - and they were sitting drinking.
He had a glass of beer and she a champagne-type drink.
The trouble was, Wigan magistrates were told today, that neither of them was old enough to buy or drink intoxicating liquor. He was 17 and she was 16.
Before the court was Thomas Parkinson, of Ainscow Street, Lower Ince, who admitted buying liquor for his own consumption and for consumption by another person under the age of 18.
The girl, who did not appear, admitted aiding and abetting the offence.
He was fined £2, she £1.
Police-Constable Bowe said he asked the couple their ages. They both said they were 18, the girl also adding that she had been drinking whisky.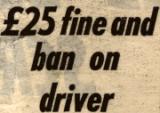 When two police officers looked into a van which had pulled up in the centre of the road, they found a man slouched over the wheel.
His eyes were glassy and as one of the officers was about to speak to him he mumbled incoherently. Then he slammed the door and drove off on the wrong side of the road.
Wigan County magistrates were told this today when Aldey Price (25), general dealer, of the Caravan Site, Careless Lane, Higher Ince, pleaded guilty to driving while under the influence of drink and was fined £25 with £12 10s. costs.
He was also disqualified from driving for 12 months.
Prosecuting, Mr. Tom Fishwick said that at the police station Price slumped in a chair with his right arm on a table and said he didn't want his own doctor to examine him.
Today Mr. Tuite asked Price if he wished to say anything and he replied: "Nothing, nothing whatever."
In addition to this offence Price was also before the court for using a lorry with dangerous wings and the rear index mark not illuminated.
On these two summonses he was fined an additional £3.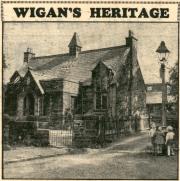 Astride the ancient highway north lies Wigan's one time neighbour village of St.-Mary-the-Good, which is a literal translation of its ancient name of Mariebonne, and its more modern title, Marylebone.
It is still quiet, sylvan, secluded, though Wigan's environs have absorbed it.
Here is the entrance to Haigh Plantation, magnificent and austere, here is a lovely park, and Old Brock Mill Lane winding away down to the Douglas Valley and the cradle of Wigan engineering Haigh Foundry, birthplace of the Laxey Wheel, many early locomotives for the then new Great Western Railway. This picture shows a corner of quiet Marylebone, with the disused schoolhouse now supplanted by nearby Woodfield School.
It was near this spot in 1651 the Battle of Wigan Lane was fought, and gallant Sir Thomas Tyldesley was slain.