Wigan Observer, 1900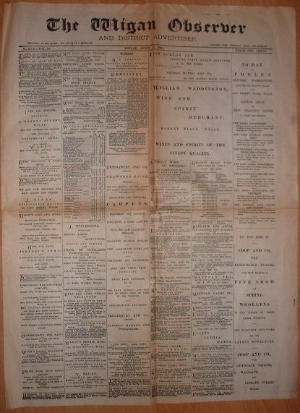 The Wigan Observer and District Advertiser, Friday, April 13, 1900.
A fascinating insight into Wigan life over 100 years ago! The paper has yellowed with age but other than that it is in excellent condition and all articles can be clearly read.
The broadsheet's front page was splashed with adverts, news usually appeared towards the back and on the back page.
Here are some news and court articles from 1900...
FATALITY AT A STANDISH COLLIERY.
On Wednesday morning, Mr. Parker, county coroner held an inquest at the Wheat Sheaf Hotel, Standish, on the body of John William Ollerton, 18 years of age, a dataller, of 63, Preston-road, Standish, who was killed in the Gidlow Pit, Standish, belonging to the Wigan Coal and Iron Company, on Monday by a fall of coal. Mr. J. Dean, manager of the colliery was present.
John Ollerton, the father, gave evidence of identification.
Thomas Killey, a dataller, of 17, Folly, Wigan-lane, Wigan, said he was working with the deceased in the Arley Mine, No. 2 Gidlow Pit, on Monday morning packing dirt. When they had been at work a short time deceased went out of the place to have a rest. He was making his way back when some coal fell from the face on his head. Witness got the assistance of Thomas Marsden, and extricated him, but he died immediately afterwards. The whole fall was about 3 cwt. Witness examined the place early in the morning, and it appeared all right.
Denis Culshaw, the fireman, stated that he made an inspection of the place where he was working, at half past nine on Monday morning, and it then appeared to be quite safe. The place from where the coal fell could not be spragged without moving the dirt.
The Coroner said from the evidence it appeared to him that it was an accident, and there did not seem any one to blame. The conditions seemed to have been quite normal, and they had no reason, so far as they could see, to suspect that anything was wrong.
The jury returned a verdict of "Accidental death."
CORRESPONDENCE.
---
LABOURER'S WAGE AT HORWICH
To the Editor of the Wigan Observer.
SIR, - A fortnight ago there was a report in several of the papers that the labourers at Horwich Works (L. and Y.) had been granted an advance of 1s. per week. This is false, and I shall be obliged if you will contradict it, or publish this letter in your paper. The labourers at Horwich Works have not up to now received any advance, neither have they any knowledge of an advance being granted.
Yours,
A 17s. PER WEEK LABOURER AT HORWICH.
April 10th, 1900.
---
WHO IS HE?
To the Editor of the Wigan Observer.
SIR, - I ask the question, Who is he? I mean the individual responsible for the watering of our streets. He certainly must be an abnormal specimen of the genus homo. Yesterday (Monday) the atmosphere was perfectly calm and quiescent - not a particle of dust stirring anywhere - yet this man sent out his water-carts to flood the streets, making a greasy, muddy mess everywhere. To-day we have a south-easterly gale blowing, with clouds of blinding dust, making locomotion almost intolerable! Yet, not a single water cart has been seen. Meantime suffering humanity gropes its way as best it can, pouring anathemas upon the man who could make matters much more tolerable had he the common intelligence or faculty of perception, of supposed lower forms of animal life.
Yours, &c.,
DISGUSTED
Tuesday, 3 p.m.
A COAL DEALER DROWNED AT INCE.
The body of Henry Gostellow, a coal dealer, 58-years-old, of Belle Green-lane, Ince, was found floating in the canal near the Fourteenth Lock, on Wednesday night. From information the police had received it appears that the deceased man had been drinking heavily of late, and that on the Tuesday night he was turned out by the family. Later in the night, however, he got through the room window, and remained in the house until three o'clock on Wednesday afternoon, but does not appear to have been seen alive after that time.
WIGAN BOROUGH POLICE COURT.
THURSDAY.
(Before Messrs. J. Brown, J. Gee, and R. Halliwill.)
TRAVELLING WITHOUT A TICKET. - Thomas Carton was summoned for travelling on the Lancashire and Yorkshire Railway from Preston Road to Wigan without a ticket, with intent to avoid payment thereof. - Mr. J. Peck prosecuted. - The evidence showed that on the 27th March defendant was seen to travel from Preston Road to Wigan, and when he reached Wigan he went to the ticket office and bought a ticket for Orrell. At the barrier he was asked for a ticket, and he then said he had only been in the refreshment room. The collector, from information received, went after him, and asked him for his name and address. - Defendant said he had not enough money, and went to borrow some. - A fine of 10s. and costs were imposed, and he was ordered to pay the fare 1s. 3½d.
PRIVATE STREET IMPROVEMENTS. - The Town Clerk asked the magistrates to fix a day for the hearing of certain objections with regard to private improvement expenses proposed to be carried out by the Corporation. - The magistrates fixed the 30th inst.
CRUEL ASSAULT ON A WIFE. - William Frederick Pearson, of 16, Bold-street, was charged with assaulting his wife, Mary Bertha Pearson, on Tuesday last. - Prosecutrix, who is prisoner's second wife, and who had the appearance of having been badly handled, stated that they had only been married seven weeks, and on Tuesday night, about half-past eleven, she was ill, and he said he did not believe in doctors, and said she was shamming. He struck her, and kicked her, making her bleed profusely. She was obliged to run into the children's room for protection. He followed, and got her on the floor and struck her on the head with a boot. She had been under the doctor's care, and he said if she was not careful she would have concussion of the brain. Her husband was not sober at the time. She wanted a separation order. - Police-constable Sales deposed to being called to the house. - Prisoner said his wife's statement in several particulars was false. He, however, admitted striking her. - The bench fined him 40s. and costs. - Mrs. Pearson applied for a separation order, but the case was adjourned for two months.