I remember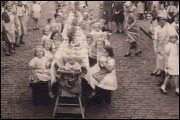 I remember...
the street parties
Comment by: toni Forster (now Francis) (Chatteris, cambs, uk) on 4th May 2016
We had a Jubilee street party in Worsley Hall Estate I think the road was called Broom Road - it was tat the top of Greenwood Avenue.
Comment by: Gary McHugh (Perth, Australia) on 2nd November 2012
Yep, like a few others on here, I remember the 1977 Silver Jubilee street party in Berkeley Ave, Winstanley. Big long table, Union Jack bunting (no union "flag" in those days), and lots of goodies to eat. Hot summer that one if I remember rightly. Jumped on the Chopper afterwards and off to St Aidens field for a game of footy with my mates. Oh happy days! Anyone from that area/era drop me a line. Gaz.
Comment by: Jean Glover (nee Ashcroft) (Orrell,Wigan, England) on 16th April 2009
I remember the street party we had in 1937 the Coronation of Elizabeth and George VI My Dad made a throne and we all dressed up. Mrs. Smith was Britannia, I think my mother was the King I cant remember who was the Queen We had lots of tables in the street with party food. Wonderful times.
Comment by: CAROL (HINDLEY, ENGLAND ) on 22nd November 2008
i remember 1953 Q.E.11 Coronation St. Party, and i got a blue drinking glass, which i still have, also a pencil with a crown on the top, which sadly i do not have now, and i also remember all the kerp stones were painted alternate red, white and blue in the avenue in Hindley were i lived. i was 6 yrs old then -- is anyone out there from Hindley ????
Comment by: mary latham (Greenall) (Wigan , England) on 15th June 2008
We had a street party in Sawley Ave Beech Hill to celebrate VE day we wre always having street parties then,and all the mothers would bring something.Times where hard then, but everyone mucked in ,those where the days. You couldn`t do that today ,it would all get trashed.Sweet memorie`s.ahhhhhhhhhhhhh.
Comment by: Margaret Hamill (fitzgerald) (WIGAN, England) pre 2009.
i remember 1953 the street party we had i was chosen to be queen and jacky pearson was the duke of edinburgh i lived on the main road opposite the way we were Helen Rowe and her sister Gladys made my dress and i really did feel like a queen everybody joined in those were the days wallgaters are a grand lot.
Comment by: SHEILA GOULDING (Speers Point, nr Newcastle, Australia) pre 2009.
Yes!! Every year we held a May Queen party. First there was a May Queen procession (once, I was QUEEN!!!) when all of the children wore a fancy dress, mostly cowboys and Indians for the boys!! We collected money in door collections then we had a street party. Our mums would supply the jellies, cakes and sandwiches. The grass always had dandelions, daisies and buttercups. We don't have those here in Australia. Bet May Queens are no longer held either! Pity!! We had a great time. I couldn't wear short'ankle socks' as my mum said "Ne'er cast a clout 'til May is out" and May Queens were held on the first Saturday in May (I think??!!)
Comment by: bill (wigan, lancs) pre 2009.
77 street party on greenwood ave i was eight and remmember all the folks around took cakes sandwiches it was great
Comment by: Phil Halliwell (Wigan, UK) pre 2009.
I remember a street party in 1977 for the Queens silver jubilee. We had a street party in Windmill close, Scholes. The whole street was filled with tables and every kid around there was present. It was a great hot day and the street was decorated. Everyone brought some food for us.
Comment by: phil sutton (aspull, uk) pre 2009.
1977 street party windsor crescent,union jack bunting from lamposts,plastic cups,homemade cakes and a union jack homemade cardigan to match me brother Gary we were 8 and 6 remember it as yesterday...nice.
Comment by: kerry (golborne, wigan,good old blighty) pre 2009.
The 77 Queen's Jubilee.Having a party in a neighbours back garden and everyone bringing around some contribution such has butties and cakes.Anyway the local dog in the avenue that all the children were frightened of got off its leash and came in the garden barking and all us kids ran round screaming.
Comment by: marion campbell(nee green) (preston, lancs eng) pre 2009.
I rememberthe 1953 coronation street party. ilived at 25 pinewood cres.and a great day it was.Aneighbour mrs molynex made me a red white and blue paper dress.It was beautiful and i have forgotten her.Iwas nine years old then She had a son named David.Memories
Comment by: Frieda A. Coronel (Las Vegas NV, USA) pre 2009.
Does anyone remember in the 1040's the Woolworths that was on the corner going to the Ritz Cinima they sold rolls with rabbit and stuffing in, we thought it tasted just like chicken remember, it was during the WW11 times.
Comment by: Ian Harris (Wigan, UK) pre 2009.
I remember the street party we had in 77 for the silver jubilee, Valley road had joined up with Marina Dr and Winton AV to have one big party... we all ended up in the Ravin cos it rained!!
Comment by: Alex (Wigan, Lancs) pre 2009.
The dirt road in the Street was first swept by all the children and parents.The white wash came out to hide the grime,and colours of the british flag were painted above the doors and bare brick walls.The tables came from every household and parents supplied the cakes and cream buns.The butties were full of cooked meats plus home made pies and crisps.Out came the fancy hats and streamers tied to the gas lamps.Oh happy days!