I remember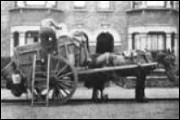 I remember...
the huge shire horses pulling the dust cart
Comment by: Angie_o (Wigan, UK) on 6th September 2021
Sorry to drag up an old thread but I have been doing a lot of family history research over the last year. Sam Rimmer the Blacksmith was my great great grandfather. I never knew him but it is nice to see he was remembered :).
Comment by: Mrs Pauline Sykes (Maidenhead, England) on 25th September 2012
I remember working at Greenford Middlesex in my first job in 1945 at Cow & Gate Milk Depot where they had a stable with horses that pulled the milk carts daily. Before I left in 1946 they had already started using motorised vans.
Comment by: joe tighe (leigh, england) on 8th April 2012
anyone remember the grubs we used to find in the bywash,which ran around the locks on the canal,down at the kimmik.never knew what these grubs were called,but it was a bite a chuck when fishing with them.kimmik st pats rugby field
Comment by: joe tighe (leigh, England) on 4th August 2011
I lived in bankes street off cambridge street scholes.Every week the dust cart was changed in our street for an empty .The shire horse was taken out of the shafts and hooked up to the empty.Then the full one was hauled onto a special lorry by a winch .This was the highlight of the week,all the kids fromaround the area used to come and watch this. I once had a ride on the carthorse ,it seemed like i was on a sky scraper. Great memories,better than computer games.
Comment by: Ray Parr (Chorley, Lancs) on 21st June 2011
I remember two beautiful horses driven by Mr Catterall from Richard Street Lower Ince His mate was Pee Bibby. They worked for Tomsons of Chapel Lane Wigan. he had a delivery round of shop the furthest was a bakery in Abram. That trip took a full day. It was a sad day for us kids when the horses completed their last trip. No more free rides.
Comment by: Edna Booth (Warrington, UK) on 31st March 2011
The Shire Horses - the "spirit of England"!. Don't remember them pulling the dust-carts, but I remember them hauling the brewers' drays in the mid-1940s. We kids sat in all weathers, freezing our bums off in winter on the icy pavement, outside the local pub waiting for the dray to turn up. Well worth the discomfort if the horse-drawn dray turned up - but total disappointment if it was the new motorised one. And there were still heavy horses employed at some local farms. Re "tekkin boggarts" I once sat on the front seat of the top deck of the bus from Hindley to Wigan. Just before Petticoat Lane at Ince the bus stopped - and down Petticoat Lane is coming a horse and cart - with the horse having "tekken boggarts". It shot across the road, through the Park railings, and into the pond there then was. With the price of petrol/diesel as it is, we might be back to horse transport soon - and God speed it, provided we can get affordable hay! These "heavy horses" are our heritage, and we need to keep them going! Because we love them! Not Shires, but Clydesdales! 15 years ago I was at Duns Agricultural Show in Scotland. Many people sitting alongside the show-ring when an announcement was made. "Here comes the Clydesdale, won at Ingliston"...and a guy came in, leading a Clydesdale - and every one of us stood up to honour this horse and horseman! And when I was a little kid at Hindley Green Primary School I remember all the lads had a penknife incorporating a hoof-picker, just in case they met a lame horse, and we had a lesson about the advisability of getting our of the way of any horse "tekkin boggarts". But times have changed!
Comment by: Albert Eckersley (Wigan, England) on 12th August 2010
I remember in the late 30s MR Hodgson who lived at the bottom of Clayton Street had a huge Dapple grey shire that pulled the dust cart round the area the dust cart was coloured Green and ran on two wheels
Comment by: Brenda M (Vancouver, Canada) on 11th May 2010
I remember our coal being delivered by horse and cart, and the man would carry the bags on his back and dump the coal in the shed. He was always as black as up't chimney. The ice-cream cart and the rag & bone carts were drawn by horses too.
Comment by: Brian Halliwell (Ashton/Wigan, England) on 3rd February 2009
I remember them passing our house in Prescott st,from Miry lane up to Frog lane. I also remember Tommy with his ice cream trike.Heused to give a couple of us boys a small ice cone if we helped to push his cart from the bridge to Frog lane. The name John Dennet is familiar to me from my days at the Bluecoat school
Comment by: Jean Glover (Nee Ashcroft) (Orrell, Wigan., .England) pre 2009.
I remember the smithy at Orrell Post. Sam Rimmer was the Blacksmith. He lived near me and sometime traders would bring their horses down the street and he would shoe them at the front. All the children stood watching him pare their hooves and nail the shoes on.
Comment by: MIKE CUMMINS (ASHTON IN MAKERFIELD, ENGLAND LANCS) pre 2009.
IN REPLY TO JUNE A IN M I WORKED AT MAKERFIELD MILL AND USED TO SEE JIMMY GILLET QUITE OFTEN .JIMMY & DOLLY AS CLEAN AS A NEW PIN.
Comment by: Eddie (Gloucester, England) pre 2009.
I remember that in the late forties all the Shire horses from the Cleansing Depot in Frog Lane were led up Gidlow Lane on Friday night to spend the weekend in the fields at the top of Beech Hill. We used to stand at the end of Rylands Street watching them go up the Lane, but I don't remember them coming back down, presumably it was on a Sunday evening after my bedtime!
Comment by: Frank Glover (Wigan, England) pre 2009.
This is one of a 1000 entries in a reference book I have been writing for over 10 years. Frank Glover, Ex Royal Navy, Appley Bridge. GEORGE. ARLEY HALL. This school pony is buried in the woods by the entrance of Arley Hall. The moated manor house at Red Rock stands in trees on the far bank of the Leeds to Liverpool canal and was built on the site of an early small monastic house. The burial spot of George is marked by a small gravestone on the ground under a large oak tree. The stone is engraved: GEORGE SCHOOL PONY DIED 1825 The horse was used to take children from Adlington, Red Rock, Aspull and Haigh to Red Rock school, Meadow Pit Lane. When the horse died his shoes were nailed at four strategic places around Arley woods. I also have Squire Bank's favorite pony PONY DICK
Comment by: frwe (bgff, gfbg) pre 2009.
shire horses pulling heavy loads in the pouring of rain or the dry deeserted streets
Comment by: John (WIGAN, Lancs) pre 2009.
JIMMY LOMAX, there was a farmer on Hart Common, Westhoughton who used to breed shire horses, way back before and after the war, the farm is now a golf course.Regards JohnE
Comment by: jimmy lomax (wigan, lancashirei) pre 2009.
i used to work with man whose father used to breed shires his name is jonny walker from hindley any one know him jimmy lomax pemberton
Comment by: fred howarth (truro, uk) pre 2009.
My father worked for the Co-op in Hindley and in the late 40s he sometimes took me to see the Shires there in their stables. They were magnificent animals and I remember that amongst the straw in the stables were cats and kittens. They never stood on them but they did once stand on my fathers foot marking him for life.
Comment by: fred foster (wigan, england) pre 2009.
I had to smile to read about "tekkin boggerts"Our pony, Rose, had a great dislike of trains as they went over Wallgate bridge,and would take off at a great speed if she was under the bridge as one went over. Sometimes we gave a lift to a mr Devaney, who sold live poultry on the market.One day, however, he was sat on the cart as we went under the bridge. A train went over and true to form the pony went mad. He was petrified! Never again to cadge a ride.
Comment by: fred foster (wigan, england) pre 2009.
My dad was invalided out of the pit in 1945 and decided to become a fruit and veg hawker. We had an Exmoor pony called Rose, and when her work was done, I would ride her, bareback, to a pen up the road. I was galloping up the backs one day and nearly decapitated myself on a clothes line strung across the backs.When we got to the pen, she would let me ride her round just once and then she would start to buck and I had to get off!
Comment by: fred foster (wigan, england) pre 2009.
I lived in Billinge road and the back field was farmed by Joe Peters. He had 2 shires named Tommy and Prince, and when the hay had been got in, he would put these 2 out to grass, we would stand on the gate and shout for them to come. When they got near enough, one brave soul would climb on the horse's back and be taken for a ride until he fell off.
Comment by: Ada Schofield (Goolwa, South Australia) pre 2009.
I used to sit on the curb & talk to the horses & the man would tell me off
Comment by: John Dennett (Wigan England, Lancs) pre 2009.
In reply to Kieth Charnock's question. The chap who rode the De-Romas ice cream bike was Tommy Hock, and I think he lived in Woodhouse Lane or one of the streets off it. He had a little tash didn't he ?
Comment by: Bill Bentley (Wigan, England) pre 2009.
I remember in 1947 when I was seven watching the shire horses pulling barges along the canal from Crooke Village to the pier.
Comment by: Peter Kay (Hitchin, Herts., UK) pre 2009.
As a further addition to the shire horse theme, the horse drawing a cart would occasionally "take (tek) boggarts" as we used to say. This meant it would be startled and dash off down the road, with the driver in hot pursuit. Many years later I heard on a word program named 'Call My Bluff' on TV that the dictionary definition of a "Boggard" was a spirit that frightened a horse. Just goes to show that dialect is often a corruption of a real word. A horse drawn wagon was also used to sell Cassinely's (spelling?) ice cream in the late forties early fifties. The ornately carved wagon was drawn by a pony rather than a shire horse and I remember it trotting up Poolstock Lane. It stopped if you held out your hand like stopping a bus. As I recall, the ice cream was more 'watery' than that of De Roma, which, in some ways made it more refreshing to eat. The wagon was also often parked opposite the old Market Hall at the bottom of Makinsons Arcade.
Comment by: june (ashton-in-makerfield, lancs) pre 2009.
I dont remember the shire horses but i was wondering if anyone remembers Dolly and Jimmy Gillet. Jimmy used to come round with his horse and cart selling fish, i remember mum used to send me for fish, i always took a carrot for Dolly
Comment by: keith charnock (wigan, lancs) pre 2009.
this not horses but peddle power - Does anyone remember the ice-cream man who rode a bike to sell his wares.It had abox on the front I think it was DeRoma .the man had a little tache and he would give us a small cornet if we gave him a push up BLACKTHORN AVE and then up BEECH HILL AVE
Comment by: john (ASHTON IN MAKERFIELD, ENGLAND) pre 2009.
I served my time at Walker Bros, Pagefield Wigan, the wagons that took the full dustbin carts to the tips, after being pulled by horses while they were filled,were made at pagefield works upto the mid 1950s at least, and were called Pagefield wagons with the name on the radiator. I also remember that the CO-OP bread van in Hindley was pulled by a horse that was stabled in Carr street Hindley,behind the Palace Cinema, the horse was so used to the bread round that it would stop every place that bread was delivered without being told to stop
Comment by: Keith Guest (Hindley, England) pre 2009.
I remember our bin man always used to let me ride on the horses back, a big grey called Victor.
Comment by: Ron (Wigan, England) pre 2009.
There was no motorised delivery in the early 1950's Milk, Rag Bone Man, Ice Cream Man, Pig Swill Man, Fruit and Veg Man, Dust Bin Collection. All had horses and carts.
Comment by: Robin Leigh (Jacksonville, FL, USA) pre 2009.
The dust carts I remember had four wheels. The horses took the carts around the houses and down the back streets and then they were picked up by a lorry for the run to Frog Lane. Must have been around 1950. Also, Andy Clarke, the greengrocer on Wigan Lane, had a horse called Peggy, which pulled his cart around the streets with fruit and veggies for sale. We lived on Holme Avenue then.