I remember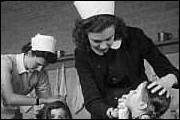 I remember...
the nit nurse
Comment by: Jeff herring (wigan , england) on 30th April 2011
i was at Mabscross school in the 70s, and the school nurse was called Sister Gathergan ..An Irish lady..Very nice with us all ..And if you had nits they always called around to your house with that smelly stuff and a derbac comb ..
Comment by: Edna Booth (Warrington, UK) on 14th April 2011
Yes, I remember Nitty Nora, the Bug Explorer! But she never caught me! That was because we had a Friday night routine. I sat in the backyard, weather immaterial, and my mother combed my hair with a small-tooth comb, diligently searching for nits! Only ever found them once - did the treatment - went to the school to complain and insist that I did not sit next to one particular girl! Very embarrassing! But although I did not sit next to her in class any more she remained my friend! I also remember the woman who came to test our vision. I hated and feared her, because when I was five she tried to turn me into a speccy 4-eyes! Mum bought me a pair of specs, but I was not having that! Chucked them in a pond! After another couple of pairs mysteriously disappeared my mother got fed up with buying them. I sat on the back row in the classroom, was doing extremely well at school - so mother gave up on the specs! When I was in my 20s and specs became fashionable I went to the local optician, in Market Street at Hindley. He asked me how I got there....on the bus! How did I know which bus to get on? They have the numbers at the front! I should not have been able to see those numbers, but I could! And I only started to wear my specs on a regular basis when, being a responsible citizen, I wanted to drive a car! But throughout my schooldays I also had a fear of the "Spec Nurse"!
Comment by: Bren Carroll (leigh, england) on 28th June 2009
My mam, Margaret Carroll was the nit nurse in lower ince, late 60s, early 70s. She worked out of the now defunct council offices on ince green lane.
Comment by: frank (wigan, england) on 22nd May 2008
i did some painting for her a few years ago she lived on mossylea rd up standish. sad to say she died about two years ago.
Comment by: georgina green (wigan, lancashire) pre 2009.
definatly bring back nitty nora my daughter always gets nits from school.we should have a pertition to bring her back.
Comment by: jp (wigan, lancs) pre 2009.
probabley if they brought the nit nurse back there wouldent be as many children with nits because if the parents new that the nurse was comming on a specific day they would make sure that their childrens heads were free of nits, as they wouldent want the embarrassment of the nurse finding any in their childrens heads.
Comment by: margaret s (wigan, england) pre 2009.
here here i agree the nit nurse should be brought back.my grandchildren have had nits a couple of times lately.some parents treat their kids but some can,t be bothered.i think most people have had nits and people thought you were dirty if you did have them.how wrong can they be .when i was young nearly every Friday my mum would get the newspaper out and the fine tooth comb and look in my hair to see if i had anything crawling.i use to hate it then she would put sulio lotion on my head and wrap a scarf round my head in case they crawled out in the night.ugh
Comment by: Zoe (Wigan, England) pre 2009.
Bring back nitty norah!!! My daughter is always catching them from school. They are rife at school, as some parents don't treat their children. If nitty norah was back they would have to.
Comment by: Susan Fagan (Wigan, England) pre 2009.
Oh god I remember Nitty Nora bug explora, we used to have to stand in line at St Thomas More High waiting to go in, and if anyone came out with a lotion the whispers would start along the line, saying she got them or he's got them.
Comment by: horrable school girl (leeds, yorkshire) pre 2009.
I always had nits! I use to have very long thick hair. Me and nits was like Laural and Hardy best mates. I use to have reet big ones super nits. I hated it when me mam use to get nit comb out. Im itching now thinking about it!
Comment by: brian (wigan, uk) pre 2009.
bring back nitty norna. i think we should get a petition up to get her back.
Comment by: june (wigan, england) pre 2009.
I remember having my name called out in class and being handed a envelope to give to your mother who when opened it demanded to know who you sat next to at school and going to school the next day and being seated at a different desk
Comment by: Val (Wigan, uk) pre 2009.
I only got nits once, even though I had long hair. Me mam soaked my hair in pink paraffin, after having cut my hair from hip length to shoulder length first. Dad went berserk when he saw what she had done! It soon grew back, but never quite so long. I wasn't keen on nitty nora cos if youre hair was in plaits, she made you undo them and I could replait them on my own.
Comment by: Bill Whelan (London, UK) pre 2009.
(Nitty Nora)at Bickershaw school was in fact a Miss Unsworth from 406 Bickershaw Lane, who lived there with her sister and brother. She was a very tall thin gaunt lady with grey hair and fingers like penetrating needles. It got you a warm in front of the only fire in the school in the headmaster's study while you were examined. We used to take our caps off to Miss Unsworth. The speccy four eyes examiner and the school dentist were worse!! Long discussion were held at playtime about what variations of 20/20 vision meant, and who would be condemned in the National Health speccy league. Then we used to take deep breaths of the San Izal they poured down the drains, as we used to think it was fresh air compared to the fog in the school yard.
Comment by: Claire Morrison (Brisbane (formerly Winstanley), Australia) pre 2009.
Yep good old Nitty Norah....so sad they got rid of her, she had grey hair and always wore a white coat. They don't have them in Oz either as its an invasion of privacy and persecution of the child if they are found to have it. Whata load of Crap????
Comment by: sharon catterall (wigan, lancs) pre 2009.
i remember nitty norah.it is nt allowed any more as its classed as assault!subsequently,nits are rife at my kids school!!!
Comment by: fred bryan (sant lluis, menorca) pre 2009.
I remember it well brian they used some sort of purple dye which was dabbed on the head of anyone who had nits,i also recall being sat in the tin bath by the fireside and my mother useing her knuckles on my head to make sure there was no nits there
Comment by: Brian Naylor (wigan, lancs) pre 2009.
oh yes, nitty norah the bug explorer the dreaded head lice if anyone in your class got it everyone did.