I remember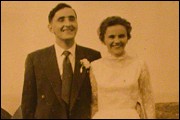 I remember...
my wedding day
Comment by: Carol (Mallorca, Spain) on 11th November 2012
We were married in 1972 at Wigan Register Office after a proposal two weeks after we met. A note pushed under my flat door one Monday asked would Friday do? My work colleagues covered for me while I bought a dress on the Tuesday. We bought the ring as the jeweller closed on the Wednesday then drove to my husband's parents with our news. I ordered posies on the Thursday. My Dad forgot to wait with me to walk into the register office. When I walked in, the registrar chatted to my my father-in-law-to-be about his job instead of getting on with the ceremony. The one-night honeymoon was up the M6 which was closed due to fog and not one picture came out clearly on the day. We surprised my husband's work colleagues with our news at a works dance the next evening. My new husband emigrated three weeks later and I joined him after working my notice in the spring after disposing of two flats, two cars and half of our worldly goods. Two kids and forty years later we're still happy together!
Comment by: ken just (wigan, england) on 11th November 2010
Met my wife to be when I was15 married in may 1956 at St Annes Beech hill 1 week later Iwas on my way to Germany doing my national service sadly joyce passed away several years ago happy memories
Comment by: Brenda M (Vancouver, Canada) on 11th May 2010
We were married at Wigan Register office - a beautiful spring day, then nipped across the road to the park and my brother took photos. Then we drove to the Turnkey Restaurant in King Street for dinner. It was lovely - the restaurant gave me a rolling pin and I still have it, 34 happy years later. We just had enough money to head off to Blackpool for the weekend.
Comment by: Rose Winstanley (Wigan , Lancashire) on 20th July 2009
I WAS MARRIED IN 1973 i was 17 nearly 18 years old i married the love off my life and we are still to gether 36 years down the line i was with child at the time and i think people thaught it wouldnt last ,but we proved every one wrong they can all have the big church weding ,costing thousands of pounds but my dear departed grand mother alwys said my weding was the most enjoy able no fancy cars or wedding dress just me in my little white minny dress and pink shoes and big floppy hat i thaught i waw the bees knees a registry office wedding and a meal for close family and freinds at the HAarmany RESTARAUNT IN Enfeild street in pemberton that no longer exists and then at the night we went to the West Ward also in pemberton that is no longer their either and we had a lovely day one to be remembered and i love my husband Jimmy AND OUR 4 CHILLDREN WHO WE PROCEDED TO HAVE WITH ALL MY HEART WE ALSO NOW HAVE 5 ADORABLE GRAND CHILLDREN HOWS ABOUT THAT ?
Comment by: frances edwards (wigan, eng) on 4th May 2009
i rember our weding day 14 nov 1970 930am register office meal at the grand hotel forme hubby best man brides maid and my pal my da wot a laghtd came home my husband frank then went out to sell ajax scouring powder in all pubs on ince bar for 1 shilling a tub to get us out for a drink at night came home had note waiting at father,in laws house come and get the babby he wants his mum so in between he went on our weding night but went on to have a nother lad and got three lovely granchildren and still in love after 39 years
Comment by: ellen macnicholas (wigan, england) on 28th April 2009
i remember my weding day it was 31 of jan 1955 i was just 17 not old enough to go in a pub but old enough to get wed so i went to the picturs took my sister we then went to his home my sister cryed to come with us what a day and night
Comment by: jimmy (ashton, enland) on 28th January 2009
i remember my wedding day i was 21 yrs young and my sweetheart was a sweet 16 not long after our kathleen turned up then maria susanand andrew.
Comment by: owd dave (wigan, england) on 22nd October 2008
courting six years married twenty four divorced twenty at last happy plenty money nice home can go anywhere and do anything without any trouble highly recomend living alone
Comment by: margaret s (wigan, england) pre 2009.
i got married at 19 we had been courting (old fashioned word}for nearly 4yrs and i was pregnant at the time.we planed everything for July but had to bring it forward.for some strange reason when i was going to the church a voice said it will last 10yrs well it lasted 11yr.i still speak to him but i think what did i see in him. i grew to hate him. i am now married for the second time. we have been married 22yrs and oh have we had our ups and downs.they say the other mans grass is always greener well mark my words its not.
Comment by: Chrisitne. (Wigan, Lancs) pre 2009.
I loved him so much (and in fact, 42 years later I still do) Although I havn't ssen him since our son got married, I still think of him. Then I catch hold of myself and remember the lies, womanising and cruelty!!!!!!!!!! I had from this man, but after all he is my childrens Father. I still miss him at times but could never never live with him again.
Comment by: Jim Crook (Wigan, Lancs) pre 2009.
1st April 1952 lasted 18 years too b..... long.
Comment by: Val (Wigan, uk) pre 2009.
I was 17 and my husband was two weeks into being 20! It was 1974 and everyone thought we had to get married, but unusually it wasn't so. We were daft enough to think we could be together more, when in fact we had to graft so hard to keep house and home together, we actually saw very little of each other. It was a saint Johns church at pem and even though mam paid extra so I could have a face veil, the vicar made me put it off my face even before I got out of the car. We bought a derelict house for £300 cash so we had to spend our 'honeymoon' night there. There was no inside loo and not even one in the yard - it was in a toilet block way outside the garden in a clearing. There was no bath either, so it was a tin bath job. We had a piece of carpet down that we had to roll up when it was bathtime. My dad made my wedding dress out of polish satin he had bought off Bolton market and my headdress came from colclough and massey. My daughter wore the headdress at her wedding but after almost 32 yrs it probably won't be fit for another wedding. I was 15 when I met the old fella and he was 18, He didn't ask me out till I was 16 and had to ask my dad for permission first. Even then my parent sat near us all night and followed us home.
Comment by: Fre (Wigan, England) pre 2009.
My first marriage-----over 50 years ago--- We were only young, ( a shotgun wedding )and were going to live with an aunt until we could get a place of our own. We went to the aunt's house, and as we had very little money ( my mother in law having taken her son's wages, saying " You won't need any pocket money this week, 'cos you won't be going out" ) I made some chips for lunch. We spent the afternoon in the Court Cinema. Back to aunt's house for tea---- My parents came to see us, and they had called at the chippie on the way !!! So we had chips again. Later in the evening we all walked the 3 miles to my parent's place, and my dad said he would call at the pub for a bottle to celebrate. The rest of us carried on to the house. My dad eventually arrived with the bottle and another parcel of chips. So Chips for the third time. When did you ever have chips three times in one day ?