I remember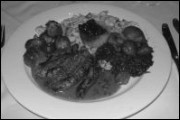 I remember...
school dinners
Comment by: Eve White (Bristol, United Kingdom) on 4th August 2017
Hi there, I'm wondering if anyone on Wigan World might be able to help me with a query. I work for a TV company called Wall To Wall and we're making a 'living history' series for BBC2 called Back In Time For Tea. We have a Bradford-based family of 5 who are going to be living through different decades of the 20th century, wearing the clothes, eating the food and experiencing the lifestyle from each era. I'm working on the episode that covers the 1970s and our mum of the family is going to be working a shift as a secondary school dinner lady on Saturday 25th August. I'm trying to speak to women who were dinner ladies back in the 1970s to find out more about their jobs and also to see if they might like to be involved in filming with our mum in a school canteen in Bradford, to recreate some of the classic dishes served up then like cheese flan and chocolate concrete with pink custard! Anyone who thinks that they might be able to help or put me in touch with former dinner ladies from the 70s can contact me via eve.white@walltowall.co.uk or on 0117 906 4347. Many thanks and all the best, Eve White
Comment by: Sandra Bettles (Tottenham, UK) on 14th August 2015
Can nobody remember the spam fritters chips and beans loved them
Comment by: Valerie Bradshaw (Southam) (Wigan, England) on 22nd November 2014
Shevington Secondary Modern 1963-1969. The amazing Mrs Roper & her team cooked dinners evey day from scratch, Cheese & onion pie with chips &beans, cornflake tart and custard, meat with roast potatoes. The only thing to complain about was the peas-you could bounce them round the dining room!
Comment by: Linda parry (nee wakefield) (Leigh, Lancashire) on 13th January 2014
I used to love my school meals meat pie and Manchester tart I went to borsdane brook school Wigan they were made from school not like today schools wish I was bk now but the school not there any more it was knocked down in the 1980's I think had loads of good memory's there I am sure people out there remember's all there school days
Comment by: linda (wigan, england) on 6th November 2013
sponge cake and pink custard was one of my favourite sweets but you couldnt beat manchester tart, but my main memory of schooldinners unfortunately was one of the dinner ladies smacking my hands because I ate left handed, used to dread going into the hall if she was on duty wouldnt be allowed nowadays
Comment by: John (London, UK) on 20th January 2013
St Johns had no kitchen in the 50's so food was brought in hot boxes from a central kitchen meaning the food was probably at least two hours old by the time we got it. Friday was the worst day with boiled fish and mashed potatoes. Plus Miss Davies was on duty and after grace at the end of dinner would say, "all those who haven't eaten all their food sit down " I couldn't stand this yucky mess but she would insist you finished every bit before letting you go. When she wasn't looking I'd scoop the food into my pockets
Comment by: veronica (wigan, lancashire) on 10th August 2012
I loved the school mash potato ,and hated the tappioca (frogspawn as we called it) put me off for life
Comment by: Hilary Ramsey (Abraham Guest S.S., Orrell Wigan) on 23rd October 2011
They were absolutely great. At the top of your dining table, the two classmates that were sitting there that week (it would change each week) would go and bring the dinner for that table (8) and would serve it up. Everything was fresh and delicious. Manchester tart was everyones favourite. Havnt got a bad word for them.
Comment by: Debbie Roberts(nee Crabtree) (Abergele, North Wales) on 11th May 2011
I remember going along "the dinner line" with my plate in the dinner que and the dinner ladies putting the food on my plate. The best part was when you got to the end there was always a dinner lady with a big tin jug of gravy which she always poured from a great height!!I thought she was fantastic!! My ambition for years was to be "A Gravy Server"!!! Still laugh about it today!
Comment by: Edna Booth (Warrington, UK) on 14th April 2011
School Dinners - how can you forget them? Semolina pudding and Tapioca pudding (can't remember which was referred to as "Frog's Spawn". Horrific! And there was a kind of "Flapjack" known as "Fly Pie" because when you tried to insert your spoon it broke into hard lumps and went flying all over the table! Hindley Green Primary - marched to the Bethel Chapel! Thank the Lord for Hindley & Abram Grammar School - at least the dinners were usually edible - otherwise I would have starved to death many years ago! Incidentally - not school dinners - but Wigan Infirmary, when it was mandatory for students to "live-in". We had Corned-Beef in Batter - ugh! - but the Beef Stew was OK till someone asked "Do cows have eye-lashes?" and picked out an eyelid complete with lashes! Cows do have lashes - but we did not then realise that! Oh! Horror! What are we eating here?
Comment by: anne (wigan, england) on 7th April 2011
I remember my favourite - "red" stew with Manchester tart for afters. On very rare occassions we got a cup of frothy milky coffee with a biscuit (I think) - very sophisticated for The Wescleyans in Dicconson Street in the early 60s!
Comment by: christine connelly was woodcock (wigan, england) on 30th January 2011
Iremember school dinners at Gidlow secondry modern in wigan ,i remember i loved the jam roley pud and custard and would always want seconds but i hated the semolina and the prunes and custard
Comment by: Dave (Wigan, England) on 23rd November 2010
I remember going to the old Bethal Hall at the corner of Leigh Rd/Atherton Rd at Hindley Green when I was at Hindley Green County Secondary School for school dinners-they certainly were not the best with tapioca and semolina on the menu plus what passed for fish always on Fridays Yuk!!!
Comment by: Dave Bennett (Wigan, England) on 23rd November 2010
Is that the same Ann McAllister that lived in Athol Crescent and has a brother Ian who was a good mate of mine when we were growing up in the sixties,I lived at No 7 Athol Cres with my sister Kim.If it is you your dad was Ron and mum was Mary.I remember your dad drove a Ford Pop and later a big Rover 90 if this is you would like to hear from you and Ian.
Comment by: linda (massa) (preston, england) on 19th August 2010
Loved school dinners especially steak and kidney pie. 2s 6d per week (for all you young ones that was 12 and a half pence.
Comment by: josephine Bretherton (Wigan, England) on 8th July 2010
I absolutely loved school dinners at St. Thomas More, they were freshly cooked on the premises. Previously from St. Joseph's School in Hodges St. where the meals were delivered in aluminium containers from a central school-dinner cooking area, Thomas More's dinners were perfect. I can remember one occasion at lunch time at St. Joseph's we were served with egg and bacon pie,which has been renamed as quiche today. This egg and and bacon pie was awful, neither my friend Monaca Woods or I could eat it, but Sister Frances stood over us and we had to make the pretense of eating it. I forced it down but Monica had stuck her portion in her hankie which she later threw into the canal on her way home. I don't like quiche to this day.
Comment by: Cheryl Thompson (St Helier, Jersey) on 2nd June 2010
Hi my twin sister Gill and I were at Lamberhead Green Junior school in the 1970's. The school dinners were the highlight of the day. Remember clipton grids & custard, choc sponge and mint sauce fish fingers & salad with a barm on friday's. If you had custard with your sponge you couldnt have the milky cofee if was on offer. Ahh the days.... Anybody out there remember Lamberhead Green circa 1974-1978??
Comment by: Christine Ackland (nee Hunter) (Southampton Hampshire, UK) on 11th May 2010
Reading Joe Pendleburys account of St Thomas More school dinners brings back many memories. Although the girls and boys schools were seperate the school dinners were run exactley on the same lines. Eight on a table and if you were unlucky enough to be at the bottom not only did you get the smallest dinner but you also got the skin off the custard and the gravy yuk!!!!. Roast was my favourite but we only got ONE roast potato and the rest were boiled. I would always keep my ONE roast till last but my friend Marie Yates always ate hers first. When i asked her why she did this she said that if the fire bell went i would have to leave mine on the plate whereas she would have eaten hers. Needless to say I always ate mine first after that.Good old Tommy More
Comment by: Jean Glover (nee Ashcroft) (Wigan, England) on 16th February 2010
I attended St. James Council School from age 11 to 14. I think school meals started around 1942 during the war years. Needless to say they were not very good the pink blancmange and yellow custard were both weak and runny. The potatoes were dry and so was the fish. Not like mother used to nmake.
Comment by: Ann Gallagher nee McAllister (Barnsley, UK) on 10th September 2009
It was nice to see the comments about dinners at Rose Bridge. My mum was the senior cook there from 1976 to 1986 when she retired. I myself had scool dinners at Hindley Green St Johns from Miss Belshaw. Her meat and Potato pie was the best. Also went to Hindley & Abram Grammar School when Jennifer ( can't remember her married name) was in charge
Comment by: sandra davies nee turner (wigan, england) on 31st May 2009
yes carol i too whent to st. marks and i remember having to eat every morsel my mum was a dinner lady there.do you remember that before you whent on your first school trip you were shown the right knife and fork to use, how to behave at the table and definatly no elbows on the table.but i think it was a good thing because it never leaves you my mum always told us good manners cost nothing so true.
Comment by: carol (wigan, england) on 11th May 2009
If anyone remembers St Marks in Newtown they will know you had to eat every mouthfull of food on your plate. No body got away with leaving anything. All the plates were inspected. The canteen went silent when Mrs Taylor was on dinner duty!!!
Comment by: Robin Leigh (Jacksonville FL, USA) on 8th February 2009
Saying Grace at WGS (the unofficial version)- "Thank you for the food we eat, Thank you for the rubber meat. Thank you for the peas so hard That we can bounce 'em in our back yard."
Comment by: Mike (Wolverhampton, England) on 6th February 2009
I also remember that song but ours went.... School Dinners, School Dinners, Concrete Chips, Concrete Chips, Sloppy semolina, Sloppy Semolina, I feel Sick, Toilet Quick, It's Too Late I've done it on my plate
Comment by: sharon catterall (wigan, uk) on 10th November 2008
a poem we used to sing whilst waiting to go up for dinner... school dinners, school dinners, soggy chips soggy chips, sloppy semolina, sloppy semolina, i feel sick, toilet quick! to the tune of frere jacques
Comment by: John Jarvis (Pemberton, England) on 5th September 2008
School Dinners: Irish Stew and mash; Cheese Pie and mash; Sausage Pie (absolutely delightful...) and mash; Hot Pot and red cabbage or beetroot; Fish and mash with baked beans; Salad and mash with BREAD...a bonus in those days...And the Fabulous sweets: Spotted Dick and custard; Fruit Sponge and custard; Chocolate Cake and White custard; Sponge Cake and Pink custard...(mash and custard were part of our staple diet); and...wait for it...the all-time favourite for Pemberton kids, and still talked about today...Manchester Tart! Top that... You can't, can yer...?
Comment by: Anne Martin (Golborne, Lancs) on 17th August 2008
I loved school dinners. Shepherds pie (yum) with beetroot. Cheese pie and the puddings, I did like prines and custard. I went to what is now known as Cansfield High, when I went it was an all girls school ha ha not funny
Comment by: Shirl (Wigan, UK) on 15th July 2008
I loved school dinners at the Deanery - in fact, I loved the Deanery. Me and my mate Lois would stay behind for seconds (and thirds on occasion), and we had lovely dinner ladies. My favourite meal was meat and potato pie, and my favourite dessert was Manchester tart - it still is!!
Comment by: Joan Beckett (wigan, UK) pre 2009.
Today, I made goulash, just reminded me of the red stew we used to have for school dinners when I was at St. Patrick's, we had to go to the school canteen across the road for our dinner and I think they cost 5/- thats 5 shillings, was a fortune to my mum and dad, Also i tried putting cold beans and peas on a salad for my granddaughters they looked at it as though I was trying to poison them hahaha, I used to love it, hated the fish though
Comment by: Vivian Halsall nee Grange (Margaret River, Western Australia) pre 2009.
St Catherines dinners were great we had to walk down to StPats playing field to the hut for them. Except one year a girl poured a jug of custard all over my head for kncking her water over and the dinner ladies had to wash my hair. Rose Bridge dinners were brilliant and sometimes today a whiff of something will remind me of those dinners and the lovely patient dinner ladies dishing out there seconds.............
Comment by: Lisa (Launceston, Australia) pre 2009.
I moved from Surrey with my family to Australia when I was 11 and discovered to my horror that they didnt have school dinners!!!! To this day, I still remember Gypsy Tart with the cream that resembled shaving cream on the side and the chocolate crunch with pink custard...yum
Comment by: tom (sydney, australia) pre 2009.
in the 50's,walking from St Cuthberts to the canteen near Enfield Street in freezing weather for inedible food delivered in vans from god-knows-where and paying for the privilege. much better at junior school though. loved the frozen milk in winter.
Comment by: a whalley (golborne, lancashire) pre 2009.
Golborne all girls school,when it was prunes i used to eat everybodys.
Comment by: dianne (ashton in makerfield, england) pre 2009.
my worst ever school dinner was prunes and you had to eat them at st marks newtown my best food was manchester tart and still is dianne kitts [forshaw]
Comment by: J.P (WIGAN, LANCS) pre 2009.
THE DINNERS AT ROSE BRIDGE IN THE 60s WERE REALLY GOOD...TOO GOOD. ONE DAY I PILED MY PLATE UP WITH MASH POTATOES AND VEG AND POURED LOADS OF SALAD CREAM ON TOP. THE TEACHER ON DINNER DUTY THAT DAY MRS GREEN NOTICED IT, CAME OVER AND TOLD ME IF I LEFT ONE MORSAL OF IT I WOULD BE ON DETENTION.SHE STOOD OVER ME WHILE I TRIED TO SHOVEL THIS MOUND OF A DINNER IN MY MOUTH. NEEDLESS TO SAY I WAS IN DETENTION THAT DAY AFTER SCHOOL.
Comment by: fred howarth (truro, uk) pre 2009.
I attended Allsaints Sec Mod but lived in Standish so no chance of going home for lunch so school meals were the order of the day. I gradually developed a taste for aluminium because everything had the flavour of it be it jam rolly-polly or boiled-for-three-weeks cabbage. All of the food came to the school in big bright but battered aluminium containers. I can still smell, but thankfully not taste, those boiled potatos. As for the semolina it was the stuff of nightmares. I kept expecting it to hatch and jump off the plate. It certainly made you appreciate your mothers cooking.
Comment by: Nicki Holden Nee Dowbekin (St Helens, UK) pre 2009.
ABSOLUTELY GORGEOUS!!! Shevington County Primary School did the best dinners ever!! Those really big trays of steak pie cut in to loads of individual squares, sponge pudding, made in the same way as the steak pie and cut in to individual squares but with a layer of sliced apple on the bottom with, if you were lucky, mint custard. Everything was freshly cooked in the dinner hall by all the dinner ladies. Thats when dinners were dinners! I also remember that there were metal jugs of water on each table but sometimes they were filled with very milky coffee and there was always a thin milky skin floating on the top of it..(THE ONLY BAD THING TO BE SERVED IN THE DINNER HALL)
Comment by: JUNE MCDERMOTT (WIGAN, ENGLAND) pre 2009.
dinners at Hindley and Abram Grammar were great,whether first or second sitting.During my time they cost a fiver a week ,excellent value for a well balanced freshly cooked dinner and sweet. NO packets or frozen stuff, everything fresh.Jamie Oliver or what
Comment by: Hazel (Wigan, UK) pre 2009.
I loved school dinners, well the only one I wasn't keen on was a steamed fish it was always done in milk and you always got mashed potato with it. But the rest I loved..
Comment by: Graham (hindley, England) pre 2009.
I remember going to the Bethel in Hindley Green for school dinners.We had to walk about halve a mile to get there or it seemed that far.On the way I would call at the corner shop for a cig.They would not get away with doing that now ?.
Comment by: Kevan Taylor (Adelaide, South Australia) pre 2009.
As a 6 year old I remember walking up a hill from Half way House to the canteen, Friday was orrible 'cos it was Finnie Addy. sadists. Put me off fish for 40 years
Comment by: nancy A. Bridson (Vancouver Island, Canada) pre 2009.
I had school dinners from the day they started and returned to them whenever I was teaching. (I won't even try to work out how many hundreds that means I had!!) I will eat anything apart from Semolina. it always made me feel unwell so i never even tried my own children with a helping!!!
Comment by: brian (wigan, uk) pre 2009.
eeewwwwww semolina apple crumble.disgusting, i can taste them now. made me sick eating them.i avoid these things even now i am in my late 30s.
Comment by: colin houghton (atherton, england) pre 2009.
school meals were superb,they were the only decent meal i got.after the war the new labour goverment made sure all children ate one decent meal a day.i am 65 this august and i believe it gave me a healthy start to life.
Comment by: Linda Armstrong (Wigan, England) pre 2009.
I remember red stew and potatoes it was the best and prunes and custard, what a combination
Comment by: Andrew Makin (Ashton-InMakerfield, England) pre 2009.
Mrs. Wodsworth @ St Thomas's school, she was the greatest dinnerlady ever!
Comment by: sheelagh storey (oneill) (Surfers Paradise Aust., Australia) pre 2009.
I remember at St.Edwards Primary School, Scot Lane, now the site of a Police Station, near JJB Stadium, the Headmaster at the time, a Mr. Barron (Baron?) who was a fiersome looking man at the time. Had had enough of pupils wasting school dinners and stormed down the dining room one day waving his cane and demanded that we finish everything on our plates. Bad luck for me, we had semolina or tapioca or something equally disgusting that I had to eat. Yuk. How I didn't vomit I don't know, I was looking around desparately for someone to take it from me. Apart from that they were fantastic. We had our own canteen, fresh food cooked on the premises, the smell of that food used to come wafting into our classrooms on a cold winter's day. Whatever it was, it tasted fantastic by then. And dessert as well, what more could you ask for. Beats the rubbish the kids have on offer today.
Comment by: brenda evans nee atherton (abram .wigan, adeliade south australia) pre 2009.
school dinners at abram st johns primary , i loved them especially in winter as you got warm food inside you . i was a waitress for our table ,that meant getting the other pupils thier dinners 1st. that didnt matter because you were allowed to have second helpings of your favourite foods,before anyone else got them . when i went to golborne girl comp. me and my friends would volunteer to help the dinner ladies wash the dishes . not only did this get you out of the cold weather in winter ,but we also had more helpings of desert. especially manchester tart with custard yum . i have the recipe for manchester tart to this day and make it often my family and friends all love it .
Comment by: barb. (wigan, uk) pre 2009.
memories of school dinners at rose bridge were just fab fab. and im a good cook now so they were great. i remember mrs. hough from anderton st. i think she was the main cook. she lived next door to my uncle john. they were lovely.
Comment by: Gwen Charnock (nee Thomas) (Wigan, Lancs) pre 2009.
School dinners at Whelley Middle School were excellent in the early 70s. It was something to look forward to throughout morning lessons. Big white steamed fish, wholesome thick stews and steak pies with a crispy lightly salted shiny crust and veg. Then Manchester tart or a fruit pie with hot thick custard. Jamie Oliver's prompts were not required!
---