I remember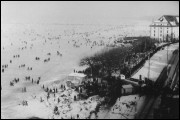 I remember...
the big freeze (early 60s)
Comment by: ALAN (WIGAN, ENGLAND) on 18th February 2015
THE winter's in the 60s I recall were very cold and we had lots of snow I had just left school in 62 chrismas leaver then, and began work in a butcher's down frog lane, near walmsley's my hands were blue with handling the meat they had 2 huge freezer's we had to go in regular ,brrr im shivering just thinking of it. But from where I lived the new estate at worsley mesnes, I biked it but in those winter's it were nigh impossible the snow was so deep. Although it was tough we just got on wi it ,m very rare school's shut,LIKE I say it was a huge culture shock from cosy school rooms to a cold boning out building and the hours,i would get to the shop at 7.45am till 6.00pm I used to get home about 6.45pm mam had tea ready then used to fall asleep but they were really happy times, I do miss them.
Comment by: Sheila Whitehouse nee Rudd (Wigan, U K ) on 22nd April 2013
Delivering milk for Co op dairy ,having to drag crates of milk with a piece of rope ,electric milk float stuck in snow .especially great acre and Vine street Whelley
Comment by: Lizzie down under (Adelaide, South Australia) on 22nd September 2012
We left England in Feb. 64 so it was a real treat to go to Southport for the last time and instead of having a paddle we walked on the frozen Irish sea!!! The sea was frozen into waves, it was awesome!!! When we got to Aussie land we were down the beach and got very sunburned. Never forget those waves. Brrrrrrr.
Comment by: John Wilkinson (Hindley Green, United Kingdom) on 4th September 2012
January 63 ,I had a daughter born on the 5th, we had no water for 6 weeks .I contacted Wigan council who referred me to Makerfield water Board who referred me to Wigan council(Nowt changes :) ) Second contact with Makerfield water board had me hopping mad as I was getting no where and had discovered that Wigan Council were employing all their trades people digging up and thawing out frozen water pipes feeding council properties . Right said Fred , If they can dig, so can I . I informed Makerfield of my intention. " You can't do that, you'll burst the pipe" Ah! then ,perhaps you will come should I burst the damned pipe ****. " Do you realise we have isolated farms with live-stock?" My reply was " Do you realise, I have live-stock in the form of a newly born little girl?".(Silence) I dug down to the water main, lowered a bucket of hot coals ,sat and waited , after what seems hours ,the tap in the kitchen issued forth water. Hooray and no Burst pipe . Do I remember the big freeze? er! yes I certainly do !!
Comment by: AP (Yorks, UK) on 14th April 2012
I remember us carrying coal to fuel a steam locomotive (I think it was from Springs Branch) which was being utilized as a stream generator: injecting steam into the otherwise frozen solid sand at Pilkingtons in St Helens, in order to keep the glass production going.
Comment by: Jane Bancroft (was Searle) (Formby, UK) on 16th May 2011
Oh yes, how I remember that! Never seen so much snow since....the back garden at 7,Masefield Avenue, Orrell was so deep in the white stuff that we managed to build 2 x 6' snowmen (Bill and Ben), and they stayed frozen for weeks. I was taken on my sledge to the "new road" - the M6, and Dad pulled me down the slow lane and told me to remember it as the road would open soon, and it might be very busy..... As a local doctor, he used to keep a spade and shovel in the boot of his car to dig himself out of snowdrifts in the Pemberton area when he was doing his "visits". He'd also take patients to hospital as ambulances were finding it hard to get through. He and the midwife, Hannah Lythgo delivered many a baby in freezing temperatures that winter. He used to take a flask of soup with him to keep warm. He did an emergency ceasarean section on a kitchen table in Lamberhead Green and always referred to the baby as his "snow baby", even when she was in her twenties!
Comment by: Jim Jervis (Powell River, British Columbia Canada) on 22nd April 2011
I remember it well. I was on night shift in West Block at De Havilland's Lostock. I walked 'home' to Platt Bridge, seemed to take for ever. Don't get hardly any snow here on the Sunshine Coast.
Comment by: Roy Davies (Wigen, Lacashire) on 12th January 2011
It was my first winter working for a living as I had left school in July 62.Ihad just started serving my time as a plasterer,with the bad weather all the building trade was laid off,but they kept all the apprentices on, it was brilliant going to work and playing snowballs all day.
Comment by: John Jarvis (Pemberton, UK) on 22nd September 2008
There were snow drifts six-foot deep down by the railway line that ran from Pemberton to Orrell. I can't remember the trains not running, but there must have been delays. The path that led from Leoplold Sreet down to the crossing by the Winstanley Sidings Signal Box was completely blocked. It's funny, but we were kids, and we loved every second of it. I remember my Dad saying that if it carried on, the football season would only finish in July; he wasn't far wrong as some leagues only finished in early June. I also remember long queues outside Bendelowes chippy in Enfield Street...
Comment by: brian (swanley, UK) on 12th September 2008
We moved from Liverpool to Billinge in 1963.It was a new estate - unlike today the place was a working building site!No health & safety in those days! As the snow was so deep,and the various excavations weren't marked,well..... No central heating or double glazing,and only a coal fire in the front room... The ground stayed frozen right through to Easter! Happy days!
Comment by: Dave Whitter (Wigan, England) pre 2009.
As a 19 year old 'bobby' recently back from training college, I had to do 8 weeks night turn learning the 'beats'in the middle of the 13 week freeze. Half the force was off 'sick' and as a new starter I daren't go sick.Any one with a moustache shaved it off, since it was that cold that the hair snapped if you caught it.When you took off your greatcoat you shrugged out of it and it stood on its own,frozen solid. The Inspector drove round in the middle of the night with a dixie of hot cocoa in the 'Black Maria' to give you a hot drink. Any one remember Basil Whittaker? Not an experience I would wish to repeat!!
Comment by: Bert (Wigan, England) pre 2009.
Hi. Alf I knew Kevin Dooney at the time you are referring to. We worked together at Hawker Siddeley Dynamics. Both he and his wife went through some terrible privations to build that house. Kevin detested any form of injustice in the workplace and was prepared to go to any lengths to oppose it. He would challenge anyone in authority who he condidered to be abusing their position. This meant that the cowards in authority waited for the first chance they had to get rid of him. This came when he was refused time off to attend a Wigan Rugby League cup match during a working day but true to form he took it and as a result lost his job.
Comment by: francis wilding (abbey village, lancs england) pre 2009.
lived in almond brook at time but worked up blackrod on a bulding site what a job it were gettin up theere boss said we would get secked if wi dint go in .coundt get out cabin one day fer snow them wer days
Comment by: arthur pollard (ormskirk, england) pre 2009.
I remember cycling to the locomotive steam sheds at Springs Branch in that big freeze. Throwing my bike over six foot snow drifts at the unearthly hour of 4.30 a.m. snow which had accumulated overnight on Tower Hill at Upholland. Arriving at my destination at Lower Ince long after my signing on time, but allowed to do so because of the inclement weather and shortage of staff. One Glasgow bound express was marooned just beyond Taylors Lane bridge alongside the Bamfurlong marshalling yards for many many hours, and the yardstaff plus the train crews supplied the freezing passengers with large quantities of tea, made from the communial pots that were constantly simmering in the shunters cabins.
Comment by: Ann Hartley (nee King-Barton) (Gloucester, UK) pre 2009.
The best was sliding down the Ami Lane on cardboard sheets, the worst was trying to get back to the top, holding the freezing railings, but smashing fun.
Comment by: paul (standish, england) pre 2009.
i remember using an old car roof for a sledge and sledging down the slag heap in bradley lane with my mates and having to duck under the barbed wire fence at the bottom of the run ( how daft were we)
Comment by: Alf. Higham. (Devon., uk) pre 2009.
My memory of the '63' freeze Was The building of a house in Leyland Mill Lane,by a couple i knew,Kevin and Ann Doony. They lived in a caravan on the site during that bitter weather,but they kept at it and finished up with a lovely house,which eventually featured in an article by "Ideal Home magazine. I visited Wigan only a few weeks ago a took a pic of it to remind me of Kevin. We were both members of Orrell RU at one time. The house which i think is the first on the left as you walk down Leyland mill from the Wigan Lane end had a "For Sale" sign on it.
Comment by: Graham hart (Westhoughton, uk) pre 2009.
the winter of 1963,i bought a new mirror which fitted in the end of the handlebars on my BSA C11 motor bike,i bought it out of my auntie's catalogue fitted it when i went home, the morning after going to work i pulled out of our cul de sac in lower ince accelerated out of the street on sheet ice promptley fell off and broke the mirror,and guess what i had to pay for it for 6 months 1 shilling and sixpence a week?yes folkes we had no money in them days!
Comment by: margaret finch (Baughton worcs, england) pre 2009.
My mother was in the Christopher Home and i went to visit she could see me coming from her window ,I was walking doewn the path when all of a sudden I vanished she couldnt see me anywhere and I am 5ft 10 inches anyway she got some men working at the home to look for me , what had happened I unknowingly was walking in the snow piled up on a garden wall, then I must have strayed off and vanished the snow was above my head. Mark Williams the old man died at the time and they couldnt get a funeral car to the Christopher home so they got some horses and pulled him to his funeral on a sledge as the roads were impassable . By the way HAROLD did you know my father and brother at Springs Branch Harry Green , father, and Clifton Green Brother ?
Comment by: Val (Wigan, uk) pre 2009.
The sixties freeze I thought was a belter. I was only little and couldnt get enough of the snow. There was a big field in front of our house and every kid in sight had made a snowman. From the front bedroom window it looked like an army of snowmen were heading right for us! Jan 1982 was also very cold, schools were shut and I almost got stuck in the snow trying to get my toddler to a school I didnt know was closed. He had been born in a heatwave, but his sister arrived in a snowbound billinge.
Comment by: harold (ince, england) pre 2009.
I worked as a fireman at springs branch and can remember our local steam train was in the sidings (cromptons) for days, unable to move because all the points were completly frozen solid We did our shift went home and came back to the engine in the same spot.
Comment by: John Murphy (Newtown, UK) pre 2009.
Not playing rugby for three months because all the pitches were frozen over!
Comment by: Brian Naylor (Wigan, Lancs) pre 2009.
I remember the winter & snow of the 60's Living in Bickershaw our parents digging the snow so we could get to the bus stop top of Gibson st. must have been 6ft deep or more or at least being only 8/9yrs old and not very tall it looked so high.The snow was ever so crisp and white ah those were memories as they say the good old day's gone but not forgotten.
Comment by: dads memory (wigan, england) pre 2009.
my dad told me about the big freeze and how they were trapped in the house because the ice frooze the door! he was living in shevington at the time.
Comment by: bernard farrimond (wigan, uk) pre 2009.
us kids made a huge ice slide all the way down the backs ,great fun untill some parent put ashes and salt over it declaring it a death trap boo!!went next to thefields sledging but i was miffed as i had no sledge ,but my dad came to the rescue he broke the back off an old upright chair!!! made a brilliant sledge ,thanks dad .one happy ten year old
Comment by: Bren (Wigan, England) pre 2009.
I remember a kneedeep snowy/frosty night,my friend Eileen and I where going home,at night, down the 64steps,Brockmill,when a near neighdour came along,clever s--,come along girls youll be ok,it's not so bad,next thing,he slipped,down 2 flights of steps,can u imagine us at the top!!,the guy could have been in the river duggy,we could'nt have helped him, it was so funny,[Sorry]
Comment by: doreen (wigan, england) pre 2009.
met a new lad went on date all dressed up new stilletos skidding all over the place. First dat after meeting him got stood up and stood for an hour freezing waiting for him. finished up with chilblains.
Comment by: christine r (Standish, Lancs) pre 2009.
it was my uncle Jimmy Baybutt driving my ( mothers brother)
Comment by: Big Harold (Wigan, England) pre 2009.
I was going to say, I heard that somebody was driving round on the lake, so it was you lot, was you one of baybuts? or did you get married to one ?I think dave was going round on his grasstrack bike
Comment by: christine r (Standish, Lancashire) pre 2009.
i got married in the big freeze & lived at lake House at the fishponds. the water was frozen and as we had the reception at home we had pump water from an old well for flushing the toilets & have a water bowser for everything else. when everyone was a bit merry it was decided to go down to the lake and piled into a mini van it was only after saying it was ages getting down the garden were we told we had done 3 laps round the island on the ice. How dangerous that was even if the lake was only a few feet deep we could have been drowned
Comment by: Big Harold (Wigan, England) pre 2009.
Wrightington fish ponds was frozen over and everybody was skating about, mi and my mates rode our bikes on it
Comment by: veronica (westhoughton, Bolton) pre 2009.
1963 to be precise - this was the coldest winter I have ever experienced. I still went out at night - nothing would keep me in and vanity oh vanity -I went out in a new pair of stilletto shoes and nearly broke my neck because of the deeply encrusted snow and ice frozen over it. What a fool! The snow lasted for months and there was no such thing as central heating - only a coal fire in one room! Bedroom windows iced over in the morning - couldn't see outside. Still when you are young nothing phases - there are dances to go to and pictures to see and lads to go out with!!