I remember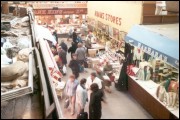 I remember...
the old market
Comment by: Frank Hyland (Wigan, England) on 31st May 2020
My mum Sylvia Hyland worked in Boons chemist during busy spells - the run up to Christmas, I thought she was glamorous gift wrapping presents for everyone. Mr Boon gave me some darkroom equipment- that was my first paid job. I like many bought records from Roy Hurst's one of them a Buddy Holly boxed set cost me a weeks wage at the time. Buddy Holly came to Wigan a little before my time he played at the ABC cinema my farther in law's claim to fame is that he had a pee at the side of him :-) will we be asking who worked at the card shop in the new arcade in fifty years time - someone might - Stay Safe
Comment by: Lynn corless nee taylor (Wigan, England) on 14th April 2017
I worked in BOONS chemist just outside the old market in market street it was the place to go for all the best perfumes and cosmetics they were the good old days I loved it
Comment by: Susan was Swift (Wigan, England) on 24th February 2015
My Mum used to work on Wilsons Stall then after she had me worked on Stokers with my Aunty Doris (Jones). My Mum was Kathleen Swift - anyone remember them?
Comment by: Marian (Bracknell, England) on 28th October 2014
Our family moved to Shevington from "Loondon" in the sixties so I spent my teenage years there. I had a Saturday job in Sarah Lyn's and I remember old man Gorner coming into the shop and buying the previous day's leftover cakes to sell in his café.Needless to say I never ate in there! It's a shame they demolished Wigan Market, it was such a fantastic place. I remember buying all my clipon earring there so's I'd be glamorous(not) at the local dances.Also the treacle toffee on the Santus stall.
Comment by: Christine Barbour-Moore (Wigan, England) on 19th July 2013
I remember Jimmy Robinson's the Saddler, up the side of Darby Wines (still there) on Wallgate. Father and son, the old fashioned saddler. Fond memories of a chaotic shop. I would go down clutching spending money, to buy a new little field halt abt 1959. The old gentleman, would let you take it home to try and call back with payment. I can still see his face. The smell of saddles when you went in was wonderful. Big Bob Silcock from the Market, was a good customer. Wonder if Robinsons Country Leisure at Ashton are connected to this old business. Good Days.
Comment by: Iain Speak (Gravesend, United Kingdom) on 26th March 2013
My Uncle had a cobblers /Shoe repair shop in Hallgate or was it Wallgate!!??),i think it is now a tattoo shop or something similar.It was in the 70s/80s,he had 4 children (my cousins),but as they got older non of them wanted to work in the shop on a saturday,so i used to work for him on many occasions,sadly he died in 1988 of cancer,he was only 55.Does anyone remember him and his shop "George Speaks"
Comment by: thomas stokes (WIGAN, spain) on 28th January 2013
i remember the barrow men who unloaded the fruit wagons , matt rudd , little harry, snotty jimmy . three charaters
Comment by: Lizzie down under (Adelaide, Australia) on 23rd October 2012
I remember the freezing cold cobble stones on the car park when we used to put up our stall and sell eggs, jam and chickens. Finally we got a spot under the entrance which was great because we were next to Boltons fish stall that sold the most yummy crabmeat I had ever tasted. It was cold and hard work but we used to go to the little cafe and have tea and thick slices of toast dripping with butter!!!!! Cheers all
Comment by: Nswaki (Wigan, england) on 16th October 2012
Started a saturday job at Cassinellis from 8am through till 6pm must have been around 1978 i was still at school around age 15..... oooo the smell of that toast and coffee takes me back.... was hard work though i was knackered after a shift there was never time to slack.....
Comment by: ronnie adamson (wigan, lancashire) on 26th June 2012
do you remember the chap at the bottom of the market.he weighed you on a chair by using old pennies. f the arcade he weighed yo on a red chair
Comment by: Mal (Wigan, England) on 8th March 2012
Anyone remember the chap who used to sell a plastic thing that you put in your mouth to make birdsongs? He made it look easy but it wasn't.
Comment by: peter ramsdale (wigan, uk) on 7th February 2012
the jockey scales in the canvas tent were owned and ran by my two aunties,agnes and margaret ramsdale who lived in great george st wigan.i used to held them bring the stuff from their house on a hand cart on fridays and take it back on saturday night.never locked at night never any vandalism.
Comment by: pat kenny (st helens, england) on 14th October 2011
I remember Lawtons butchers knew tony in another life Anyone else remember
Comment by: Al60 (Wigan, Lancashire) on 29th August 2011
Does anyone remember Jesse harolds boutique, next door to the cup in standishgate
Comment by: Jane Bancroft (was Searle) (Formby, UK) on 16th May 2011
It would be around 1960 when Dad used to go into Wigan every week to buy eggs and chicken from Mrs Stetner. She wrapped the eggs in brown paper bags and we carried them very carefully back to the car. I also remember the Doll's Hospital, where I took my favourite doll on a regular basis to have either new hair stuck on, or an eye unstuck! As I got older, the record stall was my favourite haunt - and it was there where I first bought "Please Please Me" - my very first record.....
Comment by: Debbie Roberts (nee Crabtree) (Abergele, North Wales) on 5th May 2011
My nana worked for "Peacocks" They had a big stall in the market selling clothing or fabrics I think. She was their cleaner and on Saturdays she would take me with her to their house while she cleaned for them. I remember the absolute boredome waiting for her to finish!Poor nana-looking back I`m sure there must have been something I could have been doing to help get us out of there quicker!! They were apparently very good people to work for.
Comment by: carol (wigan, england) on 1st May 2011
This is for p rourke of newquay, did you work at coops in the 70s, pressing in the jacket room? Why do you bulid me up Buttercup baby!
Comment by: theresa winnard (wigan, England) on 5th April 2011
ONE OF THE FIRST JOBS I HAD WAS AT Mc gregors stall they sold wallpaper.
Comment by: p.rourke (newquay, cornwall) on 11th January 2011
my mam annie rourke was the manageress of percivals chicken bbq on the corner next to the fish shops me and my sisters worked their on sat and school holidays anyone remember it.
Comment by: David (Worthing, UK) on 23rd December 2010
I think Roy Hurst used to live in a rather nice house, in the corner of the little park, off Wigan lane
Comment by: john crook (bolton, eng) on 4th October 2010
it was my uncla frank that workt ay greens buchers for ab 30 years i went to st goerges school
Comment by: karen hurst (wigan, england) on 4th October 2010
ROY HURST is my DAD!! yep and i am so proud to see people remember him. I remember everyone in the market hall i was in it every day it was open when i was young.Sadley my dad died in 1982,the old market was my life.
Comment by: Martin Cunliffe (Wigan, United Kingdom) on 29th May 2010
I used to work at Greens Butchers from 1980 to it closing in 1986 , had some fun with Fintan , Alan and Mike ,David was always on or backs , after it closed I worked at Leigh until joining the Fire Service in 1987, anyone who knows me drop me a line , martin.d.cunliffe@blueyonder.co.uk .
Comment by: marie knight (wigan, england) on 27th April 2010
Iworked at roy hurst records in the early 80s,the reps used to give us free stuff,iloved it and roy was a brilliant man i was like part of the family,roy,dave,karen and me.Ithink we were probably one of the first to rent videos out to customers,all those shelves of rock albums.magic x
Comment by: Glynis (Wigan, England) on 26th October 2009
I loved going to the market with my mum when i was little. she would always treat herself to a bag of rasberry ruffles from the toffee stall, me too but take ages picking. I would always turn away when we would pass the butchers with rabbits hanging outside, my mum would hold my hand all the time while she had her little chats with the poeple who worked there. she died when i was 12 but i have great memories of them days and now, i love rasberry ruffles : )
Comment by: alan lad (wigan, england) on 23rd September 2009
alf peacocks curtain stall 1966 youg girl worked there for awhile namad ann a rum un she was i think she came from standish then went to austrlia
Comment by: Bill Waldron (State College, Pennsylvania, USA) on 10th August 2009
Green's Butchers. I remember them well. My Dad (Percy) worked there until he died in 1957. He made and sold sausages. I wish we could get them now, but the law prohibits. Greetings to all who remember Wigan,
Comment by: bob b (Wigan, , england) on 1st August 2009
Why do people say the bulls heads where on top of Smailes butchers, the only place these heads where ever situted where on the top of Greens butchers shops, Greens took them down because it took so much effort to clean them, I am sure some people dont know much about the Market Hall so why guess and mislead people,
Comment by: christine bishop nee davies (wigan, england ) on 22nd June 2009
the old arcade ,with gorners at the bottom ,in the market the large stall with every kind of pots you could buy ,redmans stall butter i have never tasted since ,it was white and delicious ,most of all i miss the atmosphere of it .it as all gone now
Comment by: elaine (wigan, england) on 16th January 2009
hi brian forgot to say i am stood inbetween malc and peter am i right in thinking you are stood next to paul i still see him sometimes as we use the same local pub
Comment by: elaine (wigan, england) on 14th January 2009
yes i am on that picture which 1 are you in the photo?
Comment by: Brian (Wigan, uk) on 14th January 2009
Elaine, are you on this pic? http://www.wiganworld.co.uk/album/photo.php?opt=5&id=1454 You'll have to copy'n'paste the link
Comment by: elaine sheridan (wigan, england) on 14th January 2009
I used to work on greens butchers was there wen it was queens jubilee we all dressed up in red white & blue with union jacks everywhere I remember all the stalls getting up a petition to try and stop the market hall from being demolished lots of regular customers signed it was a sad day when it closed it had a brilliant atmosphere and was a great place to work.
Comment by: MIKE (standish, ENGLAND) on 3rd January 2009
WHICH BUSINESS IN WIGAN IS THE OLDEST. I RECKON PERHAPS SUTCLIFFES TRIPE STALL IN THE MARKET HALL. OR POSSIBLY SANTUS UNCLE JOES.
Comment by: norma beckett (wigan, england) on 24th December 2008
Hi "owd bob" I think the name of the man with the weighing scales in the old arcade was Bob Rudd.
Comment by: bob benson (wigan, lancs) on 18th November 2008
The cow or bulls heads in the old market where allways full of dust and bird poo, thats why they took them down,They were on the top of Greens butchers shops, not on Smailes butchers,
Comment by: owd dave (wigan, england) on 25th October 2008
does anyone remember the large gentleman who used to be in the little arcade with a large scales on which you sat and his shout of TRY YOUR WEIGHT NOW FRIENDS TRY YOUR WEIGHT
Comment by: Steve (Oslo, Norway) on 22nd October 2008
I remember buying 2nd hand books from Ken and Mary Gubbins bookstall, also toiletries from Pauline and Colin on the next stall, also Gypsy John and his family selling xmas decorations, a great atmosphere thats very hard to find these days.
Comment by: owd dave (wigan, england) on 11th October 2008
does anyone remember the large bull heads that used to hang in the old market hall wonder what happened to them i suppose they are with the soldier who usedto stand in mesnes park
Comment by: John Jarvis (Pemberton, Wigan, UK) on 21st August 2008
I remember Green's pork sausages (proper pork); the atmosphere of the fruit Market on winter Saturday mornings; Roy Hurst's record store; but most of all "The Dolly's Hospital" toy store: they sold every cheap little toy there was to sell and a fine selection of Boer War toy soldiers. What a place !
Comment by: Ruth (Wigan, England) on 18th August 2008
I remember the skinned rabbits hanging outside shops on the fish market during the sixties I thought they looked like dead babies. Yuk
Comment by: Derek (Wirral, UK) on 17th August 2008
I remember, the stall which sold Airfix models in little plastic bags. Also the shop which sold kabanos polish sausages. Does anyone remember UCP steak and cowheel pies? What a pity its gone; don't like the new market!
Comment by: Susan (Alicante, Spain) on 26th July 2008
I remeber the stall outside of the market selling ex-juke box records. I bought the 1966 version of 'Leader of the Pack'.
Comment by: dianne forshaw (wigan, england) pre 2009.
i used to get material from the stalls outside my mum used to make all my skirts and dresses also used to go to the chicken shop the smell was great they used to do chicken butties it was near the fruit market entrance
Comment by: Jamie (manchester, England) pre 2009.
I'm too young to remember the old market - it was demolished the year i was born! But I remember all the porters in the new market Val!! My dad had a market stall and I used to have to sit there every saturday as I was growing up. I used to be friends with all the traders - i used to go and play on their stalls and chat when i was bored! I used to talk to the porters especially when i was playing in the basement or the sluice! I remember Reg ( who always used to tease me...i thought he had a twin called Veg for aaages!), Joe, John, Eddie and probably more whose names i dont remember!
Comment by: kath bryan (wigan, england) pre 2009.
i remember eatin peapods walking down petticoat lane with me mam then going in casanellis cafe for a milkshake .it went reght rount corner wit big winders.
Comment by: John Ashurst (Limassol,Cyprus, Cyprus) pre 2009.
There are many memories I have of the old Market Hall.My wife Barbara worked for a period on a cardigan stall called Barbara's.My mother was forever in the market and when the days arrived that they began to demolish the old place she would go there and try and get hold of the long brass handles from off the two big swing doors oposite Makinsons arcade.She made many visits to take off the handle and eventually gave a couple of quid to one of the porters who got it for her.The handle is still in the family to this day.Its fitted to the bathroom wall of my sisters house in Oslo,Norway!!!Theres a bit of the old market in our last home in the UK.When we extended the house I bought several RSJ's from Forshaws Demolition in Westhoughton,they were responsible for knocking down the market.....i wonder how many more bits and pieces of the old market are knocking about Wigan?
Comment by: loren archer (wigan, england) pre 2009.
roy hurst records, was owned by my grandad, roy hurst, my mum , karen hurst was his daughter, he died before i was born, but we havt pictures of him in my house, working in the stall, email me, if you remember him or my mum, xx
Comment by: margaret (Wigan, U K) pre 2009.
Every Saturday afternoon I was sent to Green's butchers for our meat for sunday dinner. I loved the market. So many stalls to wander round with my sixpence to spend.The new Grand Arcade and the galleries don't even come close.
Comment by: Paul Jones (Milton Keynes, England) pre 2009.
I was born in Wigan, but moved away at the age of 4. I used to still come and visit every year. My grandad (Richard fazackerly) had a material stall on the market. We got up every morning at about 4am and at about 12noon I was alllowed a meat & potatoe pie from the bakers on the corner. This is still one of my favorite memories. I would like to know if anyone remembers my Grandad or his stall.
---