I remember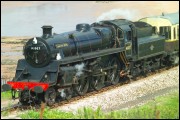 I remember...
the steam trains
Comment by: donald baker (roby mill, england) on 1st June 2019
i used to catch the train at appley bridge back to where i lived in southport london midland and scottish railway you could run and jump into thecarriage if you were agile enough just as it pulled out of the ststion
Comment by: Jim cannon (Chippenham , Wits) on 11th January 2018
John woods woody hope your good, John would you do me a favour and look at a photo springs branch no326,engine no52250 I'm think I'm in the centre dark hair next to the fair headed one I think it is August 1956 can you name anybody on this photo kind regards Jim cannon
Comment by: john wood (westhoughton, england) on 1st May 2015
i used to fire for Harry and his first call after work was the OLD HALL pub for a drink with Iommy Barnes and the group of mates sat in the bay window seats
Comment by: Mandy lowe (Wigan, Lanc,s) on 29th April 2015
Does anybody remember Harry humpherson and Lawrence wall they were both train drivers on steam trains
Comment by: Jimmy cannon (Chippenham, Wiltshire uk) on 24th November 2014
Sandra leech please give my regards to your dad we had some great nights out, still got the dog tag for trixie with your address 21 grasmere ave ince regards Jimmy cannon
Comment by: Jim cannon (Chippenham, Wiltshire) on 17th November 2014
Hi great Duffy me and your dad went to Blackpool when he started courting your mum, he also gave my dad a dog named trixie we had some great times, ask him can he remember walking back to wigan from preston, if he wants to get in touch.would be nice regards jimmy cannon
Comment by: Sandra leech (St Aygulf, France) on 17th November 2014
Hello I am jimmy and Greta duffys daughter I have just read on here how some of you remember my dad who worked on the trains and my mum who worked in the canteen, yes they did get married in 1960, had two children where married for 54yrs as my mum Greta has just recently passed away, no my dad jimmy is with us in France if anyone wants to contact him.thank you
Comment by: claire hughes (Northamptonshire, England) on 4th October 2014
My grandad William Hughes was the station master at water orton until 1966/67 (I believe) does anyone have any memories stories or pictures they could share?
Comment by: .alan James cannon (Chippenham, England) on 7th September 2014
Loriane, me and your dad were mates in 1955/58 we used to go to the pictures at least twice a week palace ritz county court , I used to live in May ave Abrams.. I lived at 5 may ave, his favourite singer was nat kink cole, I went to school with his siter Brenda, we sered together at springs branch till I transvered to London in 1959! Give my regards to Brenda or her friend Marion harter.your dad was quite tall but was kind gentle he saved me from one or two goodhindiing, nice to here from you,
Comment by: john wood (westhoughton, england) on 26th August 2014
Hi Lorraine i was wrong about j poole i was out with Norman Harter last week and he told me your dad was related to him john wood
Comment by: Lorraine Seddon (Chorley, UK) on 25th August 2014
Hi, thanks for your comments about my dad Brian Ellison. I didn't know that he started his railway career as an engine cleaner. Back in 1956 he would just have turned 15 years old. I don't remember him telling me that he was related to anyone named Poole but that doesn't mean to say he wasn't. Your right he was very tall with red wirey hair. There isn't a day goes passed that i dont think of him or my mum. If you can think of any other memories or have photos please let me know. Kind regards
Comment by: Bernard Lowe (Wigan, Lancs) on 14th August 2014
Hi Lorraine ,July 1956 I was in the waiting room at the medical centre Manchester sat next to a tall red haired .Next time I met him was early august 08.00a.m Monday morning our first day at work as engine cleaners at springs branch at the start of our railway careers .That was your dad Brian Ellison.
Comment by: john wood (westhoughton, england) on 10th August 2014
Brian worked with me at springs branch i remember the shooting accident when a gang of the lads went to blackpool i remember Alan Carter being one of them i think Brian was related to Jimmy Poole he was very tall with red hair and a great lad. john wood
Comment by: Lorraine Seddon (Chorley Lancashire, UK) on 8th August 2014
Hi, it was really lovely to read all these comments about Springs Branch and the railway. Back on 29/06/2011 James Alan Cannon made a comment regarding Brian Ellison who died in an accident in Blackpool, if this was the same Brian Ellison who worked at Springs Branch he didnt die in the accident in Blackpool but went on to marry and have three children. I am the eldest , however he did pass away in 1985 aged 44 of leukemia. I would love to hear if anyone has ANY memories of him or photographs. I recognise a lot of the names in these posts but cant put a face to any.
Comment by: Jim cannon (Chippenham, Uk) on 17th July 2014
Arther pollard, can you remember cleaning engines under mr ball from southport,
Comment by: Peter Ferris (Bradford, UK ) on 25th May 2014
Hi. Can anyone help me please. I'm looking for photos of Westhoughton Goods Yard signalbox from between 1967-1969. My dad worked the box there early in his railway career and is writing a book about his career on the railway and the only box of the many he worked that he can't find a photo of is Westhoughton Goods Yard. Any help will be greatly appreciated. Regards, Pete
Comment by: john wood (westhoughton, england) on 28th April 2014
hi ALAN i will find out if Jimmy Duffy is still with us and let you know he married Greta she worked in the canteen. woody
Comment by: Jimmy cannon (Chippenham, Wiltshire) on 19th April 2014
Thanks for your response Jimmy carter, we spent many hours cleaning engines a at springs branch shed and fryday pay day a few pints up the old hall with john wood Singing great balls of fire, happy days, not fair about Alan and jimmy brown , can you remember jimmy Duffy, best wishes jimmy cannon
Comment by: jim carter (wigan, uk) on 28th March 2014
hi to jimmy cannon only just read your req. on info about my brother,alan carter, and jimmy brown im sorry to say they both died young, alan died in 1991 and jim brown died before that,as you say they were both good lads. j c
Comment by: Frank Brindle (Hindley , England) on 24th March 2014
Gordon There are 2 photos Of Westhoughton Goods Yard Signalbox in a recent book, written by Chris Littleworth,and published by The Lancashire & Yorkshire Railway Society titled "Signal Boxes On Lancashire & Yorkshire Railway Lines:North And West Of Manchester"
Comment by: Gordon Ferris (Los Boliches, Espana) on 23rd February 2014
Hola, I was a Junior Porter at Coppull in 1963 age 15, a Signal Box Boy at Wigan Wallgate and Hindley 1964/5. A Signalman from age 18 at Bickershaw, Westhoughton and Golborne 1966 - 1972. I'm writing a book has anyone a photo of Westhoughton Goods Yard Signalbox? Buenos Tardes, GordonF
Comment by: Jimmy Edwards (Bury EX SPRING VIEWER, Lancashire) on 12th February 2014
Byran,go on to assorted (in the pub )you will see some photos of John Daniels and his brother Norman in the Railway Pub in Spring View .There Dad used to cut mine ,our Billy&Keith's hair .Put a Basin on our head and cut to it.Spent many happy years playing down Branch & train spotting.All the Carter lived near us in View ,not see them for years .live near Bury now run Steam Trains most weekends the smell of the Steam is great takes me back years.Happy Days
Comment by: Glynis Fairhurst (Aspull,Wigan, England) on 19th November 2013
Me and my friend used to buy a platform ticket and go onto Wigan Northwestern station on Saturday afternoons. There were a lot of platforms then and we used to climb into an empty carriage of a train in sidings and pretend we were going somewhere.Also remember the chocolate dispenser machine .Still love trains
Comment by: Trevor Jones (Ashton-in-Makerfield, England) on 31st October 2013
I remember sitting on the fence at whitley crossing taking train numbers and names. I used to go there with a lad named Terrance Marshall I used to ride on the crossbar of his bike and we used to sit on that fence until the Midnight Scot had gone by, cant believe I could read number plates on trains in the dark. Great Times.
Comment by: john wood (westhoughton, england) on 13th October 2013
hi alan sad to here about eddie i will let norman harter know hes the only one i see on a regular basis. i hope you are keeping well woody
Comment by: james cannon (chippenham, wiltshire) on 29th August 2013
some sad news to pass on to all firemen who worked at springs branch in the 1955 era eddie martindale passed away this wednesday from terminal illness. john woods and others will remember him. his brother tom asked me to relay this message. best whishes to wigan and all steam engine workers connected to springs branch
Comment by: Ray Dwyer (Westhoughton, Bolton, UK) on 20th May 2013
I remember in the 1950's we would dash down from Higher Ince to the bridge near Ince cemetary for the 4 o'clock fish train. We would be really excited if it was a 'namer' ie a train like a Jub' or a 'Semi' or really good a 'Brit' with a nameplate. Didn't the Brittania class trains have distinctive numbers?
Comment by: Leo Casella (Buenos Aires, Argentina) on 11th May 2013
Estuve en Wigan en el año 2012. hermosa ciudad
Comment by: Liz Kearvell (nee Hayes) lizzie down under (Adelaide, Australia) on 21st November 2012
I remember as a kid waiting for the steam train outside my Gradparent's house in Junction Terrace Lower Ince by the railings in the 50s. It is all filled in now. Though my Grandparents have passed away their house is still there in the row as it was then. What memories!! The steam locos were so noisy as they let the steam escape before they moved off down the line. Cheers!
Comment by: Norman Skellon (Kirkham (Sydney), Australia) on 5th October 2012
Whitley Crossing in the 1950s: 1. Putting pennies on the line to be squashed flat by the engines. 2. Damming the stream. 3. Just down the line from the crossing was a hill (? Scout's Hill, perhaps a slag heap) with a tennis court on top and a fantastic bike track. Spent many hours on this bike track. The hill has no doubt been levelled in the name of development. And the Crossing closed in the name of safety. 4. Susan Leather, who lived somewhere near the Crossing. 5. The Deltic, a diesel electric prototype. I never saw it at the Crossing, but we used to watch it in the mornings from the science lab. at the Thomas Linacre School which backed onto the railway embankment close to Wigan.
Comment by: joe tighe (leigh, england) on 8th April 2012
went to york railway museum in the early 80s.the mallard was undergoing repair,the front had been removed.i took my chance and stood on the front of this great loco,wished i would had my photo taken.this would have been my claim to fame.what a memory
Comment by: john wood (westhoughton, england) on 7th April 2012
hy gary i have sent you an email woody
Comment by: Gary Brown (wigan, England) on 7th April 2012
Hi everyone, I am trying to get in touch with my dads (Jimmy Brown from Platt Bridge) old friend "woody" John Wood from Westhoughton, can anyone help?
Comment by: Frank Brindle (Hindley, England) on 13th February 2012
Engine 78063 was built at Darlington in November 1956 and was allocated brand new to Wigan L&Y shed along with sister engines 78060-2 & 78064 and remained there until the shed closed in 1964.Records show that 78063 was allocated to Willesden shed,London, in April 1965 subsequently being withdrawn in December 1966 and scrapped December 1967.
Comment by: David Wooten (Chandler, Arizona, USA) on 7th February 2012
On a visit to England in 1963, I well remember joining trainspotters on the "Iron Bridge" - a footbridge that crosses the Stonebridge Park depot to connect Tokyngton Ave with Lyon Park Ave in Wembley. Some locomotives I remember 'spotting' include 'Coro's 46245 (City of London) and 46257 (Salford). I also remember rebuilt Jubilee 45735 (Comet), rebuilt Patriot 45527 (Southport) and many others. On a return visit two years later, I learned that all of these had either been scrapped or soon would be. One that was still around was a 2-6-0 - number 78063.
Comment by: Chris Winstanley (Wigan, England) on 11th December 2011
Hello bryan the pits that served Rylands were Chisnall Hall Coppull, Giants Hall and John Pit in Standish Lower Ground. The lad that was confined to a wheel chair his name was Carl Littler. they were great days there at the crossing for young lads with boundless energy, not too many grown ups to spoil your fun. Hows Betty? I remember yourself well also.
Comment by: bryan johnson (golborne, england) on 11th December 2011
chris i was a signalman at rylands box in the mid sixties and remember you and your mates there was a lad that was in a wheelchair that you used to take out with you trainspotting, at the time I was going out with a girl that worked in wildings photo shop. what was the name of the pit that used to put coal wagons in rylands sidings.if you can contact me on my e-mail anytime. bryan.
Comment by: chris Winstanley (Wigan, England) on 9th December 2011
Any one out there remember whitley crossing and Rylands sidings back in the mid 60s when it was a working sidings, sitting on the fence for hour after hour doing a lot of train spotting and waiting for the small peg on the home gantry to go to off and waiting then for the arrivel of anything from a super D to a "Brit".( I was lucky enough to cab 70013 Oliver Cromwell when I went streight after school on day) If you were lucky you got a cab ride and an oppertunity to stoke the boiler while the fire man had a go at shunting the loco and the driver made a brew. Great days and never to return but at least we experienced them. Walt and Dave Cullen Jinksy, Fred, Swifty ,Turner and a few others. Nice to remember.
Comment by: A Prescott (Orrell, UK) on 23rd November 2011
Do you remember the old iron bridge from King Street to North Western Station and the shunting yards beneath - many happy days train spotting. Oh, and do you remember the smoke from a passing steam engine engulfing you as it went by - I can remember the smell now......Bliss!
Comment by: john austen (cambridge, engand) on 21st August 2011
hi frank i am the bowler that played at the reform club. nice to hear kieth baldwin is alright.hi also to johnny woods.i remember you when you was a teddy boy with your drainpipe pants crape soles and pink socks with jimmy eck merv the swerve and bill taylor.good to hear you are alright john.
Comment by: Frank Brindle (Hindley, England) on 21st August 2011
Hello John Austen.I'm assuming your the elder brother of Fred and remember you bowling at the Reform Club,Westhoughton.Yesterday the 20th I was in the company of a good friend of mine,Keith Baldwin,who remembers you as a bowling mate and sends his regards.I also bump into Johnny Wood now and again.Incidentally I've subsequently found out that Eatock's Sidings signalbox closed in 1955.
Comment by: john wood (westhoughton, england) on 19th August 2011
hi john i remember you john living in broadwalk where do you live now john
Comment by: john austen (former kiew yed, england) on 18th August 2011
in the mid fifties i was a keen train spotter i used to go in the same signal box in daisy hill as frank brindle refers to.i will never forget pulling the levers to raise the signals i also remember percy the signalman.i knew franks brother kenny who was a keen train spotter.on saturdays i would go to springs branch on my bike i sat on a wall opposite the sheds taking train numbers and namers underlining them in my train book.during the day we got permission to go in the sheds to take numbers of engines being repaired that would be before johnny woods worked there.remember me johnny from broadwalk.our pleasures where simple in those days no games or computers but we where happy spotting steam trains.
Comment by: james alan cannon (chippenham wilts, uk) on 1st August 2011
hi margaret my greatgrandfather lived at scholes, my great grandad john cannon lived at 2 ashton streetscholes 1881 census married to a mary hill, in the 1891 census they where living at 14 york street ince and later at aspul, my ancestors came from ireland if we are kin i would love to here from you. regards james alan cannon
Comment by: MARGARET HESKETH NEE CANNON (WIGAN, ENGLAND) on 1st August 2011
HI JIMMY CANNON ARE YOU ANY RELATION TO THE CANNONS FROM SCHOLES AND SOHO ST IN WALLGATE
Comment by: jim cannon (chippenham, wiltshire) on 9th July 2011
hi john woody inow remember arther pollard another good workmate we could have been the first beatles instead we stayed loyal to british railways happy days thanks for the memories jc
Comment by: jim alan cannon (chippenham, wilts) on 9th July 2011
thanks bearnard for your input real sorry to hear about roy.billy burrows did he come from abram i went to same school as him. justreading an input of my diary of april 13 1959 reads jim duffy and henry hall went down to london i followed later 15 june 1959
Comment by: john wood (westhoughton, england) on 8th July 2011
them days in the old hall were brilliant the landlord was george groves and the piano player was auther pollard you mustremember him
Comment by: bernard lowe (wigan, lancashire) on 7th July 2011
hi,alan/jim.I worked with you at springs branch.You ask about roy pilling,i believe he died a few years ago.here s another name you may remember.Bill burrows.I think he played for Warrington the same time as henry hall.See him regularly,he is school lollipop man at springfield.
Comment by: jim cannon (chippenham, wilts) on 7th July 2011
woody can you remember our friday dinner drink and singalong up at the olde hall your song was great balls of fire/ and the landlord george? a little bald headed chap who had a fancy car, brian ask me about tommy hunt from ince moss wasnt he the head shunter? happy days ps 71 today where has it all gone, i think we have had the best times thou what happened to roy pilling from rainhill?any one out there fill us in regards jac
---