Childhood Memories
Grandma Bradshaw's House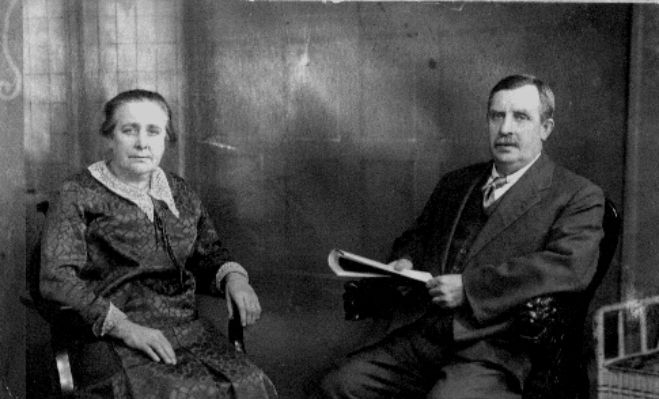 Grandma and Granddad Bradshaw
The house I remember the best of all was the one at No 10 Victoria St. but before that, they lived at 49 Warrington Road, and that was the one where the family grew up. I can just about remember it. It was situated in the plot of land at the bottom of Victoria St/Warrington Road, opposite what is now sheltered accommodation in Victoria St, and facing ATS in Warrington Rd. In fact, both houses were on this triangular plot. All traces of the houses are now long gone, and the plot is planted with trees and lawns, in fact, most of the Newtown that I remember has gone.
The house in Warrington Rd had a front room, or parlour. This wasn't "lobbied off", as the saying goes, i.e. not partitioned from the rest of the house. In it stood a tall plant stand, made from oak, which I think Uncle Bill made, and on this was an aspidistra in a dark green pot. There was a living room and a small lean-to pantry. Upstairs were 3 bedrooms, 2 decent sized ones and a small box room that had to be accessed through the other bedroom. In here was kept Uncle Bill's treadle lathe. Uncle Bill, by this time had gone to work in India as a cotton mill manager and was really a mysterious figure to us children, coming home very occasionally, bringing with him Indian coins and trinkets, which we prized very highly.
I don't recall much about the house in Warrington Rd, except that all the grandchildren met up there at Christmas time. I was only 4 years of age when Grandma and Grandad decided to make a move to Victoria St. The house in Warrington Rd was too big for them, and the people living in Victoria St were willing to swap, so having consulted the respective landlords of the properties, they made the move.
The house in Victoria St was smaller than the other one. The front door opened straight into the living room, as there was no vestibule. There was no front garden so the front door opened on to the street. There was a small back kitchen, and two bedrooms upstairs, one of which was little more than a box room.
As you entered the front door, on the left hand side was the chest. This was a piece of furniture that was really a bedding chest, but was in service as a sideboard. It was made from oak, and had an opening top, and 9 drawers, the top 6 of which were dummies. We were fascinated as children with these drawers that wouldn't open. Only the bottom three were really drawers. The chest had been fitted with a mirror, to give it the appearance of a sideboard and on the chest top was a crocheted runner, complete with glass ornaments. In the centre was a blue glass clock, which had been a "trade gift" from the shop days in Hallgate. We children looked in wonder at this, as the clock workings could be seen through the glass case.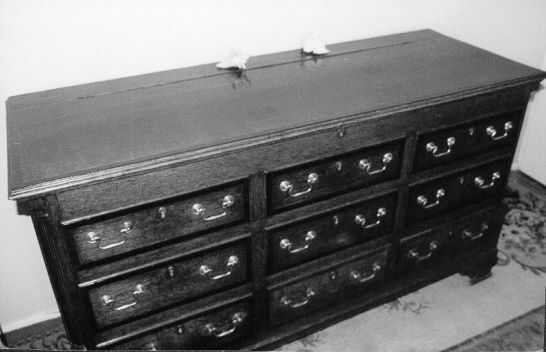 This is the chest after renovation by Uncle Bill who was given it after grandad died.
There was a whitewood table in the centre of the room, and four stand chairs. Grandma had a silken cloth on the table that had come from India, and had strange characters woven into it, possibly Urdu or Hindi script.
On the far wall stood a small gate legged bureau. This was made from dark oak wood, and on top of it stood an electric wireless. No batteries on this one! It had stations from all over the world; I can remember some of the foreign names even now, Lahti, Hilversum, and Oslo. I didn't know where they were but they sounded exciting! We children would play around on the short waveband, listening to all the gabble of the foreign stations and the mysterious bleeps, which we thought were Morse code messages from spies!
The fireplace was a "Yorkshire Range" and Grandma used the oven for cooking. Many's the Sunday mornings that I have gone down to their house when Grandma had gone to chapel and left Grandad in charge of the roast lamb in the oven. It smelled delicious! By the right hand side of the fireplace was a long cupboard built into the chimney recess, and here were kept all the glasses and plates that only came out on special occasions, plus the patent medicines and anything else that needed putting to one side, out of the way of small fingers. The cupboard had a smell of its own, smelling of "Sloans Liniment"! Grandma and Grandad took "Fynnon's Salts", probably as a tonic, I don't know what for exactly, but she saved the empty brown glass bottles for Dad who was at this time working underground as a Dust Sampler, and he used the bottles to store his samples in.
The two armchairs were made of solid wood, and the seat part was hinged in the middle to form a back. Behind the chair was a bar that the back rested against and this could be altered to allow the back to recline. On the base of the chair were two pegs that stopped the base from sliding out too far. It was possible to pull the base right out and make it into a bed for a child. One day I was "messing about" upstairs and found some old cigarette holders that belonged to Uncle Bill. I had been "smoking" these and was feeling woozy from the nicotine that I had been taking in; in fact I was distinctly green about the gills. Grandma pulled the chair out and made me lie down until the funny feeling had passed. I never bothered with the holders again after that!
The hearth to the fireplace was a really "posh" one, as it was made from tiles, stuck to a concrete base, and when these tiles which, incidentally were blue in colour, came loose, they were stuck back into place with condensed milk. It seemed to work alright!
There was a wall clock in dark wood that chimed the hour and half hour and it had to be wound every seven days. This was the wall that was facing the front door. Also on this wall were two prints of scenes in the Middle East and showed donkeys, camels and Arabs, stood near to white buildings. There was also a large framed photo of Grandma's old dog "Gyp", sadly passed on at that time, in fact I never saw the dog, except on the photo.
One of the really fascinating things about Grandma's was that you had to go across the open yard at the back to visit the toilet, and once there, lock yourself in away from prying eyes. The yard itself was cobbled, and had green slime growing in the cracks between the stones; known to us all as "Nanny green teeth" I never knew why this was so called.
In the front room of the house was also a clothes airer where the previous weeks washing would be hung to air out, after being ironed. The understair was a creepy place and was known to the grandchildren as the "bogey hole." In here the coal was kept and it had a door to close it off. If ever we wanted to go in there we had to get the torch. It was a flat torch and it had a "bulls eye" glass at the front.
In the small back kitchen was a white stone sink and fixed to the window frame by the sink was a small metal soap dish. This always had a piece of "Lux" soap in it and we all liked to wash our hands a lot with "scented soap". Grandma's gas boiler was to the right hand side of the sink, and on the wall next to it was the "kitchenette". This was essentially a fitment with cupboards at the top and bottom and a drop leaf in the middle. It was really the forerunner of the fitted kitchen, and was made of plywood, just plain wood and not stained or painted in any way.
On the wall by the understairs was a cupboard with sliding doors, and in here was kept the everyday china. The stairs were a funny shape, the bottom three steps went round a 45degree turn so that the rest of the stairway went straight up. The entrance to the stairwell was by the back door, and upstairs were two bedrooms. There was a main bedroom and a small boxroom, mainly used as a "glory hole", full of all sorts of memorabilia. Grandma used to get a magazine called "People of all Nations" which was full of pictures from far off lands and we grandchildren would spent hours up the stairs seeing what we could find, and reading through these books. There was another pile of film magazines as well; in these were "glam shots" of various film stars and showgirls. I recall that some of the pictures had a copyright stamp on them with a circle containing a photo of a man in fedora hat and round the circle were the words "A Billy Rose Beauty". I only found out later that Billy Rose was a showman in America. I often wonder what became of them all when Grandma and Grandad had passed on.
I know that the old oak chest went to Uncle Bill, who had it restored to its original state. Ma got the wall clock and when she died it went to Peter and Dorothy's house. When Grandad died in 1948, the house was emptied and we took up the lino in the front bedroom to find a full copy of the "Empire News" which had been spread out over the floorboards to keep out the draught, and this was dated 1936, which must have been the year that they exchanged houses. I recall putting the paper together again and reading of the murder of Buck Ruxton's wife. He was caught when they discovered his wife's dismembered body in Scotland, wrapped in an edition of the Daily Express, which had been published in Preston. He had cut up the body to disguise it but the paper caught him out and he was hanged for it.
Across the way from Grandma's was a corner shop, kept at that time by Mrs Hornby. She sold sweets and a few groceries, and Grandma would take me over the road to buy sweets and lucky bags. Sometimes Grandma would take me up to the Coop or "stores" as she used to call it. The Coop was one of two shops there, but the other was closed up and had one time been the Coop butchery department. I used to imagine that all the butchers' equipment was still in there, and think, "What a waste".
Over the top of the shops were the Assembly rooms, which were reached by a covered staircase at the back of the shops. Here, wedding receptions and funeral teas were held. One day, Ma took me to a "do" there and who should be there but Miss Broomhall. There was a gramophone playing and the record of "The Shoemakers Dance" was being played. I don't know what the function was all about but Miss Broomhall came across to me and said "Now then Fred, shall we show them how to do it?" I didn't realize that she was only having a bit of fun and Ma said afterwards that I looked as if I wanted the floor to open up and swallow me!!
In the same street as the Coop was the Police station and opposite this was the shop kept by the Misses Silcock, two elderly spinsters who baked the most delicious cakes. One of the sisters served in the shop, which had a flagged floor, and the other did the baking. Vanillas, cream horns, custard pies, jam sandwiches, I can see and taste them even now! They were scrumptious.
Sometimes Grandma would take me on to Ormskirk Rd or the "Front Street" as it was known. There were a lot of shops there then, Mellings shoe shop, and Billy Melling the owner had all his sons and nephews photos up on a board. They were serving in the forces during the war and were in uniform. One of Billy's relatives was in New Zealand and their sons were Anzacs, with bush hats as part of the uniform. We thought that they looked great! Tommy Smailes's shop, which had a sun blind emblazoned with the words Tommy's Shop (Propr.T Smailes) Cowburns grocers, Meadow Dairy, Mortons, Melias, Mason's, Magraws ironmongery, a little dark, mysterious shop which smelled of paraffin, Haggerty's grocers. Nellie Rigby's shop which sold boiled ham on the bone, home made cakes and bread. They all seemed to do well, but there were a lot of houses in Newtown then.
There was a shop in Newtown called Hampsons and here, on a weekend, if you took a large glass dish, with your name stuck to a paper on the bottom, they would make a trifle for you. It cost about two shillings (10p). In the chip shop it was possible to get a penny fish and a pennorth of "scrapings", (bits of batter and pieces of chip). George Glover had the chip shop in Victoria St, and its funny how you remember; the counter always seemed so tall those days!
There were times when I went with Alfred Brown to the Meadow Dairy, as his mother was registered with them for food. It was a long narrow shop with green and white tiles on the walls. They patted butter into half-pound blocks from the bulk butter, which came in 28lb wooden casks. Ma told me of when Uncle John started work. He got a job at the Meadow Dairy before starting down the pit, and his first job was to pat water into the butter to bulk it up!! I didn't see anyone doing this when I went with Alf, but I suppose it went on just the same.
Grandma Foster's House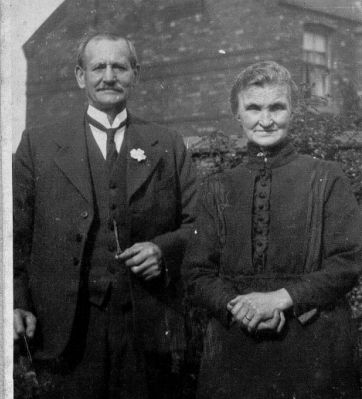 Grandma and Granddad Foster
Grandma's house at 114 Billinge Road was a treasure house for us children. Sometimes on Saturday evening Ma and Dad would take Billy and me to see Grandma and Grandad. Those days before television we would go in for a chat. Grandma had gas lighting, but this was only in the living room, because in the pantry she used candles. The house consisted of a parlour, 'lobbied off' as the saying goes, with a wall and a door, as opposed to a room open to the front door. Facing the front door was the staircase, and by the bottom of it, to the right, was the door to the living room.
The two end houses in the terrace were identical in construction and this commanded a further twopence a week in rent money. Five shillings and sixpence (27.5p), as opposed to five and four pence (25.5p) for the rest of the row. I don't think that there had been any decoration done in years. The wallpaper in the living room was a dark green with a design, which looked like small bricks. In the entrance hall was an umbrella stand and in this as well as the usual umbrellas was a walking stick with a dog's head as a handle, carved from a piece of bone. It had two lifelike eyes, and was a favourite plaything, also in the hall, hung on the wall was a pair of cow horns.
In the front parlour, I remember two pictures on the wall, one of which was an oil painting of a seascape, which was in the need of a good clean, and the other, which hung over the mantelpiece, was a print under glass of a herd of horses, probably a military one, and two men riding on a pair of them. On the mantle piece, a display of silk flowers reposed under a glass dome.
There was a clock on the wall in a case, which had a set of weights to wind it, and on the mantlepiece, a pincushion which had been made from a piece of a horse's shinbone. This was carved with the inscription, 'A souvenir from Knockaloe'. I was told by Grandma that Billy Morgan had given it to her, he was Dad's cousin and had served in France, during the first world war, and I think that it came from there.
On the wall facing the fireplace was a tuneless piano, and we grandchildren used to 'bash the ivories' and make a lot of noise. In the cupboard by the fireplace were books and books and yet more books. One thing the Foster family had was plenty of reading. Grandad had books on every subject that you could mention. There were books in nearly every room; in fact, there was a bookcase on the landing upstairs. The fireplace was in black marble and had pieces of marble in the form of half spheres stuck in various places to form a pattern and these were used as bell pushes when we played 'buses'.
The room was furnished with a suite comprising of two easy chairs and a chaise-longue, upholstered in a sort of shiny black stuff that prickled your legs when you sat on it, wearing short trousers.
The living room had, as its main feature, a massive seven drawered dresser, with an ornately carved back, but no mirror. This was on the left wall as you came in through the door near the stairs. There was a chaise longue, upholstered in a sort of grey-green moquette on the wall facing the window, and in the corner near the fireplace was a rocking chair. The space behind the chair and the couch was quite dark and this was the 'pit'. The round bolsters from the couch were used as 'coal bags'. In the corner also was the coat rack where Grandad kept his outer wear. There was another chiming clock here as well. Grandad mended clocks for a hobby, using a hen feather to put oil on with. On the dresser were photographs of all the eleven grandchildren at various stages of life. There were various other trinkets on the dresser including a couple of glass saltcellars, which our Bill has now.
When Grandad died we removed about seven cutthroat razors, for he always used one of these to shave with. If he cut himself shaving, he would stop the bleeding with a piece of stamp edging, because he believed that the gum had healing properties.
The kitchen table was scrubbed white, with a chenille tablecloth, and Grandma covered this with a white one made from a sugar bag. She always wore her clothes long. A long black skirt and a cardigan. She rarely went out, in fact the only time I remember her going anywhere was when Dad's cousin Tom Pennington called with his mother in his van. He got Grandma to get in the van ostensibly to speak with her sister, once she was in however, he drove off with them, and took them for a ride round to visit the rest of their family. Grandma only fell for it once.
On the mantlepiece was quite a bit of brass. She had a pair of brass candlesticks and a pair of brass boots. I have the candlesticks but I don't know what happened to the boots. Underneath the mantlepiece was a brass rail used to dry washing. The fireplace was a Yorkshire range; the jambs painted a mid-brown colour, and Grandma cleaned the grate with blacklead. When making toast she had a wire contraption made which hung from the bars, the bread speared on two prongs, so that it could receive all the heat. The kettle was sooty black and had a brass handle. It probably was a copper kettle but it was so blackened by the fire so that no one could tell.
When we as children called on Grandma we would ask if we could have the bottom drawer out. This was the one of three under the cupboard to the left hand side of the fireplace, full of all sorts of junk that had been lovingly collected over the years by Grandad, who never threw anything away. A newspaper was put down and the drawer tipped over .Our Bill and I would go through everything, time after time as we put it all back again. It was better than toys any day.
Grandad also had a wind up tinplate toy billiard player. It had been made in Germany; probably before the First World War, and it was more or less held together with solder having been mended so many times. When it was wound up, a ballbearing appeared and the player would bring back his arm and pot the ball. The ball then re-circulated and the whole process was repeated. We children thought it fantastic.
Granddad's wireless was only switched on for the news and for Sunday Half-Hour. He didn't believe in wasting batteries!! The wireless, which was a Cossor brand, had two wavebands and stood on a cabinet near the middle door. To change wave bands, a switch at the front of the set could be moved up and down as the need arose.
Grandma never used the gas light in the back kitchen. She always had a candle in a tin candlestick and she used a taper to light it, and this taper was also used to light the old gas stove. She would light the taper and run through to the stove like an Olympic torchbearer!! The stove itself was a museum piece, brass taps and a cast iron oven. We only found out that it was rented when they wanted to change it. The gasman took it away with him and I reckon that it should have gone into a museum. Grandma had a big meat safe on one side of the kitchen, with side panels made from perforated zinc, painted in a sort of brown colour.
The floor was covered with lino and the inevitable peg rug. These were made from scraps of cloth, cut from old garments and suits and pulled through the rug base by means of a special tool leaving about two inches on either side of the surface. The rug base was made from a piece of sacking, usually a flour sack or corn sack, washed and split at the seam. As each piece was worked into place a pattern could be formed, using different colours of cloth. Later on, with the advent of nylon stockings, a different style of rug emerged. This time the pegging tool was made from a six-inch nail, fitted into a handle and ground to the shape of crochet hook. To make this type of rug, the material had to be cut into long strips, and then by pushing the hook through the sacking the material could be pulled through in loops of about one inch in length, and it had a flatter appearance than the other and was more hard wearing.
Under the stairs was a big bread mug with a wooden lid, which also served as a baking board. Here also a big brass jam pan. In the back kitchen was a table where Grandma did her baking, making bread and apple pies. She had been in service in her youth, before she married, as a maid to a doctor in Upholland and she knew all about table laying, and could brew a fantastic cup of coffee. Every Sunday, cousin Brian Hill and I used to call after Sunday School to see her. Out would come the coffee pot and the strainer and usually a piece of homemade apple pie or ginger biscuits.
In the backyard was a very old lilac tree, so big that it took the light from the living room. On this, Grandad hung his hens after cutting their throats Jewish style, (he was very Old Testament orientated) and let the blood drain out until the fowl was dead. A wooden washhouse was attached to the house and further down the yard, at the bottom end was another small shed and the toilet. In this shed, Billy and I found a veritable treasure trove. There was a box containing a small tin of gunpowder, and quite a lot of small tins of percussion caps. Great-Grandad had owned a lot of guns and he liked shooting. Great Grandma told us that once when the chimney wanted cleaning, he put a gun up the chimney, pulled the trigger and shifted the soot! The guns had all been done away with after he died but the caps had been saved, and we took these and fired them off by striking them with a hammer. They didn't half make a bang. Also at the bottom of the yard was an old apple tree where Grandma got apples for her pies. It was another adventure to go to Grandma's toilet, which was near the shed at the bottom of the yard. It always smelled of paraffin, as Grandad had an old pit lamp, which he kept there in case of frost. In those days, all the pipe work was made from lead, and whenever there was a severe frost, the water in the pipes froze and caused them to split. One way of stopping this happening was by the use of a paraffin lamp. If the pipes froze up, then water had to be carried from the tap in the house to flush the toilet, which wasn't a good thing to have to do. Grandma cut up pieces of newspaper to use as toilet paper and spiked them onto a piece of bent wire that Granddad had fixed to the toilet wall, so you could have a read as you sat there!
Whilst on the subject of toilets, there's a funny story to tell. It involved Alice Stockley's younger brother, Arthur, and the toilet roll. As in a lot of families at that time, money was tight and things like toilet rolls were for the "better off", however, Arthur's mam, Annie, used to keep a toilet roll at one side for when someone of note called on them. One day, Annie had been told that the Vicar's wife was coming for tea, so, out came the toilet roll and it was esconced in the outside loo. The Vicar's wife duly arrived and was being entertained, when who should come through the door but Arthur with a puzzled expression on his face. "Mam" He said. "Whose come, because there's a toilet roll in the lavatory" Red faces all around!! Explanations had to be offered to the Vicar's wife who no doubt saw the funny side of it all.
Grandad did the repairs to all the houses in the row, and one day, he was doing a bit of mortaring up in our house. I think that it was the fire back that he was repairing. Our Billy was only a little boy of about three at the time, and he wanted to help his Grandad. When Granddad's back was turned, Billy climbed into the barrowful of mortar that was waiting and proceeded to jump up and down in it!! His clogs were sucked from his feet and holding Granddad's trowel in his hand, Billy was saying in his childish voice "Morty chuffel, morty chuffel" (mortar shovel). Grandad was shouting, "Come out, come out" It was pure farce!!
Grandad was a great believer in herbal medicine, and had quite a number of books on the subject. He grew his own "turkey rhubarb" in the pen and he used this as a purge. This was something that everyone did then, have a purge at weekend, either with "Syrup of Figs" or "Andrews Liver Salts" It didn't matter if your bowels were working or not, you got dosed on a Friday, or Saturday night. Another thing that you used to take was "Brimstone and treacle" (Flowers of sulphur mixed with black treacle) how revolting it tasted!! It was supposed to purify your blood! When we were lads, we tried eating some of Granddad's turkey rhubarb, thinking that it was just ordinary rhubarb. We soon threw it down, it tasted foul.
Grandad was a great believer in the herb "tansy" and make what you will of this, but Dad told me that after Grandad was dead and buried, there was tansy growing on his grave!
Continued...