Childhood Memories
Schooldays at Highfield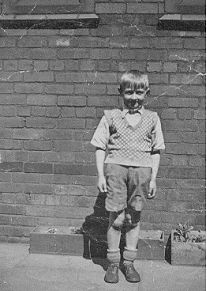 This photo was taken in the girls' playground at Highfield School. Miss Barton took it and told me to show my mother how I pushed my stockings down. I was 7 at the time.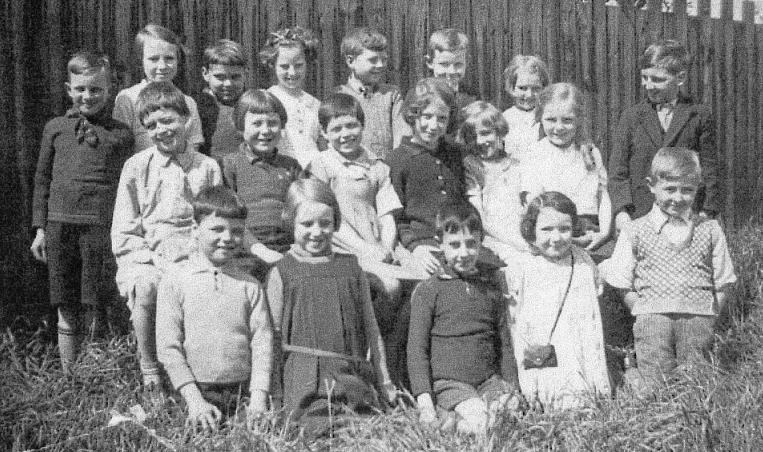 Half of Miss M Barton's class in 1938
Back row, Gerald Marsden, Irene Twigg, Fred Peters, Margaret Johnson, Gordon Ackers, David Talbot, Marion Peel, and Tom Shaw
Middle row, Selina Sudworth, Joan Blackburn, Gwennie Sudworth, Margaret Stanley, Jean Parker, Dorothy Winstanley
Front row, Gordon Wallace, Elsie Roughley, Frank Wotton, Barbara Gee, Fred Foster
We started school in those days at the age of four and this for me was in 1935, when we started in the nursery class under Miss McAvoy. She was a really nice person who wore a flowered smock, and all the children loved her. Every day, when we returned to school after the dinner break, we went to bed. We had little beds, fitted with green pillows and blankets, and we took the pillowcases and blankets home at the end of each term to be washed, carrying the washing in a pillowcase. We all must have looked like little coalmen with our bags over our shoulders!
I recall that on one occasion, a child was off sick and the teacher asked if someone could take their washing for them. I volunteered, and when I got home, Ma wanted to know whose washing it was. When I told her she said "Well, that's it now, you are going to get the measles, because that is what he is off school with" And I did, and so did Billy! Everyone took off their shoes and emptied their pockets before lying down. Miss McAvoy once told Ma that our Billy had the biggest pile on his table when pockets were emptied. He always was an acquisitive child, who liked having a pocketful of junk. He had a broken clothes peg with some string tied around it and when questioned by the teacher, he told her that it was a dagger!
It was a lovely life at the age of four. We had plasticine to play with or "modelling clay" as the teacher liked to call it. It should have been in different colours, but with the passage of time and in numerous hands it had become a uniform shade of brown, as it all got mixed together. At the end of each term we had to take our plasticine boards to the sink and scrub them clean.
There were four classes in the infant school after the nursery, and these were presided over by the Misses Holland, Broomhall. Starkey and Simm, respectively. Miss Holland was the head teacher but she also took a class. On the odd occasion, we went out on trips, there can't have been many as I can only recall a couple. Once, when we were supposed to be going to Southport, the rain poured down and the trip was called off. All the children had sandwiches and I decided to eat some of mine. They had boiled egg on them (you ate a lot of eggs when your Dad kept hens!") I had a bite out of each and got shouted at when I got home for wasting food!
I do recall another trip to Southport, nothing much about what we did, I think that we either went into the Botanic Gardens, or Hesketh Park, I'm not sure which, but we had Marie Southworth's dad with us. He used to hang around the school a lot, I don't know if he fancied any of the teachers or whether he just had no job. He always put me in mind of a bit of a "smoothie" as he wore a suit and a trilby hat and sported a small 'tache.
He took charge of us lads and when we wanted the toilets, he took us behind a low wall and said, "ER -- right boys, Do your job!" We thought it really funny at the time. I don't think that he was used to boys, as Marie was an only child.
We walked to school in those days, even when it was raining, except for the time when my cousin Brian Hill was at school. Brian attended Highfield until they moved to Orrell, which must have been about 1937, and Uncle Joe, who had a Citroen car, which had the gearstick in the dashboard, took us to school in the morning before he went to work at their tyre fitting workshop "Hill and Jayne" in Wigan.
We piled into the back of the car singing "We're off, we're off, we're off in a motor car, twenty Bobbies are after us and they don't know where we are" We thought that it was fantastic!! Aunt Bessie would bring us home at dinnertime and after school, all holding hands, I really hated this! Everyone came home for lunch then, or "dinner" as we called it. The only meals at school were for the kids whose parents were on the "Relief" or DSS, as it is known today. Our families hadn't much money but I think that Ma would have died before claim relief. Those days people had a lot more pride, and wouldn't humble themselves. If you claimed any relief you were subjected to the dreaded "Means Test" to see if you qualified. That in itself was an ordeal which most people wouldn't face.
In the old infant department at Highfield, the classrooms were divided by a system of screens, which could be folded back when the need arose, to make a fair sized room. The only room that was separate was the top classroom of Miss Simm.
Punishment in those days usually consisted of a slap across the head or slapped legs. Miss Holland could hit the hardest! Usually, on the way up the school, pupils would skip one of the classes, I missed the one that Miss Starkey took, but our Billy went into it.
One day, he and Norman Hampson, who had been sent to live with his Auntie Annie Stockley for the duration of the war (he lived in S Wales) were in church on one of the special days. It could have been Ascension Day. Billy always liked his food and he must have felt hungry. Ma used to give us "lunch," usually a piece of cake to eat with our milk at playtime. Billy had this piece of cake in his pocket and as the Vicar (Parker Johnson) was droning on, he must have been thinking of the cake, and getting hungrier by the minute. Finally, he could wait no longer and, opening the wrapper, he began to eat his lunch. Norman, no doubt spurred on by his example, also opened his lunch and did the same.
Old "Eagle-Eyes" Starkey spotted this and pounced on them! She confiscated the cake and never returned it. I don't think that Billy ever forgave her for that!
When Miss Starkey was angry, her neck would start to go red, and gradually it would spread to her face making her look like a turkey cock.
All through the infants we used pencils, as pens and ink were only for the juniors. When we were in Miss Broomhall's class, if your pencil point got broken and you went to have it sharpened, she would rap you over the knuckles with it first, for having broken it. I suppose that this was only fair, as we would sometimes push the pencil point into holes in the desk lid to break it!!
The passage through the infant department hadn't a lot of problems. I know that the teachers were a bit strict, but we caught no harm from it. One of the highlights of the year was the May Queen procession. It used to inject a bit of glamour into our lives, as we had the opportunity to dress up. I had the pleasure of being picked twice to be in the procession. First of all I was a "cushion bearer" when I carried the Queen's crown on a velvet cushion. This wasn't a speaking part, but later on I carried the sceptre, and had to say my lines. "I present you with this sceptre" I was dead nervous! For the first part I wore long satin pants and a satin blouse (boys wore blouses those days!), and white satin slippers When I carried the sceptre I was dressed in a red jacket with white fur trimmings and wore a tricorn hat of the same material, cream shorts and a pair of red satin shoes.
Before the day of the ceremony Ma took me to George Tennant's shop for a haircut, and George always put hair cream on for lads when he had cut their hair. It had a bit of a perfume about it, which I thought was nice. Ma was horrified on the day of the May Queen to see me on the platform, in front of everyone, running my hands through my hair and sniffing at the scent in the hair cream!!
Just a few words now about George and his shop. George was married to Dad's cousin Maud, who was the daughter of Peter Foster, Granddad's brother. They worshipped at the Christadelphian Meeting House just off Enfield Street. Peter had a bald head as did most of the Fosters, as they grew older. I recall the day that Great Grandma was buried, I went up to the churchyard and as the family were gathered round the grave for the committal, Peter had his wig on and although his hair was white, the wig, which must have been bought when he was a lot younger, was iron grey, and I thought that it looked really silly!!
George had his barber's shop at the top end of Enfield St, in the front room of a house there. It's been closed for many years now in fact the houses have been demolished and some sheltered accommodation built in their place. When we went there as boys, we graduated upwards, first of all you stood on the chair, and as you grew a bit, you knelt down on it, then stood behind it and finally were allowed to sit on it. Some times, as you sat in the chair, suitably draped in a print smock, the lady who lived behind the shop would mysteriously appear at the middle door and tell George that a cuppa awaited him. You were left then until his reappearance, to contemplate the hair clippings on the floor and wonder what George did with them after the shop had closed. I sometimes would think, "I wonder who cuts George's hair?"
The seating arrangement consisted of two long benches covered in some sort of black shiny stuff and stuffed with horsehair, which came through and pricked your legs when you were wearing short pants. He had two barber's chairs and when he was busy, especially on a Saturday morning, would alternate between the two, doing a shave and then a haircut. There was a bench where he kept his selection of cutthroat razors, with razor strops hanging from hooks there. George would give the razor a good stropping and then test it on his thumb before starting a shave. He had a couple of washbowls set into the bench but I never saw him use them. The bowls and all the rest of the fittings had on them the legend, "Eclipsol Saloon Sanitation"
Jack Bilsborough would lather up for him on a Saturday. He would switch on the gas geyser, put some hot water in the shaving mug, and, putting shaving soap in powder from a shaker on to the brush would proceed to lather up. When he had got a good lather going, he massaged it into the beard to be shaved. When all was ready, George took over while Jack brushed down the finished haircut customer. It was fascinating watching George as he used the razor. Taking a piece of newspaper, ((it was already cut into small pieces for the job,) he placed this on the man's shoulder and got going, the razor rasping as it cut through the beard. As he progressed he wiped the soap on the paper. He was an artist with the razor, very rarely nicking his customers. When he got to the top lip, he took hold of the nose tip and held it while he shaved under it.
A lot of the older men came in just for a shave on a Saturday, as this then sufficed for the night out to the pub or club. They didn't bother with another until the following week.
On either wall in the shop, were two mirrors facing each other, and when you looked in one you could see your reflection rapidly diminishing into infinity. Boys had no say in the style they wanted, it was straight up the back and sides with the clippers and a straight fringe on the forehead. As George cut the fringe, he would stick the tip of his tongue out, in concentration, telling you to close your eyes whilst he blew the hair off your face after he finished.
Sometimes men asked for a singe, as this was supposed to seal the cut ends and stop them feeling cold. George lit a taper, fanned it across their hair and as the smell of singed hair filled the room, gave their hair a rub down with a piece of newspaper. There was an easy chair by the fire and Tommy Marsh always occupied this. Tommy was as thin as a lat and could twine his legs together. I often thought that if Tommy had got up in a hurry, he would have gone straight on his face!! He always wore a cap; in fact I'd never seen him without it. I never saw him get his hair cut and I think that Tommy only came in for a warm and a chat.
The main topic of conversation was rugby and that was no surprise as Ken Gee and John Barton, Wigan rugby players only lived around the corner from the shop. All the small boys got a couple of blobs of cream from the dispenser on the mantelpiece after they had been "powed" and that's how I came to be smelling at my hair on the stage during the May Queen ceremony.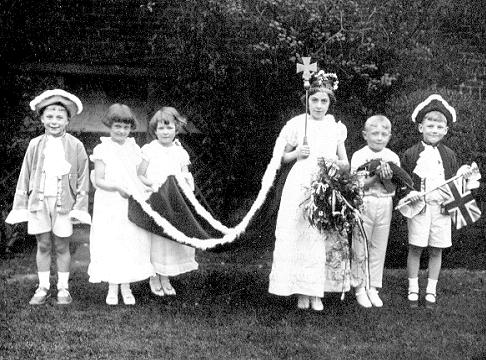 May Queen 1937.
L-R: Tom Hammond, Betty Green, Mavis Bell, Mary Dierden, Fred Foster, George Ashurst.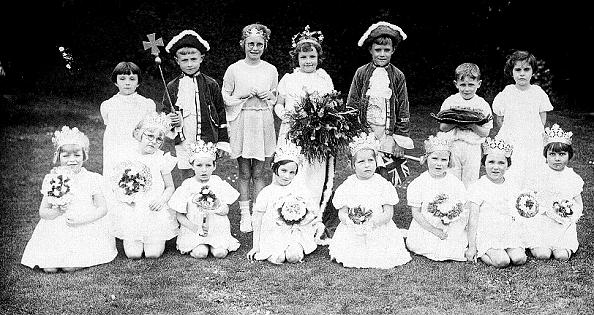 May Queen 1938.
Back row, Edna Twigg, Fred Foster, Marjorie Broxon, Kathleen Winstanley, Stanley Wood, Alan Topping, and Joan Greenwood
Front row, Norma Langton, -----, Phyllis Smith, -----, Mabel Jones, ------, Joyce Green, Gwennie Swift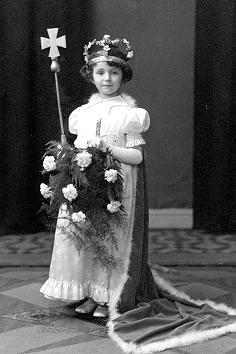 Edna was the last May queen at Highfield. It was in 1939 and when the war started the ceremony was ended, never to be re-instated I donít know what happened to all the regalia.
We used Miss Holland's study to change into our special clothes, and I can still recall the smell of ink and paper in there. Edna was in the May Queen with me when I was carrying the sceptre, and she was an attendant to the Queen, Kathleen Winstanley. I remember when I was the cushion bearer; we had our photos taken for the local paper, and Jack Blackburn, the photographer for the Observer, used a flashgun. It was one of the magnesium flashes and you couldn't see afterwards for a few seconds.
Of the teachers, only Miss McAvoy didn't wear skirt and blouse, as I said earlier, she wore a print smock. Miss Holland was small and dark haired, she was rather good looking as well, but this didn't stop her from delivering stinging slaps to the legs for misdemeanours!
After Miss Holland's class came Miss Broomhall who was a large lady, a good teacher, and not given to fits of anger like some of the others. My recollection of her is in a dark grey skirt, a bit on the long side, a white, high-necked blouse and "sensible" shoes. She wore her grey hair in a bun. At dinnertime she would send one of her pupils down to Arthur Dickinson's shop, which was on the bridge by the station. "Go to Mr. Dickinson and tell him that Miss Broomhall wants an apple for her lunch" The child who was sent down ran as fast as their little legs would allow, and remembering the message all the way, dashed into the shop and blurted it all out. I'll bet that Arthur did some chuckling when he heard them pant out the request.
Arthur wore a long white apron in the shop, and a collar and tie. It was only a small shop, occupying the front room of a dwelling house, but it was stacked to the ceiling with goods for sale. He had an American style soda fountain, used to "gas up" cordials, which he then sold as penny drinks. The amount of room for customers to stand was very small; I reckon that if he had four people in he would have a shopful.
Next door to Arthur was the shop known as "Uncle Billy's", run by Billy Fairhurst and his wife, and sold mainly sweets. What a fabulous selection he had, such as licorice novelties like laces, pipes etc. we always called this Spanish, for some obscure reason that I don't recall. Cherry lips, wine gums, gob stoppers which changed colour as you sucked them, sherbet dabs, or kayli as we called it, thirst quenchers (sherbet in a rice paper capsule that could be bitten through or let melt in your mouth), Pontefract cakes, or Spanish buttons, as they were known, dolly mixtures and jelly babies. Pear drops, the boiled sweet with a tangy flavour, mint imperials, much beloved by maiden aunts, Uncle Joes mintballs, liquorish sticks that looked like dried sticks, which when chewed made your teeth yellow. Aniseed balls, coltsfoot rock, chlorodyne lozenges, flat brown sweets, which bit your tongue. Blackjacks, the small black sweet, wrapped in paper and tasting of licorice. Love hearts, Parma violets, with a scented taste. Imps, those tiny black chews in a tin, chocolate chewy nuts, and halfpenny and penny bars of Cadbury's chocolate. He also had some red wax lips that were popular with the girls, as these could be placed over the mouth and held in place with the teeth. This way you could pretend to have film star lips!! It was the favourite shop amongst the children of Highfield school for here were also sold, lucky bags, These were bags that could be selected from a box for the princely sum of 1d (0.25p). They contained all sorts of treasure. Usually there was a toy of some kind, a sherbet dab or sucker, and some sweets. We kids thought that these were fantastic! Sometimes the toy would be a wire puzzle or some Japanese flowers, which opened miraculously when placed in water.
They also might have transfers as well which could be put on your arm. The drill was to lick your arm first to make sure that the transfer would stick, then put it on and keep wetting it with spit until the picture had transferred. Very rarely did a whole picture transfer, whether it was due to youthful impatience, or the quality of the merchandise, I'll never know.
His sisters, one of whom was very deaf, helped Billy in the shop. Billy himself was a little man habitually clad in a brown overall coat and he had a face the colour of port wine. How it got to that colour I don't know, unless it was from imbibing at the neighboring watering hole, the Railway Hotel. Anyway, he was one of the nicest men that you could have met and was an uncle to many generations of Highfield children.
The other shops in the row included a chippie, paper shop run by Gaskell's, a grocers, and an off license run by the Kitts family. Tommy Kitts was a drummer in a local dance quartet known as "The Lyrics" and they played at the Parish dances.
On our way home from school, we went down all the backs that we could find, as it was a lot more interesting than on the road. The row of houses facing the railway station was fascinating. They had cellars that opened out into the back yard, and we could see the entrance as we looked over the gates. Very mysterious to small boys! One of these houses had skulls in the yard. We didn't realize it at the time but they were only sheep skulls, and the owner of the house had boiled them up to feed his dog on them. Yes, it was a very exciting time indeed!
When it rained, we came down the road, sailing matchsticks down the gutters and getting soaked in the process. It was the fashion to wear our gabardine macs just round our shoulders and fastened at the neck like a cape, because Flash Gordon wore a cape on his various adventures to distant planets and we followed Flash every Saturday at the Carlton.
I gradually made my way up through the infants department, and the only things that I remember from Miss Simms class are bad ones, such as the time that I was writing a "p" and put the loop on the wrong end and made it a "q" instead. I tried to correct it and finished up with what looked like an egg on a stick! When she saw it I got a cuff across the head for it. Another time, Miss Simm was off for some reason or other, and her brother Tom took the class. Graham Taberner had committed some demeanour and Tom Simm came to him and told him to remove his glasses. When Graham had done so, Tom gave him such a whack right across his face. I felt so sorry for Graham!
Finally the day came to change to Junior School. I was put into Miss M. Barton's class; she was Dad's cousin and came from Up Holland. She was a good teacher but when she got mad, her face and neck would go red just like a turkey cock! The first class, the one that I skipped was taken by a Miss Gulley, and was separated from the hall by a removable screen that was pushed back when there was a dance held. We had two playgrounds in the junior school, one for boys and one for girls. In the boys playground the play area was covered in ashes and when you fell, during playtime, you didn't half make a mess of your knees. We played marbles or "murps" in here and usually finished up with very grubby hands. Whilst in Miss Barton's class, we were all running wild one day when she was out, and suddenly she was there in the doorway. Everyone went quiet. "Right" she said "I'll cane the lot of you" We all lined up for one across the hand, but when she got to Dorothy Hughes, who was "posh" and lived in Winstanley, the cane came down like the proverbial feather!! There was a "boo" from all the class and Miss Barton's face went crimson. I think that she realized her mistake.
We were used to the cane and usually it didn't bother us when we got it, but there was just one occasion when I was on the receiving end, and I cried. It has always stuck in my mind. By the gate, was parked the special bus that took children to Worsley Mesnes and Goose Green, and apparently some children had been annoying the conductor by jumping on and off the step. One boy told Miss Barton that I was one of them, and as a consequence I was hauled out in front off the class and caned for it. The reason that I cried was that she had believed the boy and not me. I was completely innocent of the charge, and as a small boy had been brought up never to tell lies, thus, when I wasn't believed it really hurt me more than the cane ever could do.
There was another couple of incidents worth relating, one concerned a little lad by the name of John Jolley. John was habitually late; I suppose that his parents wouldn't get up in the morning. Anyway, this day, Miss Johnson, the Headmistress told John that if he was late the following day, she would make an example and cane him in front of the whole assembly.
The next day arrived, but John didn't! He came in as usual after assembly. "Right" said Miss Johnson, "Stand there, John Jolley, while I get the cane" She went to the cupboard where it was kept, and as she returned, John made a swift exit to take refuge behind the piano, which was at an angle to the wall. Miss Johnson, her face red, went after him. John, shod with clogs, lashed out every time she got near him. All the children were tittering, and Miss Johnson was getting madder by the minute, she tried to hook him out with the other end of the cane, but she couldn't. Finally she managed to grab him, and didn't she lay on, holding his wrist while she caned his hand. I felt sorry for the little beggar!!
Another time, as Miss Johnson was standing in front of the assembly she was just saying something when her top set of teeth dropped. Her face was scarlet and all the kids were choking behind their hands. She tried again and the same thing happened. I don't know how the other teachers kept their faces straight!! We children were helpless laughing.
We didn't have a lot in terms of worldly goods, but our parents kept us clean and decently dressed, albeit in "hand-me-downs" at times, but we had in our class, a small boy by the name of Jimmy Dunne, who lived over on the Council estate at Worsley Hall. Jimmy was the dirtiest boy I have ever seen. It wasn't his fault, but Jimmy's dirt was at least a week old. His clothes were the same, filthy. One day, Miss Barton told him that if he came to school dirty the following day, she would wash him in front of the class. Of course it was a foregone conclusion.
Jimmy turned up the next day as dirty as ever. She stripped him down to his dirty little vest, and with tears running down his face, she stood him in a bowl of warm water and, using a nailbrush, she scrubbed the ingrown dirt from his little body. I don't know why she bothered because the next day he was just as dirty!
Jimmy had an older brother, Alec, who was in the Senior Boys School, and he was just as scruffy. One day, as he was going home along Little Billinge Road, Auntie Gertie took pity on him and gave him some of my cousin Franklyn's clothes. Later on, she saw him in them and they looked like rags!
During the school year, we always got a visit from the "nit nurse" I can see her now in her brown uniform, wearing a brown felt hat, examining the children's heads. We all went in to see her in turn to have our heads looked at. I fell victim to the dreaded nits a couple of times, but Ma would get the "small tooth comb" out and go through Billy's heads and mine. As she found the little white nit eggs, she cracked them with her fingernail. There were two girls in our class who were infested with lice, so they had to go to the clinic in Billinge Road where they had all their hair cut off. When they returned to school, they were wearing headscarves, but Miss Barton made them take them off. I thought that this was really cruel, as it wasn't the girls fault that they were infested. They both burst into tears.
We played all the usual sorts of games that children play, "skilly," leapfrog, call-a-ball, hide and seek, all across. This one (all across), was played with one in the middle to start with, and he would call for someone to try to cross to the other side, as he did so the one in the middle would try to stop him. If he succeeded, the one who was stopped had to stay in the middle with him, if he failed to stop him, then it was "all across" and everyone ran. The object was to get more and more in the middle to try and stop as many as possible, and Jack Bilsborough was always the last to be stopped, as he would come across with his arm swinging, and woe betide anyone who got in the way! The only way to stop Jack was with sheer weight of numbers!
We also played one called "trust pennyweight" which involved one boy stood by the wall, and another bent forward with his head by the other boy's stomach. All the other boys then had to run and jump in turn onto the bent back of the second boy. As each one did this, he took his place behind the second boy and gradually a line was formed, so that the last few had to try and get as far as possible over the bent backs of their playmates. The teachers would come out and try to stop this game as they were worried that we might hurt ourselves. Skilly was a game where there was a base, usually a jacket, and the one who was "it", had to go and look for the rest who had gone off to hide. When he or she found someone, they shouted "Skilly Levi, one two three" and then there was a race to the base. The one who got there last was then "it". Throw out can, or Call-a-ball were pretty similar. A tin can or a call was thrown over the shoulder of the one that was "it" towards the line up of the other children, shouting one of their names. Everyone scattered except the one that was called, and they had to pick up the ball or can and try to find someone. A race again to the base and whoever got there last was "it".
When it was icy, we got a slide formed by rubbing our clogs in the ice until we had a long run. It was great fun while it lasted, then Mr. Stretton, the caretaker would be sent out by Miss Johnson to put hot ashes on it. It was great when there had been a dance on over the weekend, because the school hall was used for dancing and the floor had a liberal dose of French chalk. A lot of us wore clogs and we skated about in the hall until a stop was put to it by one of the teachers.
In Miss Barton's class was a girl who wouldn't sit still. Every time Miss Barton asked the class a question, her hand would shoot up and she would bounce up out of her seat. Finally the teacher had had enough, she got a skipping rope and tied her legs to the desk. That stopped her!!
We had country dancing once a week and usually my partner was Dorothy Winstanley who came from Tanpit Cottages. Dorothy had long blonde hair, which she wore in ringlets. She was quite pretty and a good dancer. We thought that Tanpits was really out in the country, and Dorothy's mother always dressed country style with lisle stockings and sensible shoes. Her dad, Howard was a lecturer at the Technical College.
We had another boy who started to have a sort of blackout, but he remained standing. He could be reading aloud, and would just stand there, vacant, and when he came out of it, begin again where he had left off.
When I was in Miss Barton's class, I entered a handwriting competition and was awarded a prize, which I still have to this day. It was the book, Robinson Crusoe and when the day came for me to receive it, Miss Barton said she didn't know whether to give it to me or not as my writing had deteriorated so much!!
About this time, Mrs Savage, came to Highfield to teach. Her husband had been in the Foreign Office, and had held a post in China, but because of the war, they had come back to England. Mrs Savage took a remedial class; I think they were called 3B or something like that. She also took us for art, and once brought some crab apples from her garden near Southport for us to use as still life. She let us take them home afterwards, but when we tried eating them, they were really sour!
Before Mrs Savage's debut, when the whistle blew for the end of playtime, all the boys made a dash for the toilets, which were over by the wall next to Dr Readman's house. This then gained an extra couple of minutes freedom, because the teacher never came in after you. This was to change, however when Mrs Savage took her first playground duty, because after she had blown the whistle, she made a beeline for the toilets where so many boys had taken refuge. This resulted in quite a few minor accidents and wet legs!! They never tried it again.
When I moved up into the next class, Miss Howgate, who was a very pleasant teacher and a good artist, took us. Jack Sandham, a teacher in the Senior Boys, was courting her at the time. There was a communicating door in her classroom that connected the two schools, as it led into Room 8 in the Senior Boys. One day, when I had gone back to school early, she was sat on Jack's knee in the classroom, I didn't know where to look! Later on, she married Jack and finished teaching, and her replacement was Miss Causey, who later became Mrs Simm. She was alright, but she was mad keen on singing, and soon had us all singing "The Eriskay love lilt" I can still remember the words, "Vair me o ro van o, vair me o ro van ee" but at that time, I thought them a load of rubbish, as we sang them in Gaelic.
Top Miss Barton or "Nangy Nellie" as she was known, was the teacher in the top class. She lived in Billinge and used to walk to school every day, rain, hail or snow. She was very mannish in appearance, and wore her hair cut short in a bob. When the weather was bad, she wore brown lace-up high boots, well polished.
She was a very good teacher, but would stand no nonsense, I can't remember a single child who passed through her hands who couldn't read or write. They may not have all been brilliant scholars but they had the rudiments of an education. We read around the class, so no one was left out, and if a child found it difficult, she helped them. I spent two years in her class, as I had "skipped" a class on my way up, so I had two lots of classmates. Miss Barton had a cupboard full of books, and you could choose one at any time to take and read at home.
We didn't have sports like children have today, and our games were played on the dirt of the playground. We had PE where we did bending and stretching exercises, arm flinging, touching toes. It was known as drill, and sometimes we used wooden hoops, beanbags, skipping ropes and footballs. The teacher devised some team games for us and these were always played on the girls' playground. There was an interesting relic here, a vertical piece of stone, set in the floor, which was put there originally for the pupils to sharpen their slate pencils on. We used it to bat the chalk dusters on, when we were sent by the teacher to do so.
Every morning, during the winter months, each classroom had a fire lit in the grate. There was a central heating system of cast iron pipes, including a big bank of them in the hall, but the fires were lit as a back up. The teachers stood with their backs to the fire most mornings, they weren't daft!! Sometimes they would put the milk bottles near the fire to take the chill off them. These were something too. The third of a pint of school milk that every child had each day. The bottles had a cardboard top to them and in the centre was a perforated disk to push out. What a laugh this was!! It would never push out clean and resulted in more spilt milk than enough. We were given straws to drink it through, and as these were natural wheat straws, sometimes they split and wouldn't draw the milk up. Milk monitors in each class were appointed to carry the crates to the classrooms.
While I was in the top class, one of my jobs was ink monitor. This involved taking all the inkwells from the desks, washing them out in the sink, and removing all the old blotting paper that had been pushed into them. I then placed them in a rack that was made for the purpose and refilled them. Putting some blue powder in a watering can, filling it with cold water, and stirring it made ink. This I put into a small can with a side-pouring spout and topped up the inkwells. It was necessary to make sure that sufficient powder went; otherwise the ink was rather pale. We wrote with stick pens, which had nibs that sometimes got cross-legged and wouldn't write properly. This was due at times from the practice of using them for spears to throw at the desk lid!!
Continued...