Childhood Memories
Mitchell St. Chapel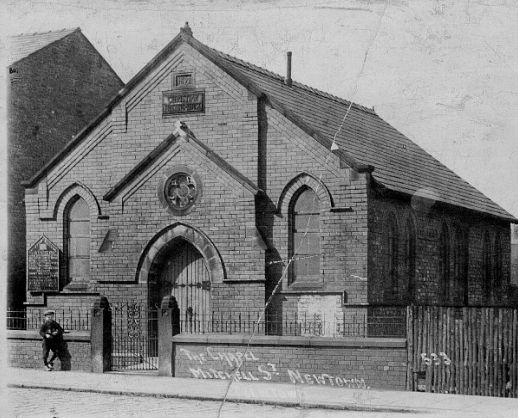 I must include some details about the Chapel in Mitchell St. because for a large part of my life I was associated with it, and all the people who belonged there. First of all, a brief history of how it came into being. During the 19th century there as a big upsurge in Nonconformism, or in other words, break away from the Established Church. The founder of Coop and Co., the clothing factory in Dorning St. Timothy Coop, who baptised his converts in the River Douglas, had built the chapel in Rodney St. in 1858. He was a follower of Alexander Campbell, who had brought this "New Style Religion" from America. The main principles of which were adult baptism and a strict adherence to Gospel teachings. As the movement spread, more chapels were built in the surrounding districts of the town, some of which were located in the following places. Albert St Newtown 1878, Beech Hall Beech Hill 1885, Argyll St. Hindley 1874, Millers Lane Platt Bridge 1882, Heather Brae Newton-Le-Willows 1894, Jackson's Square Scholes 1882.
The chapel in Mitchell St. came into being in 1892, and was built by Robert White, who was an under manager at Park Lane Pits. There were all kinds of schisms and factions arising in the movement and Bob White were heading one of these breakaways. At the time, he had working for him, John Johnson, John Bradshaw (granddad) and John Foster (granddad). These men, along with others, followed Bob from Albert St. chapel and started a new one in Mitchell St.
As there were a lot of big families those days, there was soon a congregation in the new Meeting House, as it was known. There were six children in the Foster Household, Fred, Billy, Jack, Lucy, Bessie, and Gertie. Five Bradshaws, Lizzie, John, Annie, Joe, Billy. Seven Johnsons, Joe, Peter, Harry, Stanley, Jack, Lily, Jennie seven Simms, Tom, Arthur, Jack, Laura, Evelyn, Katy and Janey. Billy Hilton, who was grandfather to Lily Wharton, the florist was another. I recall that Billy was a little fat chap with his index finger missing, and he always wore a gold watch chain and guard across his ample girth. Ted and Harry Fishwick and families.
My parents told me that in their younger days, Mitchell St. had its own choir, presided over by Jack Simm. He was Tom's brother, and Tom had married Lily Johnson, one of old John's daughters.
My earliest recollections of Mitchell St. were through the Sunday school. The babies' class met in the vestry, and was taken at one time by Joe Jayne, who had married Uncle Joe Hill's sister Edith. Joe's other sister Hannah was also a Sunday school teacher. She never married. I can recall one day that Joe Jayne was making a point about something that had come up in the lesson paper, I think that it was something to do with a lighthouse, and to make his point he took the bulb from the socket, and used it like a bell on the iron fireplace, making it ring on the metal. I don't know if it did the bulb any good!!
Joe Jayne's brother Roy and his wife, Doris were members until the Jehovah's Witnesses poached Doris and Roy and family followed her. Apparently the Witnesses had told her that her child who died in infancy would get another chance if she signed up with them. Both Doris and Roy became leading lights at Kingdom Hall.
As we graduated up the Sunday school, we went into the main building. Here the forms which were the standard seating in the chapels those days (you didn't have pews) were rearranged to form classes. When the chapel was used for a social, the forms were stacked up around the sides to give an open area in the centre.
There were three classes, and then the top class for grown-ups. Laura Simm, Evelyn Simm, and Joe Bradshaw took the children, and Joe Johnson had the grown-ups in a discussion group. We used to have as lesson papers, a pamphlet that was put out by the Bookroom in Leicester, and this had a Bible story with questions to answer and a picture to colour. Every month a children's magazine, The Sunbeam was published, and we looked forward to reading it.
There was also a church magazine published called The Christian Advocate in which articles and letters were published concerning the Churches of Christ.
My cousin, Brian Hill used to come down from Orrell where he lived, to go to Mitchell St. and after school, we would go to Grandma Fosters for a cup of coffee. Once, when we were in the top class, having a discussion about something, Brian was questioning Tom Murphy, who was taking the class. Tom had married Janey Simm, and was a convert from Catholicism. I forget the line of argument now but Tom got really het up and finally put Brian down by saying "Do as your parents taught you and don't question it." which was really no answer to a well read and educated teenager. Brian didn't come much after that.
Brian also played the organ, and after Sunday school when we were left to lock up, he would play all sorts of stuff on the old harmonium, such as pop music. He could really knock some stuff out of it, as he was quite an accomplished organist. I recall Brian once writing in a hymn book in Latin, some stuff about "don't write your name in this book" Addressed to his cousin Bernice Jayne, who had appended her name to the said book. He was quite a clever lad and went on to make his mark in life as Chief executive to Lancashire CC.
Just after the war, Uncle Billy managed to get home from India for Grandma Bradshaw's funeral. She died from cancer in her breast and it was really a messy death, with the open wound caused by the radium bombardment needing dressing daily. The cancer progressed into the bone and her arm broke. Ma was going down to Victoria St. daily to attend to it as none of the rest of the family would go near. During Uncle Billy's extended leave, he came to Mitchell St. once to address the top class. A lot of people had romantic ideas about the Christian missionaries in India and they were rather put out when he told them that a lot of Indians were Christians when it suited them and there were handouts. After all, he had seen India through more secular eyes.
Worship at Sunday morning services in the Churches of Christ followed the Anglican Communion service as near as possible. As I recall it was on these lines:
Opening Hymn
Opening Prayer (by the Presiding Brother)
Hymn
Readings from Old and New Testaments by two of the Brethren
Reading from one of the Gospels by the Presiding Brother
Prayers of the Church by two or more Brethren
Hymn to open the Feast (communion)
Presiding Brother's remarks
A prayer of thanks for the Bread by a Brother
Presiding Brother breaks the Bread and the two servers
Distribute it.
A prayer of thanks for the Wine by a Brother
The Presiding Brother pours it and hands it to the servers.
Hymn to close the Feast
Offertory, after which the servers retire to the congregation
Notices
Visiting Preacher is announced and gives the sermon
Closing Hymn and Blessing by the Presiding Brother.
In the Churches of Christ, the Brethren taking an active part ran the service. When a hymn was announced, the opportunity was offered for a Brother to stand and read one out. The relevant phrase used was "If a brother has a hymn, we will gladly sing it with him." The same system was used when the readings were announced. An opportunity was given for a Brother to come forward and read the passage of Scripture. Sometimes in this instance, the Presiding Brother would say, "Perhaps Brother --------, would take the opportunity to read it to us".
This sometimes led to unseemly laughter from the younger members of the congregation, because, as old John Johnson was too tight to go and have his glasses changed, he would be reading out a hymn by means of a big magnifying glass, and usually made mistakes!! I can see him now, His favourite hymn was No 17, "Lord of all being throned afar", and He would read the first verse and usually cock it up somewhere.
This practice of having a brother give out a hymn of his choice meant that it wasn't practical to have a musical accompaniment, and the organ stayed silent on a Sunday morning. A "Cantor", usually Uncle Joe Bradshaw, started the hymn tune and the congregation would follow him. When the "Old Paths" movement came into being, involving the secession of the chapels of Albert St. Hindley Argyll St. and Jackson's Square, these congregations ceased to use the organ in any way, as "It wasn't scriptural". I recall attending a wedding at Jackson's Square where the bride came in to a hymn sung without organ and left with her bridegroom the same way.seemed really weird!! It This "Where the Bible speaks, we speak, where the Bible is silent we are silent" could be taken to ridiculous lengths. There was a letter in the Advocate once suggesting that Communion should only be taken at 3.00pm as "this was the time that Jesus that gave the Last Supper to His disciples.
When the "Prayers of the Church" were called for, I dreaded it when either Billy Bennett, who was married to Joe Johnson's sister Jenny, or Uncle Jim, would stand up to say them. Praying in the Church of Christ was always done extempore and it could take quite a while. Billy had been injured during his working life when he lost an eye. He was a fishmonger by trade and was opening a box one day when the nail flew up and damaged his left eye. Whether or not this had had an effect on him I don't know, but he would meander along with his prayer, frequently pausing to collect his thoughts and sometimes repeating himself. He could be on his feet for well over five minutes for one prayer. If Uncle Jim followed on, the Prayers of the Church could take up to fifteen minutes, by which time, boredom had set in and any reverence for the occasion had long gone.
There was another family that attended chapel by the name of White. They came from Earlestown, and only came when Mr. White was preaching, usually travelling by bicycle They had been good friends of Granddad Foster for years, and when he went to Earlestown chapel in Heather Brae to preach, he would stay at Whites for dinner and tea, making a day of it, as public transport didn't allow him time to come home.
On occasion, all the Foster family would accompany Granddad on his preaching trip, and Dad used to tell us of the eccentricities of the Whites. They had a son, Arthur, who was a bit younger than Dad and his brothers. Arthur had been given a book for a Sunday School prize, and Dad and his brothers took great delight in asking Arthur what he had got. The title of the book was "Dolly Days" which wasn't really suitable for a boy. When the Foster lads heard Arthur's reply, they all fell about laughing! Arthur went on to be a manager for one of the tin mines in St. Austell. Another peculiarity about the Whites was that they were vegetarians, and when Dad and the rest had been there for Sunday lunch, they were starving, having been fed on stuff like "nut cutlets".
Old Mr. White was quite deaf in his later years, and not realizing that he could be heard, would break wind quite loudly during the service, causing quite a few embarrassed faces and titters from the younger element in the congregation!
When Mr. White, in his younger days, came to preach at Mitchell St. both he and his wife would ride their bikes there on a Sunday morning and eat lunch in the vestry, staying there until the night service. I do believe that during his working life Vulcan Engineering in Earlestown employed him, where the main line locos were made. His other passion, as well as preaching was the making and sailing of model yachts. Edna and I had been on a trip to New Brighton one day and saw Mr. White coming off the ferry with one of his boats in a specially designed hold all. I don't think that romance played a big part in the lives of Mr. and Mrs White, I remember seeing a book that Mr. White had given to his wife when they were courting, and the inscription was as follows: - To Miss Ada Grimley From J.A. White. Very formal you will agree!!
My Dad told me of one man who went to the chapel by the name of Jimmy Hope. Jimmy was a peddler by profession, selling smallware such as buttons, cottons, and various other knick-knacks from a suitcase, door to door. He lived in a caravan near Gathurst somewhere, and one night, going home, he fell into the canal and drowned. On hearing of his demise, my only thought was "What had happened to his suitcase?" Anyway, this same chap, when a hymn was called for, would be on his feet before anyone else could get up. Other men had tried to beat him to it, but no one managed it!
Those days, the chapels were male orientated, and women played no part in the services. Everyone was called "Brother" or "Sister" but the women were there to make sandwiches and tea, and to clean the building and teach in Sunday School. The ladies would be there when it was a tea party, wearing aprons and still in their hats, brewing the tea in the big teapots with hot water drawn from the gas boiler in the boiler house. The Robin Hood boiler that was used to heat the pipes for the central heating was in a corner below floor and when there was a social or tea party, a flap was lowered over the pit to make a table for making the sandwiches.
Just a few words on the Robin Hood boiler. When I was a teenager, I was allocated the job of fire making every Saturday night, to prepare the chapel for Sunday worship. This involved taking out the ashes, and making the fire. Those days, when we had the shop, there were tomatoes coming in from the Canaries, and these were packed in wooden boxes lined with wood straw. This was excellent for a base to the fire, which burned coke. The only problem was that when the boiler was cold, the smoke backed up until the chimney had been warmed through. You lit the wood straw and having put a couple of scuttlesful of coke on, would retire to the vestry with eyes streaming, until the smoke had cleared!
The coke for the fire was kept in an old shed at the back of the chapel, and this had a leaky roof. Consequently when the weather was wet, so was the coke, and this didn't improve the ignition. Uncle Joe Bradshaw came up with a good idea, which was to put up a couple of coalbunkers by the wall of the boiler house. Two holes cut into the base of the wall would then allow the coke to drop into the well by the boiler, saving a lot of time and effort. He put this to the "Oversight" as the Elders of the chapel were known, but old John Johnson put the dampers on it. "Tha'll poo aw t'feawndations in if tha does that" He said. So, until old John had passed on, the job wasn't done and coke was carried for many more years. Finally Joe got his way and it was proved to be a success. The system was then used until the boiler was converted to gas.
In the boiler house was a long chest which was used to keep stuff like cricket bats and tennis rackets, which came out when there was a field day during the summer months. It also held the gory looking anatomical charts that were used for the "Band of Hope" meetings that had been held years ago. When we were making the fire on a Saturday, we, that is our Billy and myself, would be rooting about in this load of junk, to see what we could find. I remember there being an old "wind up" gramophone, which was used at one time to provide music for a "Women's League of Health and Beauty" class, run by Nellie Dean.
On the subject of Old John Johnson, He was a real despot and ran Mitchell St. chapel as if he owned it. Uncle Joe was always treated as if he was a little boy, and any suggestion that he came up with was thrown out. I remember on one occasion, when uncle Joe had been in an argument with old John, John, as a parting shot said to him, "Thi! tha thinks us thar't Prophet Priest and King!!" Uncle Joe was a fine preacher and was never boring. He had taken elocution lessons in his youth and could really put it across. We once had a bit of a Youth Club going to encourage the local children to attend chapel. We wanted a billiard table, and had been promised one from somewhere, but Old John said that it would encourage lads to frequent the local Billiard Hall and start to gamble!! Years previously, before I was born, my Dad told me that the chapel had been short of money for some project, and had asked Old John who owned property all over Goose Green, and wasn't short of a bob or two, for a loan. He lent it alright but charged them interest!!
Another personality at Mitchell St. was Bert Lowe. Bert, together with his brother Fred, were painters and decorators, running their own business. Bert had started to attend Mitchell St. after attending meetings held in a building in Wallgate known as Victoria Hall. Fred however stayed with the Anglican Church, attending Wigan Parish church. There is a scroll there that was painted by Fred, commemorating the dead of the World Wars. Bert drove a green Alvis car, and always wore a black jacket and striped trousers. He really looked the part of a successful businessman. In later life however, he developed cancer of the mouth and when offered the cup in communion would just hold it up to his mouth and wouldn't drink. Bert and Fred would come to do the painting for Grandma when the row of houses needed another coat. First of all came the apprentice and the handcart. This would be laden with a large box containing brushes, paint cans, turps, varnish, and on the cart was also the extension ladders and steps. They left the cart in our backyard and we were forever being told to leave it alone, because small boys are very inquisitive. It took them two days getting ready, mixing paint etc, and the result was always the same, either green or brown!!
Sometimes we had visiting preachers who would come to Mitchell St. from other churches in the district such as Albert St. etc. One such preacher was Edward Price, who was uncle to Elsie Lowe and Bessie Foster, as he had married their mother's sister. Ted was a real "Fire and Brimstone" preacher and as he wound himself up, he would raise his voice to a crescendo and then give the reading desk, which was placed on the table, such an almighty bang with his fist, that anyone who was dozing off would get a rude awakening!! After this, Ted would look around with a glimmer of a smile on his face, as though to say, "That made 'em jump!!"
Bessie's dad, Ted Fishwick had a stroke, which left him unable to walk, and he was brought to chapel in a wheel chair on a Sunday morning. I always enjoyed pushing him back home again after the service.
In the Johnson family, Joe and Peter were the leading lights as it were, with Stanley being the weakling, who never had a job as such, but looked after a large garden behind the house in Warrington Rd, near the Ben Jonson pub.
Although Stanley had been cosseted all his life as a weakling, he outlived the rest of the Johnson clan, dying at the age of 84.
Joe was into local politics in a big way, and had been elected councillor for Goose Green. He worked as undermanager at Landgate Colliery until retirement, and it was here during the late 1940s that he was involved in a rather nasty accident. A water pump blew up in his face severely damaging it. Joe was quite good looking until then, but the accident broke his nose and face and really messed him up. Jinny, his wife was a socialite and when he was made Mayor, she really shone as Mayoress. They had one daughter, Margaret, who was the apple of Joe's eye. She was about a year older than me and as a teenager I carried a torch for her for a while, thinking that she was fantastic and so sophisticated. When she was around 19, she got herself pregnant by a man from Liverpool called George Hoare. Today, of course, this would have been a mere nothing, but in those days it nearly destroyed Joe. When he got up to speak during a sermon, he had a job to control his emotions and his voice would be breaking. As it turned out, George and Margaret had a successful married life, raising two boys. I think that Joe felt that he had been let down in some way. It was ironic, I suppose, because just a short while before this happened, Ma had asked Joe to have a word with me about girls and the chance of ruining ones life!!
Joe's brother Peter was a different person altogether. He was a real "sobersides". I remember him preaching one Sunday morning about "A royal priesthood, and a peculiar people" And making out that this was how the congregation should be. He left Mitchell St. later on and tried Albert St. then he went to the Unitarians and also the Free Methodists in Winstanley. He never seemed able to settle anywhere. During his working life he was a manager for the DSS in Pemberton. Even when he died, they didn't have a place of worship to take him to, and he was dispatched at the Crematorium chapel.
Membership at Mitchell St. was achieved by the rite of Full Immersion. This involved lifting a big flap on the platform to reveal the Baptistry, which was a large tank, about 6ft square and around 5ft deep. On the morning of the baptisms the gas boiler was filled and lit, and the water put in the tank along with some cold water from a tap installed under the platform. About 3ft of water was needed, and when the time came for the ceremony, the candidates, dressed in white robes (over a swimming costume) descended into the tank down a small set of steps. The one officiating at the baptism was dressed in a special suit made for the occasion. This was a bib and brace affair made from rubberized fabric and having a pair of wellingtons welded to them, a bit like fishermen's waders. A black rubberized coat completed the ensemble.
The candidate was asked if he or she accepted Jesus as their Personal Saviour and wished to be baptized, and having given an affirmative, was lowered backwards into the water, to the words, ------- I baptize thee in the name of the Father, the Son and the Holy Spirit. As the candidate arose from the water, the congregation sang "O Happy Day, when Jesus washed my sins away." After the ceremony when the candidates had dried off and rejoined the congregation, one of the elders gave a little speech and offered them the "Right Hand of Fellowship" before the breaking of bread, when they would take Communion for the first time. During my time at Mitchell St. there weren't many baptisms, but I recall one or two. Bill Barclay was one, and I think that his was only to please his wife Lily. Margaret Johnson was another. I also was immersed, and so were Mavis Bradshaw and Janet Lowe. I recall Annie McNamara and Audrey Ashton being immersed, but they didn't last out. I know that when we were immersed, we were given a Bible from Sunday School, and when the Macs were moving out from next door to us, Annie's Bible was thrown out with the rubbish.
I recall quite well the Field day outings. At one time, before the war, we used to go to a place at Gathurst, but my recollections of this are decidedly hazy. All that I can remember is one incident when Eric Fishwick, who was Bessie Foster's cousin, slipped on a cowpat and messed up a pair of grey flannels whilst playing cricket there!! Most of my memories of field days were of the farm in Orrell where Jack Johnson's wife Winnie's family were farmers. It was known as Gantley House farm and was up a road near the hospital. Uncle Joe would load all the gear such as crockery and trestle tables, cricket bats and wickets, on to his coal wagon and as the rest of us made our way by bus, he would arrive at the farm with all the stuff. Sometimes we would have a tub of ice cream as well. Dad and the other male members of the congregation would be chatting to the farmer and looking at the animals, while the women were getting the teas ready. The children would go and look at the pigs in the sty and try to stroke the horses in the field or stable. There was racing and a knock about with the cricket bats, and it never seemed to rain!! I suppose that today this type of adventure would seem boring to a lot of people, but those days we thought that it was fantastic.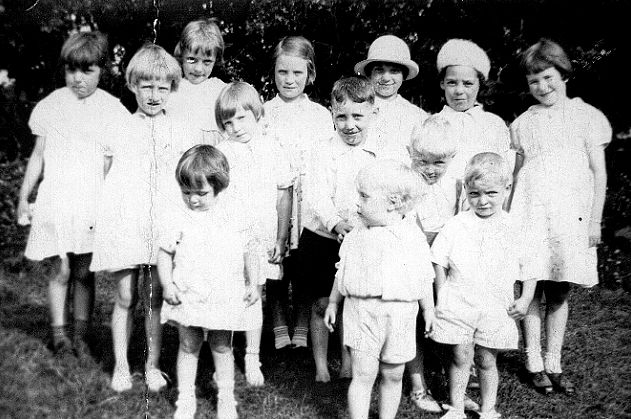 Children at the Field Day c1935
Front Row Edna Twigg, Ian Bradshaw, Charlie Winstanley.
2nd row, Nellie Winstanley, Irene Twigg, Tom Richardson, Fred Foster
3rd row, unknown, unknown, Peggy Richardson, Hadrian Jayne, Bernice Jayne, unknown.
Childhood Fears and Nightmares
I recall that when I was about nine years old, I was shown a dead person for the first time and it happened like this. There was an old man that lived in Tunstall Lane by the name of Mr. Crank, he was a customer of Dad's and came down every week to buy eggs. In fact, it was his stick that I had used to "beat the sheep" with when I wrecked Ma's prized possession, the suite. Anyway, he had been ill and had subsequently passed on, so Ma said to me, "Take these flowers up to Cranks." I knew where he lived, so off I set.
When I got to the house in Tunstall Lane, the first row on the left, his daughter opened the door and said "Come in" I went in gingerly, knowing that he was dead, and there under the window in the front room was the coffin. Mr. Crank's daughter said to me "Do you want to have a look at him?" I just nodded, I couldn't speak! She pulled back the veil and I looked into the coffin. I can still see his face after nearly sixty years. I must have gone white about the gills, because later on in conversation with Ma, his daughter said that she had realized her mistake in letting me look at her father's body.
I walked home in a dream, and when I got in the house, Ma said to me "Now, what's up with you, you're very quiet" I said "I've seen Mr. Crank in his coffin and now I'm scared that he'll come after me!!" Of course, Ma said "Don't be so daft, how can he hurt you, he's dead" But that made no difference to a very highly imaginative small boy. For a long time after that I was afraid to be left on my own, as I imagined this dead body gliding along in the air, eyes closed, coming after me. I would watch the curtain that covered the middle door to the front room and imagine that he was behind it, waiting for me!
Another occasion was on the death of Jessie Scald well. Jessie was only 21 years of age when she died, from pneumonia. The Scaldwell family lived next door to Granddad and Grandma Bradshaw, old Ned, his wife, and Jessie. Harold had married and moved out some years previously. Anyway, Jessie had died and was laid out in the house next door to Grandma's. Grandma was going in to have a look at the girl's body as it lay in the coffin, and she said to me "Are you coming in with me?" I should have refused, but being inquisitive, I went in with her. The coffin was under the window. (They always seemed to put them there). Grandma went across and lifted the veil to touch her face, the belief being that if you touched them, you wouldn't dream about them! "She looks peaceful enough," She said. Why do people say that about dead persons? I don't think they look peaceful, I think that they just look dead!!
I went across and peered into the coffin. Jessie had beautiful red hair and it was there, cascaded round her shoulders and framing her face. It was another vision that haunted me for a long time, and I can still see it in my mind's eye. She was dressed in a nightie, (in the old days, women always kept a clean nightie, to be "laid out" in) and her feet were bare. I came home from Grandma's and told Ma that I had seen Jessie. She said "Your Grandma had no right taking you in to see her" It was back to the dreams again!! I once wrote a composition at school describing this woman with her flaming red hair and claw-like fingers, I got good marks too! It's small wonder that I never went to see another dead person until I was well into my 30's! The phobia was still with me until then.
Continued...