Childhood Memories
Holidays in Blackpool
Childhood memories (by Fred Foster)

Holidays in Blackpool
Holidays at our house were few and far between, in fact, the only time that I had stayed away from home had been on trips to see Auntie Lucy in Yorkshire, otherwise holidays had been a series of days out to Blackpool, Southport or New Brighton.
I was seventeen at the time and starting to "feel my feet" as it were. My mates, Alf and Eric were wanting to go to Blackpool for a week, and I was keen to join them. There was a lady who was a customer of ours whose husband worked in Blackpool, so Ma asked him if he knew of any good accommodation where we could stay. He found us a place in Hornby Road, No 108, if I recall correctly, and he told Ma that she was cheap and used to taking young men in. The lady's name was Mrs Brown.
We got all packed up and ready for off, leaving Wigan by the North-west station on the Saturday afternoon, as both Eric and I had been working for our respective parents in the morning. With mounting excitement we approached Blackpool Central station, anticipating the pleasures that awaited us in the resort.
Leaving the station, we walked up Hornby Road carrying our luggage, and the trek to the boarding house seemed never ending, finally we arrived and going inside, saw all these people sat down to tea. To a cry of "dig in" we went upstairs, and leaving our baggage, came down to join the rest for afternoon tea of boiled ham salad and peaches with custard. The meal over, we trooped back upstairs again to sort out our sleeping arrangements. We were put into the topmost bedroom or really the attic, and in here were beds for 10 people. We found out later that there were four Geordies from Hebburn on Tyne, John, Alfie Stirling, Les Carmichael, and Little Wally. Two lads from Notts, I forget their names, one Scot, and us three from Wigan. There were three double beds and four singles. The Scotch lad had one single, Eric Sellars plumped for another, two of the Geordies had the others, and the rest of us had to make do with doubles. Eric had the single bed near the only sink in the room, but more of that later.
We kept our clothes in our cases, pushed under the beds, as there were no wardrobes. Old Mrs Brown got away with murder. Today, she would have been shut down. We all busied ourselves getting ready for the night's entertainment, and as the Geordies were getting ready to go out, Mrs Brown said to them "TT tonight lads?" "Och aye" was the reply, and we were daft enough to believe them!!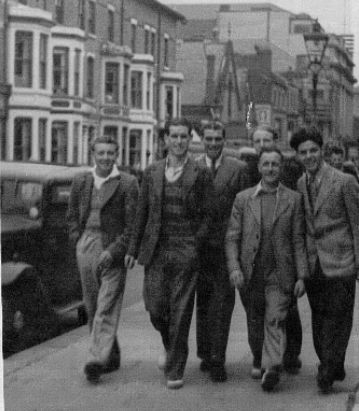 L-R: Fred, John, Alfie, Les, Wally, Frankie. Frankie was a friend of the others but was staying in another boarding house.
We had a good night in the Tower Ballroom, dancing and chatting up the talent there, and we made our way back to Hornby Rd. around 11.30pm. Three of the Geordies were completely "smashed," Alfie, John and Les. Only little Wally was OK. Les and Alfie crawled up the stairs, with the others following. We all got ready for bed, as I said, Alf and I had a double bed, but Eric was in a bed by the washbasin, and following the laws of nature, what goes down has a tendency to come back up sometimes. I don't know how much ale the Geordies had put down, but they were certainly busy that night bringing it up again. I don't think that Eric got much sleep!
The following morning, however, they looked a bit 'hung over' but otherwise OK, I must admit, they didn't eat much breakfast though. Every morning, the Irish maid would come through the dining room, asking in a broad accent, 'porridge or flakes?' after which there was the inevitable bacon and egg, followed by toast and marmalade. We had to take our ration books with us and give them to Mrs Brown, so that she could get the provisions in. It was full board, as was the case in most boarding houses those days, and there was always a cooked dinner and a cold tea. Food wise, it was very good, it was just the sleeping arrangements that were rubbish.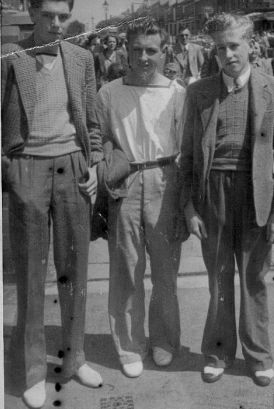 Alf, Fred and Eric at Blackpool.
Mrs Brown had her daughter and son-in-law living with her and helping out in the running of the business. She also had two granddaughters, who were about seventeen and fourteen. Both girls were good looking, and the elder one was a real cracker, but the old biddy kept them at a distance from the guests. The elder one slept in the same room as the Irish maid on the same landing as our room, and there was a ventilation brick in the wall that separated our rooms. The Geordies were always trying to see into the room, through the airbrick, but never managed it. The old lady would have killed them if she had found out!!
The second night, the Geordies were out on the sauce again, but this time drinking rum. When they came in, they were just acting daft. Alfie was doing an impromptu striptease in front of the window with the curtains open, and he was waving a lighted cigar about. He managed to drop ash on our bed and it burned a hole in the sheet, he was trying to remove the evidence the following morning with a razor blade. I don't know if Mrs Brown ever found out, but she never said anything.
Across the road from our boarding house was another, which had a party of girls in. We could see them as they walked about in the bedroom, which was on the lower floor to ours. They would walk about in their underwear, which appeared to be camiknickers. We all fantasized about them until one day they came across the road, stood under the window, shouting up to us, "Give us a fag" and what a load of feh dogs they were! Common as muck!! Talk about having your illusions shattered.
Our days in Blackpool consisted of going into Olympia in the morning, Tower or Winter Gardens in the afternoon, and the same again at night. The weather probably was quite warm and sunny, but we didn't know whether it was or not. We all smoked at that time, and as cigarettes were in short supply everywhere, we had taken some with us. I met up with a girl named Edna, who came from a Yorkshire pit village called Darfield. We were dancing together in the Tower and I took her back to her lodgings, which I do believe were in Reads Avenue. I met her on the following day and we saw each other until the Monday. She smoked as well and when I lit up, I gave her one too. I must have been completely green those days, because, as the cigarette supply dried up, she slung her hook and left me high and dry. I scratched through the rest of the week on a few from the Scotch lad and some evil smelling Turkish rubbish which were the only sort that were freely available. I even went on the Pleasure Beach to try to win some!
There wasn't much more in the way of drunken behaviour for the rest of the week, as the money supply from the shipyards of Tyneside was running out fast and what was left had to be spread thin to make it last. Too soon the week had gone and it was Friday night. As was the custom in those days, there was a knees-up in all the boarding houses, with the proprietor and patrons doing the conga in the street. Mrs Brown, who had a gammy leg, led us all down the hall, into the street and back again.
We left for home on the Saturday morning train, feeling that we had had the most wonderful time in the world, and soon we were getting ready again for Saturday night, this time in the Empress Ballroom in Wigan.
There is just one more thing to mention, on the Sunday morning, when I came downstairs for breakfast, I said to Ma, "where's the cornflakes and toast" to which she replied, "you're not on your holidays now, so get used to it!"
Butlins at Pwllheli
The year after the Blackpool holiday, we decided to give Butlins a go. We'd heard such a lot about it from our mates that it became a "must". Everyone in Wigan seemed to go off on holiday the first week in July, and I recall that the train going to Butlins Pwllheli was some 10 coaches long with a "double header" i.e. two engines pulling it. We set off from Wigan North West in great spirits; I think that half of Wigan's population was on that train! I recall that it was very dry at the time and as the train was chugging along, sparks from the funnels were igniting the grass by the side of the track. We arrived at a small station in Wales by the name of Afon Wen, and here the engines were uncoupled, and the train shunted backwards into the small station of Pen-y-Chain where Butlins camp was situated. We were then transported to the reception on a "Noddy train" a bit like the train that takes people through the Haigh Plantations. It was drawn by a tractor and had a cart at the rear for the luggage.
We were filled with excitement at the prospect of what awaited us. We each got a key to the chalet, paying 2/6d (12.5p) as a deposit, and made our way there with our cases. There was a double bunk and a single bed in our chalet, so I had the top bunk, Alf the bottom one and Eric the single bed. We had a small washbowl with a cold tap in the chalet, but all other ablutions were in the toilet block outside. In each chalet was an enamel jug for hot water, and this was filled from a standpipe on the toilet block. The enamel jug also came in very handy during the night if nature called and you didn't want a trip to the bog!! The dining rooms at Butlins were named after the Royals and were York, Windsor, Gloucester and Kent. These were known as "houses" and it felt a bit like school again, as each house competed against the others for house points in the various games and activities.
All the houses were colour coded; I think it was red for York, green for Windsor, yellow for Kent and blue for Gloucester. We all got a badge to wear, and we bought plastic rosettes in the house colour, pinning the badge into the middle of them.
There were a couple of ballrooms there at that time, and in the Viennese was the band of Eric Winstone, who played mostly for the strict tempo crowd. He had a singer with him by the name of Les Howard. Les came from Wigan, and had won a talent contest at the Emp. In the other ballroom was Ronnie Munro and his orchestra, who played for the "jivers and boppers". We went for our tea to York dining room and were soon raring' to go!! I left the other two, as they went into the bar. I had been warned from home that I hadn't to touch a drink. I know that today it may sound naive, but those days, you took heed of what your parents said. I was having a great time dancing, and had met up with a Welsh girl, Mary Hughes, from Mold. I had met her uncle and aunt, whom she came with, and got quite matey in fact.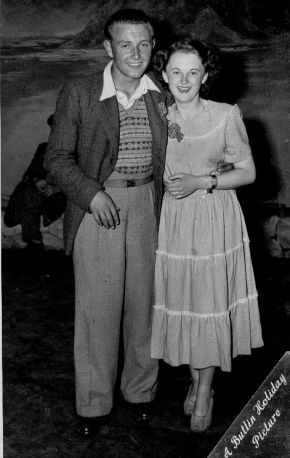 When I saw Eric and Alf before I met the Welsh girl, they were jigging around one of the pillars in the ballroom, with about six more lads, slightly "pie-eyed" I walked the girl back to her chalet, and as I opened the door of ours, Alf was sprawled on one bed as white as a sheet, having thrown up in the sink, and Eric was out like a light on the other one, snoring his head off. The following morning however, Alf was still rough and didn't want any breakfast, but Eric was all right. It seemed to cure them of the drink though, as we were all teetotal for the rest of the week.
There were two boys however who nearly got slung out. They came from Wigan and got very drunk the first night. The following day, their chalet was in such a state with vomit etc. that they were sent for by the camp controller and given a verbal lashing. They had to pay for the mess that they had made as well.
Butlins those days was very "matey" and everyone joined in the various daft games and competitions. I came second in "the longest hair competition". Everyone collected House points and at the end of each week was the grand March when everybody got behind the band and marched arm in arm through the camp, and as we marched, the photographers were busy taking snaps for the campers to buy. We were all known as Lads and Lasses, and this theme was echoed throughout the camp, the toilet blocks, all the competitions etc. were all geared to this.
We had a walk down to the beach one day and saw all these periwinkles. I had eaten these previously in Wigan, and remembered that they tasted very nice, so I thought that I would give these a go on Pwllheli beach, but I didn't realize that they had to be boiled first!! I took out my camp badge and with the pin at the ready, waited for the winkle to come out of the shell. As it appeared, I stabbed it with the pin and snatching it out of its shell, ate it raw! I recall thinking that they were a bit tough! It's funny that we didn't get food poisoning!!
Butlins had a fantastically big swimming pool at the front entrance to the camp, with fountains playing at either end, but although the weather was scorching all week, we never went near the water, as all we had in mind was dancing and girls!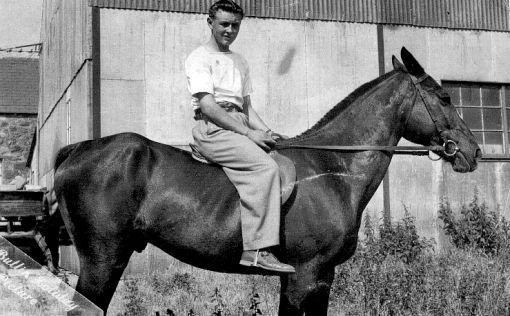 This is me on the horse!!
I remember going for a horse ride one day. Butlins had quite a few riding horses on all their camps. The only horse that I had ever ridden previously was the pony that pulled the fruit cart, and this bareback! When we got to the stables, the groom asked if anyone had ridden before so I put my hand up. As a result I was given a 17 hands high former hunter. It looked enormous, and I had to be given a boost up into the saddle. From there the ground definitely looked a long way off!! We walked the horses down to the beach in single file, and once there, the groom said "All who have ridden before, stay behind" The others went off at a sedate trot. My steed was itching to go! His feet were moving about restlessly, and suddenly the girl groom shouted, "Let's go!! He shot off like a rocket, and I was clinging helplessly to the reins, trying to hold his head down. It was the longest five minutes that I have ever spent, and all I could think of was "For God's sake, don't fall off" When we got back to the stables I had my photo taken, looking quite calm, but it was a lie!!
Alf's elder brother, Arthur was there on holiday as well with some of his mates, I think one was Johnny Maddocks. Arthur, a joiner by trade, was so enamoured of the Butlin way of life, he enquired about getting a job there! Arthur knew Les Howard and we had some photos at one time showing us all clowning about. Here are a couple of them.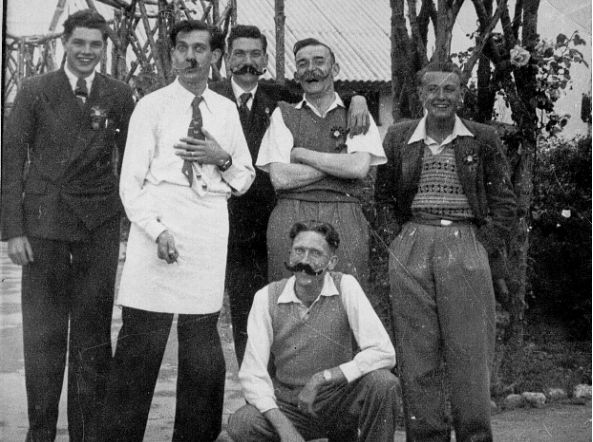 We were all wearing tin moustaches that were given to us for an Olde Englishe Night.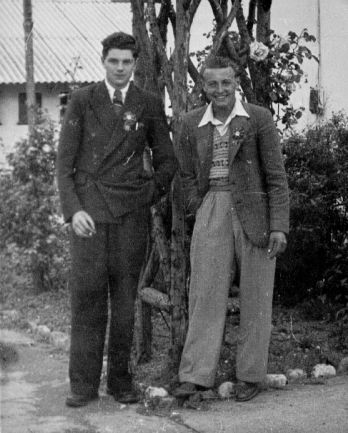 We all learned the Butlin song "Goodnight Campers" as it was sung at the end of all the activities, whether it be dancing, boozing or shows. Billy Butlin had a winner on his hands those days with his camps. Happy holidays at a budget price. I said my "Goodbyes" to Mary Hughes, promising to keep in touch, but as with all holiday romances, it soon fizzled out in the cold light of reality. When we returned home again at the end of the week, we all met up at the "Emp" and the air was filled with cries of "hi-di-hi" and "ho-di-ho".
The Butlin Song
Goodnight campers, I can see you yawning.
Goodnight campers, see you in the morning,
If you don't cheer up then you'll soon be dead,
For I've heard it said that folks die in bed,
So I say
Goodnight campers, don't sleep in your braces,
Goodnight campers, soak your teeth in Jeyes's
Drown your sorrows, bring the bottles back tomorrow.
Goodnight campers, Goodnight!!
(Sung to the tune of "Goodnight Sweetheart")
We had another holiday at Butlins the following year at Skegness, but this time only Alf and I went. Eric, by this time was serving His Majesty's Government as a conscript in the Army, but Alf was exempt until he had completed his apprenticeship as a plasterer. Eric served his time out at Kimnel Park, near Rhyl, where, as a driver, he instructed others in the art. It was known in army terms as a "cushy number". I was also exempt from the forces as I had opted to go into the mines instead, because, knowing my luck, I would have finished up in Korea or Malaya, which were the "trouble spots" of the time. Alf, by this time was courting with Marion, and she came with us to Skegness. She shared a chalet with a girl named June, who came from the South somewhere. It was a bit of a disaster as far as holidays went. My girl friend, Edna was at home in Wigan, and Alf and Marion wanted to be together, so I was at a loose end for most of the time. I made friends with some girls from Darwen in North Lancs, and we went dancing. I had another attempt at horse riding there, but this was a bit tame after the rides at Pwllheli, because the riding was done in a closed paddock and everyone just rode around in a circle.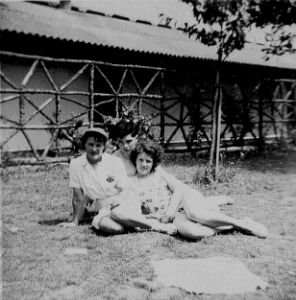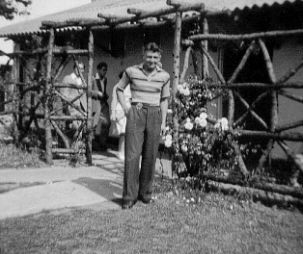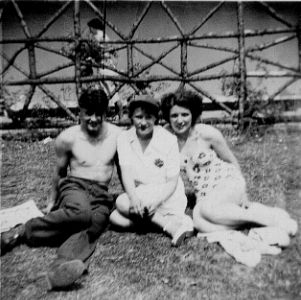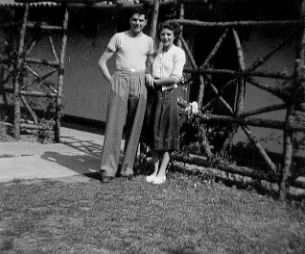 These are some of the photos that were taken on our Skegness holiday at Butlins camp.
The holiday was the last that I spent as a teenager and soon afterwards, Alf and Marion were married. Edna and I started our own wedding preparations and that, as they say is another story.