Childhood Memories
Teenage Memories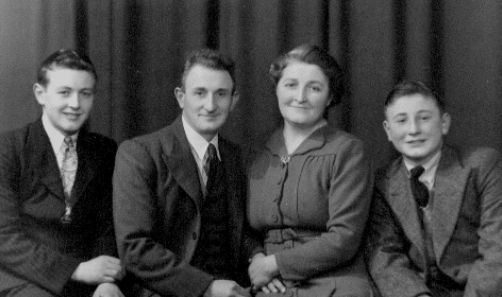 Fred, Dad, Mum, Billy (1948)
When I was around the age of 16, my friends at the time were Eric Sellars, whose family had a shop and bake house in Little Billinge Road, and Alf Brown, who's Dad had a coal business. We three were usually quite inseparable, but one night, Eric had gone off on his own to Moss's dance studio, when it was at the top of some buildings off the Market Square in Wigan. When Tommy Moss asked if he could dance, he told him that he couldn't, so Tommy gave him a free pass for the following Tuesday. Eric persuaded Alf and me to go with him, and this was my first introduction to ballroom dancing. I recall Tommy taking me around the floor, guiding me with his hands on my shoulders. Previous to this, we had tried to follow the steps of the quickstep shown to us by Norman Molyneux's sister, Marion. I remember she scratched out the pattern of the steps in the dirt of the backs and then got us to try to follow them. Just imagine, trying to do a quickstep in clogs! This sudden interest in dancing had come about from our visit to Wigan Empress Hall or Th'Emp, as it was known. The Evening Institutes ran a dance there once a year. I suppose that it must have been around Christmas time, and we had been attending night school doing woodwork (Eric and I both made ashtrays on stands). We went to the dance because the girls we knew were going. I recall going into this gilded palace as it seemed to us then, seeing the subdued lighting and the mirrored ball slowly turning at the centre of the ceiling, giving off patterns of light on the dancers. Listening to the dance band playing live music, something only previously heard on records. It was fantastic. Dick Stanley, the bandleader with his rimless glasses, reminiscent of the late Glenn Miller, playing the trombone in the manner of Tommy Dorsey as the band went through "Sunny side of the Street" To us lads at the time it was like being in another world, far away from the ordinary things of life. We sat there on the balcony agog with excitement drumming our fingers to the beat, unable to dance but thinking all the time "I'll learn to do this if it kills me!"
I finally managed to do a passable (as I thought) quickstep, and one night went to the Abbey Lakes dance hall, which, might I add, was a strictly off limits place to go because, gasp!! There was a bar there, and coming from a teetotal household and a Chapel one to boot, it was to be avoided by all means to avoid being corrupted.
I asked this girl for a dance, and as I led her onto the floor I thought that I had cracked this dancing lark. We started to dance, but I could only go in a straight line, as I hadn't learned how to do a turn. We got to the edge of the ballroom floor and she turned to me and said, "I can't follow you" and walked off the floor! Talk about feeling sick!! I didn't try to dance with a girl for quite a while afterwards. Another word or two about Abbey Lakes Hall. When I got a bit more proficient at dancing, and really there were only two dances that we did, one was the quickstep and the other the modern waltz, I went a few times to the "Lakes" without saying at home where I was going, but got found out when a girl named Brenda Rudd went into our shop and asked Ma if I was going there the following Saturday. Ma said, "He goes to the Emp, not Abbey Lakes" to which Brenda said "Have I said something that I shouldn't have?" When taken to task about it I told Ma that I hadn't told her any lies, but I had just been economical with the truth!!
On the subject of dance halls, when we congregated at the "Emp" on a Saturday, the sight of Joe Bertrand would regale us as he did the American Jive. There were two ex Bobbies who worked at the Emp, I suppose that today they would be called "bouncers" but we knew them as "chucker outs", and these two stood on the edge of the floor looking for possible troublemakers. Joe would go into his routine along with Derek Lynch, in the middle of the dance floor. Everybody knew when they would be doing it, as it was when the band came back after the interval. Because, you see, the band used to break for "refreshment" around the 8.30 mark and retire to the "Ship" in Millgate for a swift pint or two, and on their return would proceed to liven things up a bit with a selection of quicksteps like "Leave us Leap" "Skyliner" and "American Patrol".
As soon as the music started and the floor filled up, Joe and Derek with their partners were soon whirling around like dervishes, doing the "crab" and tossing the girls over their hips. There would be a ring made around them in the centre of the floor, as the rest of the dancers watched, but as soon as the two "chucker outs" started towards them, they would stop and melt into the rest of the dancers.
We had some really good times those days as we were growing up. It was possible to go out at night without fear of being waylaid and robbed. The park railings were removed during the war, and as a consequence it was accessible at all hours. It was a meeting place for all the youngsters in the surrounding areas, where our first stumbling encounters with the opposite sex took place. I had my first kiss in the park, playing the usual game of "truth or dare" with a few more. I can't say that it was romantic, because I had to be held down by the rest of them whilst Marion Molyneux kissed me!! I was around fifteen at the time, and when you see the precociousness of today's youngsters, we were pretty naive. In fact, I was so innocent at 12 years old that I still believed the story of the gooseberry bush and newborn infants!!
It was a real black mark if a girl became pregnant and "had to get married", in fact, I think that the very thought of this happening put a lot of lads off casual sex. I recall that my first so-called girl friend was a girl named Margaret Worthington, from Newtown; I had met her in the park and fancied her. She worked at the Ross Works shoe factory and she had naturally wavy blonde hair. I took her to the pictures a few times and held her hand, but she always brought her sister Irene along with her, and muggins would pay for them both!! I think that this arrangement only lasted a matter of weeks, and I suppose that this was long enough if only for the expense.
It was about this time that I had my first experience of being propositioned by a homosexual. It happened this way. There was a man living in Newtown by the name of Don Stewart. He was older than the rest of the boys and girls who hung around in the park, but he made a habit of coming into our company. I was completely naive in the affairs of the world at the time, and one night when I had gone down to the park, he suggested that we go back to his house. There were no other teenagers around that night, as it was cold and raining. He said that he had some records that we could listen to, and we could have a glass of sherry.
Looking back on the incident, I realize how stupid I must have been, but at sixteen you think that you know everything. He lived on his own, near what was the Post Office, and when we arrived, he said, "take your coat off and make yourself comfortable" He then brought out the sherry and we had a glass each. When he put on the records, he said to me, "Can you dance?" To which I replied, "I can do a quickstep, I suppose" He then said, "Can you show me how to do it?" I was a bit taken aback at this but went along with it, and he said, "I'll take the woman's part" I was getting more uneasy by the minute! We did a couple of steps and then he grabbed hold of me and held me tight!! That did it; I was out of there like a shot, making all sorts of excuses to go. It was a first and last time for me and I was a lot more careful afterwards as to where I went on my own with anybody.
We all gathered in the park, especially when the nights were light during the summer months. One of these nights, we were messing about and seeing who could pick up a park bench and hoist it overhead. Four of us were doing this, Arthur Arkwright, Norman Taberner, Percy Kenyon and me of course. We all tried, and the only one to do completely was Arthur. He was a really strong lad and he was holding it at arms length when someone shouted, "Park keeper's coming!!" Arthur dropped the bench and broke the leg off. We propped it up as best we could and left it. Later on, however, someone sat on it and fell off. Dick Atherton, the park keeper at that time started asking questions of various people to find out who had broken it, and gradually came up with our names. We finished up having to go to the Town Hall to be "dressed down" by the deputy Town Clerk, Mr Blakemore. He said that we had to pay for the bench, so we all coppered up, and were 2/-(10p) short. I asked him if he would take a packet of Woodbines as payment but he wouldn't and I had to go down again to pay it in!!
I can still recall some of the boys and girls that gathered there, Winton Blackburn, whose dad was Jimmy Blackburn, the photographer. He was a really strong lad who could play tennis good. He went to Upholland grammar School, and he told us of an unfortunate lad there who had that problem when no body hair would grow.
This amused the other kids and they drew on his head with an indelible pencil. Can't kids be cruel sometimes? Also in the park at that time came Charlie (Chuck) Roberts, Bob (Shaver) Barber, Jack (Jakes) Buckley, Norman (Tabby) Taberner, Percy (Spike) Kenyon, Norman (Girly) Thompson, so called because he had a high voice, not because of any other reason!! The girls who hung around with us then were Barbara Mawdesley, who had a very unusual action when she served at tennis. She could wind her arm back some way before striking the ball. I could never imitate it! Jean Morrell, and Barbara Pennington who I fancied like mad at one time. She must have got to know about it from my mates and she sent me a note, asking for a photo, which I didn't have. I carried that note around until it fell to bits!! Both Barbara and Jean married Polish lads later on. Elsie Darwell and her sister Eunice. It was Elsie who held me down whilst Marion Molyneux gave me my first kiss!! Another girl called Sybil. She had red hair and suffered from a rash on her legs, which caused her to wear thick stockings all the time. She was a really nice girl, and quite good looking, and she had a friend, Sylvia Smallshaw, who came into the park with her. There was another girl, Joan O'Malley, who lived in Argyll St. who later on married Gordon Fairhurst, the son of "John Daw". Joan attended the Convent, and one day, as I was coming up to the top of town along Market St., I was encouraging Rose, the pony, urging her on and shouting at her. She had a full load and it was a fair climb to the top of the street. Joan thought that I was ill-treating the pony and she came out from off the pavement and didn't half give me a tongue-lashing!
My next dalliance with the fair sex was with Doreen Appleton, who came from Gathurst Road. Doreen had been in Edna's class at St. Marks Senior Girls School, and was "picked up" by me in the usual spot, i.e. Alexandra Park. I suppose that this crush lasted for about a couple of months, during which time we visited their house for a "musical evening" which was another name for a boys and girls get together for kissing games, such as "Spinning the Bottle" and "Postman's Knock", when you got to kiss all the girls that you fancied and some that you didn't! It was all good clean fun and all part of the growing up process.
Doreen had a brother who was in, or had been in the Royal Navy, and as in those days nearly everyone smoked, he was very useful to know, as navy men got tobacco allowances. Cigarettes as such were in short supply, especially the well-known brands, and there were a lot of rubbish brands about such as "Pasha", a Turkish cigarette that smelt foul and tasted worse. I recall that Doreen's brother gave a tin of rolling tobacco to Alf, Eric and me so we took this to our house one Sunday afternoon and spent a couple of hours rolling out cigarettes with a Rizla machine. I think that we managed to make about 200 altogether, as the tobacco was very tightly packed in the tin, and seemed to double in quantity when out of it.
There were lots of "funny" brands of cigarettes about those days, and to recall the names of a few, there were of course the American brands like Chesterfield, Lucky Strike, Camel, Philip Morris, Pall Mall, which were available until the departure of the US forces from Burtonwood. I have smoked brands like Turf, Markovitch Black and White, Gold Flake, Robin. Some, like3 Castles and Passing Cloud, were oval in shape and had their names written in Old English style on the packets, so got called 3cafles and Paffing Cloud by those who smoked them. They were all of a sameness, they all tasted foul, but were all that were available at the time, unless you knew a stockist who had some of the brands like Woodbine, Players, Capstan, Senior Service, under the counter as it was said. There was a shop near to the entrance of Home Stores in Woodcock St., which was a retail outlet for Holland and Clough, the wholesale grocers, and although she had no visible packets of fags, she would produce them when her regulars went in.
Anyway, my time with Doreen came and went, but not before my Dad had seen me with her in the park. He had seen us as he and Ma had been going for a stroll with Joe and Jinnie Johnson after Chapel one Sunday night. When I got home he said, "Neh, which one wuz er?" and when I told him he said, "Ah think her's feh (i.e. ugly)" I was mortified!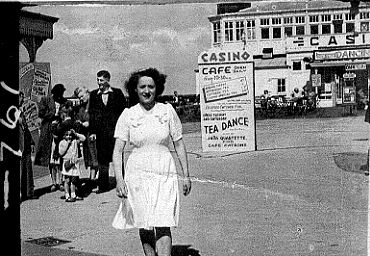 Joan Cunliffe, taken outside Southport Pier.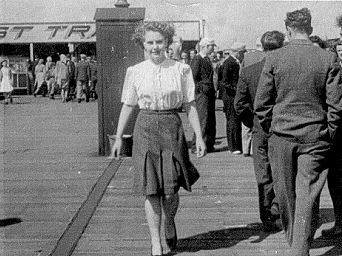 Joan Hitchmough at Blackpool Pier.
Another of my girl friends was Joan Cunliffe, who came out of Scot lane where her parents ran a small grocer's shop. Joan worked at Nimans where Edna worked. Another girl who worked there was Joan Hitchmough. This was the shop on the corner of Standishgate and Mesnes Street, run by Mr. and Mrs Cowan as a jewellery and fancy goods. They actually ran two shops, the other one being higher up Mesnes St. where there was a flat over the top for their accommodation. Joan was my girl friend for about six months I should think. We all used to meet in the park, and sometimes would go off to the "Little Bridge" i.e. the bridge under the line which ran behind the park, when we wanted to be alone for a snog! Many a night there would be a couple in each of the alcoves at the four corners of the bridge. This was of course before there was any industrial estate built there, and it was possible to get on to the old Norley Line, which was another favourite place for courting couples. I don't know what happened between Joan and me, but we drifted apart, and for a while I was going to the Emp on a Saturday with the rest of the lads dancing and hoping to pick someone up to take home. I remember the crooner at the Emp, a chap by the name of "Jan Smits"(billed as 'late of Churchill's Club London') a made-up name if ever there was one, singing as they played the last waltz " Who's taking you home tonight, after the dance is through?" I thought that this was dead romantic, and as I was dancing round the floor, I would be holding the girl tighter, hoping that it would be me. Of course, most of the time it wasn't!! I once walked a girl from Wigan to Standish Lower ground for a goodnight kiss!!
The Emp was a good meeting place for all the local 'talent' and we had some really good times there. The band was quite a good ensemble of around ten musicians. Drummer, four saxes, three trumpets/trombones, double bass, and piano, and one who played the accordion during the interval. He usually played a selection of tangos then. There was no alcohol served in the dancehall, and you could have a pass out if you needed to go for a drink. No one was admitted after 10.00pm with or without pass outs. This was to avoid any problems with drunks, as the closing time for bars those days was 10.00pm. Those were the days when a boy went up to a girl and asked if he could 'have the next dance please' It was all very polite, but it got people mixing together and there never seemed to be any problems of 'pairing off'.
There was another hall in Wigan, but it was always reckoned that the Court Hall was a bit "up there" when compared to the Emp. It was said that only courting couples went there, and if you were on the lookout for talent you were wasting your time! I did go on the odd occasion, but it never, in my mind compared in any way to the Emp. At the Court Hall, jiving and jitterbug was definitely frowned on and there was always a tall man dressed in evening wear standing in the middle of the dance floor to make sure that none occurred. Anyway, the orchestra at the Court Hall wasn't a patch on the boys in the Emp band!! It was all strict tempo, very good to dance to but not a lot of fun.
When I was sixteen, I was in the park one day with Eric Sellars; I think that it was on a Sunday, when we started a conversation with two girls. One was May Parkinson who lived in Bold St. and the other was Edna Twigg. I had known Edna previously at school but even though we lived in the same row of houses we had gone our different ways. I didn't know it then, but this chance meeting in the park on that Sunday in September was to change our lives completely. We chatted for a while and then, as boys and girls did, we went for a walk and ended up under the Little Bridge for a snogging session. Eric of course didn't stick with May but Edna and I seemed to hit it off and we stayed together.
For our first couple of years it was a bit of hit and miss, on and off, but gradually it got more serious. I started to go to various events at Highfield with her and these were things that I had missed being brought up at Chapel. I always felt in later life that I had missed out on quite a lot, such as when my friends were part of the Boy's Brigade. The Chapel diehards frowned on this sort of activity as being "militaristic" but personally I could see no wrong in it. In fact, one of the Chapel elders, old John Johnson, was against the idea of a billiard table when there was a bit of a Youth Club going at the Chapel because "It might encourage lads to go to the billiard hall and start them gambling".
All my life, I had come up against this sort of attitude, thou shalt not and it didn't impress me in the least. When Edna and I started going out together, I saw a different side to life. We started to attend the Young Peoples Guild at Highfield and go on different outings with them.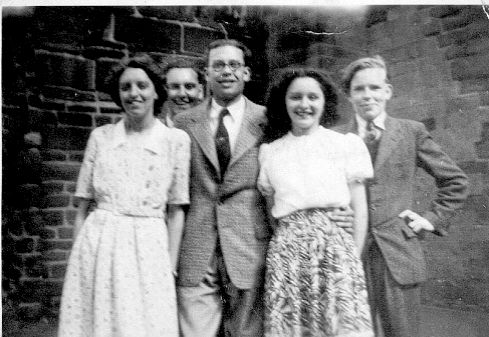 YPG CHESTER 1948
Helen Clark, Harry Brooks, Graham Taberner, Edna, Bob Balfour.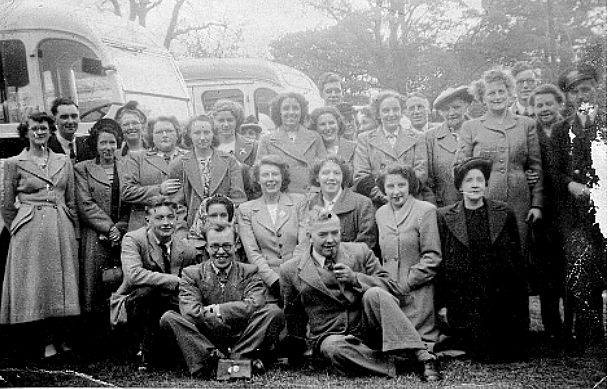 YPG trip to Ingleborough
Tom Stockley, who was leader, is on the front row (with pipe).
We once had a trip to Southport on an Easter Monday. What a performance that was!! It was one of those typical wet bank holidays, and it poured down nonstop for all day. We didn't know where to go to get out of the rain, and finally we finished up all steaming wet and sat in the pictures. I'll never forget the pictures that we went to see either. One was a "Jungle Jim" picture starring Johnny Weissmuller, in which they had to hide under water, using reeds to breathe through, and the other picture was "Gold rush" starring Charlie Chaplin, when he had to eat his boots! It's funny how daft little things stick in your mind, isn't it?
We went to dances held in the Junior School hall, where the "Lyric" dance band entertained us, a combo of drums, sax, piano and trumpet. Their music was passable to dance to but nothing like the stuff that the Emp band could turn out. At one of these dances, an old lady said to me, "Ah see tha'rt after our little Queen" Edna had been Rose Queen when she was fifteen!
At the Parish dances, all the old people used to turn up to watch the youngsters dancing. I can see them all now sat around the room. The school hall wasn't too bad to dance in but you had to be aware of the ridge in the floor where the track for the screen was, the screen having been pushed back to make more room. The dances at that time were run by Arthur Hughes and his wife, who were both a bit on the plump side and they, as MCs would take the floor at the start of each dance. Arthur would be dressed in his bow tie and evening suit, sweating profusely, and his wife who was little and dumpy wore a long floral dress, which looked as if it had been cut from some curtain material! Still they were happy times and we spent many a Saturday night there.
I didn't go in to "meet the family" as it were until Edna had turned seventeen. In fact, one night when I was meeting Edna off the bus as she finished work (It was something that I did every night) Irene came out and said, "This has got to stop!" I'm glad to say that she didn't get her way! Sometimes I would to Wigan and wait for Edna outside Nimans the jewellers, where she worked. I recall looking up at the window at the top of the building where the rest room was, watching for her shadow on the glass, knowing then that she would soon be out.
Talking about meeting the family, one night when we had been out together and were stood in the vestibule as usual, Edna's Ma invited us to go into the front room, which we did. About 10.00pm. Ma came to the door and said "supper's ready" I could have dropped through the floor!! Anyway, having 'broken the ice' as it were, supper became a regular thing, and instead of staying in the front, we went into the kitchen and chatted amongst ourselves. Edna's Dad used to have the wireless tuned into Radio Luxemburg, something which didn't happen at home and I can recall some of the advertising jingles that we listened to, such as the one advertising "Spangles" a sweet made by Mars. It went like this "Handily packed, delicious to eat, a Spangle that's my favourite sweet. Offer your friends whenever you meet, a Spangle that's my favourite sweet." There was another for Beechams Powders that sticks in my mind also, "If sometime you're feeling ill, with a cold or flu or chill, for relief that's sure and quick, Beechams Powders do the trick." It's funny how things stick in your mind.
They also had a record player of sorts at Edna's house. It was one of the wind up types, but her Dad had fitted it with an electric pick-up arm, which were sold for the job at most electrical suppliers. This then relayed the sound to the wireless, and the records sounded quite good. You had to remember to wind it up after each record; otherwise the music went deeper and deeper!! Not like the record player that I had at home, which was electric but ran a bit fast, so that when male singers were on, it sounded like they had been castrated!! The first record that I bought was Glenn Miller playing 'American Patrol' I practically played the track off this one. On the B-side was Bugle Call Rag, and when I played this my mother went spare!! In fact, one Sunday at Sunday School, she said that there was too much Bogey Wogey as she put it, causing the teenagers in the class to fall about laughing at the faux pas. On the record player at Edna's we sometimes would put on some of the old "Force" records and have a laugh. Let me explain. In the thirties there was a breakfast cereal known as Force. I think that it was produced by Kellogg's, and it had a cartoon figure of a man named Sunny Jim who exhorted everyone to eat it, and these records, which were made from a thick cardboard, were promotional stuff, given free with the flakes.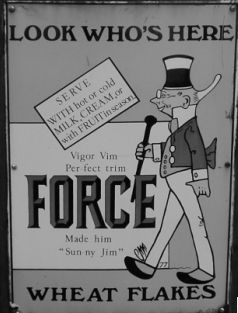 I found this advert in a museum.
When we were courting, it was a must to go to the pictures, because it was dark, romantic and there were double seats on the back row!! I don't think that it mattered which picture was being shown, as that was the least of our interest! We used to go to the "Carlton" quite a lot those days. It cost 1/9(9p) each, which doesn't sound so much, but we didn't get much in the way of wages then. I was on about £6/week and Edna about £3. We had our seats saved for us every week, and one week when we got there, someone else had sat in them. The usherette came up and shifted them, talk about feeling embarrassed!
We always went to the second house, and as we waited to go in, sometimes we saw one of Edna's workmates, Margaret Derbyshire and her husband Joe, coming out. Joe would say, "Watch out for all the spent cartridges as you go in, the place is full of gun smoke yet!!"
There was one chap who used to come in with his small son and he sat on the row in front of us. I don't think that he ever saw much of the picture as he was always trying to see what was going on behind him. Some people have a strange way of getting their "kicks"
There is a funny story that comes to mind concerning the Pictures. It was one winter's night and snow had fallen quite heavily. We were queuing up for the second house at the Queens Picture house in Pemberton, and this meant queuing down the side of the picture house, to go in at the bottom door which was the cheap end, admission 9d (4 pence approx.) As was usual when boys and girls get together, there was the familiar banter and throwing of snowballs. Quite a lot of snowballs were aimed at the doors of the cinema, and no doubt, this thumping and bumping were distracting the people in the first house. The upshot of it was that the manager came out to remonstrate with the queue, and having said his piece, he turned on his heel to go back inside. Suddenly, a snowball hit him fair and square in the middle of the back. No one would admit to it, the silence was deafening, and nobody dared laugh. He gave a malevolent look which could have killed, and slowly walked away!!
In 1953, when the present Queen was crowned, it was decided to hold a social evening in honour of the occasion. The venue was the old Infants department and all the young men of the Guild were asked to go as waiters. As the evening was to be an "Old Fashioned" event, we had to dress the part. We wore waistcoats turned inside out so that they would appear to be white ones, and we had false sideboards and moustaches, fixed on with spirit glue. The bar was fixed up in the cloakroom, near to the entrance of the building. Someone gave a barrel of beer and Bert Bullough, the Vicar, said there was enough drink to allow everyone on the room a glass of beer and a glass of "Parish Punch". At least, this is what was supposed to happen. We waiters were busy with our trays, taking the drinks out to the waiting guests, and there were two men sat near the bar, who, every time a waiter went past with a tray, would help themselves to another glass of beer. Soon it was noticeable that these two were "sloshed" and Roy Thomas, who was in charge of the bar said, "Don't give those two any more!!" It's always the same when it's a free do, some people are just plain greedy. At one time, when a wedding took place, cigarettes were handed round in 100 boxes, and I have seen people who didn't smoke, stuffing them in their pockets to take home.
Talking about weddings brings me to another tale. It was the occasion of Roy Sellars and Gwen Matthewson's wedding, and I was invited to the "do" at night, which was held at the Carnegie Library. I went along with Eric Sellars and Alf Brown, and there was a free bar on all night. I wasn't a drinker by any means and the taste of ale put me right off. Well, this night I decided to try a sherry, and, liking the taste, which seemed pretty innocuous, I had another and another etc. until I had had at least 10 glasses. Of course, by this time, I was getting a bit "squiffy", to say the least. I decided to give cousin Brian Hill a ring, something that just came into my head. I rang from outside the library on the public phone, and Auntie Bessie answered. Anyone knowing Auntie Bessie would know how sobersided she was. She said that Brian was out and for me to stand a little way from the phone as I was shouting!! Little did she know the real reason!! When I arrived home around 11.30pm, Ma asked me how the party had gone and I collapsed in a fit of giggles!! Our Bill, all of 13 who was watching this, called me a "drunken sot". Ma sent me off to bed and I collapsed on the bed with my head spinning, soon to drift off to sleep. The following morning I got told off properly, and was called "not fit to burn" as it were. "What would people at Chapel think" etc. etc. "I hope that your Granddad Foster doesn't find out about it" etc. etc. "I'll have a word with Mrs. Sellars about this, how could she let you get into that state" etc. etc. Anyway, it all finally blew over, as it were and life carried on as before.
I went to another wedding when I was around 18. It was cousin Franklyn's and was held at Heywood where they lived. I went on the train, and at the wedding itself, I didn't drink anything except a glass of sherry. After the meal however, I wanted to get away and as I thought, go to Bolton Palais for a dance. I had never been to Bolton before, and as I stood on the station at Heywood I heard what I thought was an announcement for the Bolton train, so off I went and boarded it. When the train arrived in Preston station, I realized my mistake, but it was too late to change it. What the announcer had said was that the train was going to Poulton and not Bolton. I ended up in a backwater on the Fylde!! When I found out the time of the train back to Wigan, panic set in!! I managed to find a phone and ring the only number that I knew, Sellars the Bakers, where my mate Eric lived. I asked his mother to let Ma know where I was, and that it would be after Midnight when I returned home. Ma's reaction was typical, He's drunk again!!
Edna and I sometimes went to the Empress Hall, especially when the Coal Board was holding a dance there. This was something that happened once a year when the Welfare Dept. ran the dance. It was just a way of getting everybody together and we went, usually with Alan Parr and his girlfriend Marion Heyes. Here is a photo of us at one of these dances. Elizabeth Wilding Photography who always came to these dos took it.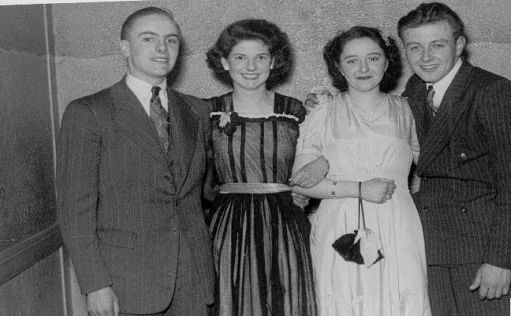 L-R: Alan Parr, Marie Heyes, Edna, Fred.
Continued...