Local Events
Local Events
List Your Event
List Your Event
What's on in Wigan
Wigan Pier - The way we were and what we became by Jim Holian.
Free on line talk 1pm - 2pm GMT
This online talk and picture presentation will explore how the Wigan Pier canal complex and more generally Wigan as a town, developed at the peak of its industrial heyday around 1900. Using contemporary photographs, it will explore the three "C's" of coal, cotton and canals as well as looking at what happened after the boom years and how the site was later successfully redeveloped. It will also consider Wigan Pier's plans for the future.

Jim Holian has lived and worked in Wigan for over 42 years as a teacher and later, a Head teacher. He has served in no fewer than six areas within the Borough, as well as a two-year secondment to the school centre at Wigan Pier itself, during the time when Wigan Education Authority won the prestigious Sanford Education award. His style is humorous and engaging and is guaranteed to keep you listening. He presently works for Manchester Metropolitan University on a part time basis. Definitely one not to miss!
Thursday 20th May 2021
on line
Hello Again … Tribute to Neil Diamond
Friday 21st May, 7.30pm

The Fantastic Celebration of The Life & Work of NEIL DIAMOND. Starring
Brooklyn Creed & The Salvation Band. Using evocative imagery, video and narration to
enhance the magic, the show takes you on a musical journey through Neil Diamond's
glittering 50 year career.

Tickets: £26.00 + £2.60 booking fee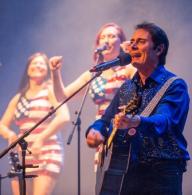 Friday 21st May 2021
The Edge, Riveredge, Wigan WN3 5AB
Gandeys Circus = the Unbelievable Tour !
Europe's largest touring Big Top Circus – Gandeys - your circus is back! And it comes to Leigh in Lancashire from Wednesday June 9 until Sunday June 13 with the sensational Unbelievable Tour !
GANDEYS CIRCUS is permitted to open as we strictly observe all Covid and Social Distancing guidance and has been awarded a Good to Go! Mark from Visit England.
The Unbelievable Tour ! transports you on a magical, unforgettable, fun-filled voyage, around the world in 80 Minutes! A choreographed kaleidoscope of colour and music packed with laughter and thrills it's a show you dare not miss. So book early. Seating is limited due to Social Distancing measures.
Join us on an epic adventure from Victorian England through the USA, South America and Africa.
Exhilarating Motorcycles, Death Defying Space wheel & fearless artistes hand-picked direct from each corner of the earth.
This year we're also bringing you double trouble with your favourite two clowns…
Chico Rico and Andreea!
Don't miss out on the opening night special offer - all tickets £9.99 each!
Event location / times / prices
Wednesday 9th June Sunday 13th June
GANDEY'S CIRCUS – The Unbelievable Tour!
Greyhound Roundabout, A580 East Lancs Road, Glazebury, WA3 5QQ

SHOW TIMES
Wed & Thurs 6.30pm daily
Fri : 6.30 & 8.15pm
Sat: 12 noon, 2.30pm, 5pm, & 7.30pm
Sun: 12 noon & 3pm

ADMISSION
Ringside; £34 (adult) £28 (Concession)}Premium Circle; £28(adult) £20 (conc)
Circle; £24 (adult) £18 (conc) Side Circle; £9.99
SPECIAL OFFERS
Family Ticket - (2 x adults & 2 x children or 1 x adult & 3 x children)
Ringside - £68, Premium Circle - £56, Circle - £48
ALL SEATS £9.99 ON WEDNESDAY 9th JUNE ONLY
TICKET BOOKING https://www.quaytickets.com/gandeys/en-GB/shows/gandeys%20circus%20-%20unbelievable%20tour%20-%20leigh/events
Ticket phone bookings : 0843 208 0500
Box Office open on site from Tuesday 8th June daily 9.30am to 8pm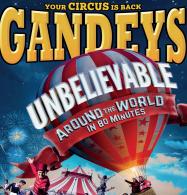 Wednesday 9th June 2021
Theatre Big Top Greyhound Roundabout A580 East Lancs Road, Glazebury, Leigh WA3 5QQ
Cognition from Chaos: The Anatomy of the Gods by Charlie Guy
Saturday 24th July 1pm-2pm.

Fascinated by #human #anatomy? Curious about #classical #mythology? Then join us for this animated #free #online talk to learn about the body in a way you may not have considered. Charlie's talks are always popular, so please book early to avoid disappointment.


Saturday 24th July 2021
on line
National Open Garden Scheme
Sunday 25th July at 11am – 4pm

The Hospice's award-winning gardens will open as part of the National Gardens Scheme.

At the front are colourful flower beds and a new courtyard garden. At the rear there are three ponds and a Chinese bridge donated by the Whitworth Art Gallery.

Visitors can also see the Dedicate a Daisy memorial garden, flower beds and our wildflower garden.

Our gardens were awarded 'Gold' at the North West In Bloom awards in 2019 and 2018.

All areas are fully accessible.

An entry fee of £4 per adult will be charged at the entrance. Pre-booking is available but not essential. To pre-book please follow the link.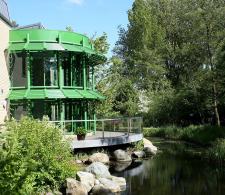 Sunday 25th July 2021
Wigan & Leigh Hospice Kildare Street, Wigan WN2 3HZ