Local Events
Local Events
List Your Event
List Your Event
What's on in Wigan
National Open Garden Scheme
Sunday 25th July at 11am – 4pm

The Hospice's award-winning gardens will open as part of the National Gardens Scheme.

At the front are colourful flower beds and a new courtyard garden. At the rear there are three ponds and a Chinese bridge donated by the Whitworth Art Gallery.

Visitors can also see the Dedicate a Daisy memorial garden, flower beds and our wildflower garden.

Our gardens were awarded 'Gold' at the North West In Bloom awards in 2019 and 2018.

All areas are fully accessible.

An entry fee of £4 per adult will be charged at the entrance. Pre-booking is available but not essential. To pre-book please follow the link.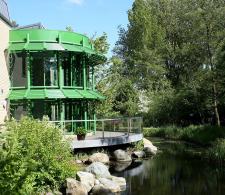 Sunday 25th July 2021
Wigan & Leigh Hospice Kildare Street, Wigan WN2 3HZ