Photos of Wigan
Photos of Wigan
Photo-a-Day Archive
Photo-a-Day Archive
Photo-a-Day (Tuesday, 13th April, 2021)
Collier's Arms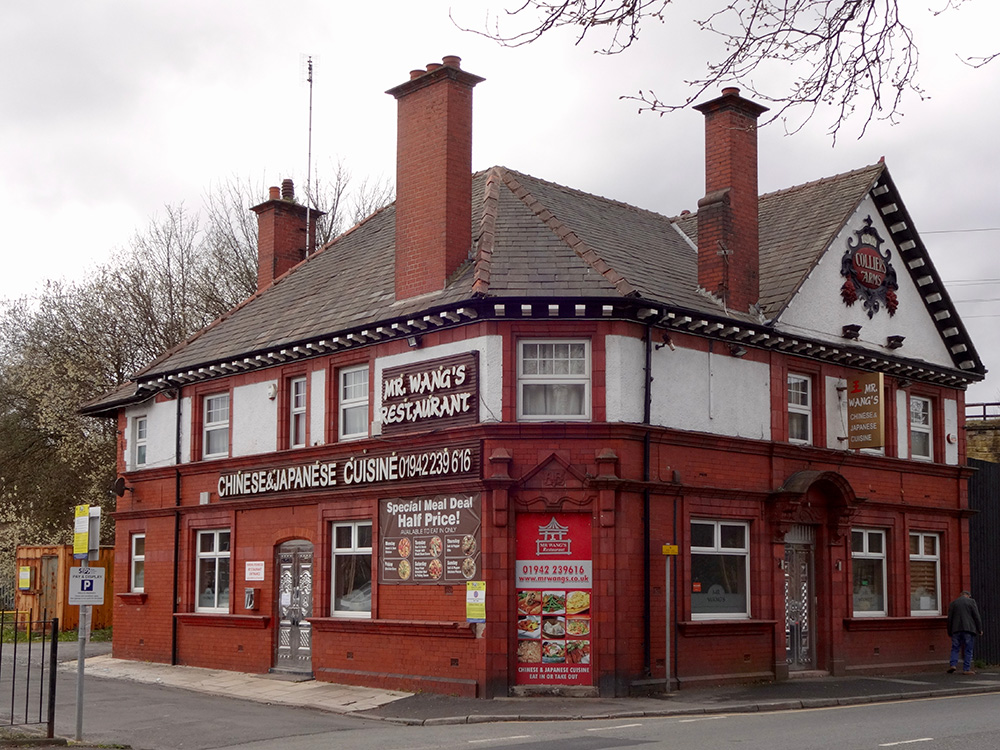 The former Collier's Arms on Frog Lane, Wigan, now Mr Wang's Restaurant.

Photo: Dennis Seddon (Sony DSC-WX200)
Views: 1,852
Comment by:
Dave Lewis
on 13th April 2021 at 00:22
Lived and worked in there for a while, also had many a good time in there when Margaret & Les was in charge, live entertainment every weekend good old days, lovely building Thanks Dennis.
Comment by:
Julie
on 13th April 2021 at 07:07
I don't mind Chinese turning this pub into a restaurant there is only a few its better than it being left or turned into different things. Its still a shame for these dear old pubs which had been going for decades.
Comment by:
Mick
on 13th April 2021 at 09:15
https://www.tripadvisor.com/ShowUserReviews-g190919-d12015274-r464835953-Mr_Wang_s-Wigan_Greater_Manchester_England.html

Its got some bad reviews ,
Absolutely disgusted with the service at mr wangs. Table was never cleared, long wait for food (which came at different times) definitely not worth £15. Very disappointing, go round the corner to the Chinese buffet!
And some good reviews,
Excellent food from start to finish. We had a banquet at £22 a head , not cheap but tasted fantastic. Started with prawn crackers and Hot and Sour soup then a mixed shared starter which included chicken satay on a stick, prawn toast,wontons, crispy seaweed, barbecue ribs , all delicious!. We then had our mains Beef Satay and Salt and pepper chicken served with a fried rice which had egg , ham , mushroom and a few peas mixed in.
A bottle of sauvignon blanc at £18 a bottle.
Excellent service and food , just a little overpriced.
Highly recommended!
So I suppose it comes down to how much ale the customers have supped before sitting down to dine.
Comment by:
Pat McC
on 13th April 2021 at 09:35
A lovely building, but in my opinion it might be better if the menu were to be displayed on a sandwich board or the like, so as not to spoil the character of the building.
Lovely photo Dennis, thanks.
Comment by:
Dave johnson
on 13th April 2021 at 10:07
One of my first locals along with the Horseshoe in Millgate and the Enfeild Inn in Pemberton as well as the Commercial, sadly all gone. Makes you wonder what life will be like in fifty years time because all the young adults will not get the life skills that our generation have had?
Comment by:
Rainh
on 13th April 2021 at 10:45
The ads on here are trying to outdo the posts and pictures.
Comment by:
Irene Roberts
on 13th April 2021 at 10:50
Once again, better to be in use than empty and going to ruin. It's a nice building. I love the chimneys.
Comment by:
Mick
on 13th April 2021 at 11:32
Irene I'm not that keen on the chimneys, but I do like the red brickwork and those white oblong shaped things that are tucked under the edge of the roof.
Comment by:
Brian B
on 13th April 2021 at 13:44
No matter where we went we always had to get my dad back in time for the fishing club meeting at the Colliers!!!!!
Comment by:
helen of troy
on 13th April 2021 at 14:08
Messsage for Veronica !

Looking back at Album pics Veronica, you posted a Pic some while back of a street party, it was in John Street. I am doing some family history & John Street is mentioned, near New Springs & Scholes. can you give me any information of its whereabouts or if it is still there even. Many thanks, Helen
Comment by:
Veronica
on 13th April 2021 at 14:31
Yes Helen, it's under PLACES John St there are two photographs. It's the VE days celebrations just before my time ! There's also another somewhere I'll see if I can find that as well. It may be under Scholes.
Comment by:
Veronica
on 13th April 2021 at 14:59
The street is no longer there Helen it was very close to St Patrick's church. It was around the corner from Vauxhall Rd which IS still there as is Belovoir St. Good luck .
Comment by:
Veronica
on 13th April 2021 at 15:12
There's another photo with a bit of John St looking up Belvoir St. Helen which is still there. Look under Scholes , (Places) page 5.
Comment by:
Joanne
on 13th April 2021 at 16:53
Well captured, Dennis, thanks :o)
Comment by:
. Ozy .
on 13th April 2021 at 17:14
Totally agree Rainh. Don't understand the politics regarding websites , but this new format stinks.
Comment by:
Edna
on 13th April 2021 at 19:27
A lovely pub, another fine building turned into a restaurant, Wigan is going to be full of Indian, Chinese etc,and closed shops.