Photos of Wigan
Photos of Wigan
Photo-a-Day Archive
Photo-a-Day Archive
Photo-a-Day (Sunday, 28th March, 2021)
Latics' Answer to Banksy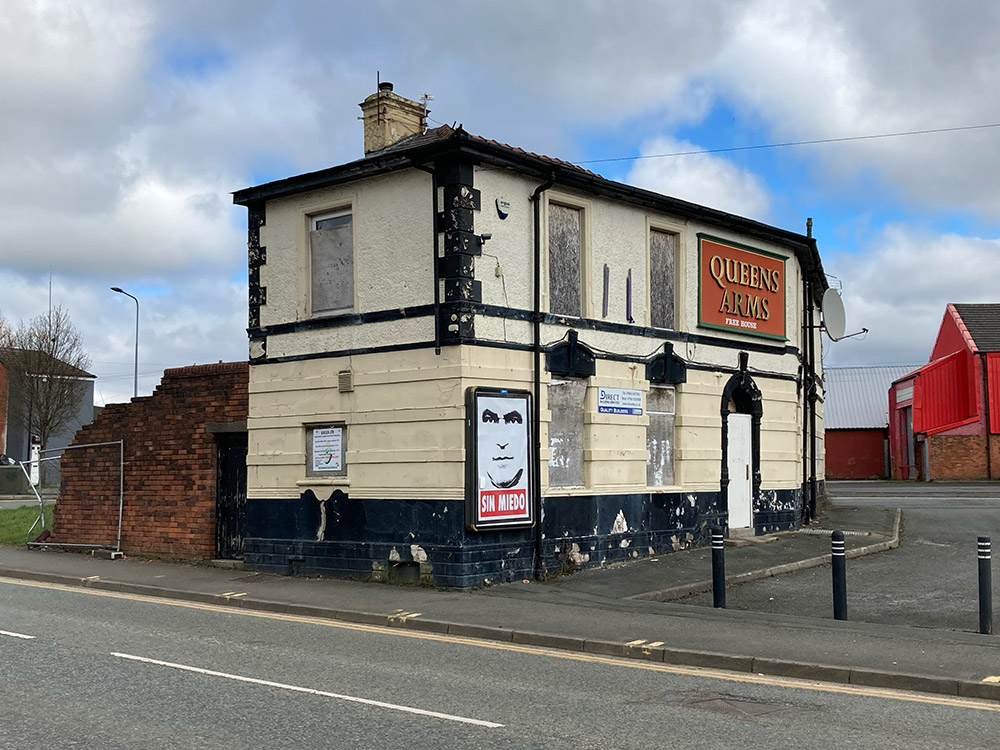 Roberto Martinez and his mantra of 'Sin Miedo' - 'Without Fear' have mysteriously appeared on the derelict Queens Arms in Platt Bridge.

Photo: Joanne (iPhone)
Views: 1,706
Comment by:
Julie
on 28th March 2021 at 07:39
Yet another closure of a pub! not good.
Comment by:
Mick
on 28th March 2021 at 07:58
What I cant understand is why do all these safety fences, like the one on the left of JoAnnes photo end up buckled.
Comment by:
Irene Roberts
on 28th March 2021 at 08:56
That used to be my friend's pub and I used to work there 1987-1992...what a surprise to see it on p-a-d! I also worked at The Platt Bridge Inn in the 1970s. Platt Bridge used to be alive on weekend nights with The Queens, The Platt Bridge Inn, The King Billy and the Labour Club all within yards of each other. All either demolished or derelict now.
Comment by:
Dennis Seddon
on 28th March 2021 at 09:51
Irene, do you remember Peter Pennington? He was a regular in the Platt Bridge Inn in the 70's.
Comment by:
Mick
on 28th March 2021 at 09:58
Irene in your barmaid career how many pub fights did you witness.
Comment by:
Veronica
on 28th March 2021 at 10:05
It's very sad to see these old public houses falling by the wayside.
They were like beacons in every community. Havens as well for older people who lived alone...they could just pop across the road or down the street and chat away...These days people are too frightened to leave their homes after dark. The Picture House as well served its purpose in the same way for past generations.
Comment by:
Poet
on 28th March 2021 at 10:09
Everybody's blaming Covid for pub closures . According to the news the entire nation is straining at the bit to get to the pubs . Discutir as Bob might say .
Comment by:
wigginlad
on 28th March 2021 at 10:42
Comment by:
Irene Roberts
on 28th March 2021 at 11:27
Dennis, I do indeed remember Peter Pennington of the bell-like voice! I saw a few fights Mick, and one of them ended with the breaking of a very old little leaded window with coloured glass that I used to love. It was the one shown on the photo on the side-wall, now covered by a notice. It was replaced with plain glass but I can still see its original ornateness in my mind's eye....I don't think anyone appreciated it except me! The windows at the front were of the original thick glass from when the pub was built with wording such as "lounge" and "snug" beautifully etched in them. One day I was hoovering and the fuse on the hoover gave up. I went down to Alan Poole's for new fuses and when I came back the room was completely covered in shards of glass......floor, tables, chairs, everything. Apparently a passing lorry had thrown up a brick off the road and it had completely smashed the window. If I had still been hoovering I would have been covered with flying glass. I think someone was watching out for me that day!
Comment by:
Edna
on 28th March 2021 at 12:51
Its so sad to see all these pubs and Labour clubs closing, they were the heart of many communities. What with that, and the shops, and now a lot of the churches.What are we going to have left??
Comment by:
Helen of Troy
on 28th March 2021 at 12:51
I think pubs were closing long before Covid came along because of drink drive laws & people started to drink at home.
Comment by:
Veronica
on 28th March 2021 at 14:20
You were very lucky there Irene. And I suppose after all that there would be a chorus of 'Goodnight Irene, Goodnight Irene, ...I'll see thee in my dreams" ! Such a pity about the windows as many old pubs had them. I remember the old Harp in Scholes has beautiful tiles with gorgeous Grecian ladies depicted on them in the most beautiful colours.
Comment by:
Harry
on 28th March 2021 at 14:21
One big reason is no smoking in pubs, I know many will disagree but in my opinion it's true. Why would you has a regular drinker what to leave a nice warm seat to go outside to lit up in freezing rain. That is one reason, the other is cost of a pint. Some pubs might not even open again even when corvid is lifted.
I totally agree with Irene, Platt bridge was a great night out, pubs first then end up in the club.
Comment by:
Stan
on 28th March 2021 at 14:35
Helen of Troy, drink and drive law in the UK came out in 1967, then pubs and clubs were buzzing, even in the 1970s and 80s they were doing ever so well. Today its more like garden parties BBQ and all the other stuff.
I hate to say this but none smoking in pubs/clubs made a real impact in sales, pubs that don't serve meals are doomed...sadly.
Comment by:
Mick
on 28th March 2021 at 14:36
Irene in the Railway in Appley Bridge one lad Jimmy Justice got banned, so he went home and got his shotgun and came back to shoot out one of there etched windows, it was replaced with just plain glass and thats the way it stayed until they pulled the pub down
Comment by:
Steve
on 28th March 2021 at 19:00
In my youth this pub was known as Tommy Alecs no doubt the name of the Landlord. Irene you missed out the Victoria and the British Legion Club !
Comment by:
frank farrimond
on 28th March 2021 at 19:03
I spent many a happy hour in the king billy and the billiard hall at the side.Sunday afternoon was Billy,the the extra hour in either the labour club or legion.
Comment by:
Dennis Seddon
on 28th March 2021 at 19:45
You're right Irene, Pey could whisper over three fields! We both worked at the same place for a few years. He was a rough diamond with a heart as big as a house and a real character, the kind of which you seldom see these days.
Is he still with us I wonder?
Comment by:
Irene Roberts
on 28th March 2021 at 20:28
I remember The Vic, Steve....I used to go in with my Mam and Dad, and I remember The Railway, The British Legion and also The Commercial, (Kezzie's), in Victoria Road. I was just pointing out how the cluster of pubs and The Labour Club in the centre of Platt Bridge were only a few yards from each other. I remember Joe Greenwood on the piano in The Vic, and people getting up to give a song! I also remember Fred and Betty Chadwick running The Queens before my friend took it over.
Comment by:
Broady
on 28th March 2021 at 21:00
Did Freddie Chadwick have it at one time?
Comment by:
George (Hindley)
on 29th March 2021 at 00:40
I didn't believe this pub was in Hindley until it was pointed out on the communicate section. It's lucky I didn't take 'some people' up on the bet as I'd have lost my tenner.
Comment by:
Irene Roberts
on 29th March 2021 at 09:24
It's in Platt Bridge which is a sub-district of Hindley. I worked there and I live just up the road from it in Abram. In the Street Directories and Electoral Rolls, a part of Platt Bridge comes under Ince and the other part comes under Hindley, that's why The Queens is shown in the Hindley Directory. But if the pub was still open and you wished to write to the landlord the address is The Queens Arms, Walthew Lane, Platt Bridge. If you walk from Platt Bridge to Hindley there is a sign saying Hindley on Liverpool Road near Low Hall Nature Reserve. Past that sign you are in Hindley proper, before it you are in the sub-district of Platt Bridge.
Comment by:
Veronica
on 30th March 2021 at 17:23
My word Irene girl - you have surpassed yourself ! I thought only JH would have gone to such lengths in explaining which district belonged to wherever it belonged to. Well done!
Comment by:
Irene Roberts
on 31st March 2021 at 09:17
Veronica, if you go on "stuff" on the Album. you can scroll down to Ince Directory and Hindley Directory, both from 1925. They give you a list of all the addresses in Ince and Hindley plus the name of the householder and their occupation, and they state "incorporate parts of Platt Bridge." They are absolutely fascinating.
Comment by:
Veronica
on 31st March 2021 at 13:19
Yes I have looked on that site a few times for around Scholes and Ince looking for addresses of my grandparents - it's very good. Thanks Irene.