Photos of Wigan
Photos of Wigan
Photo-a-Day Archive
Photo-a-Day Archive
Photo-a-Day (Wednesday, 18th December, 2019)
Back of M&S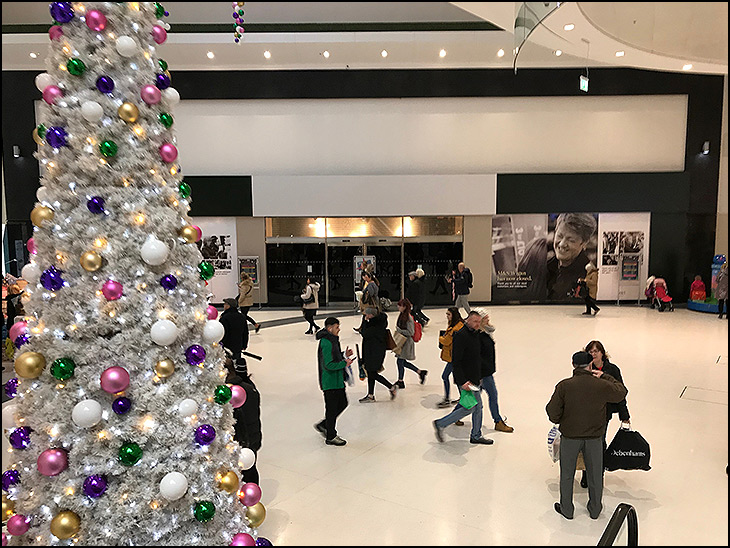 Footfall has also declined in the Grand Arcade since the closure.

Photo: Brian (iPhone)
Views: 1,925
Comment by:
Pw
on 18th December 2019 at 09:51
I have always liked Wigan but it does seem to be losing its appeal.Went to Leigh yesterday,a place I rarely go to these days and there were plenty of folk about.
Comment by:
Thomas(Tom)Walsh.
on 18th December 2019 at 11:01
I think it is fairly obvious the The Grand Arcade was a mistake, in retrospect it would have been much better to regenerate Standishgate and boost The Galleries.
However we don't have hindsight, I'm sure the people responsible for the decision had the best of intentions.
Comment by:
fred foster
on 18th December 2019 at 19:33
O Wigan was a grand old town before the Metro came.
They robbed us of our buses, it really was a shame

We still have our coat of arms; I suppose that counts a lot.
But some of their decisions I am sure have "lost the plot"

The open market's a disgrace, with many an empty stall,
And what about the problems with the present Market Hall?

They said that the old hall was getting past a joke
But what they failed to understand was it suited many folk

We used to have a swimming pool, the envy of many a town
But this wasn't good enough for our lot so they had to pull it down

They started on a project to revamp Station Road,
I know it needed doing but what could we afford?

"We'll build a noble edifice, the best the town had seen
We'll call the project Grand Arcade; it won't cost us a bean"

Send for Modus properties, we've heard that they're the best
We'll let them build it for us; we'll put them to the test.

Modus came and built it, all brick and steel and glass,
And when it was completed it really looked reight class

They filled it up with retail shops, the galleries looked bare,
Cos they'd stripped it of its clients and moved them over there.

They're still looking to fill it, the spaces are forlorn
The market once had fruit and veg, but nearly all that's gone

I suppose one day the time will come when things turn alright
We'll wake up one day and maybe see the future's looking bright

Let's hope the planners get it right, no doubt they will some day
For me it can't come soon enough that's all I have to say.
Comment by:
irene roberts
on 18th December 2019 at 20:26
They couldn't organise a rice pudding, Tom, and never seem to learn from their mistakes.
Comment by:
Helen of Troy
on 18th December 2019 at 21:13
Well said Fred..I trust Freds opinion. Lived in Wigan since he the day he was born....& he is my cousin to boot!
Comment by:
Jonno
on 19th December 2019 at 00:32
Brilliant Fred, and very true.
Comment by:
janet
on 19th December 2019 at 16:30
metro are ripping the heart out of wigan
Comment by:
Lynn Forshaw
on 24th December 2019 at 02:51
"Metro are ripping the heart out of Wigan? Not the Metro, Janet... internet shopping. Most of us are guilty of destroying town centres by shopping from Amazon and others. Times change, as does the way we shop.
Comment by:
Veronica
on 24th December 2019 at 12:58
We still need to eat though Lynn, we need a good supermarket in the centre. i wouldn't care to order foodstuff on line.