Photos of Wigan
Photos of Wigan
Photo-a-Day Archive
Photo-a-Day Archive
Photo-a-Day (Tuesday, 17th December, 2019)
Quiet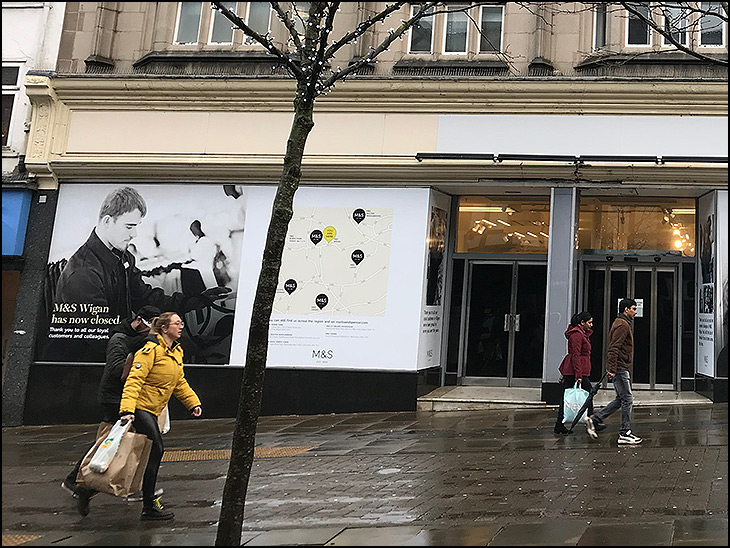 Shoppers make their way up Standishgate past the recently closed M&S.

Photo: Brian (iPhone)
Views: 1,878
Comment by:
Helen of Troy
on 17th December 2019 at 07:51
People in Wigan eat a lot of chewing gum. Has Wigan no litter bins ? More likely it has people that wouldnt use them anyway. Some years ago Kings Lynn had a big problem with chewing gum on pavements...it was cleaned up at great expense & the message was... Dont do it. It doesnt seem to be a problem now.
Litter is litter, be it paper or 8something you spit out of your mouth.
Comment by:
Anne
on 17th December 2019 at 08:33
Why are all the interior lights on? Is there something being done other than clearing out? Is it to deter intruders?
Comment by:
Veronica
on 17th December 2019 at 08:53
I am sure Marks will not do as well at Robin Park.,, but is that wishful thinking on my part? Betrayal from my point of view, after all those years!
Comment by:
kath
on 17th December 2019 at 08:55
such a shame to see that closed and a great loss to the town centre
Comment by:
Axcroft
on 17th December 2019 at 09:03
HoT, I recall that this whole area was systematically cleared of gum deposits about 10 years or so ago. Looks pretty awful in this shot. Wigan Council should do more on litter control and enforcement.
Comment by:
Julie
on 17th December 2019 at 09:53
What a shame no more M&S closed after all of these years its terrible how do they expect old people to travel to other areas to find another M&S their loyal customers.
Comment by:
irene roberts
on 17th December 2019 at 11:37
I don't think it's chewing-gum. I think it's leaves off that little tree. I walk past there regularly and have never seen chewing-gum to that extent. But I have to agree with Helen on the subject of litter. People just couldn't care less. I was taught to take litter home or put it in a bin. I taught my children the same and neither of my grandchildren drop litter. They, and I, were taught by example. It drives me mad to see both adults and children eating or drinking in the street and just throwing the bottles and wrappings down on the floor, and people in cars throwing fast food wrappings out of the car window! How difficult is it to put it in a bin or take it home?! And I agree with all the comments on here about M and S.
Comment by:
Thomas(Tom)Walsh.
on 17th December 2019 at 12:02
Marks and Spencer have ripped the heart out of Wigan , after taking profits from the town since 1891, what price loyalty !

The board should collectively hang thier heads in shame - wlll they , not a chance.
Profits are the only reason for thier existence, people and well being of towns count for nought .
Comment by:
AP
on 17th December 2019 at 13:18
This is not just a closed down shop....

It is a Marks and Spencer's, one-time high end, closed down with care, retail unit!
Comment by:
Cyril
on 17th December 2019 at 13:56
I haven't been in the store at the Robin Retail Park, though whenever I've called into Pets at Home of an evening and looked into the store it looks to be quite busy, I can imagine their food shoppers will be finding it a lot more convenient there too with being able to park up closer and free, and more likely doing a bigger shop.
Comment by:
Pw
on 17th December 2019 at 14:54
Looks more like polystyrene chips but no doubt there will be chewing gum like in every town.If the chewing gum was eaten it would not be on the floor.Litter is a pain.
Comment by:
Veronica
on 17th December 2019 at 15:47
Very witty AP....
Also the Marks Christmas advert seems to be set outside this year on market stalls! What's all that about!? Perhaps they are trying to get back to basics....
Comment by:
Veronica
on 17th December 2019 at 16:50
I remember st school, if you chewed gum and then swallowed it, I was told,it would 'wrap round your heart'! I don't think I ever did swallow it after that. On occasion in class if you were caught chewing, you would have to swallow it quick to get rid of the evidence! That did happen to me a couple of times, I'm ashamed to say...oh the tribulations of schooldays, but I must say there are far worse things to contend with these days in school and no mistake!
Comment by:
Lynn Forshaw
on 24th December 2019 at 02:57
How many on Wiganworld have started to shop "German?" (Aldi & Lidl) To save stores like Marks & Sparks we need to "think British" when we shop.
Comment by:
Veronica
on 24th December 2019 at 20:00
We have both those stores where I live, new to the area, I can honestly say I am not keen.... Yet I hear many going into raptures about them. Not for me... I have thrown fruit away and taken stuff back, you have to try though..