Photos of Wigan
Photos of Wigan
Photo-a-Day Archive
Photo-a-Day Archive
Photo-a-Day (Saturday, 9th December, 2017)
The Start...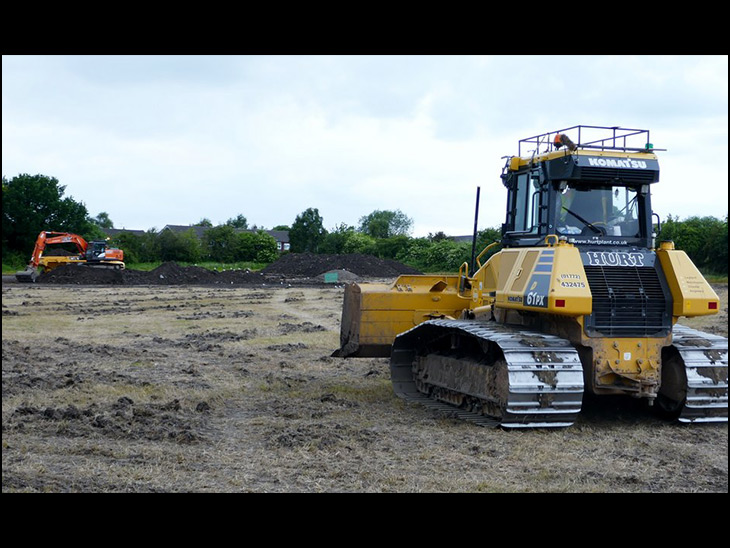 The start of Shevington's new Football pitch and Rugby pitch and allotments including a car park on land once owned by the ICI Robrite factory.

Photo: Mick Byrne (Panasonic TZ100)
Views: 2,506
Comment by:
Rev David Long
on 9th December 2017 at 09:47
I'm presently researching the WW1 Auxiliary Hospital, Woodlands 3, which was housed in The Beeches at Standish.
One of the staff there was Miss Margaret Bigg-Wither, who carried out Nursing & Housework duties. She was born in Swinley in 1888 - and her father, a Harris Bigg-Wither, is given as 'Manager, Robinson Co' at the time of her sister's Baptism in 1891. By 1911 he was General Manager of the Roburite factory, and the family were living at The Mount, Gathurst, which is within the Roburite site. I deduce that Robinson & Co became Roburite at some stage.
Fans of Jane Austen may recognise the surname... THE Harris Bigg-Wither, her great-grandfather, proposed to Jane Austen in 1802. He was accepted... but she thought better of it overnight, and changed her mind. She remained in touch with his sisters, however.
By the way - any information, or photographs, relating to The Beeches in WW1 would be welcomed. My email is david@scars.org.uk
Comment by:
Owdkewyed
on 9th December 2017 at 15:28
Hope there are no UXB,s left
Comment by:
Rev David Long
on 9th December 2017 at 15:50
Further research today - Harris Bigg-Wither married Constance Stokes, daughter of Lt. Gen. Sir John Stokes. Stokes, an Army engineer involved in the building of the Suez Canal, became a Director of the newly-formed Roburite Company, which had bought the patents for the new, 'safer' explosive for use in mines, roburit, from its German inventor, von Roth, in 1887. Stokes put his son-in-law forward as Manager of the new factory being built at Gathurst. Stokes visited the site - and the elevated tramway seen in photographs was his idea, according to his autobiography.
The reference to 'Robinson & Co' in the LOPC version of St Michael's Register is most probably a mis-transcription for 'Roburite Company'.