Photos of Wigan
Photos of Wigan
Photo-a-Day Archive
Photo-a-Day Archive
Photo-a-Day (Thursday, 19th November, 2009)
Hingemakers Pub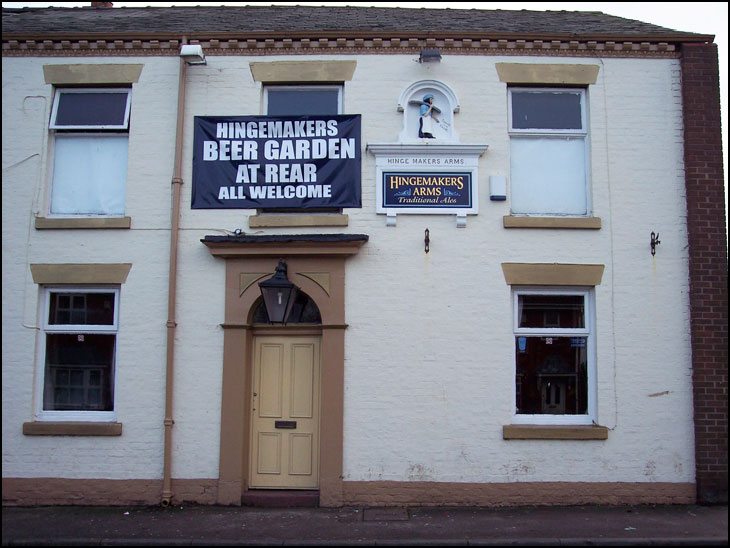 Hingemakers Pub, Heath Road, Ashton-in-Makerfield. Run for many years by the Corless family.

Photo: Tony Haslam (Kodak DX7630)
Views: 4,521
Comment by:
Mick
on 19th November 2009 at 15:17
Not many comments on this very interesting name of a pub.

But its not a place I would have like to take a woman on a date who I was trying to impress.
Comment by:
Tony Haslam
on 19th November 2009 at 21:10
Give it chance Mick it has only been on 24 hours. I think you will find there will be a lot of comments on this pub which was very popular in Ashton-in-Makerfield and still is today. Walter Corless the landlord for many years was a well respected citizen and publican of Ashton.
Comment by:
Mick
on 19th November 2009 at 22:10
Not saying there anything wrong with it Tony I like it but like I was trying to say the name wouldnt impress to many womem if you where taking them out for the night and said I meet you in the Hingemakers.

I think I read something in the Wigan evening post about the old landlord Walter
Comment by:
sane man
on 20th November 2009 at 03:15
just looks like a house with a banner stuck on it
Comment by:
Tony Haslam
on 20th November 2009 at 21:43
Mick, What would a women think if you said you were taking her out to the Moon Under The Water!!!She would be looking for her space helmet to go out in no doubt. Or what about the Swan with two necks!!! I could go on all night
Comment by:
jean mills
on 21st October 2010 at 16:03
nothing wrong with how it used to be was a family run pub very welcoming ,had many a good night in there with gradley folk walt and evelyn were always there to welcome anyone .gradly folk from ashton
Comment by:
Dave L
on 13th September 2012 at 15:19
The Hinge reopened again 18 months ago. It is clean, friendly sells good drinks at the right price and has a wonderful south facing beer garden. Its usually buzzing. Try it
Comment by:
Dave L
on 18th September 2012 at 12:50
By the way,I forgot to say it now looks nowt like the photo. It has had complete refurb inside and out.