Photos of Wigan
Photos of Wigan
Photo-a-Day Archive
Photo-a-Day Archive
Photo-a-Day (Wednesday, 3rd March, 2021)
Whittle Tag Farm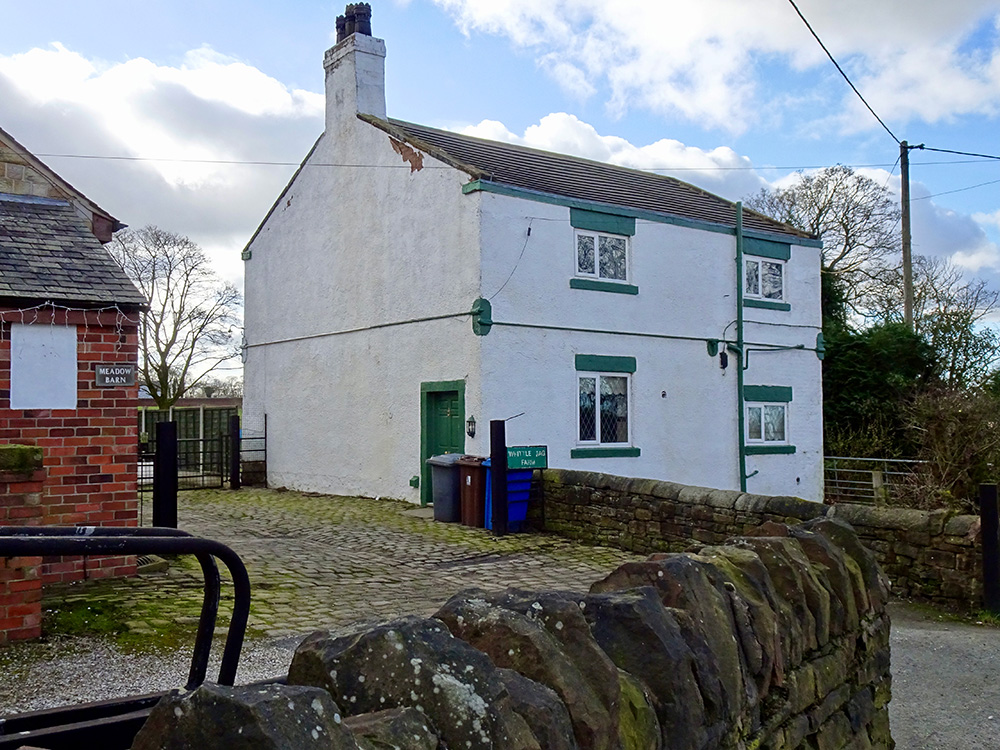 Whittle Tag Farm on Meadow Pit Lane, Haigh. Those horizontal metal bars surrounding the house were a common feature on many Lancashire houses due to widespread subsidence caused by Mining.

Photo: Dennis Seddon (Sony DSC-WX500)
Views: 1,742
Comment by:
Mick
on 3rd March 2021 at 07:13
Meadow Pit lane narrows outside of Whittle Tag Farm, and many motorist come around the bend over the central white line and crash into anyone who is coming from the opposite direction.
Comment by:
Irene Roberts
on 3rd March 2021 at 09:43
I like that house with its unusual name and its "Green Door" like the one Frankie Vaughn used to sing about! I remember many houses with the bars round them, and I love the cobbled yard around the adjoining Meadow Barn and the old wall in front of it. A lovely photo, Dennis.
Comment by:
lock lass
on 3rd March 2021 at 12:03
I like this photo of the Farm Dennis. Such an interesting unusual name; does anyone on here know how that Farm got its name of: Whittle Tag Farm please ?
Comment by:
Veronica
on 3rd March 2021 at 12:12
I'm just trying to fathom out how those iron bars would help in the case of subsidence. I am imagining a great big hole swallowing the building whole... !
Excuse my ignorance.
Comment by:
Irene Roberts
on 3rd March 2021 at 13:03
I'm not sure how the bars worked, Veronica, but a house in the viaducts area of Ince disappeared into a huge hole many years ago due to subsidence!
Comment by:
Veronica
on 3rd March 2021 at 13:52
The same thing happened in Westhoughton 20- 30 years ago. Brand new houses - all had to be cordoned off, they didn't drop into a big hole but they were empty for years. They could still be there empty for all I know. It's not surprising though with all the mines that exist Irene.
Comment by:
Rainh
on 3rd March 2021 at 15:02
What kills me about modern architects , is they criticise older buildings with these types of defects saying they weren't built properly as modern houses are today . You see loads of older buildings with various kinds of tie bars attached , and not only are they still standing but good for another two hundred years . This applies to walls also . Modern architects start with an outline of one main box , and add other boxes to that . Great skill is required . They might have modern tools and techniques today but anybody with a Dewalt can call themselves a builder. Double glazing is also another great skill , plastic trim and expanding foam is you get lucky . Have a closer look at the detail in many older buildings . They had incredible skill . Give me an older building any day , with or without the tie rods .
Comment by:
Janette
on 3rd March 2021 at 18:03
Some houses collapsed in Tolketh Street Belle Green Lane,Ince round about 1960/61,due to subsidence.Amazingly,no-one was injured.There is a grassed area there now. Kendal Road estate was built 1962.
Comment by:
James Hanson
on 3rd March 2021 at 18:51
Those tie-bars are there to stop the walls bulging.
Comment by:
Ena Malcup
on 3rd March 2021 at 18:52
I recall my gran telling me of someone she knew, who returned home, opened the front door, and found the whole interior of their home had disappeared down a shaft which previously they had been unaware of.

I recall Fred Dibnah recount a similar story on TV, but know not if it relates to the same incident.

Of course, there are well documented occurrences, such as the locomotive 'Dorothy' and train of coal wagons disappearing down the Filled-in 'New Zealand shaft when the said filling slumped and the shaft lining collapsed. There is discussion of this elsewhere on WW site.

I don't know if they are still there, but west of the junction with A49 there used to be severe humps in the road surface of the East Lancs Road resulting from subsidence. Whether or not surrounding buildings with those ties could stand up to such disruptions, I do not know.