Photos of Wigan
Photos of Wigan
Photo-a-Day Archive
Photo-a-Day Archive
Photo-a-Day (Tuesday, 21st July, 2020)
Dead Lodge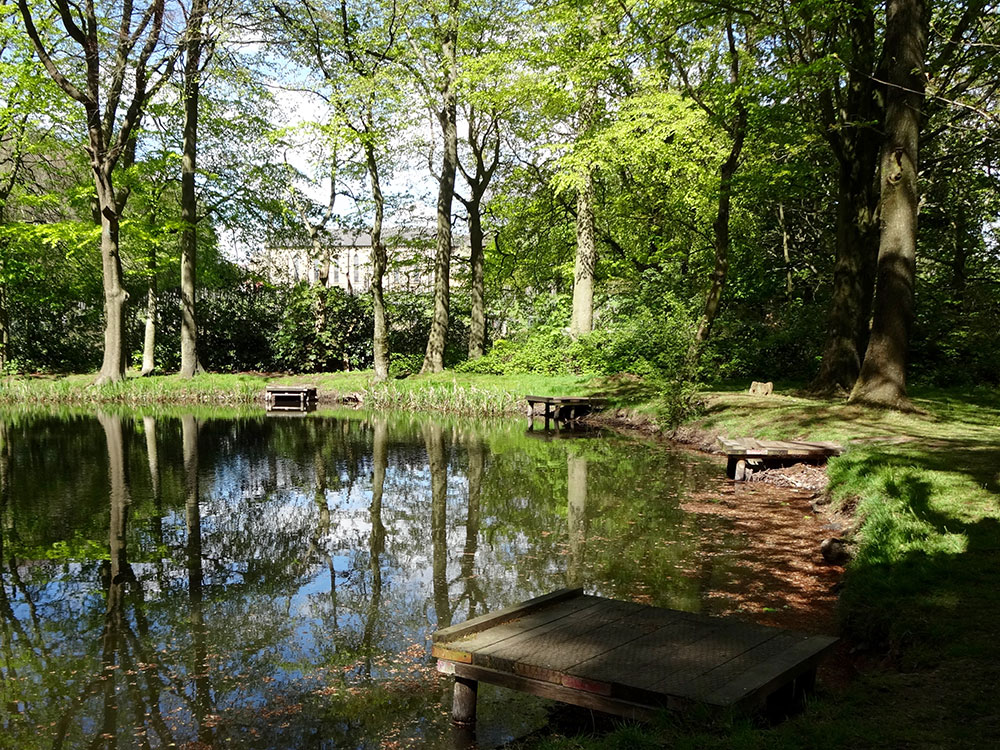 The Dead Lodge, Haigh, so called because it lies at the foot of St David's Church Yard. We used to fish here when we were kids but now it's private fishing, permit holders only. It seems like every other pond and lodge in the area as gone the same way.

Photo: Dennis Seddon (Sony DSC-WX200)
Views: 1,568
Comment by:
xpat
on 21st July 2020 at 00:07
Nothing 'dead' about your photography Dennis! Wonderful shot. Thank you for posting.
Comment by:
Kath H
on 21st July 2020 at 07:42
Great photo Dennis. Didn't even know it was there, will take a look the next time I go to my Grandma's grave.
Comment by:
irene roberts
on 21st July 2020 at 07:48
That's a lovely scene. There is something timeless about Haigh.
Comment by:
Veronica
on 21st July 2020 at 08:11
Another good one, leafy glades and reflections on water with the church in the distance.
Comment by:
Gary
on 21st July 2020 at 09:02
So long since I've seen that bit of water - 1966, at least.
Excellent photo, as usual.
Private?
I've noticed, over the past ten years, large numbers of small land plots for sale, all over the country. No building permissions, sometimes no access for around the £30k mark. Quite a few in Norfolk in 2018, several near me in Northumberland.
Suspect they are long term investments because bank/bsoc rates so low.
Comment by:
Walt(Nth Yorkshire)
on 21st July 2020 at 09:51
Another brilliant photo Dennis, I'd forgotten about this lodge completely. Most lodges around Aspull were well used, as kids we would swim in them in summer, fish them in autumn and skate them in winter, I often think its a wonder we got to he age we have !!. Thanks Dennis.
Comment by:
David Barker
on 21st July 2020 at 09:55
Excellent photo Dennis, nice reflections and St Davids just visible through the trees, I've fished there to Dennis in my teens, well done.
Comment by:
Dennis Seddon
on 21st July 2020 at 10:58
In summer when all the leaves are on the trees, this is a dark and gloomy place. It's only in spring that the sun manages to get through to the ground.
Walt, David, do you remember fishing in the "Fiver"?
Comment by:
Dave (Oy)
on 21st July 2020 at 11:06
Comment by:
Mick
on 21st July 2020 at 11:07
St Davids church has a look of Buckingham Palace me
Comment by:
Philip Gormley.
on 21st July 2020 at 12:59
I like the swagger of the curving shoreline Dennis.

Sleep comes easy to Haigh.
I can tell by its stilly Dead Lodge air,
And by its pond-filled prize, for which no one bears a chase.
I'll sit beneath that yonder beech,
Its foot has no sign of past despair,
Nor, I feel, its swim, of soured bed.
And then I'll cast my bait of sun-blessed charm
For the prize, which sleep had told, will surely come.
Comment by:
Walt ( nth yorks )
on 21st July 2020 at 14:42
Aye Dennis I do, that was the lodge I first tried to swim, never really one for fishing but can remember walking across once or twice when it was frozen over. I can remember camping out on the far bank, six or more in a little tent. Gone are the days Dennis, got a lump in my throat with the memories of it all.
Comment by:
Poet
on 21st July 2020 at 15:27
Some tactical thoughts before I cast ,
For Perch are soldiers of the pond
Striped like sergeants on patrol .
On each humped back , a Cheval de frise .
Maybe a cloth capped Sun Tzu could bring one to defeat.
And Dace are damsels of the pool
Scaled with shards of mother of pearl ,
They shine in shoals like submerged stars .
Perhaps a Waltonian swain could fool her ashore .
And bedded dark in weed and wise
Tench are Plato's of the pit
Pondering morsels far too deep and old to rise .
Yet by the philosophy of fishermen he ought forfeit.
Aye, Tench it is today I think.
Comment by:
julie
on 21st July 2020 at 17:07
I Know Irene Haigh is one of my favourite places in all Aspull, I have always loved it since I was young, and also haigh hall to they are the most beautiful places.
Comment by:
Dennis Seddon
on 21st July 2020 at 18:48
Dave (Oy), being an admirer of your photos for some years now, your comment gives me confidence that I may be getting something right.
Many thanks
Comment by:
John Walsh
on 28th July 2020 at 19:18