Photos of Wigan
Photos of Wigan
Photo-a-Day Archive
Photo-a-Day Archive
Photo-a-Day (Sunday, 28th June, 2020)
Blackrod Primary School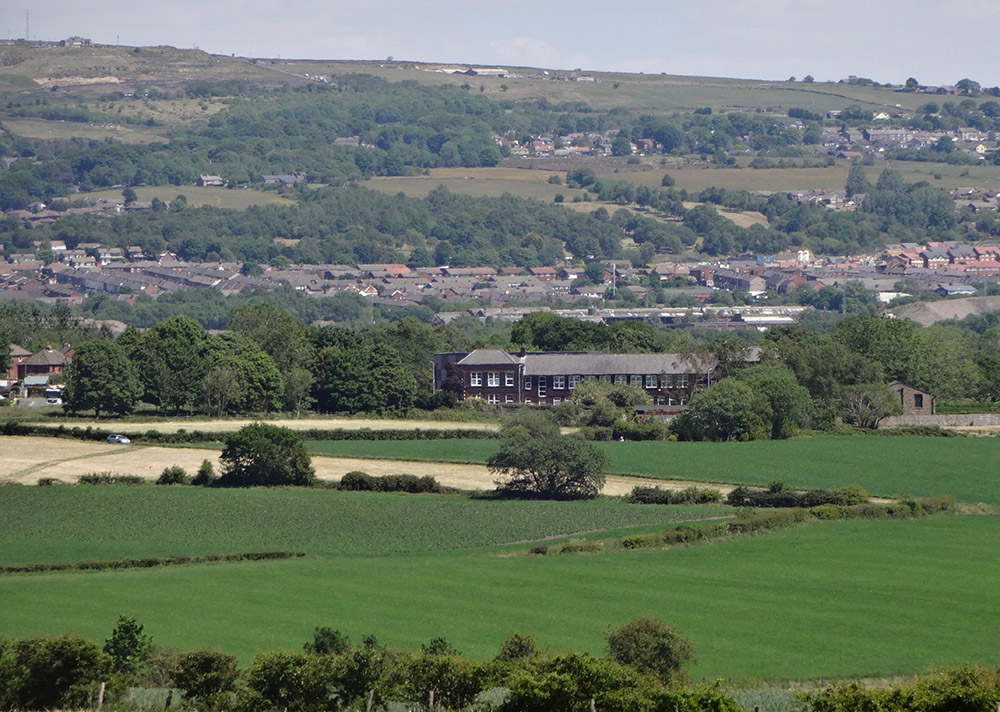 Blackrod Primary School from Stanley Lane, Aspull.

Photo: Dennis Seddon (Sony DSC-WX200)
Views: 1,824
Comment by:
Walt(Nth Yorkshire)
on 28th June 2020 at 07:52
Cracking photo Dennis, lots to view beyond the school. Was it known as the Klondyke (not sure of the spelling) upto the top right of the pic. Incidentally, wasn't the school originally Blackrod Grammar School a long time ago now ?. I can see Winter Hill Transmitter also, plenty for the eyes to take in, good one Dennis.
Comment by:
julie
on 28th June 2020 at 08:19
That is so good Dennis all that way at Stanley road taking that photo, its quite a distance. You can see all over Blackrod from Aspull.
Comment by:
Elizabeth
on 28th June 2020 at 08:32
Another great pic,so clear,well done.
Comment by:
Gary
on 28th June 2020 at 08:40
Originally Blackrod Secondary, built in 1930s and proposed for closure in the 60s - in favour of retaining Scot Lane primary.
Sense eventually prevailed and the primary school went to the newer building.
Fine view of "Rivi", a view I saw every morning from the upstairs of the No. 16 bus from Aspull to Horwich en route to what was Rivington Grammar School from 1963 to 1970. It's a view we took for granted, like all the fine views around Wigan. It's only when you've gone the realisation emerges of what a picturesque place it was - and is.
Comment by:
Eddie P
on 28th June 2020 at 09:59
Your house on there Mick ?
Comment by:
irene roberts
on 28th June 2020 at 10:09
We've passed that school in the car but obviously you don't get that view. A pleasant photo.
Comment by:
David Barker
on 28th June 2020 at 10:25
Good view from there Dennis, that's were I took the Vulcan Bomber photo on its last flight , in October's PAD 2015.
Good clear photo Dennis .
Comment by:
Mick
on 28th June 2020 at 10:33
No Eddie our house is at the back of the cameraman, more or less.
Comment by:
Dennis Seddon
on 28th June 2020 at 11:05
I went to see that bomber in Doncaster David, in the hanger where it was kept. Got some great photos from close up. The thing is huge but only a tiny part is taken up by the crew, the rest is all bomb bay and engines. Took some photos from inside the enormous bomb bay.
Altogether it was a very interesting day out.
Comment by:
Philip Gormley.
on 28th June 2020 at 13:52
I used to wonder through scenes, like this, wondering who, or what, could live 'just there'. And though some years have passed, old Blackrod stirs the muse.
Perhaps for sloe, on napkins laid,
From Jill O'Connell - County-made.
Or silent lips upon the way,
To hear the drone in foxglove-bay.
Or even, slake, when nice and clear -
Once favoured drink of hedgerow beer.
But most of all, if not too-late,
The puffed-up sound of 'Close that gate!'.
Comment by:
Beryl
on 28th June 2020 at 13:53
Love this photo. It's always good to get that reminder that Wigan (and surrounding areas) is not all sprawling estates and terraced road but that it is surrounded by beautiful countryside.
Comment by:
walt(nth Yorkshire)
on 28th June 2020 at 14:32
Dennis and David, re Vulcan bomber XH558, sadly its no longer open to the public and lives a lonely life at Doncaster Airport, it no longer has a hanger but stays outside in all kinds of weather. However, it still has lots of volunteers looking after it and though it no longer flies it does have a run along the runway now and again.
Comment by:
James Hanson
on 28th June 2020 at 14:47
That's a lovely photograph of Bolton. I agree with Beryl, Wigan is lucky to be surrounded by Bolton, St.Helens, West Lancashire and Cheshire and their respective countryside.
Comment by:
andysharrock
on 13th August 2020 at 20:22
my old first school i left in 1973 many happy memories