Photos of Wigan
Photos of Wigan
Photo-a-Day Archive
Photo-a-Day Archive
Photo-a-Day (Wednesday, 9th October, 2019)
Wigan Dam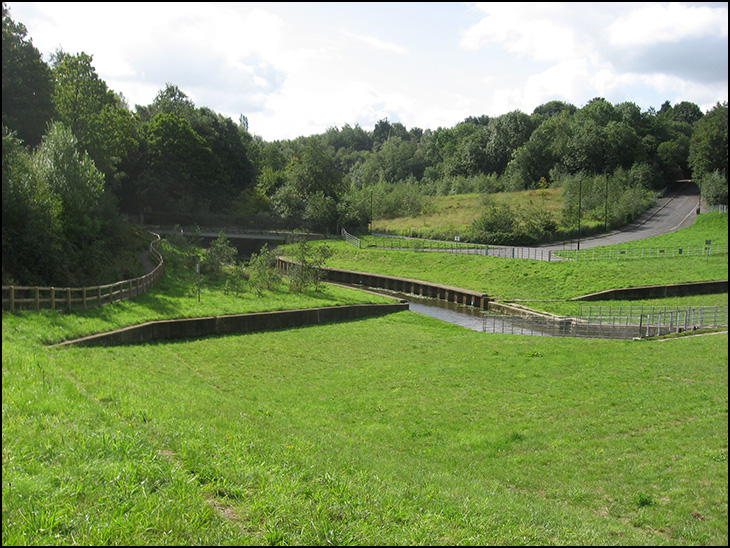 This is the Environment Agency Wigan Flood Alleviation (FAS) phase 2 scheme for the River Douglas. Work started on site in October 2009 and was completed End of 2010 or early 2011.

Photo: Barrie Old (Canon PowerShot A540)
Views: 1,959
Comment by:
Linma
on 9th October 2019 at 06:28
In England's green and pleasant land.
Comment by:
Mick
on 9th October 2019 at 07:37
If I was in charge of building the dam I would have slowed down the river flow so that the lake was there all the time.
There could have been a footpath with flowers, benches all the way around it for walkers and fishermen, it would have look so much nicer and would get more use, than the bog they have now.
Comment by:
Veronica
on 9th October 2019 at 07:37
I can't get my bearings with this photo. Is what was called the 'Camel's Hump' nearby? That's going back I know, as I believe houses are built there now.
Comment by:
TerryW
on 9th October 2019 at 12:06
Mick, do you ever stop moaning, every time someone posts a picture you always find fault, GROW UP!!!!!
Comment by:
H
on 9th October 2019 at 13:15
Yes Veronica to the left of the dam forward towards the trees and up the hill where the houses are now.
Comment by:
Veronica
on 9th October 2019 at 13:52
Thank you H it's practically unrecognisable to me after 60 odd yrs. I remember playing on the Camel's Hump in the school holidays. The land on the side of the river was where lads used to play football. It was a wide open space. Carefree roaming days of yore...!
Comment by:
. Ozy .
on 9th October 2019 at 14:15
I agree, it would have been pleasant to have had a permanent lake in the valley.
Unfortunately, this would have defeated the object of the exercise entirely.
As things stand the scheme isn't altogether 100% effective.
Remember the floods of Boxing Day a few years ago Mick?
Comment by:
fred
on 9th October 2019 at 14:40
terryw i agree with you mick always finds fault unless its one of his photo's never compliments anyone on their photos no matter how good they are moaning mick strikes again
Comment by:
Mick
on 9th October 2019 at 15:45
Ozy if they did have a permanent lake when the lake was getting to big because of rain they could just let some run a way over the barrier.
All it needs is for them to close the barrier down a bit until they have formed a lake, then adjust the barriers setting a bit higher to keep it full
Comment by:
Barrie
on 9th October 2019 at 16:55
The construction company that I was employed with (HS&E adviser) had previously worked on phase 1 of the FAS scheme (Pottery Road -Darlington Street) 2007/2008.We were flooded out a number of times in 2008 as worksprogressed.Similar on this phase early 2010. Access to the site was via Coppull Lane seen in the background.
Unfortunately, I didn't see it through to completion as I retired in May 2010. This photograph taken 12 months ago when I walked through to the plantations and back round to Marylebone. Nature has returned to this area.
Comment by:
. Ozy .
on 9th October 2019 at 17:00
The optimum height of the flood barrier I would suggest , may largely have been dictated by the bridge that carries the driveway up to the hall.
For my money, screw turbines , with some return on the power generated , would have been a far better option than the hydro - brake flow regulators that are currently in use, as these make no allowance for manual adjustment of the water flow.
Little doubt initial outlay would have been the prime consideration, although I did hear a figure of 14 plus million being bandied about at the time.
Still, I'm no engineer, and we are where we are eh?
Comment by:
Elizabeth
on 9th October 2019 at 18:13
I know this comment has only a very tenuous link to the photo,but just seen an article on Wigan today about a couple who recently relocated to Marylebone who are into vintage in a big way.Irene and Peter Roberts have been great fans of 40's and 50's vintage for ever,and regularly go to 40's weekends around the country!!
Comment by:
irene robertsI
on 9th October 2019 at 19:30
Thankyou for the mention, Elizabeth, that sounds very interesting, and thankyou for my birthday card....I have been meaning to text you since Sunday! xxxx
Comment by:
Elizabeth
on 9th October 2019 at 20:01
Thanks Irene, you're very welcome. Hope you had a good birthday.xx
Comment by:
Mick
on 9th October 2019 at 20:14
Have you come into some money Irene, moving to Marylebone
Comment by:
irene roberts
on 10th October 2019 at 17:41
It isn't us in Marylebone. Mick! xx