Photos of Wigan
Photos of Wigan
Photo-a-Day Archive
Photo-a-Day Archive
Photo-a-Day (Wednesday, 20th January, 2016)
Crown Hotel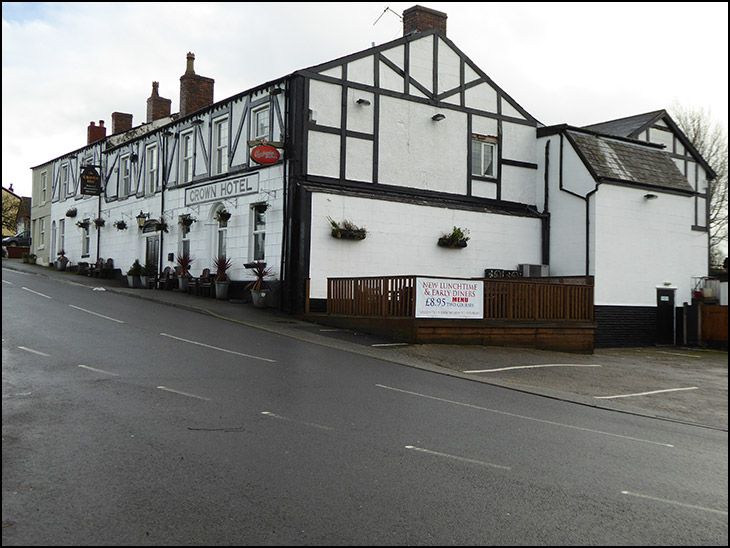 Crown Hotel, Worthington, closed its doors 5th January 2016.

Photo: Alan Banks (Panasonic DMC-TZ60)
Views: 3,445
Comment by:
Ken R
on 20th January 2016 at 00:54
It's a shame to see this pub close, have had a few good meals in there.
Comment by:
Vb
on 20th January 2016 at 09:38
It is a shame for such a lovely building to be empty.........not so good for the neighbours either. I hope somebody buys it. Really nice picture.
Comment by:
Gary Leece
on 20th January 2016 at 10:46
Here in the North East, eight years ago, at a typically ghastly education conference, the day was enlightened somewhat by one of the speakers chatting to me about the excellent pub restaurant he'd discovered near Wigan. He was amazed that I knew the village and the pub. He could not speak more highly of the meals.
This situation is happening all over the north and I concur with the points made above. In Aspull a couple of years back I was surprised to see the Hare & Hounds had become flats.
Comment by:
Carolaen
on 20th January 2016 at 17:11
Cannot believe this. Has it suddenly closed, being declining for a while or the landlord retired? We were last in this pub in late 2009 visiting Wigan just before my Mum died. My wife and I ate here after hearing its reputation. It was wonderful and pulled off the great trick of being a good restaurant and a good pub for people just going for a drink. So many "pubs" these days are simply eating places and give little room or time for people just having a drink - it's certainly like that in our part of Somerset where have lived for 20 years and they have all become ghastly gastropubs charging mega money for "artisan" pies.

When were eating here another diner told us that the Crown was the usual dining place for the football commentators from Sky and BBC.
Comment by:
Dennis
on 20th January 2016 at 18:27
Gary Leese, not only has the Hare and Hounds gone but the Running Horses is now flats, the Red Lion is now flats and the Queens Head is now an Indian restaurant.
Comment by:
Gary Leece
on 20th January 2016 at 20:40
Thanks for the info Dennis. Aspull was a place defined by its pubs, each had its niche in the village.
Staggered to hear about the Red Lion. I was vaguely aware of the Queen's Head. The Running Horses was a favourite of my Uncle Bill Brindle in the early 60s.
Comment by:
PeterP
on 21st January 2016 at 11:34
Carolaen go to Wigan Today and type Crown Inn into search box and read all about it including comments
Comment by:
Gary Leece
on 21st January 2016 at 14:03
Peter P - have just read the Wigan Today article. I remember someone telling me years ago that for some people "ethics" is a place east of London.
As you indicate, the comments say it all.
Comment by:
Carolaen
on 21st January 2016 at 17:59
Peter P . Thanks for the link. Such a shame to hear about but increasingly common. In our village in Somerset we have 4 pubs. The 2 actually in the village look lovely but really struggle as the property group that owns them charge the tenants a fortune to buy their beers and it is well known their intention is to run them into insolvency and sell the properties for redevelopment. Its heartbreaking for the new tenants often young who sem to last about 6 months and then pack it in. happening all over the country.
Comment by:
ex local drinker
on 21st January 2016 at 19:26
How can they live with themselves after doing the dirty on their staff , who lost their livelihoods and even took with them their hard earned wages including xmas gratuities. Hope the Prince 's can sleep at night,!!!
Comment by:
Cullie 71
on 26th January 2016 at 05:11
Thank God this place shut down. they served me and the wife chips in a old ashtray bucket? there was blood all over the kichen door from their so called butchers block. MINGING. it started well then just went down hill. Mr Prince done well to stay open until 2016.
Comment by:
ex local drinker
on 14th February 2016 at 18:44
Nasty people who ran the pub down, ripping us locals off with overpriced wine , in truth bought
locally and illegally.
Comment by:
owd bob
on 29th February 2016 at 07:45
Whats the latest rumours of what will become of tha Crown?
Comment by:
owd regular
on 29th February 2016 at 11:06
Anyone know where the previous owners fled to, rats deserters in my opinion!
Comment by:
standisher
on 20th June 2016 at 07:03
Heard the scumbags are now in the Wheelton area running another pub, The Red Lion, give it a miss !!