Photos of Wigan
Photos of Wigan
Photo-a-Day Archive
Photo-a-Day Archive
Photo-a-Day (Monday, 20th January, 2014)
St Wilfrid's, Standish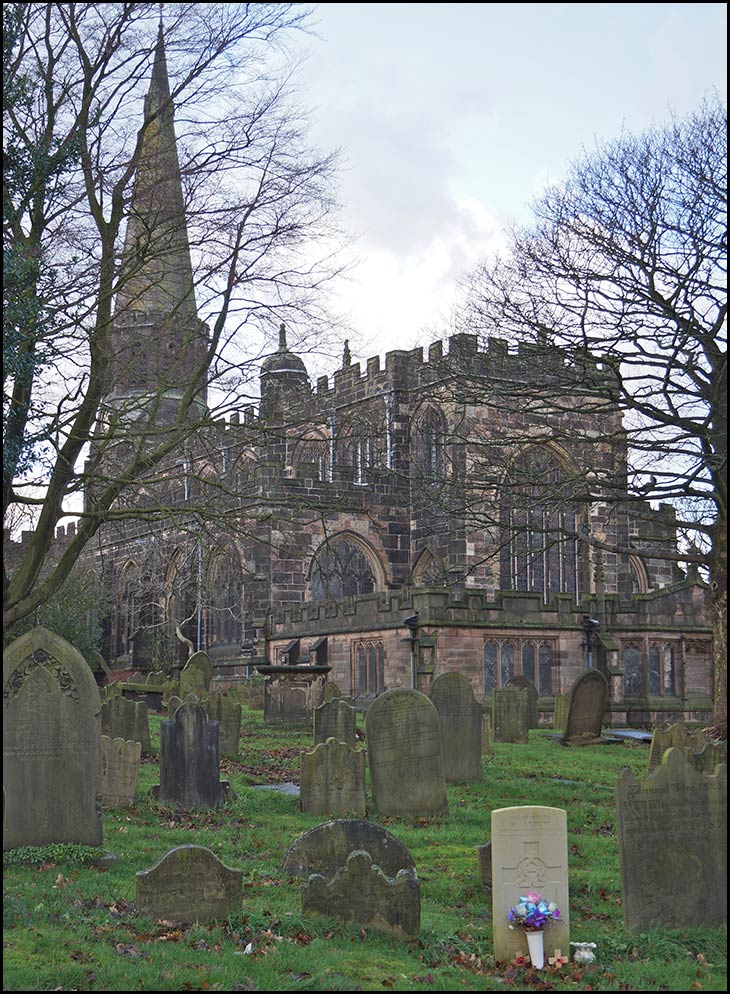 East end of St Wilfrid's Standish, with War Grave in the foreground.

Photo: Rev David Long (Sony SLT-A65V)
Views: 3,636
Comment by:
Janice
on 20th January 2014 at 01:16
That is a lovely shot Rev David and a lovely church. I like the way that the grave stands out in the foreground.
Comment by:
Mick
on 20th January 2014 at 07:55
Theres a video here showing some of them graves with dates and names of whos in them.

http://youtu.be/ibiQXLipIM4
Comment by:
Linda
on 20th January 2014 at 08:00
Very nice photo. The eye is drawn to the grave in the foreground.
Comment by:
Thomas(Tom)Walsh.
on 20th January 2014 at 08:54
Rev.David, very good,it has definite 3-D effect. I can't decipher the inscription on lighter stone, is it the grave of a serviceman ?
Comment by:
Rev David Long
on 20th January 2014 at 09:30
I took this last weekend, when I was photographing local War Graves for a project linked to the CWGC site. As with yesterday's woodland shot, you can see much more when the leaves are off the trees.
The grave is that of Fusilier Henry Langton, of the 2nd. Bn. Lancashire Fusiliers, who died on 26/10/1946, aged 35.
The grave is unusual for a CWGC War Grave in that the death of his wife, Edith Lily, is also recorded on the stone. She died at 75, on 8/3/95.
He was the son of George and Esther Langton, of Standish.
The rest of the 13 War Graves here are in the lower sections of the graveyard, including the four from WW1. I'm not sure why this one was inserted among much older graves in this older section.
Nine of the casualties are recorded on family headstones, some not recording that they were war dead at all. I also saw a few examples of casualties buried abroad who are commemorated on their family graves here.
Comment by:
Catherine
on 20th January 2014 at 13:51
Lovely photo. We lived in Standish before we moved to the States. I found out that there are some British war graves here in Louisville. I went to lay poppies on them one Remembrance day. They are soldiers who were flying 'over the hump' with the US ain't force when their plane crashed. As is common in these circumstances, I later found out, everyone who died on the plane was buried in the country of the service vehicle. Hope that makes sense.
Comment by:
Rev David Long
on 20th January 2014 at 14:45
Catherine - perhaps you could check if those graves have been covered by the project - it's at www.twgpp.org. If not, perhaps you could take pics to contribute.
As far as burial places are concerned, the USA government undertook to repatriate their dead (so there's a grave in Ince Cemetery of a US soldier who was repatriated to his mother who still lived here), but we left our dead in the country where they fell. Families could pay for them to be brought back early on in WW1, but it was rarely done, and it was eventually stopped as more formal arrangements for establishing War Cemeteries were made. It was also thought that it would be bad propaganda if the wealthy, usually officers' families, could bring their dead home, and the poor couldn't. Rupert Brooke's 'There's some corner of a foreign field. That shall be forever England' helped settle people's minds, I think.
Those buried in Britain died here, either of their wounds, or of some other cause whilst in uniform - or they were brought back in shot-up bombers and ships.
Comment by:
Catherine
on 20th January 2014 at 19:38
I checked the War Graves website that you suggested Rev David and the graves are documented on there. FYI they are in Zachary Taylor Cemetary in Louisville.
Comment by:
Maggie K
on 20th January 2014 at 20:30
Rev David, there are a couple of soldiers graves in St Anne's Cemetery, Shevington.
Comment by:
Jean F (Wales)
on 20th January 2014 at 22:53
Every picture tells a story.



very sad but a lovely photo.
Comment by:
Catherine
on 21st January 2014 at 14:34
Rev David, I've just remembered that ther is a war grave in St Paul's Goose Green of a Canadian Airman. I have no idea why he is buried there.