Photos of Wigan
Photos of Wigan
Photo-a-Day Archive
Photo-a-Day Archive
Photo-a-Day (Wednesday, 16th October, 2013)
The Front Bench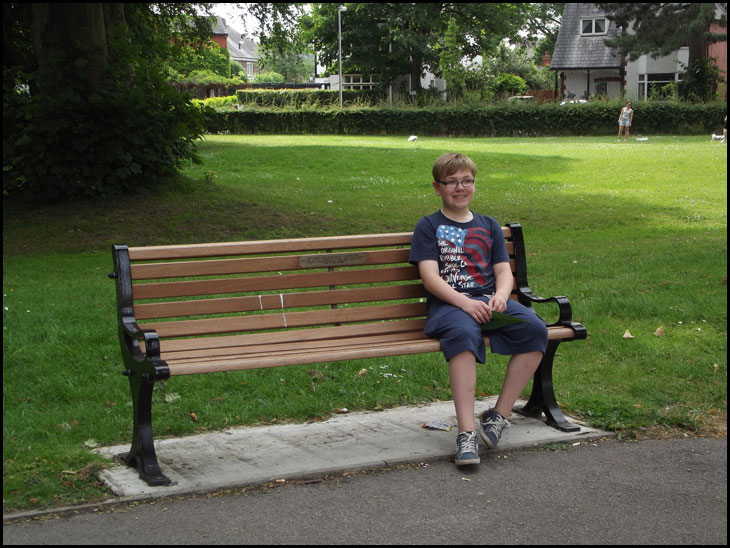 Usually reserved for MPs and councillors – Cherry Gardens.

Photo: dk (Fuji FinePix S2960)
Views: 3,773
Comment by:
kath
on 16th October 2013 at 06:19
What a bonny lad! and look at the nosy woman in the background!
Comment by:
Lizzie down under
on 16th October 2013 at 09:34
He is a Bonny boy Kath...and yes she is a bit nosey...nice pic dk ......cheers!!!
Comment by:
joe graney
on 16th October 2013 at 10:06
good picture ,the woman looks like curtain twitcher
Comment by:
Ernest Pyke
on 16th October 2013 at 11:36
There are `Cherry Gardens` all over the world.
Mick; Do you think of the one in Singapore? See;-
http://www.mandarinoriental.com/singapore/hotel/
This photo isn`t the Cherry Gardens though, which is the pub in Wigan Lane.
Is it Marylebone Park and is this bench nearby the sign shown in last Friday`s 11th Oct.2013 P-a-D?
Comment by:
Cyril
on 16th October 2013 at 12:14
We are very grateful to the local councillors for re-installing these two benches on Marylebone Park, perfect to sit, relax and watch the world go by.

She probably thinks you are a council spy taking photographic evidence as her dog (top centre left) takes a poop, hope she cleaned up after it.
Comment by:
Jean F (Wales)
on 16th October 2013 at 13:01
Watch what you say......could be the boys mum or nan !!!
Comment by:
Dave C
on 16th October 2013 at 14:40
Relaxing after long walk through Haigh Hall & red rock he slept well that night and so did molly dk's dog.
Comment by:
Mick
on 16th October 2013 at 15:25
Ernest I dont any Cherry Gardens that are in Singapore.

Japan is full of cheery trees and they even have cherry blossom festivals.
Comment by:
Ken R
on 16th October 2013 at 15:30
Nice pic. Nothing wrong in keeping an eye out for the kid, you never know.
Comment by:
Ellen
on 16th October 2013 at 19:17
My thoughts exactly,Jean!
Comment by:
dk
on 16th October 2013 at 20:14
This was just another quick snap from a traipse around the plants and I didn't pay too much attention to the backdrop. It seems the lady is leaning a bit to one side.

It reminds me of a story I was told by an elderly friend of the family, Mary, who had to take her even more elderly Father to an Old Folks' Home - they were called Old Folks' Homes in those days - and the Matron met them at the dorr and said," We'll leave your Dad here Mary, in one of our comfy armchairs, while I show you around. Don't worry, the nurse will look after him." And, off they went. After a while, Mary's Dad, started to slide a bit forward in the chair and the nurse jumped up, quick as a flash, and straightened him up and plumped a cushion up behind him. A few minutes later, Mary's Dad started to slip to the right a bit and the nurse, ever attentive, was soon there and straightened him up again and slipped a cushion under his arm. A minute later, Mary's Dad was slipping to the left, but the eagle-eyed nurse was upon him, straightening him up and propping another cushion on the the other side to wedge him in place.
Mary and the Matron returned. "What do you think Dad?", she said, "I really like it. Have they been looking after you ok?"
"It's reet Mary", said her Dad, "bur I'll thee what......they don't like you trumping".

(Sorry, I think this is an old Trevor Wallace joke.)

(DaveC - the dog, strictly speaking isn't mine - and its name's Ellie - not Mollie - close, but no wine gums.)
Comment by:
Lizzie down under
on 17th October 2013 at 00:47
Didn't think of that Jean.....statement retracted.....cheers!!!