Photos of Wigan
Photos of Wigan
Photo-a-Day Archive
Photo-a-Day Archive
Photo-a-Day (Sunday, 24th March, 2013)
Market Hall Entrance and Croci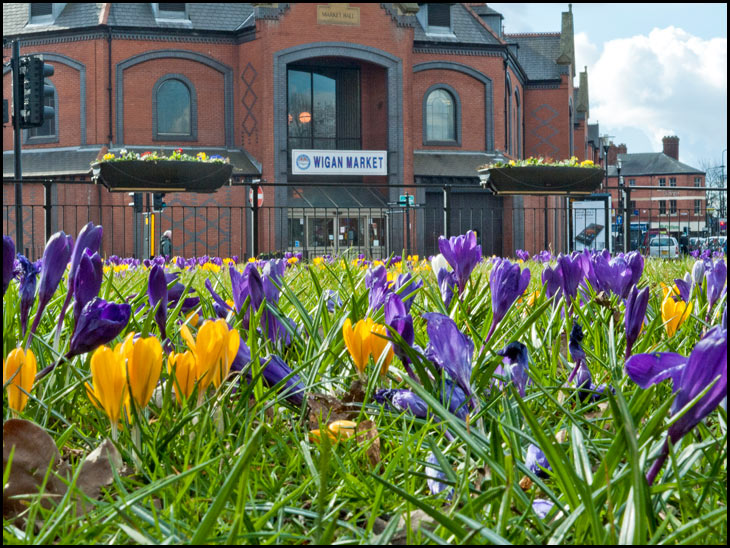 A different angle on Dave's (Oy) photo taken on the 8th of this month.

Photo: John Barton (Panasonic Lumix G1, 14-45mm lens.)
Views: 3,288
Comment by:
Philip Whitehead
on 24th March 2013 at 00:21
A nice colourful shot and good DOF showing the background image.
Comment by:
Brian from Massachusetts
on 24th March 2013 at 00:56
Lovely picture John
We still have a foot of snow here in Boston. Envious of the beautiful flowers beginning to bloom
Comment by:
Ernest Pyke
on 24th March 2013 at 04:16
Not very far from where Mick took his 17th Jan.2013 P-a-D from, either, John.
Two comments from Dave`s P-a-D :-
"Comment by Linda on 8th March 2013 at 18:48
Spring has definitely sprung in this lovely photo. It's has a real feel good factor seeing the colourful crocuses. I hope the cold spell forecast for next week doesn't kill them all off.
Comment by John Morris on 8th March 2013 at 22:12
Spring has sprung the grass has riz I wonder where the birdies is? Now that will no doubt get me into trouble with the bird photograph haters. Hey ho."

The weather has gone back to winter with a vengeance.
What a difference to the weather a year ago. See my 2nd April P-a-D which was taken on 27th March 2012, only a stone`s throw away from were you where, John.
You`ve done a good job, John. Don`t care for the word `croci`, much prefer crocuses. See :-
http://en.wikipedia.org/wiki/Crocus
Comment by:
Mick
on 24th March 2013 at 05:06
There was a photo on 17 January by a lad called Mick taken from this angle but with two trees instead of the crocuses.
Comment by:
Lizzie down under
on 24th March 2013 at 06:02
Lovely John......a very spring looking picture....I would love a copy please.....cheers!!!!
Comment by:
kath pressey
on 24th March 2013 at 09:50
lovely flowers. and should mean an end to winter but not this year!
Comment by:
Trixie
on 24th March 2013 at 10:34
Beautiful colour
All my daffs are under a foot of snow.
Comment by:
AP
on 24th March 2013 at 12:59
Ernest,

When I was at school, we were always told, quite categorically, that it was wrong to use the Latin form of indicating plurals for words that have come from Greek, Hebrew, etc. such as crocus, octopus and so on.

My OED,(old but full version) appears to concur.

Various web sites suggest that it is now acceptable to do this! I wonder if it is the case of language reflects usage, and if enough people get it wrong, then wrong becomes 'right'!

(pronunciation of the word 'advertisement': similar)

It didn't apply to 'The Union Jack' though: when I was a child almost universally was this term applied to the usual UK Flag, including by the BBC, and the OED. Someone decided to prevent this, and, wow, they succeeded!

Trixie,

My sympathies. I planted 200 Daffs last autumn. They will survive being covered by snow, but mine have been flattened by the blizzards. I only planted them, because seeing the Daffs emerging through the snow, prompts some hope, in Jan/Feb, that spring will soon be come.

They will come back next year, though I probably will not!
Comment by:
Cyril
on 24th March 2013 at 13:46
I went along to Glazebury last Thursday and noticed this very colourful display on the Newmarket Street grass verge, the crocuses were also in full colourful bloom along the roadside grass verges going through Lower Ince and Springview, there will be hosts of golden daffodils heralding spring later.
Comment by:
Jo
on 24th March 2013 at 14:45
Whether you prefer crocuses or croci, this is a lovely photo and has brightened up a cold day.
Thankyou John
Comment by:
Ellen
on 25th March 2013 at 01:00
I'm loving these crocuses! Especially since we still have a good 6 inches of snow on the ground! But not to complain (too much)-it could, and has been much worse than this. Can't help remembering fondly this time last year,when we had temperatures in the mid-20's Celsius.
Comment by:
Ernest Pyke
on 25th March 2013 at 09:24
John, you are following in my footsteps! I had P-a-D`s posted on 2nd and 3rd of April last year in Mesnes St. area and Sir Francis Sharp Powell`s statue. They were taken on 27th March 2012 in a tempr. of 70degF.
It`s 103 years ago when this statue was unveiled - wonder when it will be cleaned next?
When did you take this fine photo, John?
Comment by:
A.W.
on 25th March 2013 at 10:27
Very nice, shows how an unusual angle can look really good.
Comment by:
Dave (Oy)
on 25th March 2013 at 18:20
That's a cracker! Much better background than my shot.