Photos of Wigan
Photos of Wigan
Photo-a-Day Archive
Photo-a-Day Archive
Photo-a-Day (Sunday, 29th April, 2012)
Colour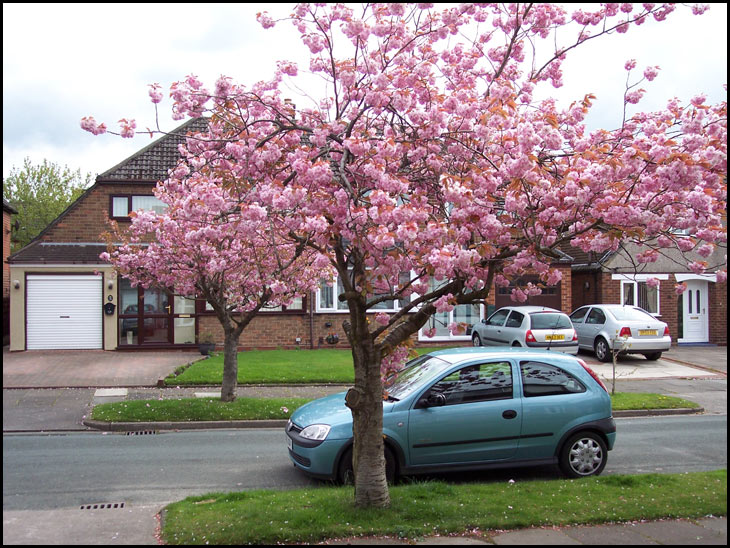 Flowering cherry tree, Welbeck Rd, Ashton-in-Makerfield.

Photo: Tony Haslam (Kodak DX7630)
Views: 3,733
Comment by:
Ernest Pyke
on 29th April 2012 at 03:32
Well captured Tony. Cherry blossom always makes a good photo.Pity it has a short life. I think it`s out early this year, can any gardener confirm?
Comment by:
Garry
on 29th April 2012 at 06:30
Nice but the bloosom dont last long, especially in this strong wind we have today.
Comment by:
Janice
on 29th April 2012 at 06:31
LOVELIEST of trees, the cherry now
Is hung with bloom along the bough,
And stands about the woodland ride
Wearing white for Eastertide.

Now, of my threescore years and ten, 5
Twenty will not come again,
And take from seventy springs a score,
It only leaves me fifty more.

And since to look at things in bloom
Fifty springs are little room, 10
About the woodlands I will go
To see the cherry hung with snow.

Poem by A E Houseman 1859 - 1936
Comment by:
Gardeners World
on 29th April 2012 at 08:49
Every tree/plant is out early Mr Pyke, times are changing. This wet weather won't help small plants.
Comment by:
Bren
on 29th April 2012 at 18:15
It's a weird season this year ! 22 deg. in March then we now have wintry conditions approaching May !!! not putting my bedding plants out yet !!
Comment by:
Jean F (Wales)
on 29th April 2012 at 21:34
We have franes of bedding plants that we dont put out until late may but so far they juast seem to have stopped growing .still lovely green plants but not moving.,even the ones in the greenhouse are slower than usual..even with the heaters on.It will all come right in the end though....the forecast is warmer for next week. beautiful photo of the blossom tree,shame ut drops so quickly.