Photos of Wigan
Photos of Wigan
Photo-a-Day Archive
Photo-a-Day Archive
Photo-a-Day (Saturday, 6th August, 2011)
Wigan Bus Depot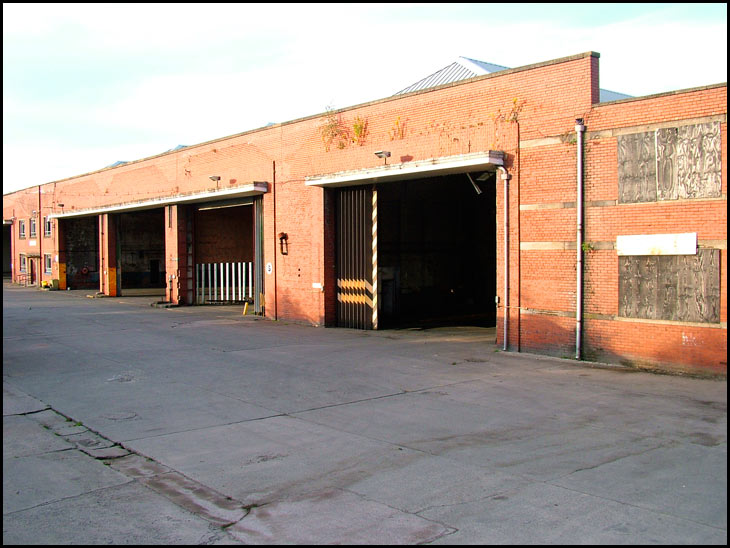 Now defunct. The new site is at Lockett Road, next to the Three Sisters. Demolition of this site is imminent (if not already started).

Photo: Brian (Fuji Finepix S7000)
Views: 4,568
Comment by:
Gerald Pilkington Canada
on 6th August 2011 at 01:09
What was the sreet nane that it was on, close to seven stars bridge, its been a long time, i think at one time the fleet was well over 100 in the 70s
Comment by:
Mog
on 6th August 2011 at 09:11
Gerald, the street is/was Melverley Street.
Comment by:
Jon
on 6th August 2011 at 09:29
This is to make room for the new road i think i heard
Comment by:
aitch
on 6th August 2011 at 09:49
Melverley Street !, I spent many hours going through those doors, also the small building out of picture in the extreme left, known as the transport club
Comment by:
Dave Johnson
on 6th August 2011 at 10:15
Remember the Bowling Green at the back of the Transport Club, not a lot of people realised it was there?
Comment by:
nephro
on 6th August 2011 at 17:38
Every time it rained hard that place used to flood to a great depth.
Comment by:
Margaret
on 6th August 2011 at 19:29
I remember the bowling green. I worked at Vulcanite and we were sometimes allowed to play on it in our lunch hour
Comment by:
Rev David Long
on 6th August 2011 at 21:18
I suppose Wigan Metro has had to buy the building off First to be able to carry out their road project.
Did they receive any payment for it when their transport undertaking, for which the garage was built originally, was absorbed into Greater Manchester?
The Government is compelling Councils to declare what assets they own. It would be interesting to know the value today of assets they once owned (water, electricity, gas, transport etc.), which private companies are now profiting from....
Comment by:
Derek Callaghan
on 7th August 2011 at 11:39
Fell asleep many a time and ended up here in the dead of night. Had to walk the rest of way to Pemberton, sure did sober one up before facing mum. Happy days.
Comment by:
Bri
on 11th August 2011 at 18:12
Right under my nose and didn't even know they had moved!! Thought it looked a bit quiet when i was passing the other day!
Comment by:
Baz
on 27th August 2011 at 22:09
Took a few pics of the former Wigan Corpy bus depot last week, which is now being demolished.
Get your pics while you still can!

http://tap38.zenfolio.com/p80126576
Comment by:
danny mcdermott
on 14th September 2011 at 08:47
spent alot of my childhood here going work with my dad james mcdermott who was a bus driver for many years i loved going on the buses with him on days out to manchester liverpool etc happy days
Comment by:
NORMAN GERRARD
on 12th November 2011 at 23:15
I WHENT THRU THOSE DOORS FOR 40 YEARS UNTIL RETIRMENT DANNY IS YOUR DAD JIMMY MC DERMOTT FROM WORSLEY MESNES HOPE HE,S KEEPING IN GOOD HEALTH
Comment by:
Danny mcdermott
on 6th May 2012 at 12:59
Hi yes he is my dad and he is keeping well
Comment by:
Paul
on 7th February 2013 at 05:42
Hey, what happened to Jean Barnes, Alan Wells, Doreen Stewart, & Chris Gerrard