Photos of Wigan
Photos of Wigan
Photo-a-Day Archive
Photo-a-Day Archive
Photo-a-Day (Sunday, 22nd November, 2009)
Down she comes!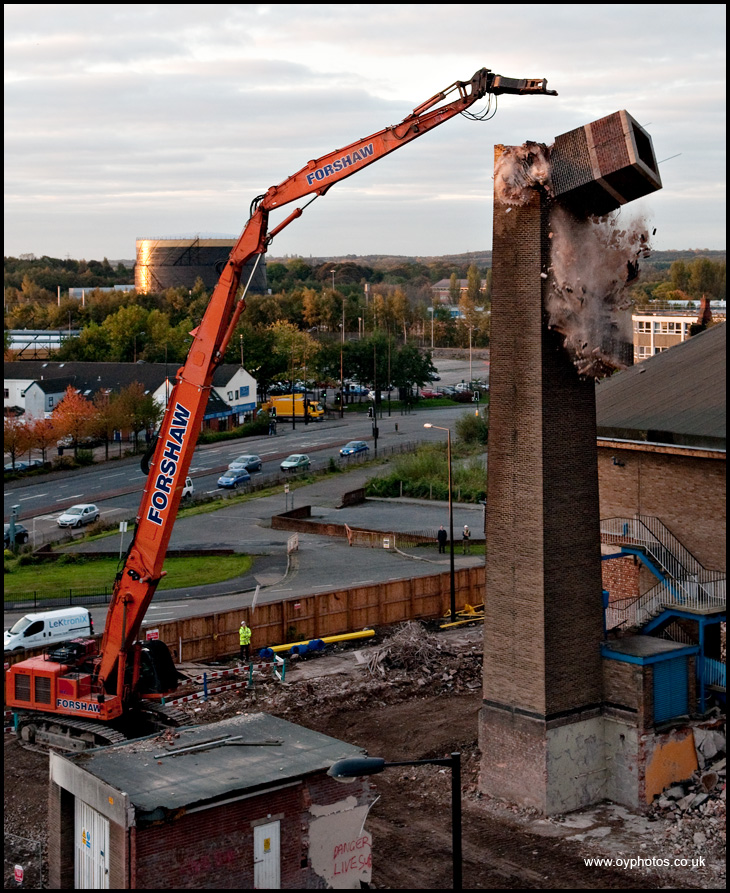 Wigan International Pool - the chimney comes down - 16th October 2009.

Photo: Dave (Nikon D300 - Nikon 80-200mm AF-D F2.8)
Views: 4,711
Comment by:
Peter J
on 22nd November 2009 at 01:02
Sad to see its all gone now. A lot of memories going lately around Wigan. I always remember when its too late to get any photos of buildings.
Comment by:
Bri
on 22nd November 2009 at 01:25
Handy tool that, do they not use the 'ol' ball 'n' chain' anymore? Nice photo Dave, exactly what i'd expect from a photographer of your calibre!
Comment by:
Dot
on 22nd November 2009 at 11:05
What A brilliant photo Dave, you can even see the individual bricks as the chimmey comes down! Thanks.
Comment by:
Eric Turner
on 22nd November 2009 at 13:55
Excellent photo' Dave. I worked at Forshaws for nearly 15 years before I retired, they still used crane, ball & chain then and on the old mills they hired FRED to drop the chimneys. I have been on a few jobs with FRED and I have a couple of things that he told me that I have not seen in any of his books. However; Walter Forshaws of Westhoughton have expanded their business to cover bigger jobs with bigger machines since I left. E.T.
Comment by:
Kevan Taylor
on 22nd November 2009 at 20:47
I'm intrigued by the confidence of the chap in the yellow jacket against the fence, still he is outside the safety barrier, isn't he? Nothing can go wrong....go wrong... go
Comment by:
David Barker
on 29th November 2009 at 15:24
Great photo Dave
I Worked at the baths about 25yrs ago when the pool was being lenghtened to 25meters ,when they drained the pool a lot of the tiles blew off they had to get some from italy i think. I was fitting all the IROKA timber doors in the main entrance think they were still on when it was demolished ,sorry to see it go.
Comment by:
Debra Kulik (Griffin)
on 28th December 2009 at 06:39
I used to go the baths all the time, now I live in Brisbane Australia, still sad to see it being pulled down on the photos.