Photos of Wigan
Photos of Wigan
Photo-a-Day Archive
Photo-a-Day Archive
Photo-a-Day (Thursday, 30th April, 2009)
Day out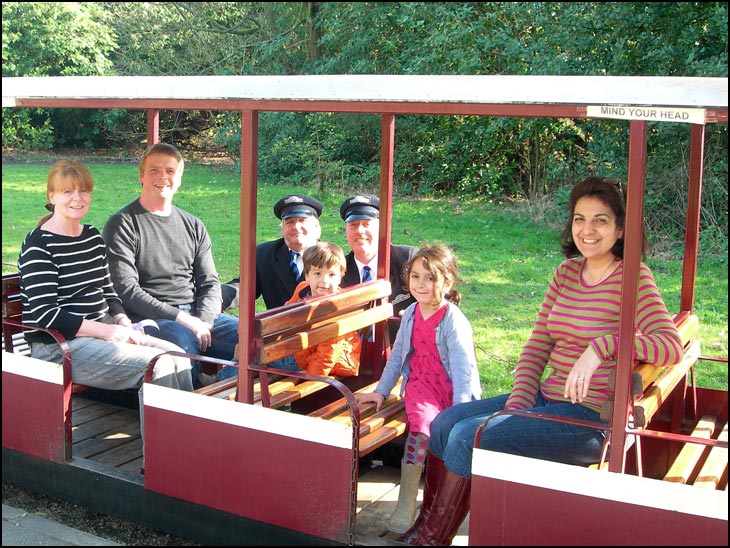 Here's a photo of my expat son, Ian and family (sat with mum, and the most obliging drivers) on the train at Haigh Hall, on a visit from Sunbury, this Easter.

Photo: Harry Cunliffe (Nicon Coolpix 7900)
Views: 5,182
Comment by:
she 44
on 30th April 2009 at 05:44
loverly photo harry they all look so happy thanks for sharing it with us
Comment by:
Dave Marsh
on 30th April 2009 at 07:51
It's good when omeone goes that extra mile.great family photo.
Comment by:
Dennis Dickinson
on 30th April 2009 at 10:03
Greetings from New Zealand - the photo brings back memories of some 55+ years ago, when I used to visit Haigh Hall with my parents.
We would catch a bus from UpHolland to Wigan - then walk up to the gates of Haigh Hall estate - then get the 'tractor ride' to the Hall.
Comment by:
bren
on 1st May 2009 at 17:10
great pic. has anyone got any photo's of the tractors that used to run from plantation gates up to the hall ?
Comment by:
redstripe
on 7th May 2009 at 23:50
I agree with bren - if anyone has photos of the tractors that used to run through plantations please put them on here - great memories of my childhood