Photos of Wigan
Photos of Wigan
Photo-a-Day Archive
Photo-a-Day Archive
Photo-a-Day (Friday, 6th June, 2008)
Flowering Cherry Trees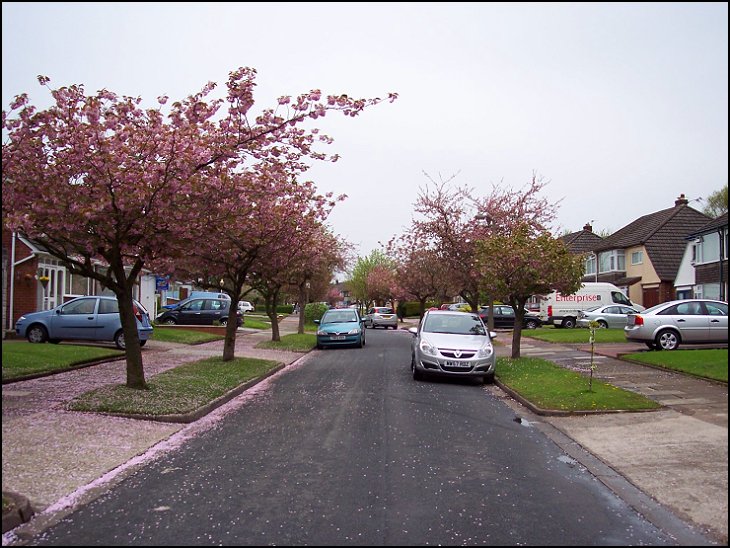 Taken recently in Welbeck Road, Ashton-in-Makerfield.

Photo: Tony Haslam (Kodak Easyshare DX7630)
Views: 4,265
Comment by:
Darren
on 6th June 2008 at 14:39
WOW That brings back memories for me. Used to live around the corner as a lad in the 1970's - now far away across the pond -

Thanks Tony I always appreciate the photos of Ashton
Comment by:
Pat
on 6th June 2008 at 19:30
Should be set to music - how about "On the Street where you live"?
Pleasant photograph.
Comment by:
Tony Haslam
on 21st June 2008 at 22:56
Where abouts is round the corner Dave where you lived. I will take a pic and put in on the website for you so can relive your memories. Also were do you live across the pond
Comment by:
Darren
on 3rd July 2008 at 15:55
I lived at 31 Thirlmere Ave and before that 1 Morden Ave!

Cheers!
Darren (Toronto)
Comment by:
Ellie
on 29th April 2013 at 22:51
Lovely trees I wish had one in my garden they are really nice cherry blossoms.