Photos of Wigan
Photos of Wigan
Photo-a-Day Archive
Photo-a-Day Archive
Photo-a-Day (Friday, 10th August, 2007)
Orchid Cafe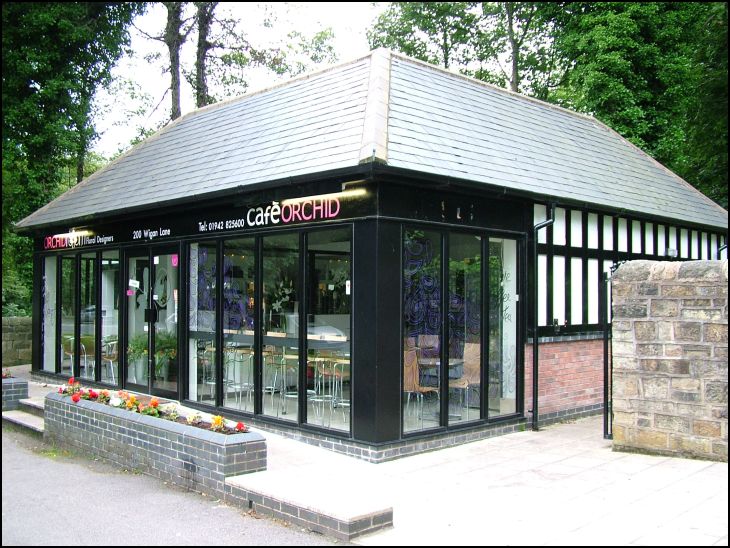 The Orchid Cafe on Wigan Lane, close to the hospital.

Photo: Brian (Fuji Finepix S7000)
Views: 5,908
Comment by:
John Ashurst
on 10th August 2007 at 09:56
What a change that is from those smelly dirty toilets that were there for years. It got to the point people would walk on the opposite side of the road for fear of being 'tapped up' by dubious clients!
Very nice.
Comment by:
Stu
on 11th August 2007 at 02:07
I did the demolition on the old toilets there, and the inscriptions on the walls made for hilarious readings...saying that i wouldn't of dared to go there after dark!!!!
Comment by:
Jay
on 30th July 2010 at 23:08
I went in there when it was the toilets, i was in early teens and walked round the corner and there was about 3 men just stood there !
Comment by:
Ray & Sue Norris
on 18th June 2011 at 20:46
After walking our dog around Haigh Hall, we noticed my cousin Chris outside the Orchid and decided to join him for at while. We decided to have a couple of hot chocolates. WHAT an experience, all that cream and marshmallows as well. MUST go back again soon.
Comment by:
Mrs Green
on 15th December 2011 at 15:45
I have visited this cafe on several occasions, the drinks taste average, yet are not dissimilar to prices at Cafe Nero / Starbucks. The customer service when 'certain' staff are working, is terrible. It's not unusual to be blatantly ignored whilst they chat about their private life - poor!