Photos of Wigan
Photos of Wigan
New Gallery Contents
New Gallery Contents
New Photo Gallery
Abram
9 Comments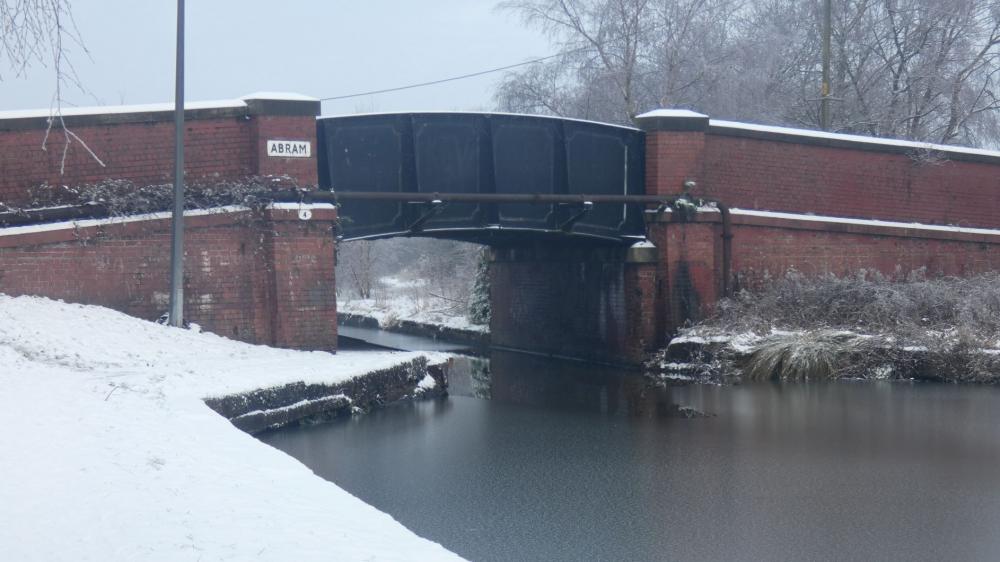 Dover Lock canal bridge
Photo: Geoff
Views: 1,595
Item #: 1674
View on the canal near Dover Lock
Comment by: Geoff Hemsley on 6th January 2021 at 08:58
Photo Taken 27/12/20
I didnt realise the bridge had changed or been rebuilt, compared to an earlier pic on the Wigan World site Item #: 7481 this bridge has obviously been rebuilt at some time, as We see here Red Brick and Steel even with a mega sign saying 'Abram' .
It appears the bridge was all stone and concrete slope taking you straight down to the canal (like on the otherside) with a Lock just under the bridge
Its great this area still attracts loads of people for walks and is in continous use. Ashame about the Pub though
Comment by: Eric R on 10th January 2021 at 05:40
Geoff.

The original bridge was the traditional stone bridge which must have been built in the 1800's. It would not have been up to the sustained traffic and weights of 20th century vehicles using the A.49. It blended in much better than the modern construction, and must have been replaced after 1961 which I believe was the last time I saw the original bridge.

Eric R
Comment by: Geoff Hemsley on 10th January 2021 at 12:12
Hi Eric,
So many things change over the yrs and we dont notice so its good to see pics old and new like this,. Vehicles have become much Larger and heavier so you will be right in the main reason for the rebuild, My Dad tells a story of why there is large pipe running across the bridge as they were somehow paying St Helens for Gas or Water so a pipe was installed to supply their own feed....Ill find out more next time i see him and put this up. Might be interesting to someone. Another Tale to tell
Comment by: Eric R on 10th January 2021 at 17:02
Geoff.

The ramp was used originally to take the barge draught horses over the road after they had been unhooked, so that the coal barges could be dragged through the lock. No doubt an enterprising brewer saw an opportunity when they built the pub, although I never saw an hitching rail there. Abram is an ancient place, and the old miners had some wonderful stories. I reckon someone could fill a book about the place. Havn't seen anything from Mary Sayer for quite some time - she was a good source for research.
Comment by: Geoff Hemsley on 10th January 2021 at 21:26
Yes Lots of history in Abram.
Especially up Lee Lane, Park Lane where things have massively changed
Housing covers alot of history. Its green there are still alot of good walks
There is now only the stonework for Dover Lock in front of the pub - mining subsidence caused land levels to shift so dramatically between Pennington and Poolstock that the locks were shifted to Poolstock (the same happened to the North, with the locks being moved back toward the town there as well). The stone bridge would have probably broken under the strain of its foundations dropping - so it was replaced with an iron platform which could be jacked up for the supports to be built up as the land continued to subside. Other bridges on the section were similarly reconstructed - it's quite common on the canal network in mining areas.
Thankyou David.
My Dad did mention many years ago on the right handside of the canal going toward bamfurlong they did try building houses there but they came back the day after and it had all collapsed and sunk due to the mining.
We had a house on Warrington Road and had to have a mining survey done at the time, so not sure how far the mining area covered.
Im not too sure of the story of the Finney Hills behind the pub how they appeared but assumed it was the remains of some construction work, mining etc,
There are 3 Service Pipes in total running across the bridge, 1 on the side as shown and then 2 more underneath.

Its amazing how they originally built some of these old buildings without todays machines and tools, lack of genreators etc for power.
Alot of hard graft
Comment by: Eric R on 25th January 2021 at 04:40
Reverend Long - Thank you for your comment which explains why the original stone bridges are no longer there. I
have in mind the ones I knew at Crankwood. The one over the canal behind Mr Ollerton's farm, I am unable to recall the name of the farm now, and the one over the canal adjacent to Old Bear Hay Farm at the Plank Lane end of Crankwood, which was farmed by the Dootson family. I understand that Pennington Flash is the result of the same subsidence. My grandfather spoke of mining going on beneath were the flash is now situated, which was then fields, and of the miners hurrying along with head coverings to keep dry due to water pouring through the roofs of the galleries.

Eric R
Comment by: Geoff Hemsley on 25th January 2021 at 22:13
I had also heard recently Pennington Flash was fields and an old mining site. Although not sure of the full history of the place its great how an old abandonned mining site is now used for nature and great walks. Very similar to Viridor Woods at Bamfurlong which was an old landfill site now used for walks

I remember in Crankwood there was one small shop right at the end across from the Bus Terminus. Really old looking but vital, It has since been closed. Not sure if the building was knocked down or converted in to a house - there is only houses at the end now.
I went along the bridge behind Old Bear Hay Farm the other week. I have a pic Eric but i think it was of the other bridge you mentioned. It is Stone at each side with a Steel walk way across.
Walking toward the Swing Bridge along the canal there is an old disued farm to the right