Blog
Ince (Interesting Old News)
Published by Brian on Wednesday 27th July 2022
A selection of old news for Ince, articles include the death of a one-legged signal man, a doggy hero and someone jumping down a mine shaft...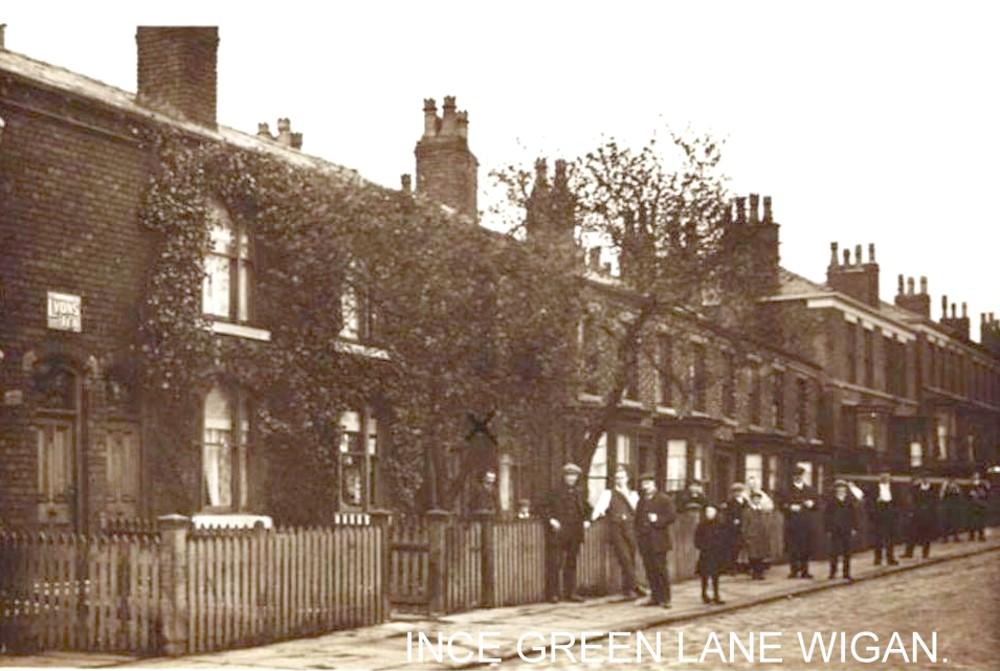 Royal Cornwall Gazette 09 September 1871
Sixty-nine Lives lost in a Colliery near Wigan.

On Monday morning Pearson and Knowle's pit at Ince, Wigan, was the scene of a terrible catastrophe. Three sinkers were descending to join three fellow-workmen below, when a blast shot from the down-cast shaft, followed immediately by a cloud of smoke and steam from the up-cast, which lasted several minutes, and scattered the head gear in all directions. The men descending were thrown from the hop-pit, and those below must have been crushed to death by the falling debris. Soon the pithead was crowded with people. An hour after the explosion a descent was possible, and three men were found alive at the bottom, as well as three others at the furnace, which is placed in a small upper seam. There are sixty-two dead bodies in the nine feet, six sinkers in the up-cast, and one of the injured brought out alive has since died, making sixty-nine deaths in all. As to the cause of the explosion there is not even a conjecture.
---
Fife Herald 16 May 1872
DEATH THROUGH DRINKING A PINT
AND A HALF OF WHISKY.

On Friday an inquest was held at Ince, near Wigan, concerning the death of George Atherton, aged 33 years, who died from the effects of drinking a pint and a half of raw whisky on the previous Sunday. Deceased called at the Von Blucher Inn, in Wigan, and there sat in the taproom, which was full of people. A man named Liptrot was present, and he paid for two fourpenny worth and three gills of whisky, each of which the deceased drank without taking the glass from his lips. A fourth gill was ordered, and the deceased was about to drink it when he was stopped by some of the persons in the room. In about a quarter of an hour the deceased became insensible. When the landlord of the house, who had been from home while the drinking was going on, came in he and others removed the deceased to a stable, where he remained all night with the door open. Next morning the deceased was taken into the house, and he was afterwards conveyed home in a cab. He died on Thursday night. The surgeon who had attended him attributed death to an attack of pleurisy, brought on by excessive drinking or the exposure. The jury in their verdict severely censured all concerned in the drinking affair, and in leaving the deceased in the stable all night; and the coroner reprimanded both Liptrot and the landlord, Jonathan Tyrer.
---
Manchester Courier and Lancashire General Advertiser 26 October 1880
SAD DROWNING CASE.

A sad drowning case happened at Ince, near Wigan, on Sunday night. Richard Bennion Jones, 23 years of age, and his sweetheart, a girl named Rutter, whose parents reside at the Farmers' House beerhouse, Ince, after being at church together on Sunday evening, decided to walk home along the canal bank. The night became rather foggy, and hearing two drunken men approaching, the girl advised that they should go nearer the edge in order to allow the men to pass. A wrong move must have been made, for shortly afterwards both fell in the water. Their cries for assistance attracted the attention of some boatmen near, who managed to rescue the girl alive, but Jones was drowned, his body not being recovered until three hours afterwards. The pair were to have been married in a very short time.
---
Northampton Mercury 26 May 1883
LEAPING DOWN A COAL SHAFT.

On Thursday an inquest was held at Ince, near Wigan, on the body of a collier named Holland, 74, who died on Tuesday afternoon. Deceased jumped down a coal shaft belonging to the Ince Hall Coal and Cannel Co., and was instantaneously killed. The shaft is 190 yards deep, and, when discovered, Holland was fearfully mangled, and was quite naked. Verdict, "Temporarily insane."
---
Manchester Courier and Lancashire General Advertiser 06 December 1890
HEROIC RESCUE FROM DROWNING NEAR WIGAN.

At noon on Saturday while a lad named Latham, of Lower Ince, Wigan, was sliding on the ice on a large pit at Fir Tree, near Wigan, the ice gave way, and he sank in eight feet of water. Police-constable Betts just then made his appearance, and went on to the ice for a distance of 40 yards and succeeded in getting a few feet from the boy. The ice then gave way under him, but being a good swimmer he managed to keep his head out of the water, and reached the lad just as he was disappearing for the third time. With much difficulty the constable held the lad's head above water until a rope was thrown to him and both were drawn in an exhausted condition to the side.
---
Maryport Advertiser 01 April 1893
EXTRAORDINARY FATALITY.

A boy named Richard Ashton, of Ince, Wigan, has met his death in a peculiar manner. In the absence of his mother he placed a roller towel on the kitchen door and formed a swing. Whilst swinging around, his neck became entangled in the towel, and he fainted. Before assistance was forthcoming to his release life was extinct. The deceased was in the habit of amusing his baby brother by swinging would with his head in this manner.
---
Dundee Courier 10 February 1898
Shocking Death of a Child at Wigan.

A distressing accident took place on Saturday night at Ince, Wigan. Jane Annie Rothwell, six and a half years old, daughter of a clerk, was locked in the house while the parents went to do some shopping. On their return they found the kitchen full of smoke and the little girl lying on the floor, having torn off her clothing, which was burning in different parts of the room. She was terribly burned about the body, and died soon afterwards.
---
Huddersfield Chronicle 22 August 1899
MYSTERIOUS AFFAIR AT WIGAN.

On Sunday night, several colliers were walking round a cornfield belonging to Messrs. Pearson and Knowles, at Lower Ince, Wigan, when they came across a brown paper parcel on the ground near the Wigan Cemetery wall. On an examination of the parcel they found it to contain the body of a female child. Information was given to the police, and the body was removed to a neighbouring hotel.
---
Evesham Standard & West Midland Observer 27 December 1902
FOUR TIMES REPORTED DEAD.

A remarkable statement was made at an inquiry held at Ince, Wigan, on Saturday, respecting the death of James Gallagher, infant son of a collier. The Coroner said the circumstances were perhaps the most remarkable he had ever disclosed to a jury. On Saturday the mother registered the death of the child, and produced a medical certificate certifying the child's death. A funeral undertaker called upon her the same night and discovered the child alive. On Sunday the mother again went to the registrar and stated that she had made a mistake on the previous day, but the child had really died early on Sunday morning. The child, however, was still alive, and did not die until Wednesday. The affair was an extraordinary one, the mother having stated four times that the child had died. Dr. Hamilton deposed it was probable the woman believed the child was dead when alive, and there was nothing to justify the jury in saying the mother had been guilty of a negligent act. Death was due to pneumonia.
---
Preston Herald 15 July 1908
SUICIDE'S FAREWELL
"ILL AND TIRED OF LIVING."

Mr. Brighouse, County Coroner, has held an inquiry at Ince, Wigan, relative to the death of John Thomas Bond (25), a married man, whose decapitated body was found on the railway. A witness named Josiah Gregory stated that he was in a beerhouse when Bond remarked that he was ill and tired of living. As he thought Bond was joking witness said to him, "Well, why doesn't tha go whoam, and go to bed and dee" (laughter).
Bond left the following letter: "Dear father and mother, - I write you these few lines to tell you I am about to put an end to myself. Now, father, I have been put through it lately, but I hope you will excuse me writing. Now, brother and sister, I want you to forget you have a brother named 'Tommy.' So 'Good-night' for ever. Bill Nevin must come to my funeral, Don't forget our girl Bertha."
A verdict of "Suicide while temporarily insane" was recorded.
---
Hull Daily Mail 30 May 1921
DEATH OF O.B.E. SIGNALMAN.

Joseph Ashton, a one-legged railway signalman, of Lower Ince, Wigan, who received the Medal of the Order of the British Empire in recognition of his bravery in remaining at his post on the Lancashire and Yorkshire Railway during a German air raid on the night of 12th April, 1918, has just died from pneumonia. He was 60 years of age, and for nearly 40 years had carried on his signal work. He had lost a leg through being knocked down by an engine in his early twenties.
At 11.33 on the night of the raid he received the warning from Manchester, and by 11.35 a bomb had crashed through the roof of his signal cabin and smashed 15 windows. The bomb plunged through the cabin roof, burying itself in the cellar below, fortunately without exploding. The splinters of glass from the broken windows fell like hail about him, and his head was injured, but after receiving first aid he carried on his signal work until he was relieved, three hours later. At ten o'clock the same night, however, he reported for duty again, and resumed work in his wrecked signal cabin as though nothing had happened.
---
Dundee Evening Telegraph 22 February 1947
Doggy Hero.

Bronze medal of the National Canine Defence League has been awarded to Chummy, belonging to Mr R. Hefferman, cemetery superintendent at Ince, Wigan. He gave the alarm when a gravedigger was partially buried by a fall of soil.